In my last issue I started a tour of Europe, showing you some of the highlights of a life in Portugal, France, and Italy.
This week, I'm going to focus on the top Mediterranean havens Europe has to offer…
Spain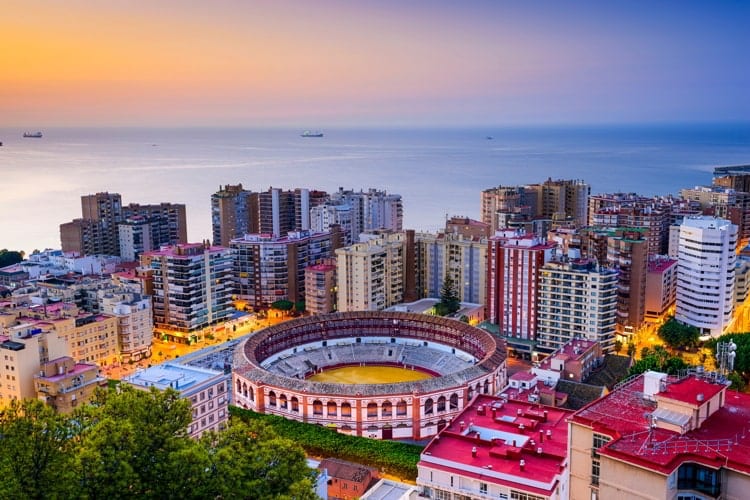 Spain is one of the cultural centers of Europe, a place where the people celebrate life, dance the flamenco, and enjoy wine and tapas. This birthplace of such great artists as Picasso and Salvador Dalí, rich with history and fantastic old architecture mixed in with the modern new, is not quite as expensive as you may have thought. In some areas, it's very affordable.
Historical sites dot the country, and the rock art found throughout the Mediterranean basin is are some of the world's best examples of pre-historic artwork.
It's also home to many of Europe's earliest cities; Cádiz is Spain's oldest and longest continuously inhabited city, settled first by the Phoenicians around 1,200 BC, then the Romans followed by the Arabs.
Modern-day life is relaxed and easy-going and Spain is one of the most child-friendly cultures in the world. Whenever possible Spaniards do still make their evening stroll, the paseo, along the alamedas (avenues) and in the plazas common to all Spanish towns and cities. Whole families eating out together is still the norm, the youngest may be fast asleep in their stroller, but they are never left at home.
Once you've arrived, you shouldn't have any trouble getting involved in the local expat community. No matter what corner of the country you choose, you're sure to find some English-speaking expats to befriend. Plus, there are plenty of English-speaking interest groups and clubs.
The Costa del Sol also markets itself as the Costa del Golf, with upwards of 70 courses between Málaga and Sotogrande, the region likes to call itself the golfing capital of Europe.
The second biggest EU country by area, the climate ranges from one with four seasons in the north to the sub-tropical southern region of hot, dry summers. It's also got the mildest winter on the European mainland, with 300 to 320 sunny days annually.
After Switzerland, Spain is Europe's most mountainous country, with great skiing. Spain's highest peak is usually the first ski resort in Europe to open for the season and the last to close. It is also one of the few genuine sun-'n-ski resorts: Once the snow melts, it attracts walkers, hikers, rock-climbers, and mountain-bikers.
Altogether, Spain has a quality of life that's difficult to match… the climate, the good food, and the active outdoor lifestyle add up to Spaniards having the longest life expectancy in Europe and second in the world, after the Japanese.
Greece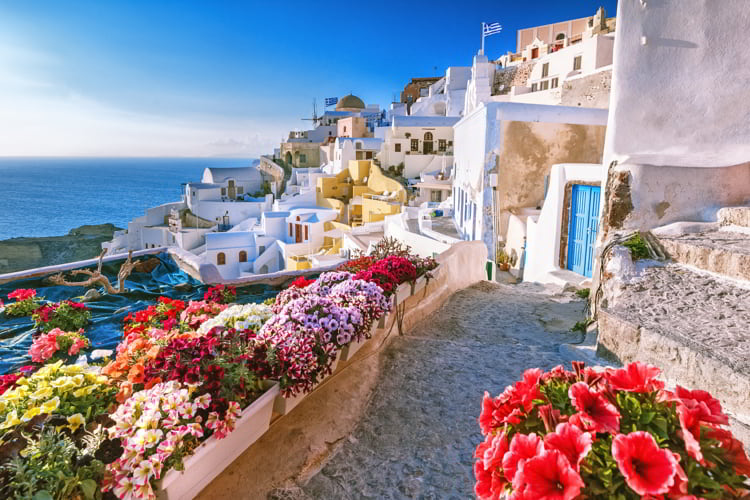 The birthplace of Zeus, home of the Minoan civilization, and the crossroads of the three continents of the Old World: Africa, Europe, and Asia Minor…
If your interest is archaeology, lazing on the beach, scuba diving, and indulging in the original Mediterranean diet, then Greece may be for you. This is truly a history buff's paradise, with more archaeological museums than any other country in the world.
And with the longest coastline in the Mediterranean Basin and a unique geography full of islands and peninsulas, Greece's reputation as a bona fide beach destination is well-founded.
Apart from the incredible history and the beaches, though, what makes Greece an overseas haven for the estimated 1.2+ million foreign nationals—more than 10% of the total population—that live here?
The Mediterranean climate is a big factor, with its gentle winters—no frost or snow-shoveling here—and hot summers. And here you're never far from the glistening and super clear water that surrounds the country… It's not just about beaches, though, Greece offers mountains, the record-breaking Samariá Gorge (the longest in Europe), olive groves, vineyards, and an untouched inland wilderness, as well as endless ancient and wonderfully scenic villages.
Greece is bordered to the east by the Aegean Sea, to the south by the Mediterranean Sea, and to the west by the Ionian Sea. Only to the north and northeast does Greece have land borders.
In Greece you'll find some of the friendliest people, with a culture based on the highest respect for families, and especially elders. Plus, the cost of living is significantly less than in many of its European counterparts.
The other big plus here is that Greece hosts the most affordable Golden Visa in Europe. To qualify you must purchase one or several properties totaling at least 250,000 euros. (The country's rival markets of Spain and Portugal have thresholds of 500,000 euros.) You don't even have to visit the country after making your purchase; you're only needed in-country when renewing it. You might not be able to become employed in Greece with this visa, but if you're interested, you can start your own business. Many opt for businesses like restaurants and small shops.
It doesn't matter where you go or how small the village is in Greece—you're almost guaranteed to find a handful of expats living there. They came to the island as tourists, fell in love (either with the place or with a person), and extended their trip indefinitely. It's a common story, and it's not hard to understand why. The cost of living is low, the scenery is stunning, and the climate is great. Greece offers the opportunity for an all-around easy lifestyle, and it attracts a lot of expats.
Start Your New Life Today, Overseas
A world full of fun, adventure, and profit awaits! Sign up for our free daily e-letter, Overseas Opportunity Letter, and we'll send you a FREE report on the 10 Best Places To Retire In Style Overseas Today
Malta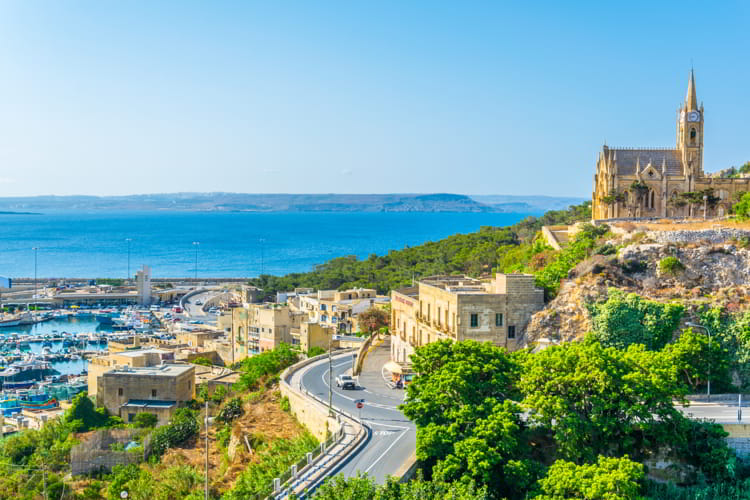 The tiny Mediterranean island of Malta, stretching just 122 square miles, is a true gem. Malta is becoming both an investment and a retirement hot spot in the EU—and it's easy to see why. The Maltese archipelago (made up of three main islands) is one of Europe's smallest countries.
But, while it may be small, it has a lot to offer. Its rugged coastline boasts dramatic cliffs and tiny coves dotted with ancient forts and quaint fishing harbors. Inland, stone walls separate fields cut into strips of olives, wheat, and potatoes. Wine production is also popular, and vines hang heavy with grapes all over the island.
However, perhaps the greatest feather in Malta's cap is that English is an official language. In fact, it's the primary language—all law is practiced in English, for example. If learning a language is a serious concern for you, then Malta could be the place you're looking for.
Malta is a place where you can still catch glimpses of life as it was lived decades ago, if not centuries. The lovely warm year-round climate as well as a great natural light that illuminates the island's unparalleled beauty creates a sense of wellbeing.
And when you think of Malta, don't discount its smaller sister island, Gozo. Gozo is perhaps even more picturesque than Malta, and offers beautiful beaches with turquoise waters, inexpensive property, and an interesting local culture, all steeped in a rich historical ambiance…
For such a small island, it's home to a huge number of surprises… But what's most shocking about Gozo is how underrated it is. If you thought Mediterranean-beach destination necessarily meant massive crowds of tourists, think again.
Gozo is only 4.5 kms from Malta, but this slight removal from the mainland has resulted in a much more peaceful environment here. If you're looking for a community atmosphere shared by expats and locals, proximity to the sea, access to Europe, and a reasonable cost of living, you've got to go to Gozo.
The Maltese are used to having a large expat population. They are a welcoming people, and, with no language barrier, it's easy to slip into life here. Gozo has a population of about 31,000 people and about 1,350 of that number are expats. Most hail from the U.K., but there are also many Italians, Germans, Bulgarians, Swedes, French, and citizens of other EU-member nations.
Thanks to its warm climate, white beaches and azure seas, Malta is the perfect place for watersports. Diving, swimming, kayaking, scuba diving, fishing, and snorkeling are some of the most popular pastimes in the area…
Cyprus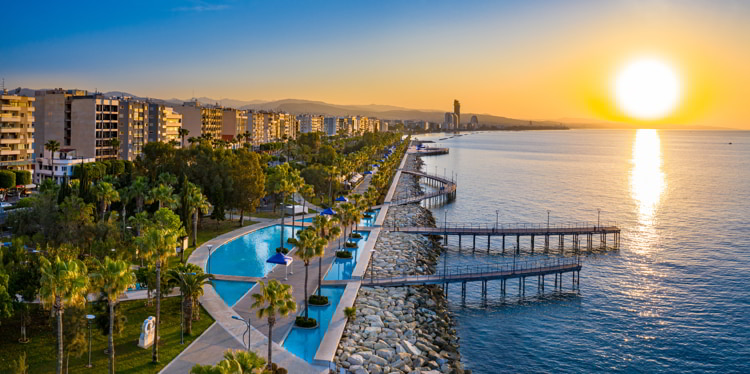 Cyprus is a welcoming land of sunshine, ancient history, and romance. White-sand beaches… warm water… year-round sunshine… and one of the healthiest diets in the world… For sun and sand lovers, it's hard to beat this Mediterranean lifestyle.
Cyprus has it all: breathtaking coasts, impressive mountains, and vast forests. If you enjoy the outdoors, this island might be for you. Beyond its beaches, the island is a place to embrace the outdoors. Cyprus has world-class golf courses (with sweeping views over the ocean) and hiking trails through its mountains and forests. At 1,952 meters, the island's highest peak is Mount Olympus. January through March, it's a popular skiing and snowboarding spot for locals (and working on its international appeal).
Cyprus might be a small country but it's got a rich history spanning more than 10,000 years, making it one of the oldest civilizations in the Mediterranean. From Neolithic villages and tombs to Roman amphitheaters to medieval castles, the island is testament to its rich history… much of it in a well-preserved state.
And because of its unique geographical position, at the crossroads of three continents, the country is a multicultural, multilingual, and multireligious place.
With a superb road system, port facilities, and two international airports, Cyprus has the type of infrastructure you'd expect to find in any EU nation. Boasting an incredibly low crime rate, Cyprus is one of the safest places in the world.
As a former Crown colony, English is widely spoken and is the language used for international business; it's through that more than three-quarters of the population speak it (Greek and Turkish are the other official languages). Cyprus also invests heavily in education. In fact, it boasts the highest percentage of citizens of working age with third-level education of any country in the EU.
When you consider all this, it's no surprise that the island already has a thriving expat community. In fact, the island has the third highest percentage of foreign citizens in the EU. Some 16% of its population comes from outside the country—with British expats forming the majority.
Tranquil villages are in good supply all around Cyprus, including plenty of pretty little undiscovered spots. In these towns, the heart of the community is often the harbor where single-man fishing boats bring their fresh catch to sell to the restaurants only steps away. Chances are your dinner was still swimming just this morning…
Kat Kalashian
Editor, In Focus: Europe