If you're looking to invest in overseas real estate this year and Europe is in your sights, there's two stand-out destinations you might not have considered, but you should…
Montenegro
Montenegro's great weather, world class real estate and marinas, and high standard of living and services have made it a playground for the super-rich.
Known as Europe's secret riviera, it's a haven for billionaires… but it also offers reasonable waterfront property prices for the average investor.[/vc_column_text][/vc_column][/vc_row]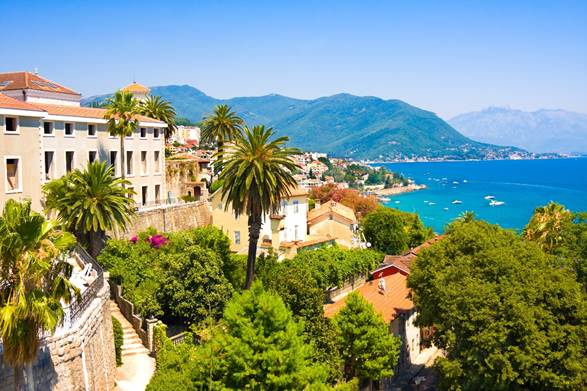 Montenegro is slated to join the EU in 2025 and will have free access to markets of over 447 million EU citizens, huge EU grant funding opportunities, and low interest rates. If this happens, it will boost the country's small economy and increase property prices as well.
You can qualify for residency simply by owning property in Montenegro… and come 2025, Montenegro residency will become exceptionally valuable for anyone interested in living or operating in the EU.
Why You Should Invest Now
Montenegro attracts 1.5 million tourists annually and has a 6% annual forecast tourism revenue growth rate for the next decade.
A new development is now under construction and will be built to a 5-star hotel standard. Amenities will include: an infinity pool, bars, restaurant, shuttle, sauna, gym, and other on-site entertainment.
It is located at just a 7-minute drive from Tivat International Airport and 12 minutes from Porto Montenegro, a marina playground for billionaires. Prices start at 102,659 euros for studio units.
Developer financing is available with a 30% down payment, with the rest to be paid in installments over 18 months with 0% interest. There's also a 10% full cash discount.
Start Your New Life Today, Overseas
A world full of fun, adventure, and profit awaits! Sign up for our free daily e-letter, Overseas Opportunity Letter, and we'll send you a FREE report on the 10 Best Places To Retire In Style Overseas Today
We're looking at a projected 9.25% net ROI, with an on-site rental management team available to take care of everything for you. This, coupled with strong capital appreciation potential, makes Montenegro a strong buy.
You can get more details on this development, here.
Northern Cyprus
Cyprus is an island country in the Eastern Mediterranean Sea with a rich history spanning more than 10,000 years—making it one of the oldest civilizations in the Mediterranean.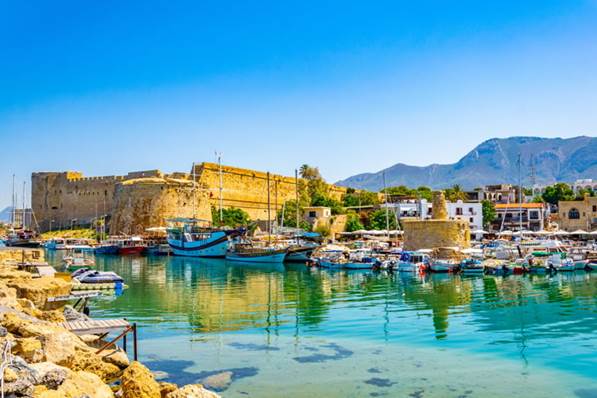 On the northeast coast of the island is where you can enjoy sunny and relaxed island living for an affordable price. In Northern Cyprus you can find better property deals than in places like Spain, Turkey, or Portugal.
Paired with a very easygoing lifestyle, low crime rates, and quiet and peaceful living, Northern Cyprus knocks its competitors off the board. We can argue that the northern part of the island is the most beautiful in the country, boasting incredible castles, colonial villages, and miles of untouched sandy beaches.
Education is one of Northern Cyprus' most profitable and rapidly growing sectors. The country became a popular destination for their excellent higher education, bringing more than 100,000 foreign students that provide guaranteed rental income for the investor.
It's important to note that Northern Cyprus is the Turkish Cypriot side of the island of Cyprus (it's not part of the EU). Despite the political issues between ethnic Greek and ethnic Turkish Cypriots, business continues as usual on both sides of the border… though, prices remain more affordable on the Turkish side.
The country's property market is booming, but it is still a relatively new place of interest. You can still find investment opportunities at a fraction of the price of what you could get in other European countries, or even cheaper than you can find in the southern part of Cyprus.
The growing tourism sector attracts more than 2 million visitors a year.
Why You Should Invest Now
Due to its beautiful beaches, low entry price points, Mediterranean lifestyle, and strong rental potential, Northern Cyprus is a buy recommendation for 2023.
Northern Cyprus is a perfect Plan B location… a safe haven. They are mostly self-sufficient, as they have their own local sources for meats, dairy, and fish. As people look to get away from crowded places, this low population area is drawing a lot of attention.
This new opportunity from my contact in Northern Cyprus is in a prime position to profit…
The property is only 45 minutes from an international airport, 12 minutes from a hospital, and nearby one of the many universities on the island as well as the ancient city of Salamis. It's in a beautiful green area, just a couple minutes from a pristine beach.
The surrounding area boasts restaurants, beach bars, and picnic areas. Golf, surfing, and plenty of playgrounds for the kids solidify it as a holiday goldmine.
We have negotiated an off-market deal exclusively for our readers. Right now, we have the chance to invest in an apartment in a new development here from just 73,000 British pounds (about US$91k today).
Our price is unbeatable, but you need to act fast. There is limited availability on affordable properties like these, which is why our experts on the ground consider that the time to invest in Northern Cyprus is now.
As this destination rises in popularity so will the prices… we suggest you get in as soon as you can.
Sincerely,


Mónica Linares
Managing Editor, Global Property Advisor