Offering an eclectic combination of modern lifestyle and traditional culture, Canggu (pronounced CHAN-goo) is an up-and-coming neighborhood on Indonesia's most popular island—Bali.
Discovering Canggu
A few decades ago, Canggu was nothing more than scattered villages, a few rice paddies, and long expanses of black-sand beach. All along those beaches, though, were surf-ready waves… These provided the impetus for the area's transformation over the past 20-odd years.
Surfers, ever pioneering into undiscovered territory, were the first foreigners to arrive in Canggu. The swells at Batu Bolong, Echo Beach, and Pererenan enticed them to visit… the opportunity for peaceful, seaside living among the rice paddies compelled them to stay.
While Balinese communities have called Canggu home for generations, surfers paved the way for what would soon become a busy, ever-growing community of expats from around the world.
Villas began to spring up alongside traditional homes… Modern, innovative restaurants opened doors next door to Indonesianwarungs(family-run restaurants run out of homes)… Surf bars, art galleries, yoga studios, co-working spaces, and public markets selling artisanal products filled the empty spaces in between…
The result is something unique: a Balinese neighborhood that's been modernized, staying true to its village roots while making space for first-world amenities. Canggu exists in the sweet spot between old and new, local and international, traditional and trendy… Some have even dubbed it the Brooklyn of Bali for this unique combination.
Weather
Canggu is warm and tropical. Just eight degrees south of the equator, temperatures here hover at about 85°F with relatively high levels of humidity year-round. When it rains in this part of the world, it pours. The monsoon season strikes between October and April, and during these months, the downpours are significant. Outside of this period, heavy rains are unlikely, and humidity is a little lower.
Cost Of Living
There are two costs of living in Canggu: the local one and the expat one. Minimum wage on Bali is approximately US$200 a month, so you can imagine how inexpensively it's possible to live here. A Balinese meal costs under US$2, and local transportation is about the same per week.
If you embrace a local lifestyle, your savings could be enormous. Not many expats do this, though…
The other cost of living—the expat one—comes to about 9,200,000 rupiah a month for a couple (US$650), assuming you own your home.
It's a budget that allows for regular household help and eating out regularly.
Canggu is set up for expats and tourists to indulge, with cool eateries, trendy boutiques, and plenty of interesting opportunities for diversion. The bigger your budget, the more lavish your lifestyle could be…
Eating out in Canggu is an affordable and fun pastime, and there's a huge selection of gourmet options available, from breakfast joints serving up Norwegian staples and cold-brew coffee to tapas restaurants to roadside stands doling Indonesian classics like nasi goreng (fried rice). Again, there are two budgets (local and expat) when it comes to eating out. The average meal for two in an Indonesian restaurant is about US$5; in an international restaurant it's US$30.
The number-one activity in Canggu is surfing. Swells here are world-renowned, attracting surfers from around the globe for decades. As a newcomer, you can partake in surfing by renting a board on the beach for about US$10 an hour… The waters here are extremely dangerous though, so it's best to take a few lessons before paddling out.
Entertainment
Other watersports include swimming (Canggu is full of pools that you can use as long as you buy a drink or meal), paddle boarding, kayaking, boating, and so on… There is a whole host of activity taking place under the water too. Bali forms part of the Coral Triangle—the area with the greatest number of marine species in the world (seven times as many as the entire Caribbean, to be precise). Opportunities for snorkeling, scuba diving, whale/dolphin-watching, freediving, fishing, and so on abound.
On land, there are many multihued beaches to enjoy, volcanoes to hike to the top of, jungles to explore, rivers and waterfalls to discover…
One of the best ways to explore town is also one of the simplest—simply hop on a motorbike and get lost among the backstreets and rice-paddy lanes.
Is Canggu For You?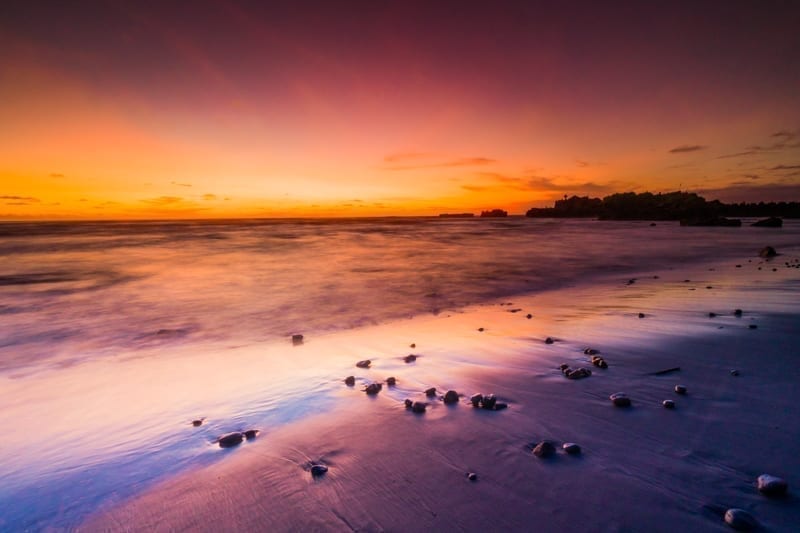 Bali has seen its fair share of bumps in the road, including political shifts, terrorist attacks, and economic slumps. Even still, it's one of the world's most popular travel destinations. "Where is Bali?" is one of the most Googled travel questions of all time.
The island's popularity exists for a reason… and everything that's special about Bali—from its beaches to its landscape to its ever-friendly locals—can be found in Canggu, plus a bit of expat culture.
If you're looking for a residential corner of Bali in the sweet spot of old and new cultures, with plenty of opportunity for recreation and diversion, look no farther than Canggu.
Sophia Titley
Editor,Overseas Living Letter