Bocas del Toro stands out from the rest of Panama… The vibe here is Caribbean-Calypso. The people are unfailingly good-natured, friendly, and high-spirited, as are all Panamanians… but here you feel the contrast between the Caribbean and Pacific sides. The first difference is the accent… Bocas Creole has that special lilt that brings to mind Jamaica.
Bocas del Toro (which translates to "mouths of the bull") is a province of Panama consisting of a small portion of the mainland as well as an archipelago of nine islands. It borders the Caribbean Sea to the north, Chiriquí the south, Costa Rica to the west, and the indigenous Ngäbe-Buglécomarca (reservation) to the east. Aside from serene beaches, lush jungles, and life-rich mangrove forests, it's home to two national parks and numerous banana plantations.
Living In Bocas Del Toro
Many expats live on the main island, Isla Colón. Some are retired and some own small businesses, such as restaurants, mini-supers (corner stores), nightclubs, and hostels, while others work online.
Most of the hotels are right on the water, purpose-built to showcase the jaw-dropping Caribbean vistas. The entire length of the main street in Bocas Town, the provincial capital found on Isla Colón, consists of hotels of every price range and restaurants of every ethnic origin. As a retiree in Panama with a Pensionado Visa, you get a discount on both hotel stays and restaurant meals.
Isla Colón boasts a school, a hospital, a police station, and many other amenities. No shopping malls, big box stores, movie theatres, or other commodities are found here. In Bocas everything is within walking distance, although taxis are also readily available and reasonably priced. Water taxis provide a means of island-to-island travel or transportation to the mainland.
Temperatures in this part of the world average 71°F (22°C) at night and 80°F to 90°F (27°C to 32°C) during the day. Add the refreshing ocean breezes to the mix, and life doesn't get any better…
In the words of one Bocas expat: "After 14 years of living here, I have watched the area develop tremendously from a surfer and backpacker destination to one of the most desirable retirement areas in the country. The beauty of these islands is unbelievable and the weather is perfect."
What Bocas residents love most about the area is the laid-back Caribbean lifestyle, the camaraderie of expats and Panamanian locals, the delicious fresh seafood, fruits, and veggies, and the choice between total relaxation or boating, water sports, and fishing.
The downside of living here is the isolation, limited selection of merchandise, and need to rely on protracted trips to larger centers for goods. The city of David is a 30-minute water taxi ride to Almirante on the mainland, then either a bus or taxi to David. It's a scenic trip over the Continental Divide.
A small airport on Isla Colón offers flights to and from David, Panama City, and nearby Costa Rica. An overland route by bus across the border to Costa Rica is also an option, but some red tape and paperwork is involved…
Housing
Accommodation in Bocas runs the gamut from short-term hostels to long-term apartments, condos, and houses for rent. From bare basics to beach-front luxury, Bocas del Toro has it all. Long-term rentals run from US$500 per month to much higher according to size, quality, and location.
As for real estate, the same applies as to comparative costs. However, a word of caution: Make sure that you are buying a property that's on titled land. Many properties advertised for sale are actually designated as Right of Possession. The basic premise of this is that the government by default owns any property not registered as being owned. Therefore, anyone can claim a piece of unused land and use it as he sees fit so long as no one claims previous ownership.
If not claimed, the current user of the property never actually owns the land but is entitled to use it. He can never sell the land but can pass it down to whomever he chooses as long as they, in turn, understand the stipulations. The possessor must maintain a constant presence on the property. Otherwise, the right of possession may be taken over by someone else.
Best advice: Hire an attorney well-versed and experienced in Rights of Possession and obtain documents from the Magistrate's Office certifying that the seller is the sole holder of the Rights of Possession.
Here Are A Few Examples Of Bocas Listings With Full Titles:
Building lots with no services: US$10,000;
Building with seven furnished, one-bedroom condos with ocean views in Bocas Town: US$399,000;
A green home on Bastimentos Island with two bedrooms, two baths, located 10 minutes from Bocas Town, with solar power and a shared dock: US$210,000;
Or, at the other end of the spectrum, a private island: US$12,500,000.
In Bocas, homes range from simple to elaborate, with a huge variety of options available in between. An example of the available variety is Robert Bezeau's completely unique approach to construction…
Robert Bezeau's Houses
He moved to Bocas del Toro from Canada several years ago and established a recycling service to address the challenges of unmanaged waste in this beautiful archipelago.
After collecting over 1 million plastic bottles, he made an unconventional decision: to build a village on 84 acres on Isla Colón out of plastic bottles, which serve as insulation for homes.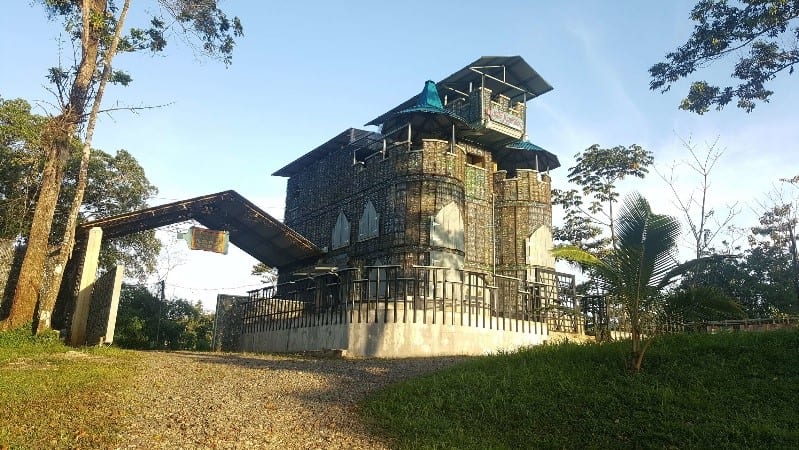 This amazing project is in full swing and even has a castle built from plastic bottles as well as some homes. The first home recycled a staggering 10,000 plastic bottles and boasts interior temperatures that are 17 degrees cooler than outdoors. The goal is 120 houses complete with private lots and a small community garden. Each home will include plumbing and electricity.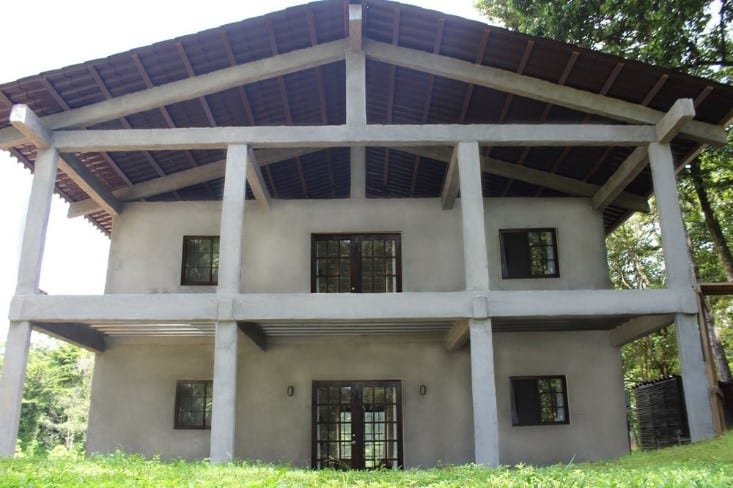 Architecturally, the homes will be earthquake resistant as well. Custom designs are also a possibility. "We'll be living in what we have consumed and thrown away and will turn those materials into modern, stylish, quality-built residences," Robert says.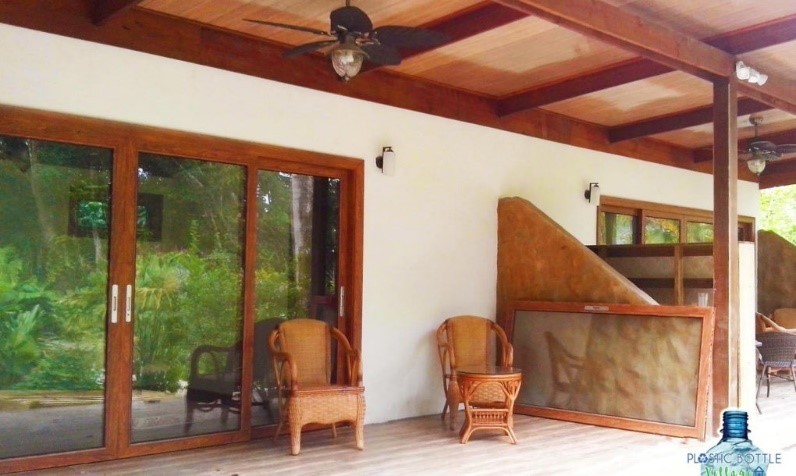 Bocas del Toro is a carefree, stunning destination with a character and a magnetism all its own. When the water taxi glides to a stop at the dock, on one side of the main street of Bocas Town, it's like entering a new world. The pastel-hued Victorian-style waterfront hotels are reminiscent of a bygone era, a completely different lifestyle… It's impossible to not be captivated.
Tropical vegetation, indescribable views, fauna indigenous to this corner of the world, the incomparable Caribbean Sea, and the combination of races living in harmony will astound you, mesmerize you, and draw you in.
Whether you are seeking a new and unique lifestyle for your family, or if this is your idea of the ultimate retirement, go with it. Embrace it. Live life as it was meant to be lived in your golden years.
Bocas beckons.
Robin Post
Panama Inside