Las Perlas offers an island lifestyle reminiscent of the Virgin Islands back in the 70s, before those islands became overpriced and crowded with people, commerce, and high-rises…
This string of islands has the best beaches and fishing, plus consistently perfect weather, within easy reach of Panama City. But each island in this 200-plus-island archipelago has a different culture, and none will remind you of a typical vacation destination… that's how you know you're someplace special.
Las Perlas has retained the wild allure of the sea that, for over 400 years, has been plied by islanders navigating canoes and now panga boats—small, traditional fishing boats.
The backdrop of the island boats mixing with the visiting yachts provides a rich tapestry connecting the past with the future; pangas weave through time as they do the archipelago's many islands.
Many of these islands are uninhabited and noted for their natural beauty and marine resources. They're steeped in history, with the pearl industry in the days of pirates and conquistadors starting around the 1600s.
The History Of Contadora Island
Currently, Contadora is the island where the production crews of many countries stay for extended periods as they continue to film reality TV shows and documentaries on the nearby remote islands. For example, the island of Gibraleón was chosen as the stage for the German and Ibero-American versions of the reality show "The Island."
The 1600s buccaneering allure of the islands continues to this day. Many sailors and adventurers who happen across the archipelago decide to stake out a home base here… Each island in Las Perlas has a distinctly different look and feel.
The most popular islands developed for tourism and attractive to expats looking for island property are Isla Contadora, Isla Saboga, and Isla Viveros. They are accessible by ferries, by Air Panama to the regional airport on Contadora, and by private boat.
Why Expats Live In Contadora Island
As a resident of Isla Saboga for a year and a half, and more recently on Isla Contadora for several years, what keeps me here full-time is the marine lifestyle, the magnificent greenery, the beaches, and everything about nature.
It's the perfect combination for me: the ability to live a productive life surrounded by nature—no noise, no traffic, no pollution—and I can work remotely and travel as much and as often as I want (under normal travel conditions).
– John and Nancy W
The reasons U.S. expats John and Nancy W. settled on Isla Contadora in 2006 were, "Number one: There are no hurricanes and, of course, oceanfront…
"Where in the world can you find oceanfront at a reasonable price where there aren't any hurricanes? I didn't want to worry about having to rebuild the house a second time," says John.
Contadora has an international flavor. "You can run into and rub shoulders with people from all over the world in a nice recreational format where people like to have conversations. I find that really cool," John says. "And it is a natural gated community because you can only get here by airplane or by boat."
Another reason John moved here is that Contadora has a regional commercial airport and a federal medical clinic. Antibiotics you might pay US$100 for in Panama City, here you get for free. The clinic also provides free vaccinations for employees who work in restaurants or hotels.
Cost Of Living In Contadora Island
The cost of living on any island is driven up by the logistics and expense of getting the products and services to the island. The cost of manpower to unload groceries off barges, transport goods, and stock shelves adds to the cost of the items sold.
One full-time homeowner here reports the overall cost of living is typically US$1,250 a month, not including mortgage payments or property taxes. Another expat who resides here only seasonally reports his monthly budget is US$1,500, again not including mortgage payments or property taxes.
Who Should Live In Contadora Island?
You have to be prepared to live on an island. It takes a certain type of person: independent, self-sufficient, resourceful, and patient. You've got to be patient…
Expats who live here are diversified in their skills and generally are accomplished in their ability to communicate and integrate with a variety of cultures. They tend to value privacy, tranquility, and the company of friends who share their love of nature and the abundant marine life.
All the islands offer peace and quiet in spades compared to anywhere on the mainland.
Living In Contadora Island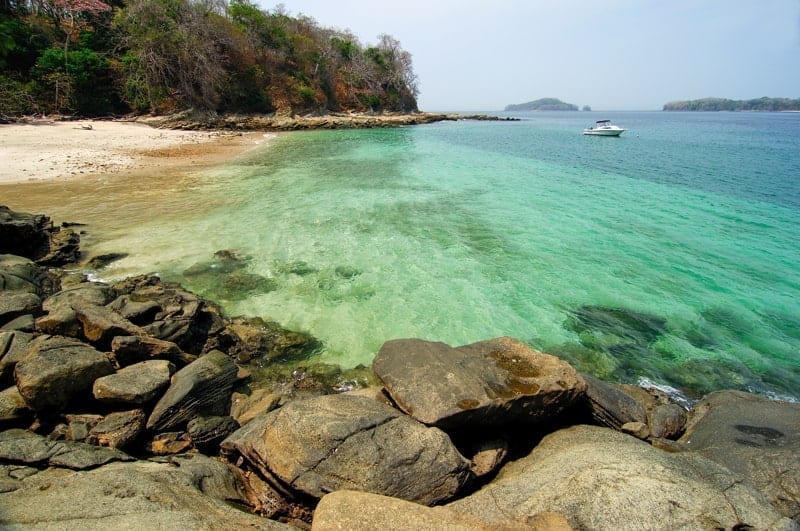 On Contadora, because of the excellent roads, you can get by with just owning a golf cart for transportation, but if you're going to be picking up groceries and supplies from the barge and transporting arriving family and friends with their luggage, then you'll probably want a Mule utility vehicle.
On Saboga and most islands, people favor four-wheel drive Mules or even pickups if doing construction. Some people, my husband and I included, get by with a four-wheel drive ATV.
Las Perlas has an impressive list of attributes that make it an ideal retirement destination… and I haven't even touched on its recreational opportunities. These islands and their surrounding waters are home to mind-boggling biodiversity.
Rare sea birds like the blue-footed booby nest here, and thousands of humpback whales migrate each year from Antarctica to Las Perlas to give birth and to mate. If you want to go someplace quiet and just lay on the beach and not get hassled by anybody, Las Perlas is the place to go.
If you're looking for a casino or nightlife or fancy restaurants, then you picked the wrong place.
The lifestyle in Saboga in contrast to Contadora is less busy, more private. The island is especially appealing to ecotourists looking for the "less traveled path" but with choices for decent accommodation at a handful of beautiful vacation homes for rent on the west side of Saboga.
Ilene Little
Panama Insider