The average cost of living in Panama can be much lower than in many first-world countries. What's most impressive though, is what you get for your money. Although prices for real estate are rising throughout Panama, housing is still relatively inexpensive compared to the U.S. and Canada. You can rent a nice apartment in Panama City from US$650 a month—and a really nice place with an amazing view is about US$1,500 a month. You can find just about anything you want in grocery stores in Panama, but you'll save big if you shop in the open markets. Many vendors compete in the local market plazas and prices, especially fruits and vegetables, are extremely inexpensive.
As for utilities, water and gas are relatively cheap. Electricity, however, can be more expensive. Depending on your number of appliances, electronics, and use of air conditioning, you could pay up to US$200 a month.
Health care in Panama is generally less expensive, but still rivaling North American standards. You can hire both a full-time maid and driver for under US$700 a month and a gardener can be hired for less than US$15 a day.
You can find good food for less than US$5 even in Panama City. Street food is good and very inexpensive. Barbecued meat on a stick (carne en palito), meat-stuffed pastries (carimañolas and empanadas), and raspados (ice cones) are delicious. Dinner out at a good restaurant, including wine and dessert, will cost you about US$25.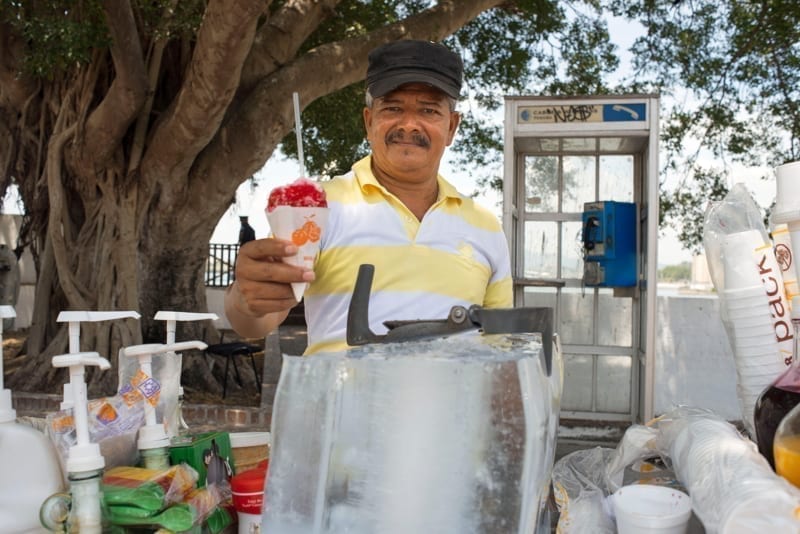 Alamy/Sergi Reboredo
Vendor selling raspado
If you enjoy the cinema, Panama offers movies in theatre for around $5, and popcorn and a drink are under $5 too. Try seeing a flick in the U.S. for that price!
Cab rides throughout the city are anywhere from US$1.50 to US$5.00, although it is helpful to ask how much the ride will be before entering the taxi.
How Living Expenses In Panama Have Changed
10 years ago Panama was a bargain for the U.S. expat. Prices have increased as much as 45% since then but while the bargain days are over you can still live here for less than at home. Depending on your lifestyle and priorities it can also be more expensive.
If you are planning to live in Panama in exactly the same way you did in the U.S. you could end up paying more. The goal is to find the right balance between home comforts and produce from Panama. For example, U.S. cereals are expensive here but you can get similar cereal from a Panamanian brand cheap. Imported steak is expensive, but Panamanian beef is cheap and delicious. Perhaps you used to eat lots of apples in the U.S. In Panama they are expensive, but pineapples are exceptionally cheap. The closer your lifestyle matches the local populations, the cheaper it will be for you to live here.
Average Salary In Panama
A typical middle-class salary in Panama is about $1,200 for a worker in Panama City. In the countryside and smaller cities, this drops to around $600 per month. Parts of Panama are still poor and people get by on less than $450 per month.