Should You Retire In Las Lajas, Panama?
by Rebecca Teeters – Panama Letter Contributor
The colorful central park is crowded with gossiping schoolchildren. People file in and out of the grocery and hardware stores while local restaurants fill with a hungry crowd. This is lunch hour in the town of Las Lajas, Panama. It seems a world away from the sprawling 15 kilometers of serene beach known as Playa Las Lajas.
The beach sits undisturbed and virtually undeveloped just a short 7-kilometer drive from downtown. The two worlds merge to create a perfect destination for those looking for a quiet beach life with services and amenities nearby.
One Of The Oldest Places In Chiriquí
Las Lajas is located on the Pacific coast of Panama in Chiriquí Province and is a subdivision of the larger San Felix district. Founded as a parish district in 1850, San Felix is one of the oldest districts in Chiriquí.
At the time, San Felix was populated mostly by indigenous groups. Around 1899, the area's population was decimated by a smallpox plague, and it wasn't until 1910 that the district was re-established.
The first European settlers were from France and Germany and they built their homes in the town of Las Lajas. Due to the economic and material growth of Las Lajas, it was named the head of the district in 1918.
Las Lajas has maintained its economic strength due to the minerals, such as copper and gold, that are mined in this mountainous region.
Convenient, Friendly, And Picturesque—What To Do In Las Lajas, Chiriquí Province
Las Lajas is a special place. It's the type of place where you feel at home after just three days. The people are friendly, which makes you want to spend more time with them. The proximity between downtown and the beach offers you the best of both worlds. When you think you're in the middle of nowhere, you head back into town and find the streets full of schoolchildren.
The town is full of cute, well-maintained houses that sprawl along shaded lanes. Each house is painted a different color with gardens full of tropical plants, making the town a kaleidoscope of colors.
Even off the beaten track, Las Lajas offers well-stocked grocery stores and a variety of places to dine and activities to participate in. Because the town is located about an hour from David, it makes for convenient shopping excursions and trips to the airport.
A Growing And Connected Expat Community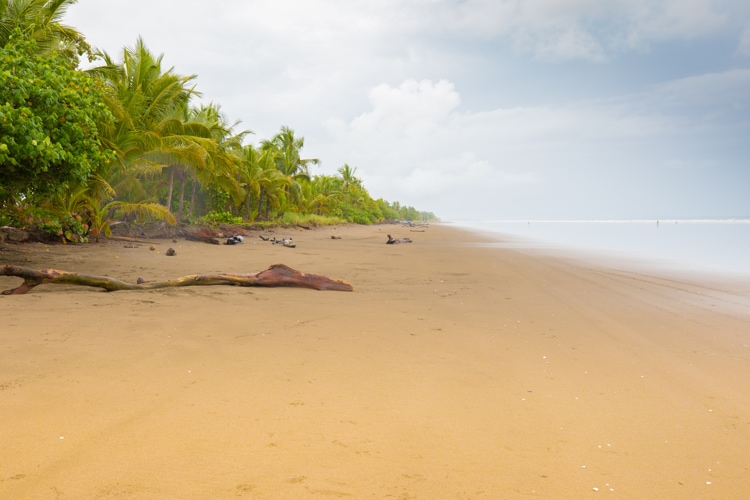 Las Lajas is sparsely populated compared to other beach destinations, but it has a growing expat community.
There are several restaurants downtown, including an ice cream shop, that cater to expats and tourists. They offer Western fare and the owners are expats who have found their paradise in Las Lajas.
At the beach, the expat community is growing. There are many lots for sale and several new houses under construction. Because the town and beach are close together, most expats know one another and regularly gather for happy hour, dinner in town, or dinner parties at the beach. Expats also join forces for planned community activities.
Volunteer, Visit A Botanical Garden, Or Indulge In A Massage
Life at the beach is what you make of it. If you want to stroll the beach and hang out in a hammock all day, you can do that in Las Lajas. You can also spice your life up by joining local groups and volunteering.
If you enjoy working on environmental projects, there are several options. One of the most popular is Amigos de las Tortugas Playa Las Lajas Chiriquí. This group works to protect sea turtles that lay their eggs along Playa Las Lajas. Several times a year, they release the baby turtles that hatch at their reserve back into the ocean. If you've never seen these tiny babies scurrying toward the mighty Pacific, it's an event that you'll never forget and will want to witness time after time.
If you enjoy plant life, Jardín Botánico Lajas Adentro offers tours at their extensive botanical garden.
People looking for more active options can try canoeing in the nearby river, surfing the rolling waves, or even scuba diving.
Finish your day off with a massage and dinner at one of the local restaurants before heading back to your hammock.
In addition to private clinics, you have two options for health care in Las Lajas. There's Centro de Salud de Las Lajas in the main downtown area. Centro de Salud de Las Lajas is similar to a large-scale clinic in the States. The staff and resources are prepared to deal with everyday problems such as broken bones, prescriptions for various conditions, and minor surgery, such as stitching cuts.
For more serious health care issues, you'll need to go to the hospital in San Felix. It offers comprehensive health care, including x-rays and in-patient care.
If you have an issue that neither Centro de Salud nor the hospital can handle, you'll be sent by ambulance to Hospital Chiriquí in David.
Starting A Business In Las Lajas
Las Lajas is still undeveloped, with enormous opportunity for those with an entrepreneurial spirit. You just have to find the right niche market and capitalize on the available cliental.
It's quiet during the week in Las Lajas, and on the weekends there's a large influx of people from David and the surrounding areas. Any business needs to be prepared for this contrast and the cash-flow possibilities it generates.
If you're considering starting a business in Las Lajas, or anywhere in Panama, you must find an attorney. They will help you navigate the reams of required paperwork and will also advise you on local laws and regulations.
Some expats have gone into business without counsel and have found themselves on the wrong side of the law or even immigration, so do your due diligence before diving in.
Is Las Lajas The Haven For You?
Las Lajas offers the best of both worlds, the beach and small-town life. It's also close enough to David to make going to the city a day trip rather than a serious hassle.
These are the reasons people love Las Lajas. It's quiet, with just enough rowdiness on weekends and holidays to remind you why you love your quiet beach.
If you're looking for all-night clubs, movie theaters, and luxury shopping, Las Lajas isn't for you. Small-town living comes with its drawbacks… for example, there are only a handful of restaurants and places to go out. Shopping is limited and sometimes that means you won't find what you need. If fine dining and big crowds are what you're looking for, keep looking.
The same things some people find to be drawbacks are what residents of Las Lajas love about it.
There are only a few stores, and it won't take long before you know the clerks and the young people working at the ice cream shop. The children who live in your neighborhood will wave to you and the old man who sits on the corner will say "buenos dias."
Las Lajas offers an unparalleled beach experience. If long sunrise walks on the beach and afternoon dips in the Pacific are what you're looking for, you'd be hard-pressed to find a comparable beach. Fifteen kilometers of unspoiled empty beach, where there are more pelicans than people, is something to be cherished. Las Lajas is one of the last places you'll find this type of tranquility.
The Cost Of Living In Las Lajas

Kick Back In Paradise For Less Than US$1,300 A Month
As prices around the world skyrocket, it's hard to find places that are still affordable, especially at the beach. Fortunately, Las Lajas is one of the holdouts when it comes to buying in paradise.
You can buy a beachfront home for about US$200,000 to US$300,000, and if you want to build your dream home, lots are available for much less. Buying a home at the beach might take a bite out of your checkbook, but after that, life in paradise is smooth sailing.
Utilities in Panama cost half what they do in the United States and Canada. Garbage collection in Las Lajas will run you US$4 a month while water is only US$4.50 a month. These basics, along with inexpensive electricity, cut the cost of living significantly. If you're apensionado(retiree), the government reduces the cost of your utilities by percentages, making life even more affordable.
You'll have options for meals out, but there's little else that will fall on your entertainment budget, unless you have a soft spot for ice cream. Most of your entertainment will be free at the beach or maybe an occasional massage.
Apartment Or House Ownership Budget (For A Couple)
Expense
Monthly Costs
Notes
Mortgage
US$0
Most homes in the area are affordable and can be paid for at closing.
HOA Fees
US$0
Planned communities aren't the norm in the area, although there are some start-ups.
Property Taxes
–
Property tax rate is 0.5% for property values between US$120,001 and US$250,000, while properties with values of US$250,001 and above pay a rate of 0.7%.
Transportation
US$30
Monthly gas for private car.
Gas
US$6
A tank of cooking gas will generally last more than one month.
Electricity
US$100
Using A/C at night.
Water
US$4
If you're over 65 your bill is reduced.
Cell Phone
US$5 and up
You can purchase calling cards, there's no need for a set plan.
Internet
US$74
1,000 Mbps, 2 Cable boxes.
Cable TV
–
Bundled with internet, English channels included.
Household Help
US$120
US$15 a day, twice a week.
Entertainment
US$300
Monthly cost for eating out twice a week: US$240 (US$30 per meal).
Monthly cost for drinks twice a week: US$60 (US$1 per local beer). Mixed drinks are US$5 and up.
Groceries
US$600
Depends on how many imported goods you buy.
Gym Membership
–
No gyms in the area.
Medical Appointment
US$5
For a private consult at a clinic.
TOTAL
US$1,244
Apartment Or House Rental Budget (For A Couple)
Expense
Monthly Costs
Notes
Rent
$1,000
Many rentals are vacation rentals but there are affordable options.
Transportation
US$30
Monthly gas for private car.
Gas
US$6
A tank of cooking gas will generally last more than one month.
Electricity
US$100
Using A/C at night.
Water
US$4
If you're over 65 your bill is reduced.
Cell Phone
US$5
You can purchase calling cards, there's no need for a set plan.
Internet
US$74
1,000 Mbps, 2 Cable boxes.
Cable TV
–
Bundled with internet, English channels included.
Household Help
US$120
US$15 a day, twice a week.
Entertainment
US$300
Monthly cost for eating out twice a week: US$240 (US$30 per meal).
Monthly cost for drinks twice a week: US$60 (US$1 per local beer). Mixed drinks are US$5 and up.
Groceries
US$600
Depends on how many imported goods you buy.
Gym Membership
–
No gyms in the area.
Medical Appointment
US$5
For a private consult at a clinic.
TOTAL
US$2,244
Penny-Pincher's Budget (Bare Minimum Costs, For A Couple)
| Expense | Monthly Costs | Notes |
| --- | --- | --- |
| Rent | US$500 | Cheaper options are available but will generally require on-the-ground research and negotiations. |
| Transportation | US$20 | Living at the beach requires a car. If you live in town you can avoid the cost, but you still may need to visit San Felix for items and services not found in Las Lajas. |
| Gas | US$6 | A tank of cooking gas will generally last more than one month. |
| Electricity | US$20 | Using fans, no A/C. |
| Water | US$4 | If you're over 65 your bill is reduced. |
| Cell Phone | US$5 | You can purchase calling cards, there's no need for a set plan. |
| Internet | US$22 | Basic plan. |
| Cable TV | US$20 | Basic plan. |
| Entertainment | US$60 | Monthly cost for eating out twice a week (US$7.50 per meal) at a local fonda. |
| Groceries | US$300 | All local-brand items only, shopping at markets and grocery stores. |
| TOTAL | US$957 | |