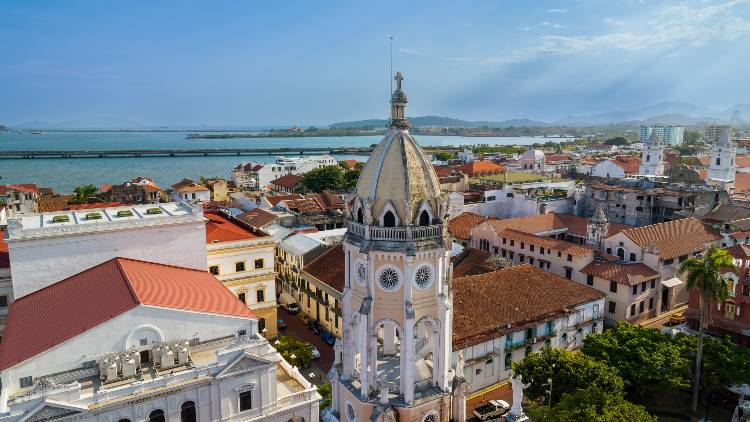 Panama uses the U.S. dollar.
The Cost Of Living In Casco Viejo, Panama City, Panama
Panama uses the U.S. dollar.
Apartment Or House Ownership Budget (For A Couple)
Expense
Monthly Costs
Notes
Mortgage
–
Not included here as too variable.
HOA Fees
US$0.80 to US$3 per square meter.
Highly variable.
Property Taxes
1.75% to 2.1%
Transportation
US$102.80
Highly variable:
Two gas refills a month: US$52.80 ($2.20 per gallon)
Insurance: $50 per month.
Gas (domestic)
US$200
All utilities combined: gas, electricity (with air conditioning), and water.
Electricity
–
Included in gas price.
Water
–
Included in gas price.
Cell Phone
US$35
Including 500 minutes, unlimited data, and flexible contract with Cable & Wireless.
Internet
US$60
Including Wi-Fi, HD TV (173 channels), and landline with 200 minutes with Cable & Wireless.
Cable TV
–
Included in internet price.
Household Help
US$90
Three 3-hour cleaner visits a week.
Entertainment
US$538
Eating out twice a week: US$392. Drinks twice a week: US$128. Movie theatre trip twice a month: US$18 (US$4.50 per ticket).
Groceries
US$260
Basic items for a couple, with shopping trips four times a month.
Gym Membership
US$75
Medical Appointment
US$30
TOTAL
US$1,605.80
HOA fees charged at US$2.15 a month for a 100-square-meter property. Property taxes not included.
Apartment Or House Rental Budget (For A Couple) In Casco Viejo, Panama
Expense
Monthly Costs
Notes
Rent
US$1,800
Two-bedroom apartment in neighborhood center.
Transportation
US$102.80
Highly variable:
Two gas refills a month: US$52.80 ($2.20 per gallon)
Insurance: $50 per month.
Gas
US$200
All utilities combined: gas, electricity (with air conditioning), and water.
Electricity
–
Included in gas price.
Water
–
Included in gas price.
Cell Phone
US$35
Including 500 minutes, unlimited data, and flexible contract with Cable & Wireless.
Internet
US$65
Including Wi-Fi, HD TV (173 channels), and landline with 200 minutes with Cable & Wireless.
Cable TV
–
Included in internet price.
Household Help
US$90
Three 3-hour cleaner visits a week.
Entertainment
US$538
Eating out twice a week: US$392. Drinks twice a week: US$128. Movie theatre trip twice a month: US$18 (US$4.50 per ticket).
Groceries
US$260
Basic items for a couple, with shopping trips four times a month.
Gym Membership
US$75
Medical Appointment
US$30
Total
US$3,190.80
Penny-Pincher's Budget For Casco Viejo (Bare Minimum Costs, For A Couple)
| Expense | Monthly Costs | Notes |
| --- | --- | --- |
| Rent | US$1,200 | One-bedroom apartment, fringe of neighborhood. |
| Transportation | US$75 | Using the metro, bus, and occasional taxis. |
| Gas | US$150 | Includes all utilities: electricity (not using air conditioning often), gas, and water. |
| Electricity | – | Included in gas price. |
| Water | – | Included in gas price. |
| Cell Phone | US$15 | Pay as you go. |
| Internet | – | |
| Cable TV | – | |
| Entertainment | US$178 | Eating out twice a week at inexpensive restaurants (US$120), drinks twice a week (US$40, domestic beer only), movie theatre trip once a month (US$18, US$4.50 per ticket). |
| Groceries | US$120 | Basic items for a couple, with shopping trips at discount stores twice a month. |
| TOTAL | US$1,738 | |