Coronado is the first resort community in Panama, started in the early 1940s by Roberto Eisenmann when there were only dirt roads and farms in the area. Now it's a bustling resort community just an hour from Panama City.
This beautiful coastal town is an ideal retirement destination for anyone who loves gorgeous beaches, perfect weather, golfing, ocean life, and much more. Coronado has steadily grown and now has first-world amenities at cheap prices. If you're looking for a beach-resort lifestyle with low prices and plenty to do, Coronado, Panama, is the place for you.
Where Is Coronado?
Located two hours from Panama City, Coronado is part of an area known as Panama's City Beaches. Of the beach towns that form the City Beaches area, Coronado has seen the most growth and is the most popular mainly due to its easy access and proximity to Panama City. This area is well-visited by locals during weekends and holidays––something to keep in mind if you like peace and quiet and are looking for a more "deserted" beach setting.
Cost Of Living In Coronado
Living in Coronado, Panama, is more affordable than you might expect. Even though it's a high-end resort, you can live here on a budget. It's cheaper to live in Coronado than in the capital Panama City, which is already cheaper than the United States.
A family of two, excluding rent, can live on around US$1,100 a month. A single person can live on less than that, and a bigger family will pay about US$1,500 a month before rent.
Rent in the Coronado resort areas is more expensive than outside the town center. A one-bedroom apartment costs around US$900 a month in the town center and US$500 a month outside of it. For a three-bedroom apartment, prices go up to US$2,000 a month inside the town center and US$1,500 a month outside of it.
If you're looking to purchase a home, prices rise the closer you are to the beach, to the golf course, and in prime areas inside the resort. You can find one- and two-bedroom homes for around US$170,000 to US$200,000.
You don't have to live in the Coronado resort area. There are plenty of other housing options just a 5- to 10-minute drive from the golf courses, main beaches, and the resort amenities.
A gallon of milk in Coronado will run you around US$5.68, a dozen eggs costs about US$2, and a loaf of bread will set you back about 90 cents.
Things To Do In Coronado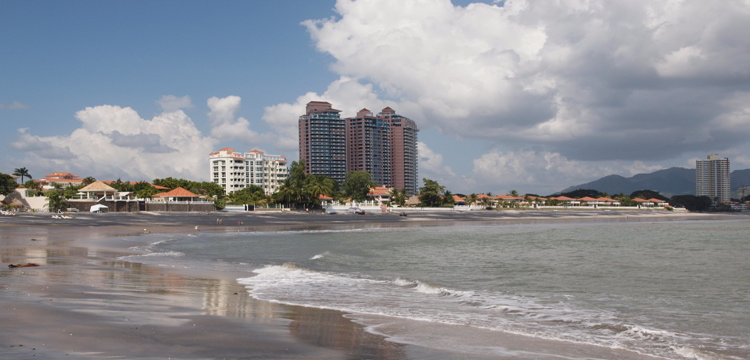 It's amazing how much the Coronado area has progressed over the past 70 years. Ever expanding, it now boasts three strip malls along the Pan-American Highway, plenty of restaurants, and a new clinic hospital—Clínica Hospital San Fernando Coronado.
There is plenty to do in Coronado and its surrounding areas. The main Coronado beach is located along the resort town and has beautiful black-and-white-speckled sand. It's usually quiet and is perfect for relaxing and soaking in the sun.
If you're looking for a more boisterous setting, you only need to cross Río Las Lajas (Las Lajas River). At beaches like Playa Teta and Playa Punta Barco you'll find barbecues, music, parties, surfing, and water sports galore.
The Coronado Country Club boasts a world-class golf course designed by Tom and George Fazio. If you want to take part in everything the facility has to offer (golf course, community pools, events, junior programs for kids, tennis courses, and fitness centers), the fee is only US$135 per person per month.
You don't need to join the country club to enjoy your time living in Coronado. There are plenty of other things for you to enjoy, such as the warm climate, the beaches, ocean sports (classes for surfing and other aquatic activities are offered in the area), and countless parties and festivities.
You can also go skydiving, try local cuisine at authentic restaurants, indulge in specialty shopping for handcrafted goods, and sign up for tours of the surrounding areas, the ocean, and nature.
Los Cajones de Chame, a river canyon with sparkling green water that you can swim in, is only a 30-minute drive from Coronado. Be sure to also visit the nearby Altos de Campana National Park.
You can volunteer with several charities in the area. Whatever cause you're passionate about—whether it be children in need, stray animals, or something else—you're sure to find an opportunity close by.
If you have an entrepreneurial spirit, you could open a bar or restaurant, teach English classes, or give surfing lessons.
You can also use this time to focus on yourself, catch up on your reading list and enjoy old or new hobbies.
Coronado's Amenities
Coronado's amenities have boomed over the last decade. If you live in nearby towns such as Nueva Gorgona, San Carlos, Chame, or Río Hato, this is your go-to town for grocery stores, banks, home goods, clothing stores, and more.
Riba Smith is the perfect grocery store if you're looking for imported goods. Super 99 and El Rey are also great choices for your weekly, bi-weekly, or monthly grocery run.
El Machetazo, right across the street from the entrance to Coronado, is where to buy clothing or household items. You'll find several other retail stores in that same plaza along with a few cafés and restaurants.
Coronado also has a Banco General, Banesco, and a Global Bank.
Clínica Hospital San Fernando is located in Coronado. People from surrounding areas travel to Coronado if they have a medical emergency, saving them an hour-and-a-half to two-hour drive to Panama City.
The Community In Coronado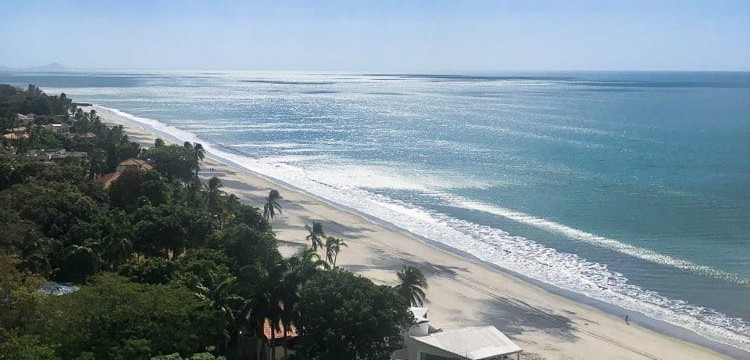 A well-established, large group of expats lives in Coronado, meaning there's no shortage of things to do or people to meet if you decide to set up house here. Mix-and-mingle activities are common, as well as art classes, card and domino games, and more, and these activities happen a few days a week. Expats are also active in volunteering.
Both locals and expats are friendly, welcoming people, and those with less-fortunate living situations appreciate whatever help you give through volunteer efforts. These small towns provide an opportunity to give back to the locals and create a sense of community among everyone who lives there.
Moving And Visas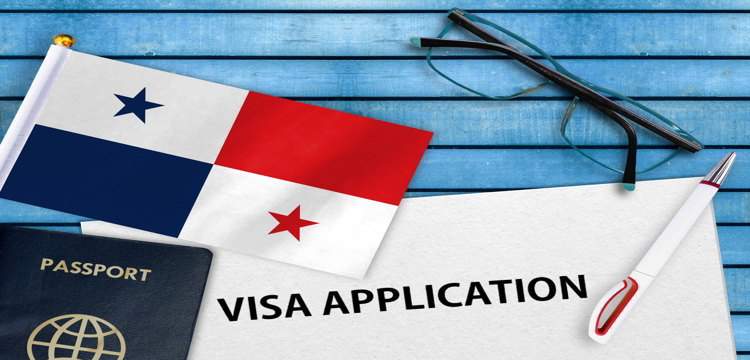 Moving to Coronado, Panama, can be as simple as packing up your belongings and getting on the next available flight. You can be in the country with no visa for up to 180 days.
If you have the Pensionado Visa, or are of a certain age (55 for women and 60 for men) and have another type of visa, you're eligible for Panama's Pensionado program benefits. The benefits grant you discounts on just about everything (movies, hotels, restaurants, utilities, public transportation, etc.).
There's an instant permanent residency visa called Turista Pensionado for persons whose pension from a government entity or private corporation is US$500 or more (US$600 or more for a couple). Through this program you cannot obtain a Panamanian passport or Panamanian nationality.
Another program is the Panama Reforestation visa. If you invest a sum of US$40,000 or more in trees (usually teak, but other trees also fit the bill for the program), you'll gain permanent residency and possibly a Panamanian passport.
The Rentista Retirado visa (Private Income Retiree visa) is for people without a pension and who are retired. You'd need to deposit at least US$750 a month in the National Bank of Panama on a five-year certificate of deposit (which amounts to at least US$170,000). This can grant permanent residency and a traveling Panamanian passport, but not citizenship.
Another noteworthy program is the Solvencia Económica Propia (Person of Means visa). If you wish to live in Panama on your own means, without working or starting a business, you are perfect for this visa. You must have a one-year certificate of deposit of at least US$200,000 at any local bank. Of that amount, US$80,000 can be used to buy a home.
Weather In Coronado
Panama has a tropical climate. It's hot and humid—perfect beach weather year-round. It's more humid during the rainy season which lasts from May to December, and is less humid during the dry season from January to April.
In Coronado, Panama, temperatures range from 73°F (23°C) to 89°F (31°C) with the hottest months being March and April and the coldest months being November and December. Although it never gets cold in Panama, sometimes you might want a light sweater, and having an umbrella handy during the rainy season is always a good idea.
Winds get very strong at Playa Coronado, hitting up to 13 kms per hour around February but dwindling down to around 6 kms per hour around September. Playa Coronado usually has small waves, but nearby (and sometimes at Playa Coronado, too) there's plenty of surfing as the waves can get up to 8 to 12 feet.
The humidity in Coronado ranges from 77% to 87%, and it can feel quite sticky, but with the ocean and swimming pools close by there's always a way to cool off. Air conditioning is used in almost every shop, restaurant, and indoor public space.
There's almost no rain from January until the end of April. Precipitation steadily rises towards the end of the dry season and is at its peak between May and August.
The sun is very strong in Panama and it's a good idea to always wear sunscreen, especially at the beach.
Expats In Coronado And Panama's City Beaches
By Peg Fairbairn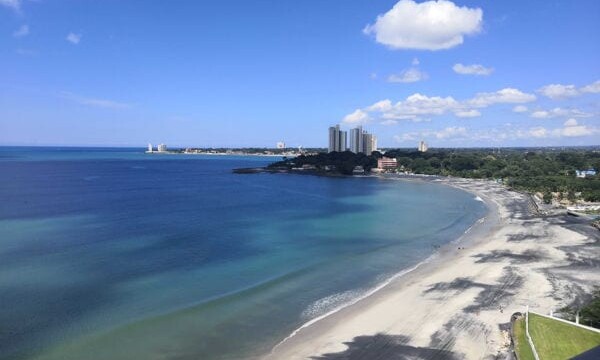 It's summertime in Panama, and we here at Live And Invest Overseas have been thinking about beaches a lot lately. The Pacific Beaches… Bocas del Toro… the Azuero Peninsula… San Blas… and countless others… It's hard to focus on work where there's soft sand, umbrellas, and mojitos in easy reach.
I'm partial to my corner of coastline on the Azuero Sunset Coast, but I understand that different people have different criteria for judging a beach. Time and again my expat friends here in Panama tell me that I should be giving the Pacific Beaches just west of Panama City more credit—not only because of the quality of the shoreline itself, but because of the standard of life overall for residents.
To find out why some people are partial to Coronado, Gorgona, and the other popular City Beaches, I put a call out to expats in the area.
The Best Things About The City Beaches:
Here are the five things people told me they love about their communities (along with a couple things they hate).
1. The Beach Itself
Locals say the uncrowded sands of Coronado are perhaps its biggest appeal. The water is calm, the sand is fine, and it varies from white to salt-and-pepper to greyish volcanic depending on the area. Jo Anne and Al Burrill settled in Coronado in 2010 after touring several residential options in Panama. They've been commuting between here and New York ever since.
"We absolutely love walking the beach and we strive to walk at low tide every day for approximately 5 miles," Jo Anne told me. "This is our main workout goal to stay in shape."
Suzi Jensen and her husband Bob moved to Nueva Gorgona permanently last year after going back and forth between here and landlocked New Mexico for about three years.
"We found ourselves drawn to the beach," Suzi says. "Something about the 24/7 sound of the waves, the salt air, the peace and tranquility, and walking the beach every morning…"
"The salt and pepper sand is so soft and great for walking," Suzi explains. "I collect sea glass and shells and have started drawing on the shells and making pictures with the sea glass."
2. The Easy Access To Panama City
The City Beaches are as popular among Panamanians as they are among expats, and there's a good reason for that—they're convenient. You can be sitting in a beachfront bar about an hour after crossing the Bridge of the Americas outside Panama City. Try that late on a Friday afternoon or Saturday morning, though, and the trip can be twice or three times that because of traffic.
Jo Anne and Al live in Coronado without a car and rely on local buses and chivas (vans) to get to and from the grocery stores and around town. Both Jo Anne and Suzi use buses to travel to and from Panama City—for less than US$10 for Jo Anne and her husband, and US$2.50 in Suzi's case.
3. The Community
It's only been about a decade since Coronado and the City Beaches started popping up on the annual lists of great places to retire. In that short time, a thriving community of English-speaking expats has formed, and there's no shortage of things to do and people to meet here.
Suzi and Bob Jensen live in a condo directly on the beach (they take an elevator down to the sand) and, when they're not relaxing at home, they're hanging out with other expats.
"There are several happy hours scheduled weekly to mix and mingle, art classes, card and domino games, and anything else we could want," Suzi says. "Everyone—including the Panamanians who live in and visit the area—is friendly and helpful."
Jo Anne and Al have found a spiritual home (and lots of friends) at the Coronado Bible Church and have also taken up volunteer work to keep busy and give back to the community. "There are several organizations offering plenty of opportunities for those inclined to altruism," Jo Anne says.
Cari Collins and her husband settled in Coronado nine months ago after drafting a long list of criteria and doing lots of homework. She wanted to be near the ocean and golf courses, have access to great health care, be close enough to the States for trips home, have decent (and affordable) shopping and other amenities nearby, and have plenty of opportunity for socializing. Panama's City Beaches, she says, haven't let them down. They've had no trouble settling in.
"I like that everyone here is in the same situation," Cari says. "We've retired but still want an active life. Because we have that in common, it's been easy to make friends. It's easy to find things to do and it's a great place for friends from home to visit."
4. The Amenities
Cari wasn't the only one who named Coronado's amenities as one of its main draws. Until recently, the area had few options for modern retail and grocery shopping. Now, new malls seem to be sprouting almost every month and there are at least four clean, modern grocery stores minutes from the beach communities.
Your options include a Riba Smith for high-end and imported goods, El Rey and Super 99 for everyday needs, and a Walmart-like Machetazo that sells groceries, home goods, clothes, and other essentials.
"We love all the new stores that have popped up in Coronado," Jo Anne says. "When we first moved here, we only had El Rey to shop at. Now we have several choices." She and her husband like to go old school every now and then—"We love the produce trucks where we buy our fresh fruits and vegetables," she shares.
5. The Sunrises And Sunsets
A couple folks said the sunrises and sunsets in this corner of the Pacific are worth writing home about.
"I have to mention that I get up early every morning to see the spectacular sunrise and quite frequently go to the rooftop of our building to see the awesome sunset," Jo Anne says. "We feel truly blessed living in Coronado and spending our retirement years here. When we can no longer physically travel, Coronado will be our year-round residence."
Suzi says that if there was one thing she could change about Coronado it would be the rising and setting of the sun. There's not enough daylight to do everything she wants to do.
"I would sure like it to stay light later," she says. "Because we are only nine degrees north of the equator, the sun rises and sets at the same time all year. Sunrise is 6:30 a.m. and sunset is 6:30 p.m. I sure would like longer daylight."
The Downsides?
What do people who live here dislike about the City Beaches? The answers were universal—the litter and the roads.
1. The Litter
It's not unusual to be driving along Panama's highways and see passengers chucking fast food wrappers, soda bottles, and other litter out the windows of their cars. And, as anyone who has gone for a stroll along the beach after a long holiday weekend knows, beaches don't get treated much better.
"We can see an effort has been made to clean up the beaches and the area but it still has a long way to go," Jo Anne says.
2. The Roads
As for the roads, there seems to be little hope. Because it was conceived as a private beachfront community in the 1940s, the government isn't responsible for maintaining the roads behind Coronado's gates. The homeowners are, and they don't seem to take that responsibility seriously.
Some of the roads look like they haven't been improved in decades and sport potholes large enough to swallow a Subaru. "There is an apartment we considered living in but taxis won't even go there, the road to it is so bad," Suzi says.
There you have it. Now that you've heard the reasons why everyone is talking about Coronado and Panama's City Beaches, why not come down and see them for yourself?