Fine white sand, clear blue waters, hammocks swaying in the sea breeze, and the sun bathing you as you relax… this may be what you picture when you think of the islands in Thailand. It's the typical beach vacation, but each island has many different beaches, each with its own character and rhythm. Hopefully you'll be able to island hop and get to know a few of them, since travel within Thailand is cheap.
Most islands have a little bit of everything for everyone. Some are great for fishing, others for diving, or snorkeling, or a nice swim. Most places have been developed due to the tourism boom in the early 2000s and you will find shops, spas, restaurants, yoga sanctuaries, and ATMs on some of these islands. Other islands are still in their natural condition, untouched by modern civilization. Parties won't be too difficult to find, and just as easily you'll be able to slip away from it all and relax on a quieter side of any of these islands.
Here is a list of the 10 best islands in Thailand.
1. Phuket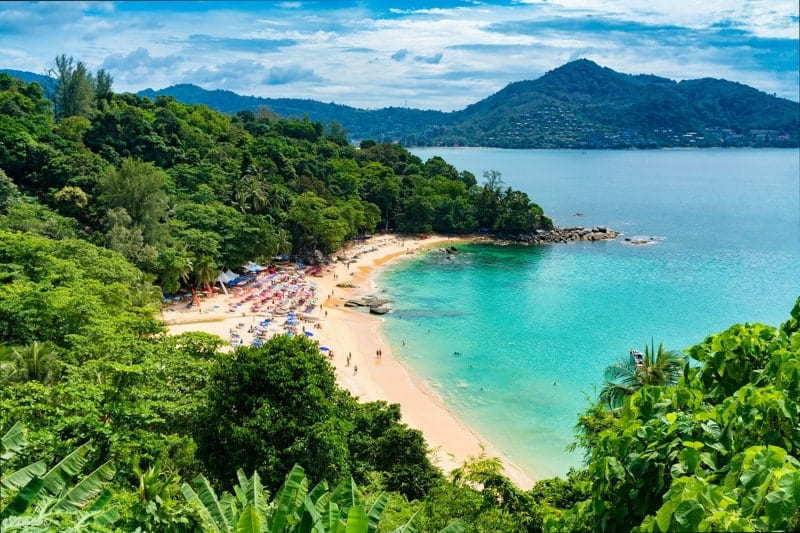 Phuket Island is an internationally famous beach destination, the country's largest, and one the most popular islands in Thailand. Phuket is a rainforest mountain island in the Andaman sea. Easy to reach, the island is connected to the mainland by bridges and it has an airport which brings lots of crowds.
Phuket is made of white sand shores and warm clear waters, which are only a few of the island's many attractions. Here you'll find a wide variety of shops, restaurants, hotels, spas to relax in, bars to enjoy the nightlife, lush mountain sides, and more. It's an island with over 100,000 foreign residents, and many tourists visit every year, meaning English is widely spoken here.
2. Similan Islands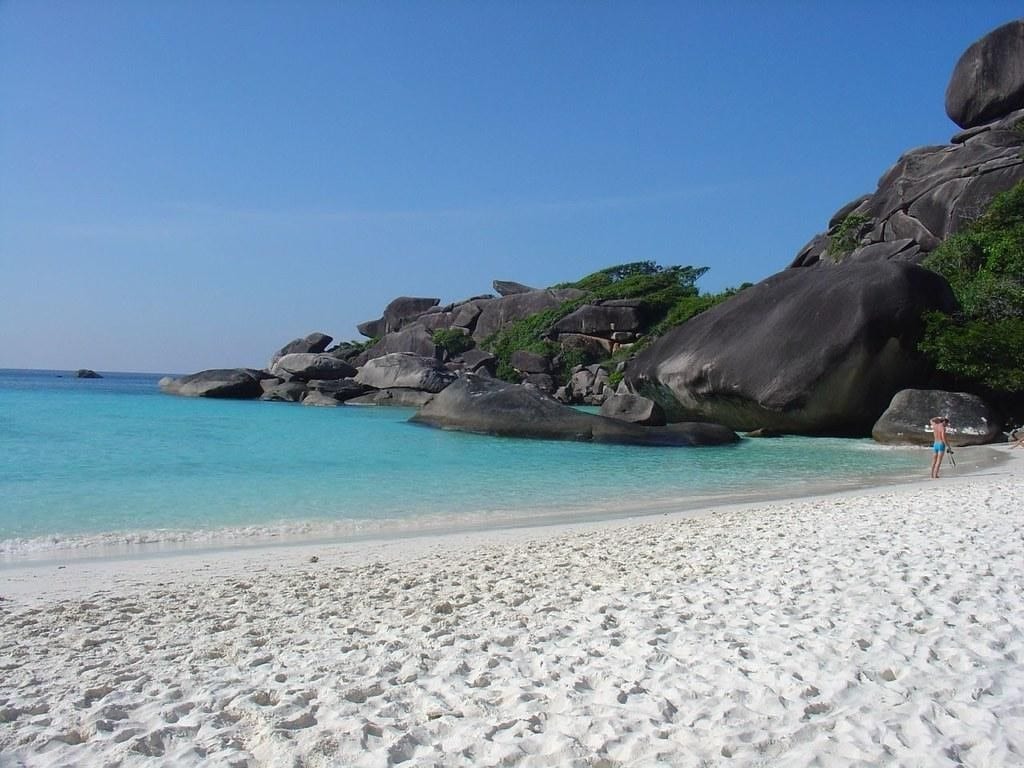 The Similan Islands is an archipelago in the Andaman Sea, located 70 miles off the coast of southern Thailand. In 1982, a year after the full exploration of the islands in Thailand, the archipelago became a protected national park of Thailand known as Mu Ko Similan National Park.
The park is composed of 11 islands called Koh Bangu, Koh Bon, Koh Ha, Koh Hin Pousar, Koh Huyong, Koh Meang, Koh Payan, Koh Payang, Koh Payu, Koh Similan and Koh Tachai.
Ko Similian is the largest island. Some islands are closed to the public to keep the hatching turtles protected, and there's ongoing coral reef conservation efforts. Fishing is also prohibited in the park. The park is closed during the monsoon season from May to October to protect the islands.
3. Koh Samui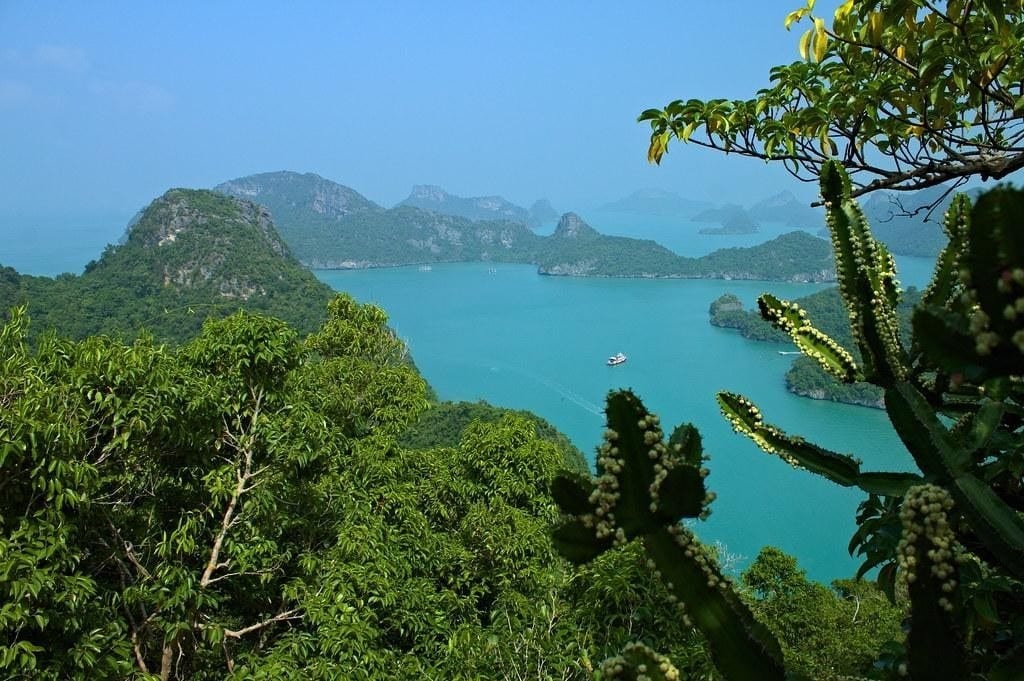 Koh Samui is an island in the Chumphon Archipelago in the Gulf of Thailand, 40 miles (80 kilometers) off the east coast of Thailand. Koh Samui, with an area of 88.3 square miles (228.7 square kilometers), is the second largest of the islands in Thailand after Phuket.
The island has good infrastructure including an airport, spas, resorts, nightclubs, and many beaches. Thousands of tourists visit every year, and though it may be busy, you may still find quiet beach spots to enjoy for yourself. Parties and nightclubs are common on this island and the busiest beaches are Chaweng and Lamai.
Ko Samui has a tropical monsoon climate where it's warm and humid most of the year. The weather is less humid in comparison to Phuket, since it rains only two months a year from October to December. The average temperature ranges between 64° F (18° C) to 82° F (28° C).
4. Koh Phi Phi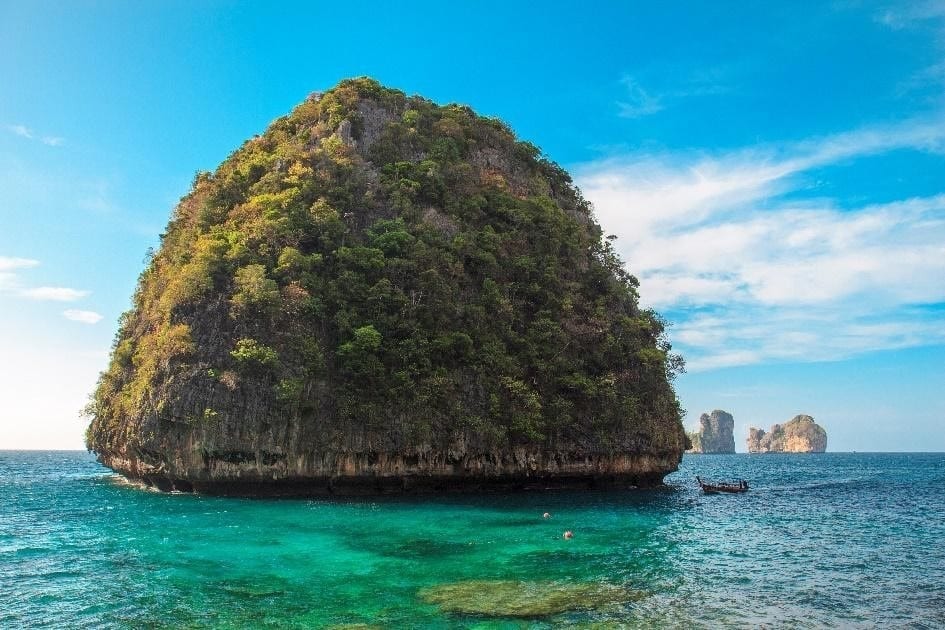 Koh Phi Phi is a famous archipelago on the Andaman sea, 46 kilometers south of Phuket. In 2004 the island was rebuilt from the ground up after a tsunami caused a lot of damage. Jungle scenery and rock formations are a large part of the island's natural beauty. Many of these islands in Thailand are narrow enough to see water on both sides of the island from where you stand. The warm shallow waters are perfect for swimming.
The islands are small, but the partying is notorious. At night you won't be able to escape the constant rhythm. Diving is ideal in this archipelago, and this unique diving location offers sights not seen anywhere else in the world.
You can get to Koh Phi Phi by ferry or by speedboat. The ferry takes two hours while the speedboat takes 50 minutes.
This region is influenced by tropical monsoon winds. Average temperatures range between 63 and 99° F (17 to 37° C).
5. Koh Pha Ngan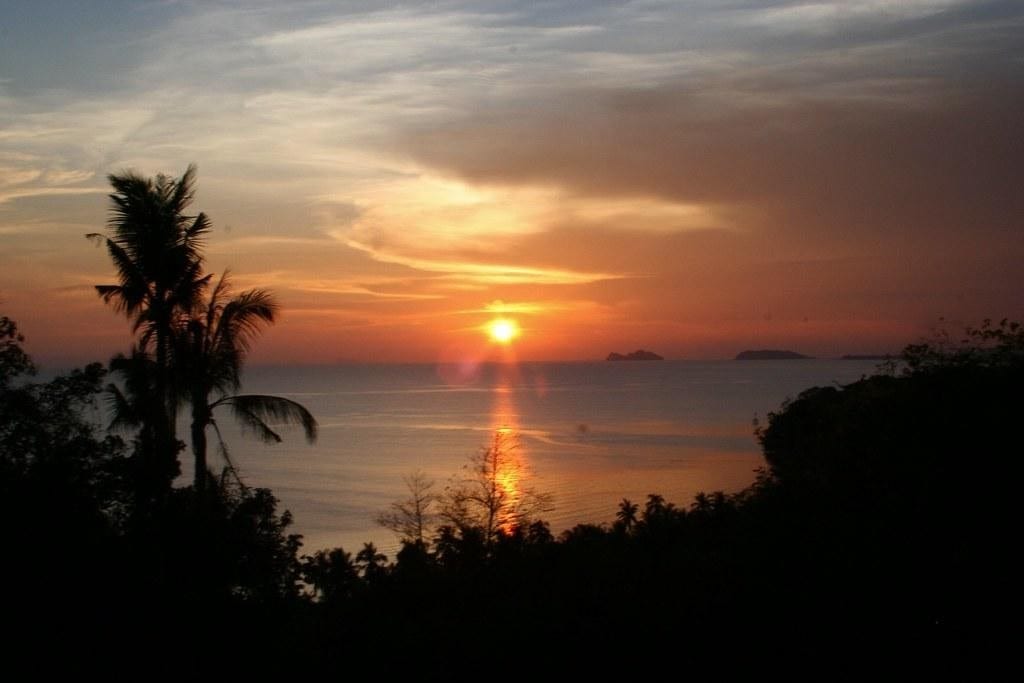 Koh Pha Ngan is the fifth largest of the islands in Thailand with an overall area of 167 square kilometers. Located 12 kilometers north of Koh Samui, and 70 kilometers from the mainland, it was once declared the King of Thailand's favorite island.
Koh Pha Ngan relies on ferries to bring visitors and supplies from the mainland and Koh Samui. The island has a tropical jungle, white sand beaches, and over 20 dive sites nearby. This island has become an infamous backpacker destination. The main ports are Thongsala and Haad Rin, which is also where you'll find ATM machines and banks. There's plenty of accommodations on the island, but farther away from the beach, it's quieter and you'll find better deals.
This island is also famous for its monthly Full Moon party. The main party beach is Haad Rin, a small peninsula beach in the south. If you prefer a quiet and calm place, avoid this beach. The islands also have luxurious resorts, spa retreats, and hidden places. There's plenty of activities to do here such as free diving, archery, the full moon party, snorkeling, hiking, yoga, scuba diving, and more.
The main method of transportation is the song teaows— pick-up trucks converted into passenger vehicles. Be cautious because parts of the island do not have the best road structure and it tends to be hilly, making it dangerous to walk, especially at night or during strong weather conditions.
6. Koh Chang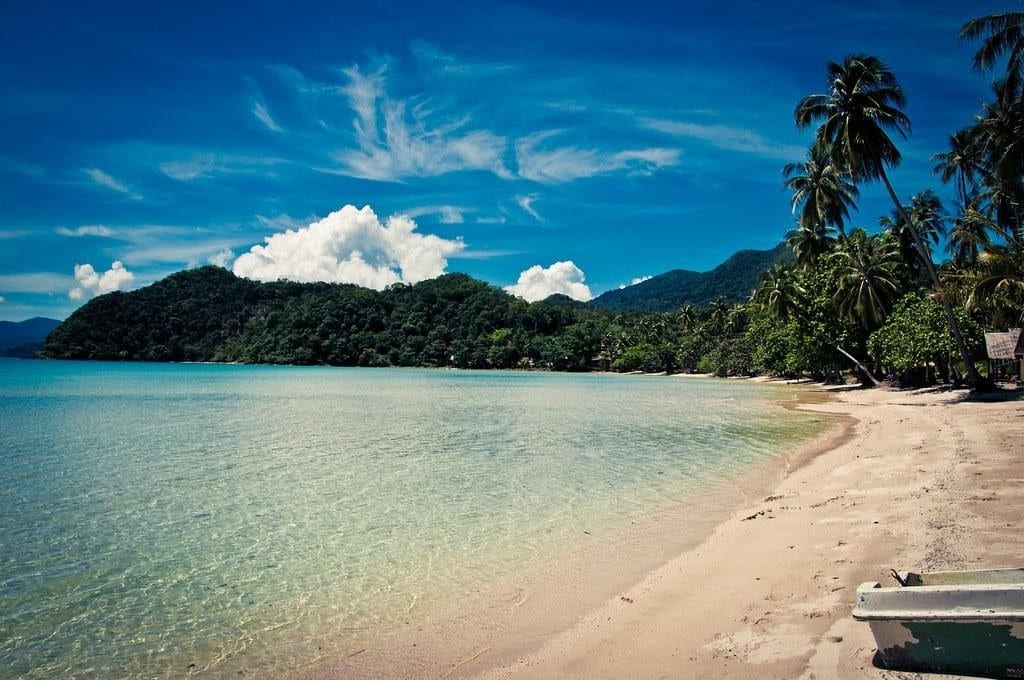 Koh Chang is the third largest of the islands in Thailand, and more underdeveloped than Phutek or Koh Samui. You'll find plenty of fine white sand beaches all around this island which is also home to an ample range of flora and fauna, creating an ideal ambience for hiking, snorkeling, diving, fishing, and exploring.
The best season to visit is during the dry season between November and February when the temperature ranges between high 70s to high 80's (22° C to 32° C). Backpackers and short-term visitors are the usual guests on this island, most seeking a relaxing beach getaway, or the occasional party. Tourism started to really grow here in the early 2000s, and since then, the island has rapidly developed to meet the needs of its visitors. However, even during high season this island is quieter than Phuket and Koh Samui.
7. Koh Lanta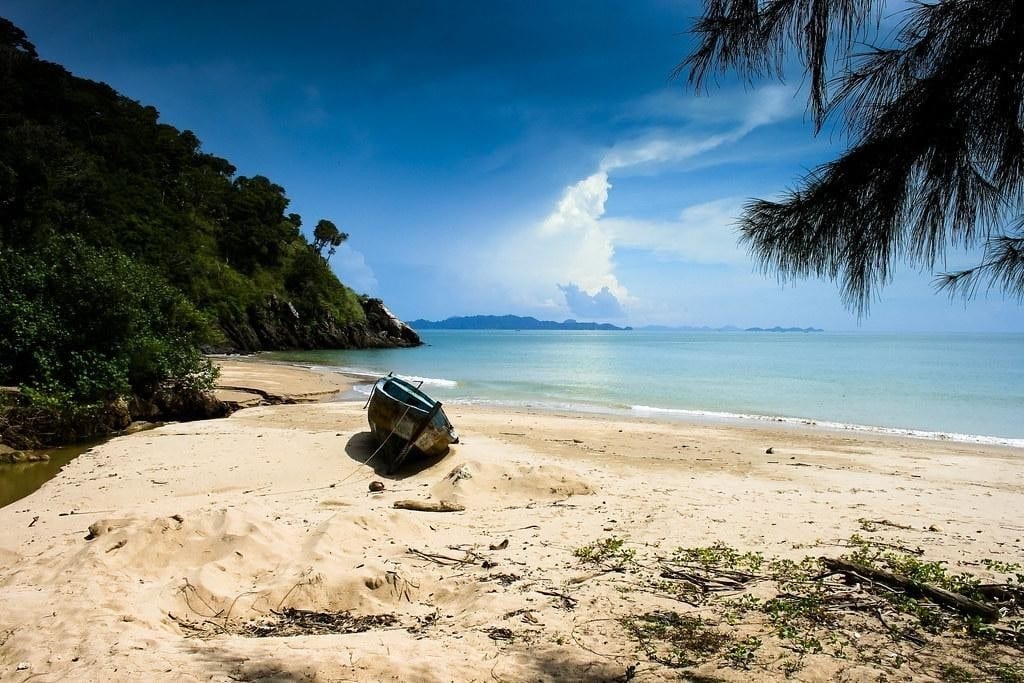 Koh Lanta is an archipelago of 52 islands, some of which are small and uninhabited, while the others have a few accommodations for tourists. The two largest islands are connected by a bridge and are called Koh Lanta Noi, where many tourist activities are found, and Koh Lanta Yai.
Koh Lanta is close to Phuket, though it is less developed and much calmer. This beach is the ultimate destination for relaxed beach time and to vacation away from the parties. Koh Lanta closes down during the rainy season between June and October. One of the most recognized beaches is Long Beach, a long strip of white sand and clear blue waters. You'll find plenty of activities to do on these islands in Thailand, such as hiking, diving, yoga retreats, and Muay Thai classes.
The weather here is tropical and temperatures average 77º F to 89.6º F (25º C to 32º C) year-round. The sea temperature stays at a constant 84° F (29° C) all year-round.