One of my favorite things about retiring in Portugal is that it's just a day's drive to most Spanish locations and two days away from most of France.
Depending on how much time you have to experience a continental adventure, you may choose to pay for well-maintained, high-speed thoroughfares (fewer toll roads are found in Spain but France has many péage booths found on most major roads) in which case, I suggest taking along a jar of coins and having your credit card handy for more expensive routes.
Or you can hit the "avoid toll roads" button on your GPS and just meander through breathtaking scenery, stopping for tapas and sangria in España and taking your time over a café au lait and cream-filled eclair in Centre-Ville Boulangeries, in France.
Whether you're searching for a retirement destination in Europe or enjoying the one you already have, may I suggest a visit to the Jura Department in France and especially the lovely town of Arbois.
Let's Start With The Surrounding Area
The Jura Mountain Range is known to be one of the largest Nordic skiing areas in Europe. It straddles Switzerland and Eastern France. On the French side, the popular slopes also form a backdrop for three unique départments or regions, near Besancon. They are the Ain, Doubs, and Jura regions. Here, the aptly named River Doubs winds its way through abundant fertile valleys and low hills, adding a sparkling complement to a mix of pastoral delights and naturally wild landscapes.
I loved the smell of this land. It hit me head on every time I stepped out of our car. To say the air has a fragrance best described by the definition of the word "fresh," is an understatement. Cows and sheep, vineyards and orchards, waterfalls and forests combine to create a most pleasant perfume. It permeates the air, the food, and the drink found here.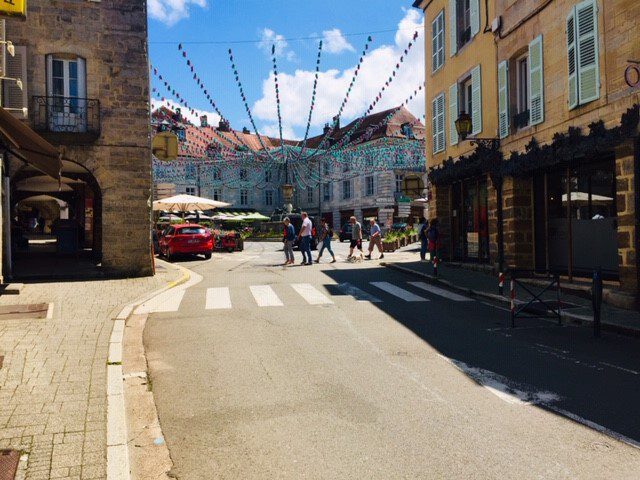 Arbois' outstanding downtown area is distinguished by an arcaded central square featuring a number of ancient shops and houses… it feels like a medieval environment. It has been awarded two "flowers" by the National Council of Towns and Villages in Bloom, for its amazing floral displays, making it a real photographer's paradise. Yet, it is only one of many charming towns in these three regions. Dole, Poligny, Val D'Amour, Lons-le-Saunier and Salins-les-Bains are all nearby. But this article will focus on Arbois and I leave it to you to fill in the highlights on the others.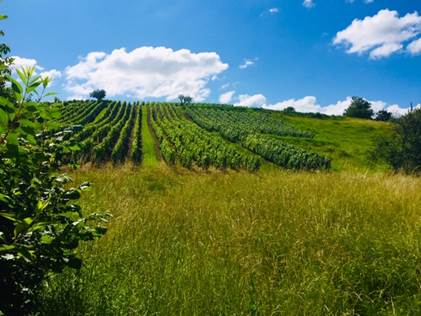 Arbois and its 3,300 inhabitants are situated in the Jura region which has been renown for its vintages since the first century A.D. Consequently, there are references to the town's wine in Roman scripts. White, rosé, red, yellow, and straw wines are produced by multiple vineyards; one of which is Jacques Tissot. This company is one of several that offer tasting cellars and retail shops in and around Arbois.
To quote the Vins du Jura brochure published by the Comité Interprofessionnel des Vins du Jura, "wines that fill your soul with powerful and subtle flavors such as fresh and candied fruits, spices and marmalades, flowers and biscuits, tea and Comte cheese" are the pride of this locale.
We topped off our dinner at La Finette Taverne (on the main street) with a bottle of Cremant du Jura Rosé Brut from Jacques Tissot and found it both refreshing and delicious. In addition to being served to kings and noblemen for centuries, the local wine was also used by Louis Pasteur, who lived part of his life in Arbois, to explore the mysteries of alcoholic fermentation. His work is credited as one of the reasons why the local labels excel. In fact, Arbois was declared the first A.O.C. wine in the world, on May 15, 1936.
Dining In Arbois Sets A Higher Standard
We decided to take a friend's advice and ordered the comté cheese fondue with a plate of boiled potatoes and a basket of local bread. The thick boiling broth of cheese clung to our chunks of bread and potatoes, resulting in a melée of mouth-watering perfection.
A dozen four- and five-star eateries lure eager tourists to enjoy outdoor or indoor table service. Reservations, especially for weekend dinners, are highly recommended. We booked a month in advance.
The aroma of Hirsinger's award winning chocolate wafting over the sidewalk made it impossible to pass by this popular café. Even though it was a hot day, I could not resist a cup of creamy, thick hot chocolate. Pure elixir. Choosing from dozens of artfully designed pastries and home-made ice cream flavors was difficult so we made a lunch of it and tried both. Ooh la la!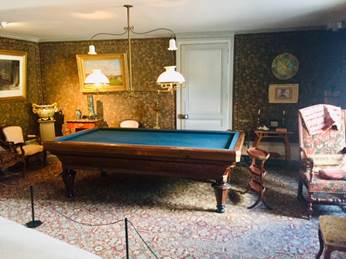 The Are Plenty Of Activities To Do In Arbois
The shopping is excellent in Arbois. High-quality souvenirs, clothing, and handcrafted décor abound. But save some money for your tour of Louis Pasteur's house, decorated in period furnishings. It is situated right on the scenic Cuisance River and offers a lovely garden space in addition to two floors of exhibit rooms. We spent 30 minutes in the laboratory where some of Pasteur's original records, vials and equipment are on display. Guided audio tours are available in several languages.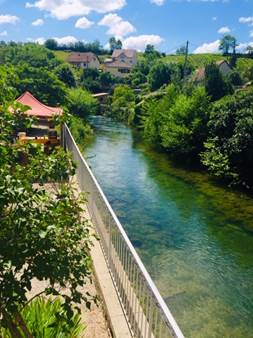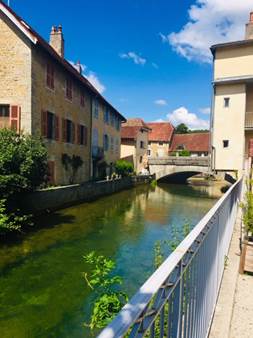 From there, it's easy to begin a free pedestrian walking tour that takes you along the Cuisance River bank, through a pasture, beside a small run of rapids, behind a beautiful church (enter from the front) then circles back into the picture-perfect downtown streets, arriving opposite the Tourist Information Center. Just past the church you'll find the Catholic Cemetery where Pasteur's parents and two of his young children are buried in a peaceful retreat.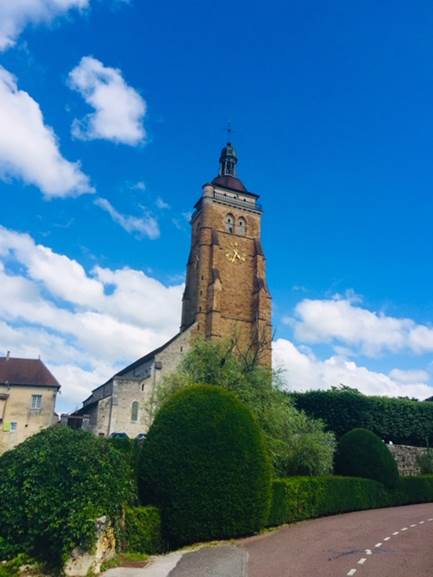 Dozens of colorful brochures (at the Info Center) make it very apparent you'll need more than a day or two to visit even half of the local and nearby attractions. These include no fewer than eight Unesco World Heritage Sites.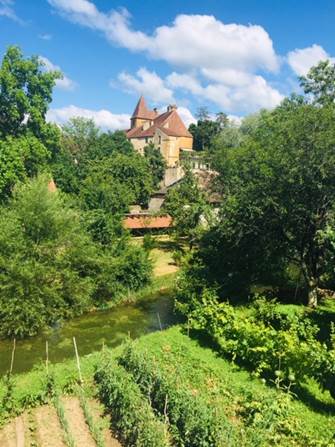 Arbois and its neighbors share a rich cultural past, superb vintages, extraordinary cuisine, highly rated accommodations, friendly locals, and beautiful surroundings. We can't wait to go back.
Marie Moore
Portugal Insider