Deauville, known as the Parisian Riviera and the "Saint-Tropez Normande," is one of the most famous getaways from Paris…
Located on Normandy's Côte Fleurie (Flowered Coast), and the closest beach to France's capital at just two hours away by car or train, Deauville has long drawn the most distinguished and flashiest of European society from France's capital…
Josephine Baker walked her pet cheetah down Deauville's beach promenade…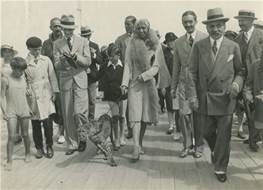 She spent time there with one of my favorite artists, French-Dutch painter Kees van Dongen, who lived there with his son and said the town "fit him like a glove."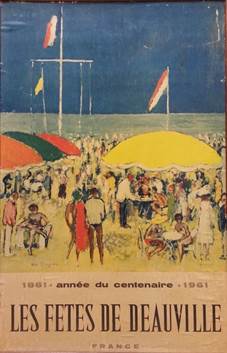 The late Queen Elizabeth II was allowed to drive her car down the planks of the same boardwalk, where vehicles are ordinarily strictly forbidden.
It inspired Ian Fleming's "Casino Royale"…
Tom and Daisy honeymooned here in the Great Gatsby…
Marcel Proust, Agatha Christie, and Noël Coward all used it as a setting, too…
And it was the birthplace of Coco Chanel's career in clothing, she even opened her second shop in Deauville.
Thanks to the American Film Festival that has taken place here every year since 1975, the town is just as familiar with more contemporary celebrities… George Clooney, Matt Damon, and Harrison Ford have all spent plenty of time here, along hosts of other American movie stars.
Yves Saint Laurent had a house here, as does Gérard Depardieu and many other French celebrities, socialites, and politicians.
Needless to say, this town was made for pleasure seeking and being seen…
In fact, that's literally true.
Boasting the so-called queen of the Normandy beaches, the area was targeted for major development in the 1860s by Napoleon's brother-in-law. He put in a rail line direct from Paris, and had the casino and hippodrome built (the region was already well-known as prime horse country).
With these investments came grand hotels, upscale restaurants, an enormous casino, famous art galleries, a major spa, and seaside promenade and tables were installed.
By 1910, the town was rich and attracted the rich. Luxury boutiques on every corner, record sales in all industries, yachts in the harbor…
When the airport was built in 1931, the town's reputation went international.
Nowadays, Deauville is just as much a darling to the wealthy, but it's within reach of us mere mortals, as well… the train from Paris costs less than 20 euros, and the town has plenty of affordable hotels and Airbnb options for visitors.
Living here, the lifestyle would be laid-back and refined.
All the best shopping that you'd expect in Paris is available here, but also the produce market, where you can join locals in shopping for organic produce, meat, eggs, dairy, and flowers.
Start Your New Life Today, Overseas
A world full of fun, adventure, and profit awaits! Sign up for our free daily e-letter, Overseas Opportunity Letter, and we'll send you a FREE report on the 10 Best Places To Retire In Style Overseas Today
The eating out options here are excellent, but not many. This is a small town (population about 3,500), and they mostly cater to tourists with money, so eating out can paint you into a bit of a corner. In the middle of town, you'll have to fork over to lift a fork… prices are on par with Paris'.
But with great seafood, especially shellfish, and farm-fresh dairy and produce coming in every day, any foodie would be happy here.
One of my favorite autumn dishes in France is poêlée de champignons, pan fried mushrooms, and the one I had here was the best I've ever had (prepared with diced foie gras and raspberries).
The beach that initially attracted the Napoleonic dynasty is as much a draw as it has ever been, and with good reason. I've seen a lot of beaches in my day… and this was possibly the widest beach I've ever visited.
To get from the boardwalk to the sea takes a few minutes' walk on the white-sand beach. It's famous for its multi-colored umbrellas tied in a specific way in summer.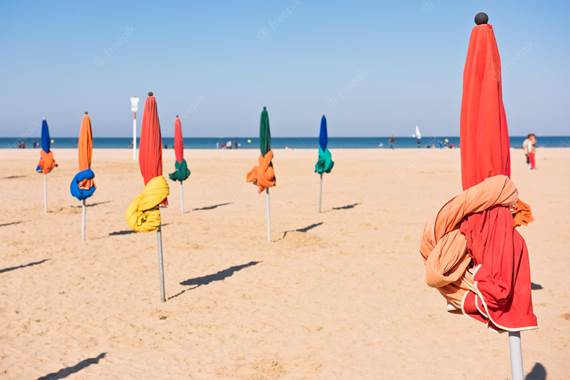 The beach is packed with sunbathers and swimmers in summer. But in winter when the tourists have gone, the vast beach is practically empty but for a few locals walking dogs and riders exercising their thoroughbreds early in the morning.
In summer, the town brings in not just beach lovers, but also music lovers attending the local jazz festival and boaters visiting for regattas or the local sailing.
In fall, the Paris-Deauville rally brings classic cars to the city, when the streets become overtaken with exquisite vintage autos.
And as I mentioned, this is horse country. The area was long-known for quality horse breeding operations, which led it to be a popular racing town. Deauville is sister cities with Lexington, Kentucky, and Kildare, Ireland, two other global horse centers, with the goal of uniting the cities in their love of thoroughbreds and the horse industry.
The prestigious local studs attract some of the world's wealthiest and best-known breeders, and the Hippodrome Deauville-La Touques and associated training facility is one of the largest, most famous, and most highly regarded in Europe. Called the "Four Seasons Racetrack," the track hosts high profile events year-round.
The other local track offers courses for jumping, steeplechase, obstacle courses, and trotting courses—the only multidisciplinary course in Normandy.
It's a family-friendly track, offering just as many amenities to the not-so-horse-minded visitor, including an exhibition space, many restaurants and bars, free daycare, pony and donkey rides for kids, carriage and mini-car rentals, and more. Clairefontaine track also hosts theme days, good fun for all.
The local polo club is a hub for entertainment and networking, as well, with tennis and polo matches held year-round.
While the French aren't avid golfers, there are several golf courses here, all of them very well acclaimed—even a mini-golf course next to the beach.
The main local museum, Les Franciscaines, converted from a former convent, is more a community center than traditional museum, and it's a hub for local families. Part library, lounge, education center, games venue, kitchen, and much more, it's always busy with folks of all ages enjoying all it has to offer.
The attached café as a few options for snacks, but the dining room also features cooking appliances of all kinds, that all guests are welcome to use—bring something to toast or microwave and enjoy it in the beautiful atrium.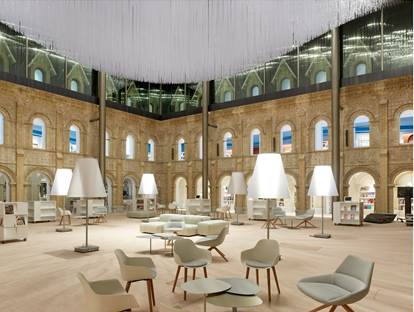 But despite all the finery and the glitzy events, Deauville somehow manages to feel quaint… not overwhelming or exclusive. Another writer described it as "understated elegance."
A cute local tradition has most houses ornamenting their rooves with small clay animals, sometimes posed in vignettes: a cat chasing pigeons away, an owl eyeing a mouse.
The Hotel Barrière, the grand hotel that dominates a main square near the beach has a many-gabled roof covered in not just animals, but mermaids, jockeys, and more.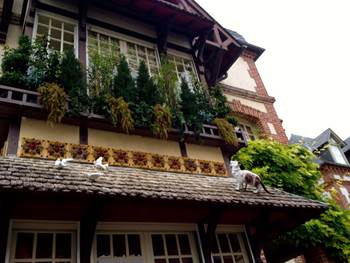 While it's not very well known to North Americans, Deauville is a wonderful option for a new life in Normandy, offering all the chic and convenience of Paris with a small-town feel.
Kat Kalashian
Editor, In Focus: Europe