"Well, we walked across the city's oldest bridge to get here… passed Notre Dame Cathedral on its other side… and here we are in front of the Grand Ducal Palace… that's about it," I chuckled to my travel companions.Paris. While there might not be a laundry list of things to do, the fascinating layout makes a trip here well worth it. This capital is possibly the most topographically interesting city I've ever visited. In fact, this city reminds me of the nursery rhyme about going over, under, around, and through—between the bridges, the underground tunnels, the dramatic heights and depths, the narrow passages and alleyways… Luxembourg was made for meandering and getting lost. One travel writer described it well, "By the time you've finished exploring, you won't know which way is up and which is down. Bewilderingly beautiful." Once called the Gibraltar of the North thanks to its colossal medieval fortifications, all that remains of Luxembourg's old fortresses are a handful of cellars. Their underground vaults were turned into casemates (fortified gun emplacements) by the Spanish in the 17th century, and by the time they were finished by the Austrians in the 18th century, they had practically been turned into an underground village. They were destroyed in 1867, but to demolish them all would have taken part of the city with them, so 17 kms had to be left in situ, and these are Luxembourg's biggest tourist draw today. The honeycomb of tunnels and caves was opened to the public in 1933 and acted as a bomb shelter for 35,000 people during WWII. The promontory that houses them is called the Bock, and this rocky cliff is one of the most defining landmarks of the city.
We had been out of the hotel for under an hour and we had managed to cross off three of the top must-sees in Luxembourg city. An underappreciated city, Luxembourg is a UNESCO World Heritage Site and a quick and easy train ride from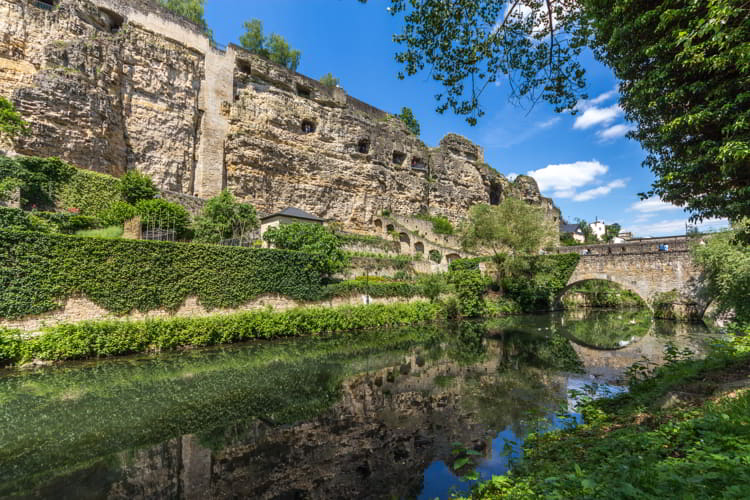 One of the smallest countries in the world (smaller even than Rhode Island), the country of Luxembourg shares its name with its capital city—and the country holds many claims to fame.
It's the only Duchy left in the world… meaning it's run by a grand duke, the monarchical head of the country—and Luxembourgers are infatuated with him. Luxembourg is an economic powerhouse and the second richest country in the world despite its lilliputian size.
Life In Luxembourg Means Diversity… In Every Possible Way
Nearly half of its 600,000-person population is foreign, with another 214,000 commuting in daily from other countries. To say this is a foreigner-friendly country goes without saying—when you count in those working there, nearly two-thirds of the country was born elsewhere.
The largest proportion of foreigners is Portuguese, followed by French, Italian, Belgian, German, Montenegrin, British, Serbian, Dutch, and Spanish—these account for 47% of the population.
Multiculturalism goes with the territory here… Each of these nationalities is entrenched to some degree, and you see their cultural influence throughout, especially in the cuisine—Portuguese restaurants are a staple, as are their delicacies in supermarkets (my Portuguese friend was delighted to see her favorite Portuguese soda for sale everywhere in Luxembourg—she calls it the Portuguese Orangina).
The diversity of the population seems reflected in the eclectic city where new buildings are built on historic foundations, where medieval structures are backdropped by glass and steel construction, and where romantic landscapes share the lens with a modern city. Luxembourg's city center perches on a sheer cliff and is surrounded by narrow valleys (deep gorges, really, created by two rivers) and is accessible by bridges or by long, steep hike up from the depth. Walking, running, or biking here is an adventure in the up and down—and all three are popular in this playground of a city.
Start Your New Life Today, Overseas
A world full of fun, adventure, and profit awaits! Sign up for our free daily e-letter, Overseas Opportunity Letter, and we'll send you a FREE report on the 10 Best Places To Retire In Style Overseas Today
Biking is a national pastime here, the country boasting 23 bike paths covering 600 kms, plus another 700 kms of mountain biking trails, passing villages, rivers, castles, railways, and more (that in addition to the 42 hiking trails)…
And Luxembourgers don't limit themselves to just two wheels… skateboarding and skating of all kinds is a widespread interest here. Traditional skate parks are common, but there are also several prominent spots in the city that attract countless skaters, including in front of the cathedral and the philharmonic—not exactly the back alleys you might expect skaters to favor. The mix of the old and the new is as interesting a setting for skaters as much as it is for all Luxembourg's highly active residents. If you prefer more of the outdoors for your fitness activities, fear not. Nature is never far in the capital, with the picturesque Grund neighborhood (located deep in one side of the valley) home to the scenic Alzette river and lots of charming greenery. The city is bordered by the sprawling Municipal Park on its entire western side, and on the east the Parc des Trois Glands.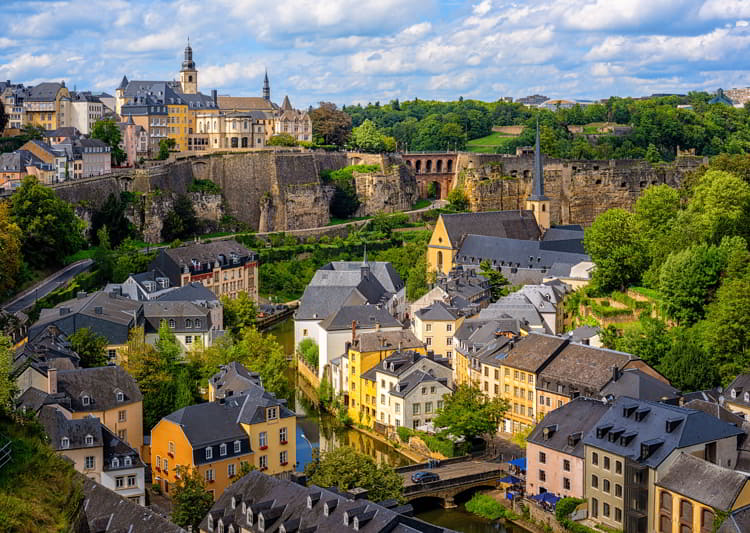 Would you have to learn Luxembourgish to live here? No. The country has three official languages, Luxembourgish, French, and German, and each is seemingly used as much as the other, with English fluency underlying them all. In fact, a law put on the books in 1984 mandates that in official matters, whatever language a citizen uses to ask a question, an administrator must reply as best they can in the same language. In writing, though—on street signs, menus, clothing tags, grocery labels, etc.—you're more likely to see French, English, or German than Luxembourgish, which is mostly only spoken among locals.
And the multilingualism is not limited to just those… significant portions of the population claim Portuguese, English, Spanish, and Italian as their primary language. And no matter what they claim as their mother tongue, just about every Luxembourger speaks English fluently—this is certainly a place you could comfortably live in English, without ever worrying much about learning any of the local languages. Some claim that the country will turn completely Francophone or French/English bilingual sometime in the future. Aside from the ease of language, this is an enjoyable place to live by all accounts. The city has been named 6th Most Livable City in the World by Mercer's, and has been European Capital of Culture twice—and was the first ever to be so named back in 1995. And if you need a break from the city life, tranquil as it is, about 30 minutes from the capital the renowned Mullerthal region is called Luxembourg's "Little Switzerland." Boasting trails, caves, rivers, waterfalls, chasms, ravines, brooks, and little lagoons, it's an incredible nature getaway.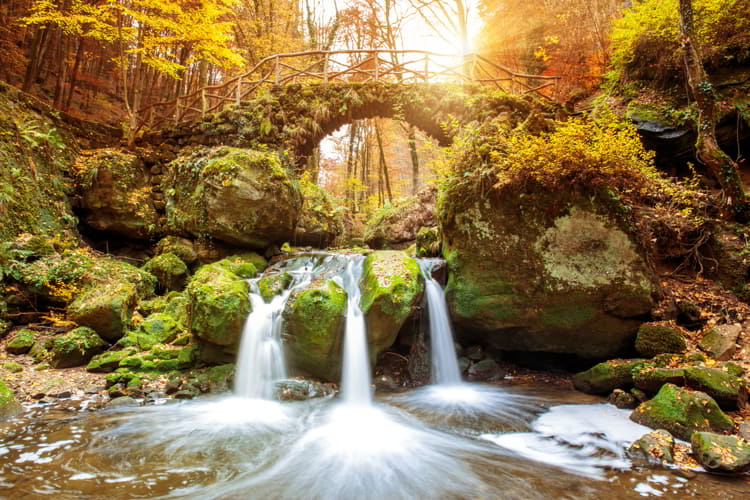 When it comes to protecting their environment, Luxembourg does better than nearly anyone else in the world—it ranked second out of 180 countries in the 2020 Environmental Performance Index and is currently focused on significantly increasing their organic farming.crémants are the local varieties—I enjoyed each that I sampled. Luxembourg strikes me as the best of all things if you're looking for a laid-back yet active city lifestyle. It's not too crowded but loaded with friendly fellow foreigners, it's at the heart of Europe, so travel to and from is easy and affordable, and it's loaded with history, diverse culture, and art. Kat Kalashian Editor, In Focus: Europe
Within an hour and a half, you can get anywhere in the country, including to any of its many beautiful castles—for free. While not any cheaper than Paris when it comes to eating out, as of March 1, 2020, Luxembourg became the first country in the world to offer free public transport nationwide (coach class). And the country is impressively networked, so you can practically travel across it and back again for free. With biking and hiking so popular, it's common for folks to hit the well-signposted trails, go as far as they can, and then hop on a train to get them back home again. Traditional Luxembourgish cuisine isn't something I'd travel out of my way for (pig neck and broad beans is the traditional dish), but there's a great selection of international fare, and excellent Portuguese, French, and German restaurants. Plus, the country produces award-winning wines, with the industry along the Moselle River dating back to Roman times. Dry whites and sparkling wines called