On Cyprus' northern coast, you can never get lost, I'm told. The mountains always to the south, the sea always to the north. You'll always be able to see one or the other before too long.
While southern Cyprus is more historically frequented by tourists, I've been more attracted to what I've seen of the north—precisely because of the stunning (and orienting) mountain range that adds a dramatic backdrop to every scene. The topography is more interesting… the south has a tendency to be flat (outside of the Troödos range that is often proclaimed by locals to be the biggest draw in the south).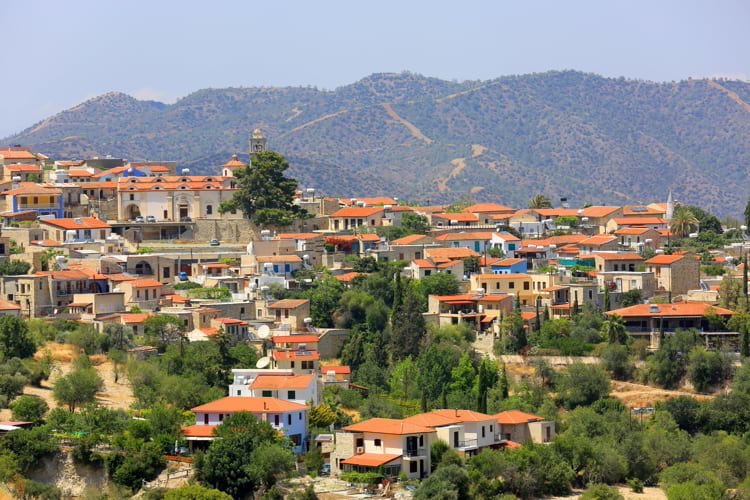 Up in these mountains, which can be a mere 500 meters from the beach if you don't go up too high, are vineyards and productive citrus groves—lemon, many kinds of mandarin, guava, and more. Add to those the nut and peppercorn trees, and the gardening opportunities here have me wanting to invest in an orchard or vineyard… at least a house with some land to grow on.
In the Ottoman days, the kind of a plantation-style property that I'm envisioning was called a pasa konak, literally, a general mansion. These homes were designed to hide sprawling, bucolic courtyards, with the construction protecting the garden within its bosom.
And the landscape is more colorful here than what I saw of the south… vibrantly green and punctuated by the island's namesake Cyprus trees like exclamation points on the horizon. The wildflowers that grow here in stunning shades of fuchsia and magenta remind me of the tropics, while the towering eucalyptus trees, with their scraggly, shaggy bark, provide shade and somehow a kind of gravitas to the countryside. Olive trees grow abundantly all over…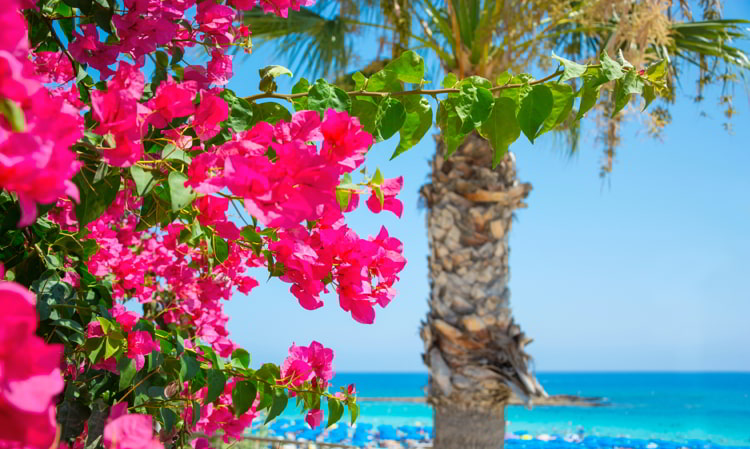 The Food In Cyprus
Cypriot food is everything I dreamed it would be—a perfect blend of Greek and Turkish, with Middle Eastern influences. You'll never go long without seeing souvlaki (Greek roasted meats) or pide and lahmacun (Turkish calzone and pizza, respectively). Humus and tzatziki are served with every meal, along with tarama (a fish egg spread) as well as some fresh greens and local produce tossed together and reminiscent of (but not exactly) Greek salad.
If you're ever in the region, I recommend a Turkish menemen for breakfast—it was a lucky discovery for me this trip. More like scrambled eggs with tomato and peppers, the blend reminds of eggs in purgatory—it's more veggie than egg and it's got a real kick.
Halloumi, which you may be familiar with from Greek food, is a unique cheese that originates from the island—in fact, it's trademarked (except for those two years in 2018 when Cyprus forgot to renew the license, which they promptly got back in 2020 once they realized the gaff).
The most traditional dessert here is candied fruits—this is neither Greek nor Turkish, but 100% Cypriot. Walnuts—shell and all—are the most typical. To enjoy them like a local, you should drop one in your glass of water, swirl it a few times, then fish the walnut out again with your fork and eat it in a single bite, then drain the glass of now sugary water. Candied watermelon peels and all types of mandarin are the other most commonly offered delicacies at the end of a meal. They are each a rich treat to be sure.
Ouzo and raki (Greece and Turkey's national alcohols) are popular local drinks, but Commandaria is the real Cyprus claim to fame when it comes to alcohol. The wine is trademarked to the island, and it's one of the oldest labeled wine still in production in the world, made since 800 B.C. Cypriots, in fact, are said to be the oldest wine producers in the world, making it for over 5,500 years.
Wine festivals are a big deal here, as are seafood and water fests.
Coffee is, predictably, an important aspect of culture here, with the Turkish imparting their famous style of coffee to the island. But when you're in the south, it's more politic to call it Cypriot coffee… whereas in the north it's known by its true name. Coffee breaks are taken seriously, they are moments to be savored. Much to my delight, iced coffee is just as common as regular coffee, and isn't seen as some kind of American import—quite the contrary. According to Cypriots, Starbucks stole the idea for Frappuccinos from this part of the world. In the south, they even call an iced coffee a frappe. You specify how much milk and sugar you'd like, and the mix is whipped (literally) into a tall glass on ice. The froth is heavenly.
We can't forget, of course, about Turkish tea, just as famous as its coffee, served in beautiful ornamental glasses, and drunk like water in the north.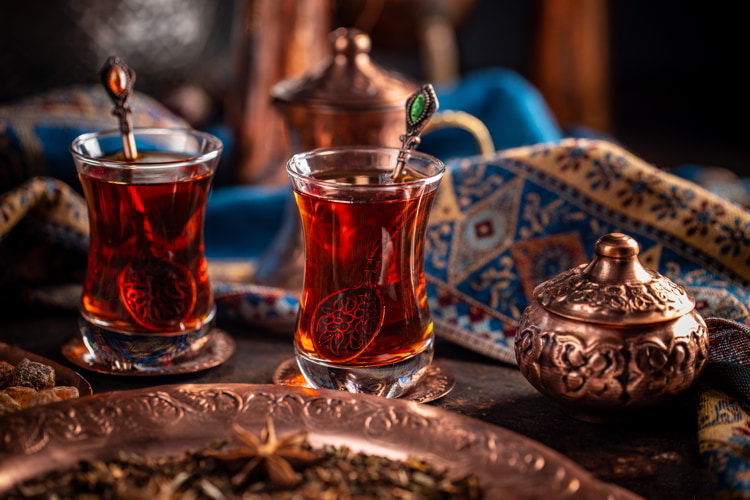 Start Your New Life Today, Overseas
A world full of fun, adventure, and profit awaits! Sign up for our free daily e-letter, Overseas Opportunity Letter, and we'll send you a FREE report on the 10 Best Places To Retire In Style Overseas Today
So, Beyond The Food And Drink, What's The Draw Of Cyprus?
Brits have been coming here since they built an army holiday camp in Famagusta in WWII… and they never stopped. For decades, the U.K. has been exporting tourists to Cyprus, who revel in the sun and beaches. Cyprus claims the longest summer in Europe, the season beginning in April and lasting to October, even November.
The beaches here are a mixed bag, which is more interesting to me than, for example, a Caribbean haven with the same kind of beach all around. From one kilometer to another, the coast could be fine sand (home to an endangered species of turtle than can only nest there), to cliffside, to rocky, to easy pebbles. The waters around the island on all sides are clear and clean (all except, in my experience, those right next to Kyrenia's industrial port, where I can't imagine why the resort-hotel's clientele deigned to visit the, frankly, repulsively polluted attached beach).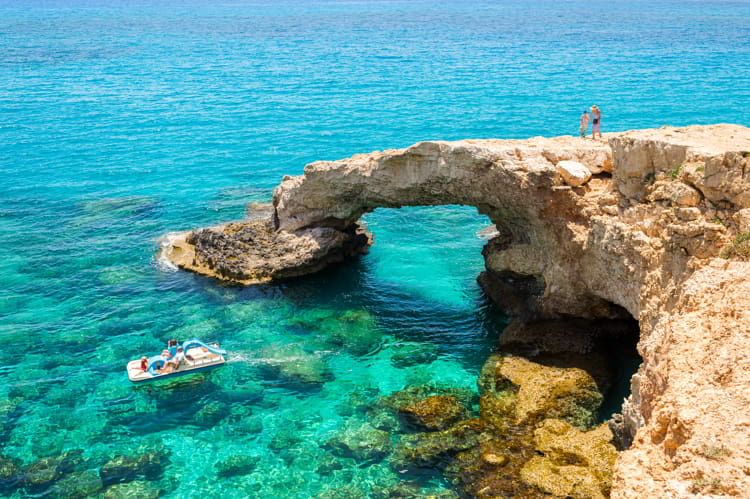 Kyrenia's old harbor, backed by the city's castle, is the most chaotic port I've ever seen (says a sailor's daughter), but enchantingly so. I wouldn't want to be one of the boatmen trying to get out of the marina… but they seemed to have a system.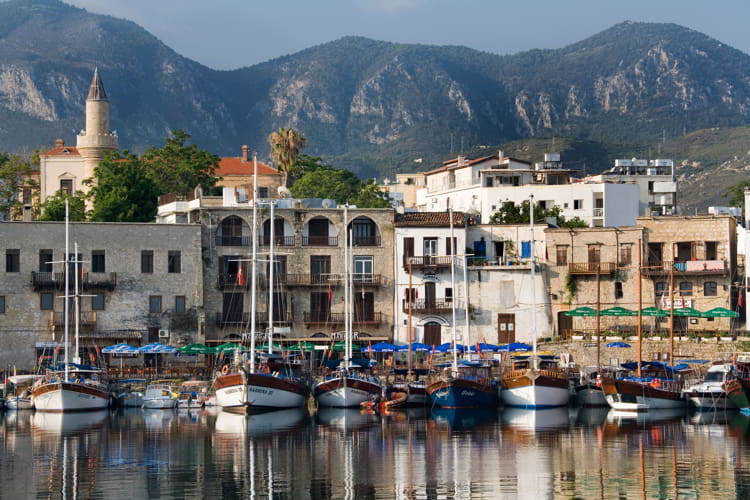 Famagusta is spectacular. This walled city is as much a sightseeing haven as a residential district (rentals easier to find than purchases), with a lively nightlife as well as lots to keep you busy with during the day. This was my personal favorite of all the cities I got to see on this first exploratory trip. It reminded me of Valletta's old town in Malta, but was much more of a "real city." Valletta's walled city doesn't have a whole lot going on once business hours have passed, but Famagusta is a walled city that is as contemporary as it is ancient.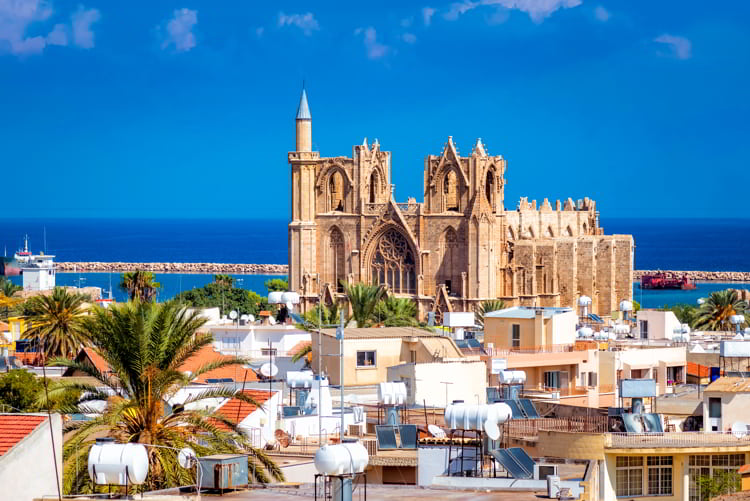 Again, the U.K. tourist traffic to this ancient island has been constant, and when you factor in neighboring Turkey and Israel's tourists, and the more recent African contingent, the demand on this island is about higher than it's ever been—and the industry caters to all these nationalities equally. Casinos, spas, and water parks abound, particularly in the north. In the south, there's only one licensed casino brand, so gambling isn't as big a draw… but this means big potential for investors in the developers who work with this casino brand.
It all adds up to a remarkably robust investor's market for short-term lets in the form of condos and villas, plus apart-hotels and student housing. And that's the real reason for my visit—to scout out opportunities for investment here. My husband and I have never owned property before, and we've pinpointed Cyprus as our entry point based on the affordability and the hefty tourism market. My time on the ground has convinced us that's the right choice.
Kat Kalashian
Editor, In Focus: Europe