Hindsight is 2020… and we've definitely learned a lot this year. Cities have been eerily quiet during the pandemic and many urbanites are coming to realize they are ready for a more natural, self-sufficient lifestyle. But what would that entail? What are the building costs and requirements in a country like Panama? Could you actually DIY your dream home in a tropical paradise?
My husband and I did just that when we relocated to Panama in 2005. We were so young (he in his mid-30s and me in my late 20s) that what we lacked in the way of savings or a pension, but we made up for that with pure optimism. In fact, it never even occurred to us to hire a contractor to oversee the construction of our hotel and restaurant. My husband is super handy, having learned how to fix nearly everything as an Alaskan fisherman. I am an artistically inclined, "give me the drill," outdoorsy kind-of-girl.
In those days, we could present a basic sketch or a croquis in the local municipality office, along with an itemized materials and cost list to calculate the tax to be paid in order to acquire building permission. We started slowly, with me transforming our vision into very basic sketches, actually getting them approved, and beginning construction, onecabaña at a time.
Language
Mike's Spanish was limited to bañoandcervezawhen we first arrived, so I was responsible for permitting in our first years of construction. I spoke basic present-tense Spanish and could tell a story conjugating verbs in the past tense painfully slow. I certainly didn't know the Spanish words for the many tools, materials, and paperwork required for construction, but I learned as I went along. Nowadays with smartphones and translation apps, I see lots of people getting by, even constructing homes with minimal Spanish skills.
As Santa Catalina developed and other expats arrived, they saw what we were building with the artistic elements we were adding to our construction and started asking us to build for them. Unexpectedly, we began subsidizing our project with other people's construction in those first years. Eventually, my husband had so many inquiries, he and a friend started a construction company together. Now he has seven local masons that he employs full time and a secretary who helps him acquire stamps and permissions. This has given me first-hand information about pre-contractor building costs that I can share with you here.
Keep in mind, we are one hour away from a basic hardware store, and two hours from a major one. These costs reflect transporting materials that distance as well.
Construction Costs
Currently, a basic concrete block home using standard building materials (right out of the hardware store); cement floor, tin roof, basic aluminum windows, and fans can be built in Panama for US$800 to US$900 per square meter.
How Does That Compare To North America?
According to the Estimation QS website, the average cost of a comparable standard single-family home in the States is US$1,018 per meter. We see a greater price difference when building custom homes in Panama which would include imported floor tile, custom windows, doors, and fans with specialty roofing such as Spanish tile or imitation thatch. The average cost is about US$2,000 per square meter, which when compared to a semi-luxury American single-family home at US$2,662 the difference adds up quickly.
These prices do not include some of the "off the grid" costs you might encounter such as drilling a well or installing a solar system, nor do they include architectural drawings, permissions, stamps, or taxes. Unless it's a small or temporary structure such as a wooden shed or a well pump house, hand sketched plans like what we presented are no longer accepted. Expect to pay a Panamanian architect a minimum of US$1,500 even if you have your own plans from home. They will need to be translated to Spanish, changed to meet Panamanian code, stamped by a registered architect as well as an electrician and plumber. You can negotiate with your architect to include all the necessary stamps on your plans within their fee.
For a full list of requirements for what is called ananteproyectoor "before-project" you can go to the government'sDOYCM website.
Processing fees are minimal and construction taxes are 1% for building costs up to US$300,000. From US$300,000 to one million dollars, 1.5% and after one million, 2%.
Off The Grid
Living in the tropics provides ample sun and rain to try your luck growing exotic flowers, plants, fruits, and vegetables.
Living on the coast (especially the Pacific) makes solar electricity possible year-round. Living on the Caribbean coast or in the mountains makes year-round rain catchment systems feasible. If drilling a well is required, the average cost is US$28 to US$30 per foot, and after installing a pump and building a secure area to store it the total cost is usually in the neighborhood of US$7,000.
Solar panels in Panama range from US$1.25 per watt installed without a backup battery system and US$1.90 installed with a battery system. This is significantly less to those in the United States that range from US$2.51 to US$3.31. A complete 8 kWh system which would service a 1,500 square foot energy efficient home is US$9,500 installed here in Panama, this is 250% less than current U.S. prices.
Frustration Factor
In most cases, you will have to physically wait in line at any number of government offices or public works buildings to receive numerous unexpected seals and stamps. This undoubtedly requires a certain level of patience, as does communicating with construction workers to ensure your final product does indeed resemble the house you imagined. Checking as things go up to be sure electrical tubing, plumbing, outlets, window, and door spaces are accounted for is a must and will now be part of your new job being your own contractor.
Is it really worth it? Well, typically contractor fees are 15% to 20% based on the size of your project.
Is DIY for you?
If you're on a budget, have had experience building, are extremely handy, or mechanically inclined, then yes, I'd bet you can complete the challenge, even if you lack the language skills.
If you are the type of person that calls a plumber for a leaky faucet and you don't have the slightest clue or any interest in how your current home was built, I'd say leave managing things to a contractor.
There's a lot of important details to consider; water systems, septic/waste management, 220 electricity, parking, ventilation, security, etc. This is definitely a task you need to be physically present for. Absentee owners are frequently surprised with minor and major changes to their building plans. Even if you've hired a contractor, if your schedule allows, I would highly recommend being nearby to check on progress and be part of the decision-making process…
Other Recommendations
Yoga or long walks on the beach…
Like most things in life, it helps to keep a sense of humor as you go along. Give yourself a pat on the back because you're actually doing it and remember, a bad day in paradise is better than a good day at the office… especially in winter.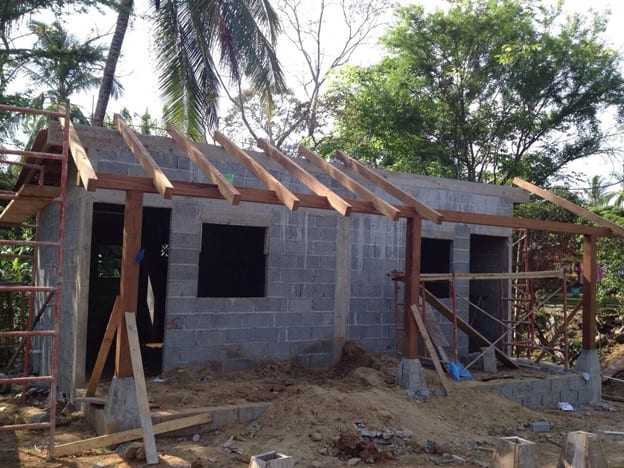 Michelle Miller Shogren
Panama Insider