Think palm trees swaying in the breeze, crystal clear water, and white-sand beaches. Then add pelicans overhead, starfish within yards of your feet, and maybe even a dolphin or sea turtle to round out the day…
These are the San Blas Islands. Located on the Caribbean side of Panama, just east of the Panama Canal, this archipelago of approximately 365 islands and cays, offers an opportunity for total relaxation and leaving the hassles, stresses, and worries of everyday life behind completely.
A visit to San Blas, officially known as Guna Yala, is not only a chance for escape. It's also an opportunity to experience a rich part of one of Panama's indigenous populations, the Guna people, previously known as the Kuna.
Life on San Blas is simple and basic. No need for a cell phone, as service is unreliable. There is no internet, and electricity and fresh water are scarce.
On the other hand, dinner is fresh fish caught by the locals, and the night sky is filled with a million stars. The break from 21st-century reality is refreshing beyond your wildest imagination.
Of the 365 islands, only 49 are inhabited, and 40 can be visited. Finding the place to stay that best fits your preferences can be tricky. Each resort is very different from the others, and it isn't easy to find reliable information on what to expect in each case.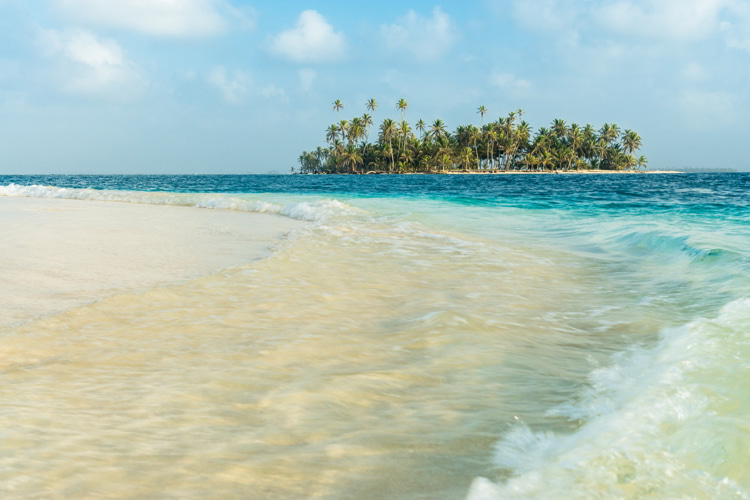 Get Your Free Panama Report Today!
Simply enter your email address below and we'll send you our FREE REPORT - Live And Invest In Panama: The #1 Retirement Haven In The Americas.
Visiting San Blas
Some of the islands cater to a younger crowd, others are more family-oriented, while some of the farthest away islands are more appropriate for a romantic getaway. It's important to note the sleeping arrangements. Some of the islands accommodate only two people per cabin. Others only have community bathrooms, albeit well-lit, spacious, and clean.
By now you may be thinking that this seems complicated. It is, but it's worth it. San Blas is a once-in-a-lifetime experience.
Once you have made your reservations, the staff will contact you to arrange pick-up from just about anywhere in Panama City. The transport is timely and efficient, and I recommend that you take advantage of it, as the trip from Panama City is more than two hours over difficult terrain.
Once on the road, your driver will ask if you would like to stop at the grocery store. Say yes. There is a large new Xtra on the way where you can pick up essentials. Although most of the rentals in San Blas include three meals a day as part of the stay, you should bring drinks and snacks to keep in your room. For sure you should bring drinking water, but also buy soda, beer, wine, and anything else you'd like to have during your stay. These things are not very available (or at all available) once you reach the islands.
Your San Blas adventure begins at Puerto Dibin, a bustling set of docks that might seem chaotic if you approach it on your own. However, if you arrive with a driver, he will introduce you to your captain and help you find a place to wait until it's time to board your boat. This will happen when everyone from your group going to your island has arrived. Remember, people are coming from various places throughout Panama City.
Also remember that you're now on island time. Once your lancha sets off from the dock, it's time to settle back and enjoy the ride. As the ocean spray hits your face and the crystal-clear water passes by below, let yourself fall into relaxation mode. You should have achieved a real sense of peace by the time you arrive at your destination.
Take at least one of the day tours offered by your hotel, as this is your opportunity to see other islands. Pelican Island is a highlight. It's now underwater. Here you are in the middle of the ocean, but can walk in shallow water, splash in the natural pools, and snorkel among the starfish that call the seagrasses home.
Becky Teeters
Panama Insider