The Cayo is largest of Belize's six geopolitical districts.
The 2,061-square-mile region encompasses some of the country's best opportunities for exploring rivers, caves, mountains, tropical forests, and wide-open spaces.
In short, it's a nature lover's paradise.
A growing number of expats from North America and Europe have made the Cayo home. Here's a rundown of the top places expats settle in this region…
San Ignacio And Santa Elena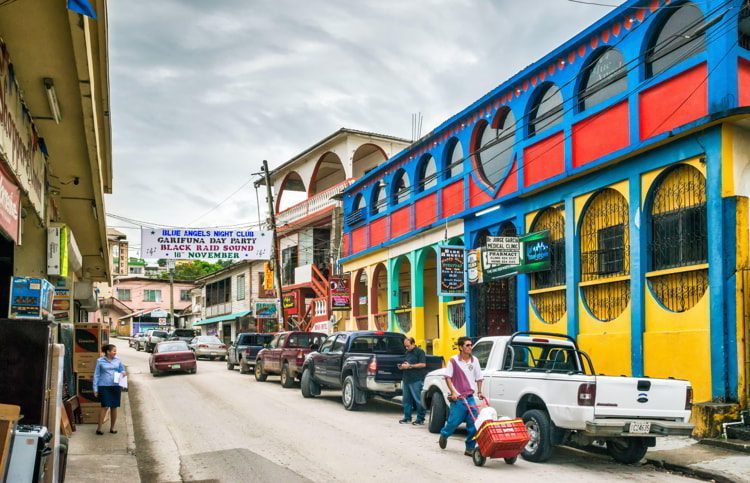 The twin towns of San Ignacio and Santa Elena, nestled along the banks of the Macal River, are the heart of the Cayo District.
Over the past 10 years, the area has seen growth in infrastructure, business, cultural arts, and social development. So, what was once a sleepy, faraway town for most Belizeans and visitors has become the ecotourism epicenter of the country.
Today, you'll find local restaurants, small tour operators, cafés, hostels, and hotels. Meanwhile, the area is the fastest growing in the district for ecotourism, and the crowd remains a balanced mixture of locals, expats, and visitors.
A highlight of San Ignacio is the market. Unlike most towns in Belize, the San Ignacio market is open seven days a week and is the place to go for fruits, vegetables, spices, fish, plants, and eggs.
The market has a growing selection of organic products. Above all, finding your favorite vendor, learning where to buy the best free-range eggs, and making new friends are all part of the experience.
Saturday mornings are when the most magic happens, as vendors from neighboring villages and Mennonite communities line the streets to sell their goods.
Santa Familia Village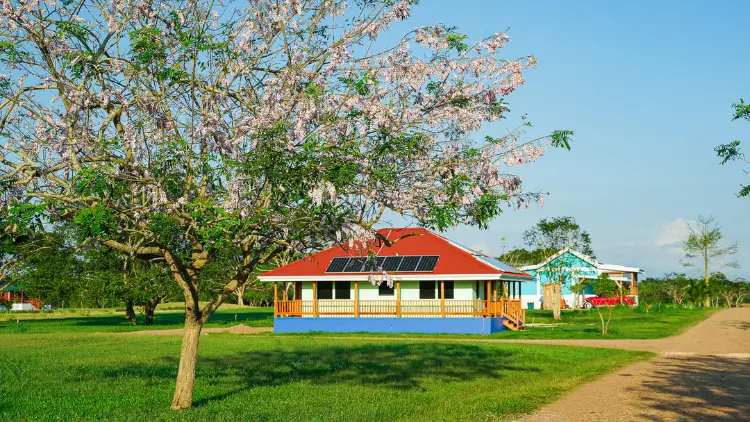 Heading northwest out of San Ignacio, the Bullet Tree Road takes you on a scenic journey through a handful of picturesque villages.
Imagine the country drives you used to take on Sunday afternoons as a child… Wide-open agricultural landscapes against the backdrop of the Yalbac Hills.
A community soccer game, roadside barbecue, and families gathering for birthday celebrations are all common sights as you travel the sections of paved and dirt roads through the villages.
Santa Familia is a paved stretch of about 2 miles of Bullet Tree Road. However, the community is largely Spanish-speaking.
Several Seventh-Day Adventist churches are here, as are three small grocery shops, a tortilla stand, and multiple shops operated out of living rooms.
These small shops sell assorted sweets to schoolchildren and local snack foods such as tostadas, panades, and garnaches. Clearly, the entrepreneurial spirit is evident.
Seeing schoolchildren walking with friends while horses and chickens roam freely is typical. Fathers are away at work, and mothers are too busy taking care of business to micromanage their children.
Life just flows… Santa Familia is one of those hidden communities that is starting to capture the attention of foreign visitors. Its proximity to town, sleepy, peaceful atmosphere, river access, and affordable real estate make it very attractive.
The self-sufficient community of Carmelita Gardens is also here in Santa Familia. And, this community of 98 acres rests along the Belize River.
The town founder, Phil Hahn, has worked to create an off-grid neighborhood that emphasizes simple living. Certainly, he chose this part of Belize to build this community because of the long agricultural history of the area and the easy access to goods and services in the nearby towns of San Ignacio and Spanish Lookout.
Spanish Lookout
Just 7 miles past Santa Familia village is the town of Spanish Lookout. Most importantly, this area is home to the largest Mennonite community in Belize and is the country's chief agricultural center.
Many expats travel to Spanish Lookout to shop at the big, well-stocked grocery store, pick up supplies at the hardware store, or take advantage of one of the many independent service businesses.
Spanish Lookout is a great place to go for auto-repair, building, and agricultural supplies. Also, it's where you can find fresh milk, cheese, and incredible soft-serve ice cream from the local Mennonite company, Western Dairies.
Spanish Lookout was formed by a migration of Mennonites from Mexico in the 50s and has become the nation's leading supplier of poultry, steel imports, vegetables, cattle, and dairy products.
Spanish Lookout produces Belize's most popular chicken brand, Quality Poultry Products, and Western Dairies is Belize's only commercial producer of milk.
This community is progressive. As a result, many of its residents drive trucks and use modern technologies. It looks a lot like a rural agricultural town in Midwest America, with tall grain silos, two-story homes set back off the street, and vast cattle ranges.
Visiting Spanish Lookout feels a lot like stepping back in time…
Get ​Your Free ​Belize Report Today!
Simply enter your email address below and we'll send you our ​FREE REPORT – ​​Discover Belize: Reef, Ruins, Rivers, And Rain Forest… Plus Easy Residency And Tax-Free Living
Benque Viejo Del Carmen
Heading west, 16 miles out of San Ignacio, is the Belize-Guatemala border town of Benque Viejo del Carmen. This community sits along the banks of the Mopan River and is the last stop for travelers heading to Guatemala.
Benque has long been the place where tourists and merchants cross to the Guatemalan border town of Melchor to purchase Maya textiles. So, it's an easy day trip from San Ignacio to Melchor, and there are many interesting stops along the way.
The town itself has great local-style restaurants, a café, a central market, and a handful of grocery shops.
Many visitors come to the Benque Viejo area to visit the popular Maya ruin, Xunantunich. Firstly, in order to reach the archeological site, you must first cross the river on a hand-cranked ferry, which visitors are often encouraged to help operate.
The site itself has a well-maintained welcome center and an impressive display of artifacts. And, Xunantunich is among the most impressive Maya ruins in Belize and is well worth the trip.
On the nicely paved road between San Ignacio and Benque Viejo are several popular resorts, including Chaa Creek, Ka'ana, and Black Rock Lodge.
Also, these resorts all operate restaurants that are open to the public. I often take a Sunday drive up to Black Rock Lodge or Chaa Creek to enjoy the scenery and local cuisine made from organic ingredients grown on-site.
Belmopan
Belmopan, the capital of Belize, is located in eastern Cayo. In 1961, after Hurricane Hattie hit the former capital of Belize City, plans were made for the new capital, and in 1970, the seat of government was relocated to Belmopan.
Since that time, the area has seen unprecedented growth.
Belmopan is home to many foreign embassies and government offices. Most certainly, you'll likely visit Belmopan to renew your visitor's visa, process paperwork for your new property at the Lands Department, or record your new business name at the Companies Registry.
Because many folks make a day trip to the capital to do business or work in government offices, there are lots of great places to have lunch in Belmopan.
I always make a stop at the taco shop on the ring road, where they serve the closest thing you can get to Mexican tacos, with loads of incredible sauces and cold micheladas (a beer with salt and spices that's popular in Mexico). But, you may need one after standing in a long line at a government office.
Also, Belmopan is the last town you'll pass if you plan to travel south down the Hummingbird Highway to parts of Belize like Hopkins, Placencia, or Punta Gorda.
The capital is an hour's drive from San Ignacio, making it easily accessible to residents of San Ignacio and the surrounding communities.
Jamie Lee Granger
Belize Insider