Somewhere over the rainbow, life is pretty darn great…
Especially in Belize.
You can have fun on the mainland, on the sea, in the sky, or on one of the many nearby islands.
And it's possible to do all this from Corozal, where I'm based, at the northern end of Belize, Central America.
My relocation to this English-speaking country evolved from a weeklong mission trip in the Cayo District in 2013. By 2014, I was making plans to return for a two-and-a-half-year vacation/retreat experience.
For a long time, I hadn't realized that this was just what I needed.
I was delighted about the change from the big-city noises and constant hustle and bustle in the United States. It actually took me a while to convince myself that I was not being lazy and deserved to relax in a quiet, peaceful, and beautiful tropical environment on the Caribbean Sea.
I had retired from working many decades, raised my children, and helped to raise others. My life had been full, but, as I got older, it wasn't as fulfilling as I wanted it to be.
I needed a major change.
Why I Moved To Belize? I Needed A Major Change
I had tried my hand at various part-time jobs where I could provide customer service to the public. However, I found that the public was not always willing to accept services the way they were being offered by the companies I worked for. I was tired of hearing complaints.
Soon after I relocated to Belize, I began being serenaded by the many species of birds found all over the country. It was music to my ears.
While living in the big city, the honks and horns of vehicles on the crowded streets drowned out the melodies of the birds that lived there.
I had never been a big nature enthusiast, but, when in Belize, I began to feel more connected to the nature that was all around me.
The magnificent, varied, and colorful plants and trees became a part of my daily scenery. Most wonderfully, I woke up every day excited that I could see Corozal Bay from every room in my rented apartment.
At times, I was so connected to the flow of nature that I felt like I could just cross the road and walk straight out onto the water. Fortunately, I never let those feelings overtake me.
But at other times, I wanted to get up and start running as far and as fast as I could until I found something exciting. It was at those times that I knew I needed to "get out of Dodge" and do something different.
I was not content to stay in my tranquil world of serenity. I wondered if I had gotten Belized-out…
Then, one day, as I sat in my living room that faces the sea, I experienced something magnificent. I was wondering how I could add some spice to my journey.
Sure, I enjoyed the social activities, celebrating the birthdays of new people in my life, as well as catching up with friends at "chat and chew" sessions where everyone always has a good time.
But on this day, while listening to the birds and watching the breeze stir the fronds of palm trees, I looked up and saw a rainbow.
I rushed outside to make sure I was not daydreaming and brought my phone along to capture the sight. To me, it was a sign that something wonderful would take place for me right here in Belize.
I was so excited! I felt then that I was not, and could never become, Belized-out… that there was still something special on the horizon of what was becoming my new home.
Get ​Your Free ​Belize Report Today!
Simply enter your email address below and we'll send you our ​FREE REPORT – ​​Discover Belize: Reef, Ruins, Rivers, And Rain Forest… Plus Easy Residency And Tax-Free Living
My New Adventures In Belize
The rainbow spread in the direction of one of my favorite islands, Ambergris Caye, home to the bustling resort town of San Pedro…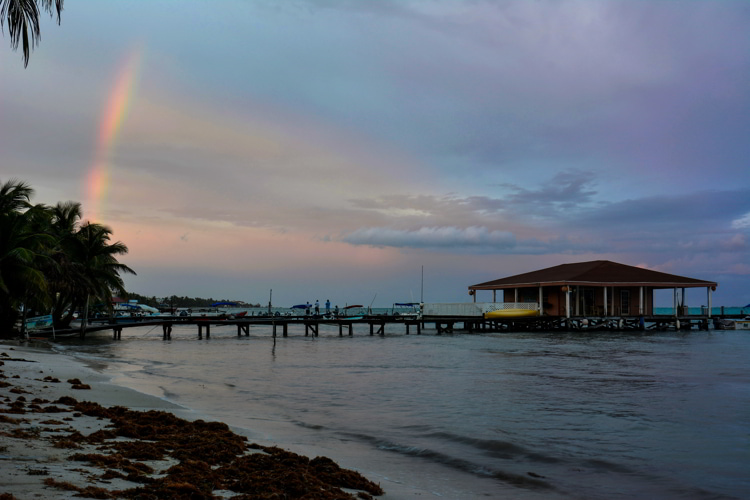 I contacted one of Belize's two domestic airlines and realized that San Pedro is only a 20-minute flight from my local airstrip. I made a reservation to travel there the following week.
I mentioned this to a friend and she decided to join me. I had traveled to San Pedro before and had always enjoyed it, whether alone or in the company of others. It's just that kind of place.
But this time, I would act as a guide for my friend. I would show her around the exciting and adventuresome places I enjoy in San Pedro—and there's a lot to choose from.
Discovering and sharing special moments with new friends is what Belize is all about. Expats frequently share their time and experiences with newcomers…
They introduce them to the many gift shops and the Belizean Gallery of Art that is filled with exquisite jewelry, paintings, and other fascinating items.
They go to restaurants, shoot down zip lines, snorkel, parasail, paraglide, fish, golf…
Belize is a special place that attracts special souls.
Somewhere over the rainbow… blue birds fly.
You can, too.
Marie Peay
Belize Insider