I was an average, non-professional stock investor. I made plenty of money up until 1999—when anyone could do it—and lost plenty during the tech crash in 2000.
Because I didn't lose everything (as many did), I reckoned, incorrectly, that I wasn't so bad.
Then, in 2008, came the worst financial crisis since the Great Depression. Fortunes were wiped out. Many lost their life savings, and retirement plans went down the drain for millions of people.
But this time, I came out slightly ahead… even though my stock holdings took a hit.
The Difference? International Real Estate.
In 1999, all the money I had to invest was in stocks and mutual funds, along with bonds and CDs… "traditional" investments.
At the time, I thought I had a diversified portfolio because I held both stocks and bonds, and because my stocks were of different types.
That was wrong. I wasn't diversified. At least not well enough. All my money was in the U.S. market, and almost all of it was in U.S. dollars. Looking back, I was taking a narrow view of things.
During the Great Recession, my results were very different…
By 2008, over 50% of my holdings were in real estate outside the United States.
While my American market holdings went down, my real estate holdings, in fact, increased in value, based on actual closing prices.
During that approximate time frame:
My house in Uruguay increased in value by 87.5%
My rental apartment in Montevideo increased in value by 78%
My house in Brazil increased in value by 77%
This was my "advanced" lesson in portfolio diversity.
Don't get me wrong: I'm not claiming that international real estate always goes up. Country economies and currencies have their ups and downs.
But one thing I learned is that when property prices go down, they don't go down all over the world at the same time… and they don't go to zero.
In other words, no single event or downturn in any one country can wipe you out.
But it's not just about portfolio diversity. It's also about making money…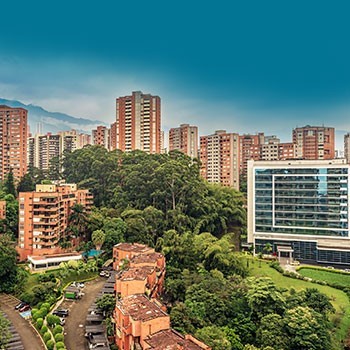 Frankly, portfolio diversity, in itself, doesn't pay the bills.
But the increased opportunity that you'll find abroad can pay the bills. It's been my main source of income.
And it's not that real estate abroad is categorically better than real estate in the United States. It's that when you open up your horizons to include the entire world, you're giving yourself access to many more opportunities…
For example, I just received notification of a chance to buy a fully turn-key property on the Mediterranean coast for US$75,000… expected to return 11% to 15% per year.
Or how about a beachfront condo on one of Brazil's most beautiful and sought-after sandy shores for US$67,000… positioned to earn you as much as 15% net?
This is the kind of opportunity that you can't find without looking abroad.
Investing in real estate overseas can allow you to take advantage of a few important items, which are easier to find when you've got the whole world to pick from:
Reliable rental returns
High yields
Diversified, non-dollar income
Strong capital gains
Currency appreciation and diversity
Today, I can take advantage of some of the best opportunities that the world has to offer, and I am enjoying an enviable new life as a result.
But, for me, getting here wasn't easy.
I had to learn to speak both Spanish and Portuguese after age 50… and explore many new countries without local support. I had to unravel the local markets and try to discriminate a good deal from a bad one (as well as a good real estate agent from a bad one).
Usually, there was no established expat community that I could learn from. I had to find good legal support and to try to separate the crooks from the good guys in far-flung real estate markets.
And when that legal support was mediocre or non-existent, I spent hundreds of hours reading legal statutes and legislative rulings in foreign languages…
To be honest, it took me years of travel and investigation to identify my top picks in just four countries. In some ways, I was just plain lucky the way things turned out.
It doesn't have to be that way for you.
You have a chance to explore the world's best property markets… all in the same place… and all at the same time.
You'll get to see the countries… to meet market experts from around the world… and discover the best property deals and investment opportunities that each destination has to offer… all by joining our team of international experts for the 2021 Global Property Summit.
Unlike My Early Days, You Won't Have To Trust Luck
At this year's Global Property Virtual Summit, we'll have speakers, developers, agents, tax experts, and bankers from around the world. You'll enjoy seminars, presentations, and panel discussions… as well as private consultations with our experts, if you like.
You'll also see property opportunities from around the world, both for investment and personal use as a retirement or second home.
I could go into a lot of detail here… but, to oversimplify, the event will take you through three simple steps:
We'll review with you the investing basics, covering the rules of the game for international property investing and due diligence… including any tax implications or advantages…
We'll show you today's best actionable investment opportunities from around the world, including:

Residential properties suitable for rental, or a retirement/second home…
Properties positioned for a strong capital gain…
Income-producing properties, and fundamentals of property management…
Non-residential property investments…
High-income agricultural investments…
We'll also cover crisis investing and path-of-progress investing, which are two excellent ways to position yourself for outsized gains.
The entire program has been put together by Lief Simon, our Live and Invest Overseas property guru… and, frankly, it's incomparable. This is the eighth year that we've held this event, and it's been honed into a super-productive three days.
The timing is right. The events of the last year are creating irresistible pockets of opportunity in some of our favorite markets across the globe… including some bona-fide crisis buys.
Meantime, the U.S. dollar remains strong versus key currencies, increasing the buying power of Americans abroad.
The strong dollar has resulted in steep currency discounts, making some of the world's best real estate markets more affordable than they've been for many years.
The moment to act is now.
Lee Harrison
Senior Overseas Property Correspondent, Overseas Property Alert