"It's hard to describe how much this view has changed over the past 20 years that I've been spending time in Panama City," I said, nodding my head left and then right to indicate the whole of the vista before us.
I was sitting at the rooftop pool deck of our Avenida Balboa apartment, overlooking the Bay of Panama and the entrance to the Panama Canal, colonial Casco Viejo in one direction, posh Punta Pacífica in the other, enjoying the breezy afternoon and a cold Perrier in the company of a new friend who came to visit last week. It was Beth's first time in Panama.
"It's not accurate to say that this stretch of Avenida Balboa looks different today than it did 20 years ago," I continued. "It didn't exist 20 years ago. The whole of this Cinta Costera… the 10-lane highway and the expansive pedestrian and park areas, the basketball courts, the fountains… it's all been built on reclaimed land over the past decade or so.
"And all of the buildings you see today along this stretch of Avenida Balboa—the high-rise condo towers, the hotels, the shopping malls, the casinos? They didn't exist either."
Panama City, as we've been reporting from our front-row seat for more than 14 years, is a bona fide boomtown.
"So much construction," Beth observed, "and so many tall buildings. Some seem out of place. That building shaped like a corkscrew, for example…"
"Yes, and there's another one shaped like a boat," I said. "Panama City wants to be Singapore… or Dubai. They've even built islands over there," I pointed, "just offshore from Punta Pacífica, that are being developed with multimillion-dollar building lots and luxury homes…"
"Before Panama you were living in Paris," Beth said. "What prompted that move?"
Why We Moved To Panama City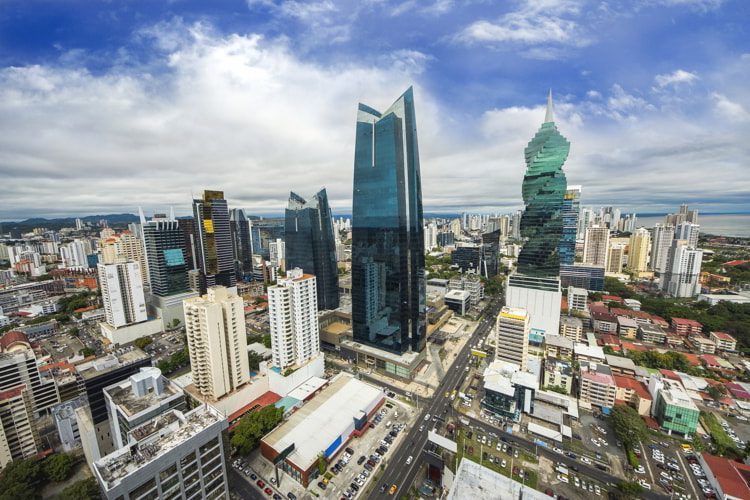 "Lief and I came to Panama for practical reasons," I explained. "I wanted to start a business, the Live And Invest Overseas group…"
"Ah, and Panama is a good choice for entrepreneurs," Beth said, finishing my sentence for me.
Yes, Panama was 14 years ago when we made our move and remains today one of the best places in the world to start an Internet business, thanks to this country's approach to taxation and also to another factor that we didn't expect.
We employ 45 people in our Panama City office. Among these are Panamanians, as you would expect. In addition, we've got Americans, Canadians, Irish, Jamaicans, and a Venezuelan. Over the years, we've had, among our numbers, a couple of Russians, two Germans, a Frenchwoman, a Dutch woman, a Guatemalan, and a Nicaraguan.
"That must make for interesting chitchat around the water cooler," Beth observed.
When our two Germans passed each other in the hall, they'd exchange greetings auf Deutsch. Then one would turn to a Panamanian coworker to ask a question in Spanish, while the other carried on to speak to me in English. Our French conference director used to help one of our Panamanian designers practice the French she's studying at Panama City's Alianza Francesa.
Our British editorial assistant speaks of lorries and lifts. Our Irish colleagues take the mick out of us when we beg off from their invitations for a bit of craic on a Friday night. And none of us ever understands what our Jamaican IT Director is saying… mon.
Two Things Have Brought This Crazy Mix Of Folks To Panama City:
Love and money.
I don't want to give away intimate secrets, but some of our staff came to Panama chasing amour. Conference Director Valentine moved here from France with her French boyfriend… who targeted Panama as the place to grow his investment advisory business…
American Editor-in-Chief Kat moved to Panama after graduating college to be with her then boyfriend now husband… a British Editorial Assistant Catherine settled here because her Panamanian boyfriend convinced her they'd both find better employment opps in Panama City than in London ("and he was right," Catherine agreed)…
Others among our non-Panamanian staff sought out this country because they needed jobs. These folks are from two places in particular—elsewhere in Central America and Europe. These are regions struggling with, in some cases, alarmingly high unemployment rates.
In Panama, anyone who wants a job can find one. Former President Ricardo Martinelli's 2012 "Friendly Nations" visa program made it possible for foreign job-seekers to establish residency and obtain work permits easily and cheaply. Today, nearly a decade later, the Panama City employment landscape is accordingly eclectic.
In fact, one more thing is responsible for attracting some of our non-local LIOS staff to Panama: the surfing.
No kidding.
If not for Panama's world-class surf breaks, our German marketing manager, for example, might not have been so inclined to stick around. The surfing in Deutschland (very fortunately for us) doesn't compare.
Nowhere else in this region certainly but even few other places in the world can an employer tap into such a diverse pool of educated English-speaking labor.
"Typically, 'expats' are people placed in new countries by their employers," Beth explained. "But your market is different?"
"Yes, we speak primarily to retirees. At least that's been the case historically… but that's changing.
Today, It's Not Only Retirees Who Are Seeking A Life Overseas
"I've been doing this for a long time. Years ago, our readers were 60 years old and older. Then they were 50 and older. Now 40-, 30-, even 20-somethings are reading us. We meet them at conferences. The 40-somethings are maybe planning ahead, but, increasingly, these younger readers are looking for options for opting out early, for walking away from conventional career paths and chasing something different.
"I knew I wanted to live overseas, in Europe if possible, by the time I graduated college," I continued. "But it never would have occurred to me to take off to chase that dream. I had a full-time job within a month of graduating and stuck with it for almost two-and-a-half decades before breaking away to start my own thing…"
It was dumb luck that that first job out of school landed me in like-minded company and presented me with the opportunity, eventually, finally, to live in Europe as I'd long wanted to do.
Twenty-something me didn't have the courage to set off for foreign shores on my own in search of adventure, in need of a job.
Lucky for me now, three-and-a-half decades later, that all the 20- and 30-somethings running around my Panama City office are braver sorts.
Sincerely,



Kathleen Peddicord
Founding Publisher, Overseas Opportunity Letter