The best places to live are different for everyone. If you could live anywhere, where would you go?
Here are the top 10 places to consider for 2020, the 10 best places in the world to live, retire, chase adventure, and reinvent your life in the New Year, rated and ranked based on the 14 factors most important to the would-be retiree overseas.
Each of these world's best destinations is featured in great detail in our Annual Overseas Retirement Index, hot off the virtual presses this week in the form of the December issue of my Overseas Living Letter.

This bumper Overseas Living Letter edition includes itemized budgets for each destination, as well as comprehensive and up-to-the-minute overviews of health care, health insurance, residency options, internet speeds, climate particulars, taxes, the cost of buying a home of your own, safety concerns (if any), size of the local expat community, and on and on.
This is the biggest Overseas Retirement Index we've ever published… and the most exhaustive you'll find anywhere. No other such survey compares.
And The Winner Is…
Now… drum roll, please… it's time for the main event…
What are your best options for living well, retiring better, and having the adventure of your lifetime overseas in 2020? Read on…
Note that your best options for retiring overseas in 2020 include six destinations in Europe. The strong dollar coupled with depressed values in certain markets make the eurozone a more realistic option than it's been in a long time.
#1: Algarve, Portugal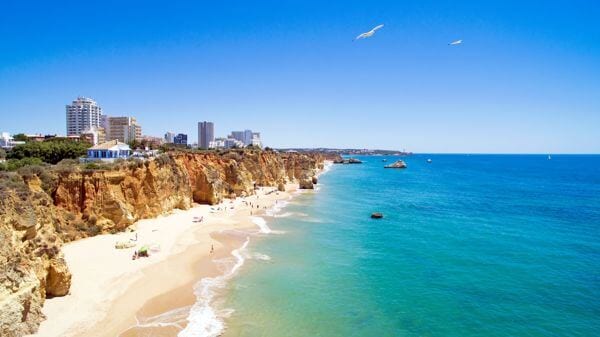 At A Glance
Cost Of Living: B
Health Care: A+
Affordability Of Real Estate: B
Residency: A
Taxes: B
Portugal's Algarve region is a unique bit of European geography at the southwestern corner of the Continent, at the longitude of Great Britain and the latitude of Delaware. It is also a regular on our lists of the best places to live.
It is protected from winter by the movement of the ocean in the Gulf Stream and, as a result, has the best climate in Europe, with 3,300 hours of sunshine every year, more than any other country in this part of the world.
The Algarve is beautiful, affordable, welcoming, friendly, and safe. It boasts some of the world's best beaches and best golf courses plus a long and interesting history. It was from this coast that Prince Henry the Navigator, an architect of the Age of Exploration, bid his men to "sail on, sail on." Those orders compelled brave adventurers around the Cape of Good Hope to China and India and then across the Atlantic.
Top Quality Infrastructure
The infrastructure in the Algarve is top-notch; this is not the developing world. The health care is world-class and a fraction the cost of care in North America. In fact, health care is free for residents, and establishing residency is easy and cheap for anyone of any age.
The monarchs of Portugal and England married each other from the 14th century on, creating the oldest alliance in Europe. As a result, English is widely spoken in the Algarve, so you would not have to learn a new language if you didn't want to.
Resident in Portugal, your retirement income is not taxed, and various other income can be tax-free, too.
#2: Cascais, Portugal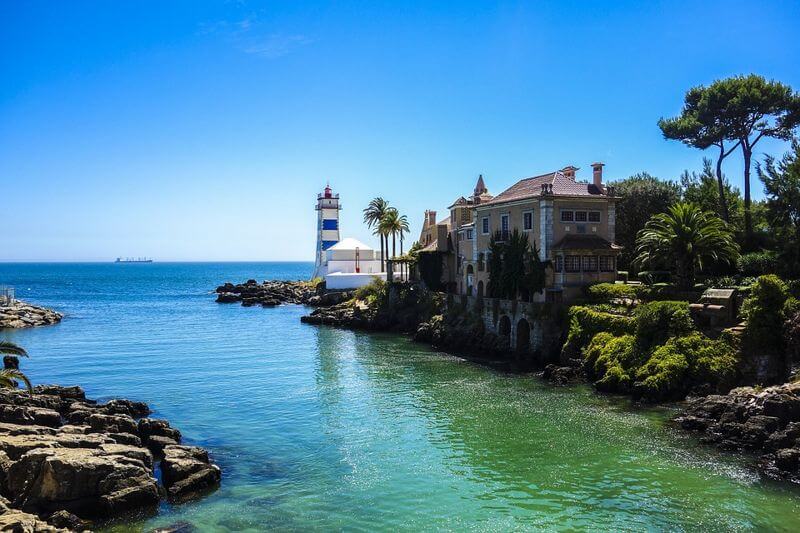 At A Glance
Cost Of Living: D+
Health Care: A+
Affordability Of Real Estate: C+
Residency: A
Taxes: B
Portugal takes first and second place on the list of best places to retire overseas in 2020. Cascais, on this country's coast just a 40-minute train ride from Lisbon city center, is the best of both city and beach living, a seaside town that's not too big and not too small with a strong sense of community.
This is a well-heeled, high-end destination, one of the world's most affordable places to embrace a luxury-standard lifestyle on the ocean.
Some Of The Best Coastline In Europe
Cascais is spectacularly beautiful with a rugged coastline, white sandy beaches, stone buildings, cobblestone sidewalks, museums, and parks. The people are friendly, welcoming, and helpful. You'll be instantly at home.
Life in Cascais is best lived without a car. You can walk to markets, shops, cafés, and restaurants and, for recreation, venture out to explore nearby seaside cliffs, forts, and lighthouses.
Summer in Cascais is all about being outside and enjoying the beaches. This time of year you'd share the city with a vibrant crowd of tourists from around the world. The winter months are quieter, a good time to get to know your Portuguese neighbors.
The cost of living in Cascais is significantly greater than in the Algarve but a bargain given the standard of living on offer.
While you could get by here without learning to speak Portuguese, English is less widely spoken in Cascais than in the Algarve region.
#3: Mazatlán, Mexico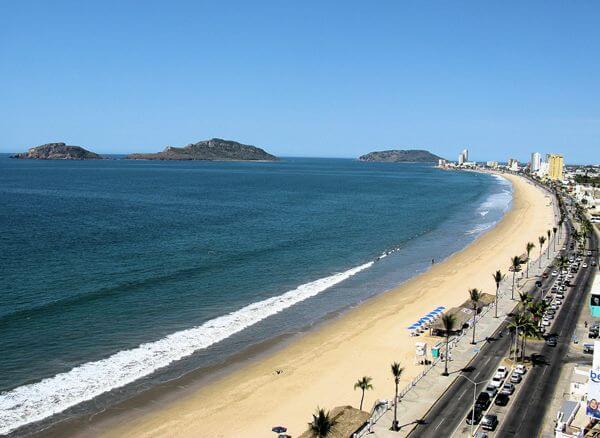 At A Glance
Cost Of Living: A-
Health Care: B+
Affordability Of Real Estate: B+
Residency: A-
Taxes: B
Over the past four decades, Americans have voted Mexico the world's number one place to live or retire overseas in the way that really counts—they've packed up and moved there.
This country is home to more American expats and retirees than any other, at least 1 million and as many as 2 million. Those kind of numbers make Mexico hard to ignore when looking at the best places to live overseas.
Mexico's primary attraction is its accessibility. It's easier for an American to get to Mexico than to any country other than Canada. Why go south of the Rio Grande rather than to the Great White North? The weather!
Among this country's many attractive lifestyle options, Mazatlán stands out. Real city, beautiful beaches, and walkable colonial center… popular expat choice and authentic Mexican resort town that manages to feel homey… Mazatlán has it all.
Why Mazatlán Is On The Comeback Trail
Located about midway along Mexico's Pacific coast, Mazatlán has been out of favor among tourists and expats for decades but is making a comeback. The renaissance has been focused on the city's historic center, which has undergone an impressive face-lift and now rivals Mazatlán's 20 miles of beach for attracting attention.
From December through March, daytime temperatures in Mazatlán hover in the high 70s, lows are in the low 60s, and there's little to no rain. Between July and October, on the other hand, temperatures are regularly 90 degrees and warmer, and humidity levels are higher. This makes Mazatlán an ideal choice for snowbirding.
Moving to Mazatlán can be as hassle-free as an international move gets. Nothing's as easy as loading up a truck and driving south. Your moving budget could be gas and tolls.
#4: Cuenca, Ecuador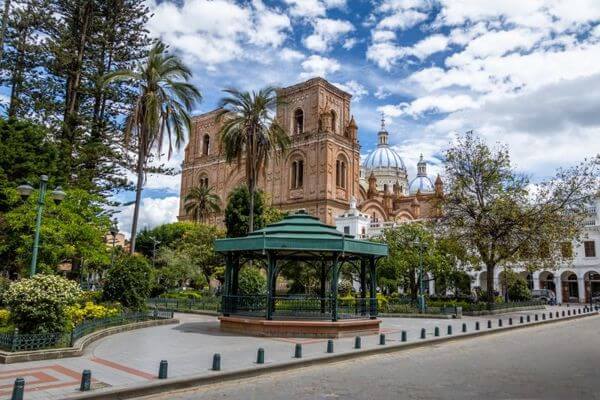 At A Glance
Cost Of Living: A+
Health Care: A-
Affordability Of Real Estate: A
Residency: A+
Taxes: B-
Cuenca is a beautiful city with cobblestone streets and a well-preserved historic center that, though Ecuador is the developing world, enjoys reliable electricity, modern internet service, and drinkable water throughout.
This is a walkable city, meaning you don't have to invest in the expense of a car. The mild climate means no heating or air conditioning costs, another budget savings. Health care is first-rate and so inexpensive that it can make more sense to pay for care out of pocket rather than insuring against it. All things considered, Cuenca is one of the world's most affordable places to retire well. A couple could live here comfortably on a budget of US$1,000 per month or less.
Further, Ecuador uses the U.S. dollar as its currency, meaning no exchange rate risk.
Join An Established Expat Community
Cuenca is home to one of the world's biggest expat retiree communities. You'd have plenty of support to help you with your transition.
The real estate market in Cuenca boomed between 2006 and 2014, when property owners enjoyed double-digit appreciation year after year.
Ecuador's infrastructure was improving dramatically during this time, oil prices were high, crime was down, and things in this country were good. Ecuadorians living abroad returned home to Ecuador by the thousands, many settling in Cuenca.
Then property markets across Ecuador, including in Cuenca, retreated. From 2014 to 2016, values dropped by 50% and more. The market is now beginning to return. Meantime, if you're interested in owning your own home in Cuenca, this is the time to shop for a bargain.
#5: Valletta, Malta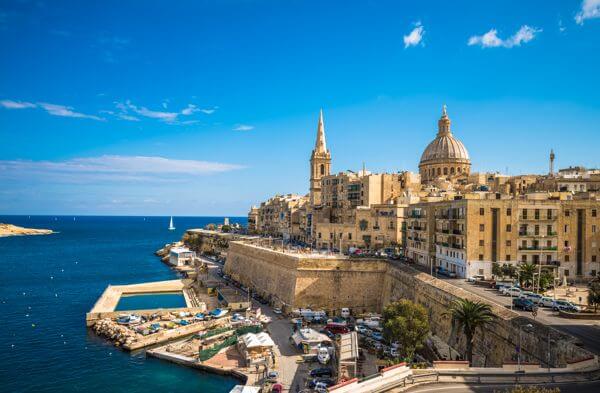 At A Glance
Cost Of Living: B
Health Care: A+
Affordability Of Real Estate: C-
Residency: A+
Taxes: A
The 3-island, 122-square-mile nation of Malta, with a population of just over 400,000 people, is a first-world jewel in the middle of the Mediterranean Sea.
An EU member where English is almost universally spoken by the multilingual population, Malta is a safe, stable haven boasting an excellent overall standard of living and top-notch health care.
The Maltese people are warm and welcoming with a culture all their own, and all Europe is a quick plane hop away.
Malta's rugged coastline boasts dramatic cliffs alternating with tiny coves dotted with ancient forts and quaint fishing harbors. Inland, stone walls separate fields of olives, wheat, and potatoes. Wine production is also popular, and, in season, vines hang heavy with grapes all across the island.
Affordable Living With A Rich History
From its weather and food to its history and culture, Malta is not only the best of Mediterranean Europe but also one of your most affordable options for embracing this lifestyle.
The country has been working hard to raise its profile internationally, and Malta's capital, Valletta, was named 2018's European Capital of Culture.
Malta does not offer a retiree visa, but its Global Residence Program for non-EU citizens amounts to one of the best residency opportunities in Europe. You can qualify simply by renting a place to live for as little as 800 euros per month.
#6: Occitanie, France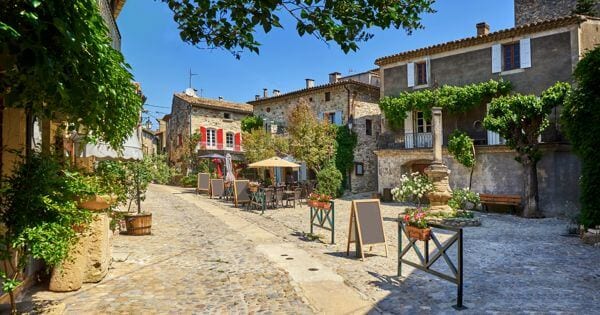 At A Glance
Cost Of Living: B+
Health Care: A+
Affordability Of Real Estate: B-
Residency: B
Taxes: C
The south of France is not very big, but it is in two parts. Provence is very known and very expensive. Alongside it is the other south of France, Occitanie, not known and not expensive. In Occitanie (formerly Languedoc) is little Saint-Chinian, a quintessential French country village where everyday life is like something out of Disney's "Beauty and the Beast."
This town is notable for two things in particular. First, its property prices, which are half those of Provence and the Côte d'Azur.
A Great Choice For Wine Lovers
The second reason for the growing popularity of Saint-Chinian is its wine. For decades, the Occitanie produced vast quantities of quaffable vin de table but nothing notable. Over the last dozen years, growers have specialized and built on the AOC (appellation d'origine contrôlée) status created in 1982 and are now producing world-ranking red wines from the original Carignan, Cinsaut, and Grenache grapes, with the addition of Syrah and Mourvèdre varieties.
Indeed, wine is the village economy. Saint-Chinian is home to 1,900 inhabitants and 200 winemakers.
Sitting on a hillside in Saint-Chinian, enjoying the idyllic French country scene, you could think you are in the middle of nowhere. However, Spain is near enough that you could pop over for dinner, and Paris can be just three hours away by TGV.
Thanks to the excellent train and bus service, you could live in Saint-Chinian without a car. If you find you do need a lift somewhere, ask a neighbor.
The people of Saint-Chinian are disarmingly friendly and always ready to help out. The French are often thought of as rude and aloof. In Saint-Chinian, the reality is nothing to do with the stereotype.
#7: San Ignacio, Belize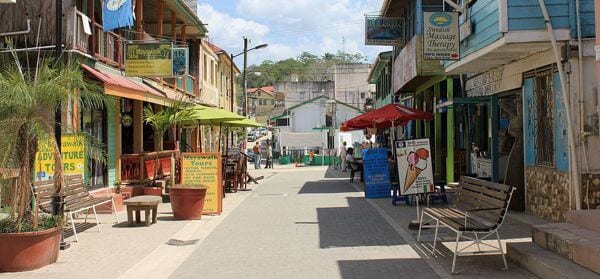 At A Glance
Cost Of Living: B
Health Care: D
Affordability Of Real Estate: A-
Residency: A
Taxes: A+
Cayo is inland, in the Belizean rain forest. This is a land of mountains and Mayan ruins, rivers, and waterfalls, Belize's frontier. The wide-open spaces of Cayo appeal to the adventuresome and the independent. Living here, you'd enjoy elbow room, far-reaching vistas, and a clean slate. You could start over and rebuild your life entirely.
You'd have a higher level of support than you might expect. The region today known as Cayo once supported a population of Maya greater than the entire current population of Belize.
History has come full circle; the Cayo District is again the heart and soul of Belize, home to the nation's capital, the location of one of the newest U.S. embassies in the world, and the fastest-growing region in the country.
Back To Basics And Off The Grid Living
Cayo is one of the top choices worldwide for getting back to basics. The good news is that going off the grid today does not have to be as challenging nor the lifestyle as rugged as it was even 10 years ago. Today, amidst Cayo's virgin rain forest, you can live self-sufficiently in style and good company.
Driving along the Western Highway from Belize City to Cayo, the view from your window is of fields and pastures, trees and jungle, rivers and livestock. Here and there a small house of concrete block or timber, in the distance the outline of the Maya Mountains. The land in Cayo is fertile. Farmers grow corn and sugarcane, watermelons and citrus.
San Ignacio is Cayo's biggest town and home to a large and growing community of foreign retirees and expats. You could settle in among them easily and residency in Belize is easy to establish.
Belize is one of the best places to live if you want to move to an English speaking country.
#8: Annecy, France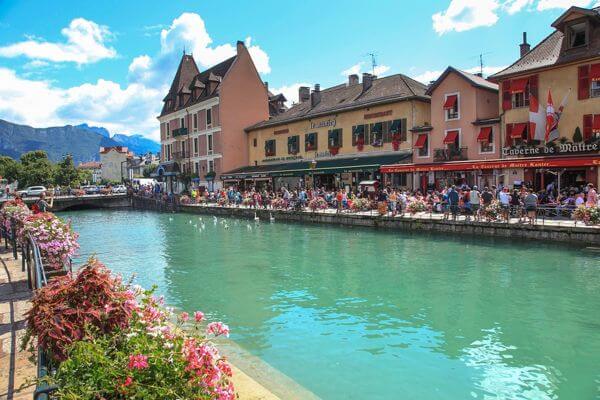 At A Glance
Cost Of Living: C
Health Care: A+
Affordability Of Real Estate: C
Residency: B
Taxes: C
Only a few cities in the world can hope to meet the expectations of a nature lover, a museum aficionado, a foodie, an adrenaline junky, and a fashionista. Annecy offers a lifestyle that satisfies all these agendas.
The Pearl Of The French Alps
Historically, Annecy has been known for its skiing (this is the Pearl of the French Alps) and its lake, one of the cleanest in the world. Cradled as it is between its crystal blue lake and the surrounding Alpine summits, the city is naturally protected from large-scale development and has managed to retain its traditional village appeal.
Annecy is an open-air museum. Dating back to the Gallo-Roman Empire, the city was the capital of Savoy, the longest-surviving royal house in Europe.
Boasting today the twin titles "City of Art and History" and "City in Bloom," Annecy serves up more than its share of castles, museums, pastel-colored townhomes, and other historical sites alongside modern theaters, cinemas, and festivals. The streets become a giant circus in July for the annual art festival known as Les Noctibules, and every August the much-anticipated Fête du Lac features the biggest fireworks show in Europe.
If France is the country of cheese, Savoy is its heart. Annecy residents lunch on tartiflette (a melted potato and bacon pie smothered in Reblochon cheese) and dine regularly on la fondue raclette.
This part of France is home to many notable restaurants, including several with Michelin stars. World-famous Savoyard chef Marc Veyrat was born in Annecy and takes inspiration from its lake fish for signature dishes.
#9: Città Sant'Angelo, Italy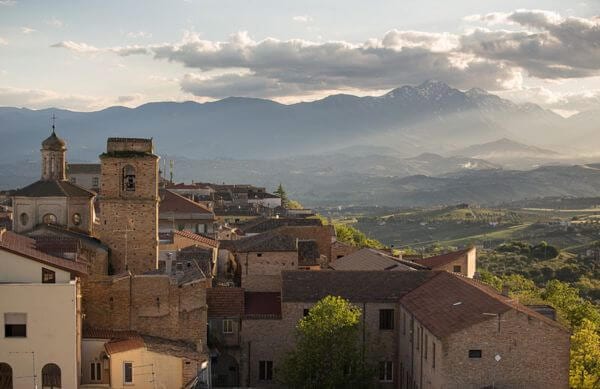 At A Glance
Cost Of Living: B+
Health Care: A+
Affordability Of Real Estate: B
Residency: C
Taxes: C
Abruzzo, historically one of the poorest regions in the country, had fallen off the national map until just a few decades ago. Since the 1950s, however, Abruzzo has seen steady economic growth. In the 1990s, its growth surpassed that of any other region in Italy and its per capita GDP expanded to become the highest in the country.
The construction of new highways made it more easily accessible from Rome, opening up the region domestically and attracting state and private investment the likes of which Abruzzo had never seen before.
Today, the per capita GDP well outpaces that of the rest of southern Italy (and is a healthy 84% of the national average). Today, this is the richest region in this part of Italy. Yet it remains absolutely affordable, one of Europe's greatest bargains. Abruzzo has everything Tuscany offers and more, at a fraction the cost.
Abruzzo Is Working Hard To Attract Expats
New development is taking place across the region, and small towns are working hard to attract investment to save their historically significant but nearly deserted streets.
Nowhere is this truer than in Città Sant'Angelo, perhaps the most appealing spot in this welcoming region. This would be an ideal place to embrace the best of traditional Italian life.
The downside could be language. Living in Città Sant'Angelo, you'd need to learn to speak Italian. Despite this, Abruzzo is one of the best places to live in Italy.
#10: George Town, Malaysia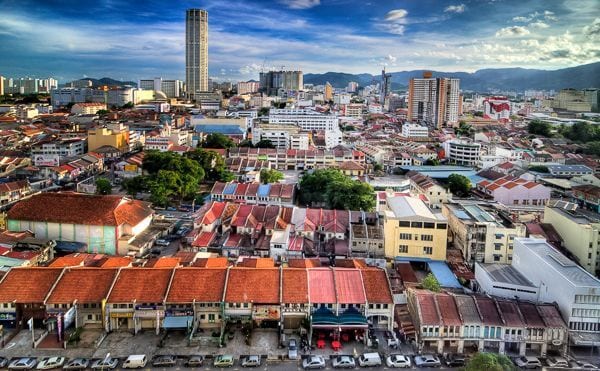 At A Glance
Cost Of Living: A
Health Care: A+
Affordability Of Real Estate: B-
Residency: B-
Taxes: A+
Penang isn't just another lost-in-time outpost of the former British Empire. Combining all that's appealing about island and city living, the "Pearl of the Orient" is one of Southeast Asia's most livable destinations.
Low costs are a big part of the appeal. In addition, health care is excellent, foreigners are welcome, and the country is safe and stable.
The population is a melting pot of Malay, Straits Chinese, Chinese, Burmese, Arab, Thai, Indonesian, and Indian. Thanks to its colonial past, English is the language that holds the ethnic stew together.
The Perfect Blend Of Old And New
Life here is both traditional and 21st century, exotic and comfortable. Beyond the high-rise apartments of modern George Town is one of the best-preserved old cities in Asia. It is also one of the best places to live or retire in Asia.
Hidden along the winding streets of this UNESCO World Cultural Heritage Site are old shophouses, guildhalls, and clan houses.
Then there's the great outdoors. Almost on the city's doorstep are stylish seaside settlements with palm-fringed sandy beaches and a backdrop of lush rain forest.
This city is recognized as an Asian culinary capital. Delicious specialties like Char Kway Teow, noodles with shrimp, chili paste, and cockles, are less than US$2 per portion.
Malaysia is one of the world's most tax-friendly jurisdictions. As a resident of this country, you are taxed only on income derived from within the country, meaning that even income you remit to Malaysia is not taxed as long as it was earned elsewhere.
Kathleen Peddicord
This article, The Best Places To Live Overseas, was originally published in 2017 and has been updated each year.