Tavira: The Venice Of The Algarve
The Cost Of Living In Tavira, Portugal
Apartment Or House Ownership Budget (For A Couple)
Expense
Monthly Costs
Notes
Mortgage
€650
Average; hard to quantify.
HOA Fees
€100
Property Taxes
€50
Transportation
€320
Driving your own car, including insurance. €75 for a tank of gas.
Gas
€50
For heating and cooking.
Electricity
€85
Including air conditioning.
Water
€25
Not including a swimming pool.
Cell Phone
€20
Monthly cost for basic cell phone plan.
Internet
€60
Including TV channels.
Cable TV
–
Household Help
€80
For two hours of house cleaning a week.
Entertainment
€510
Monthly cost for eating out twice a week: €420 (€45 to €60 per meal).
Monthly cost for drinks twice a week: €60 (€1.50 for a beer; €5.50 for a bottle of wine).
Movie theatre trip twice a month: €30 (€7.50 per ticket).
Groceries
€400
Monthly grocery haul for a couple.
Gym Membership
€80
Basic membership for two people.
Medical Appointment
€70
Cost of one appointment (private clinic).
TOTAL
€2,500
Apartment Or House Rental Budget (For A Couple)
Expense
Monthly Costs
Notes
Rent
€1,200
Cost of an apartment (70 square meters, two-bed/two-bath roughly) in a desirable location.
Transportation
€320
Driving your own car, including insurance. €75 for a tank of gas.
Gas
€50
For heating and cooking.
Electricity
€85
Including air conditioning.
Water
€25
Not including a swimming pool.
Cell Phone
€20
Monthly cost for basic cell phone plan.
Internet
€60
Including TV channels.
Cable TV
–
Household Help
€80
For two hours of house cleaning a week.
Entertainment
€510
Monthly cost for eating out twice a week: €420 (€45 to €60 per meal).
Monthly cost for drinks twice a week: €60 (€1.50 for a beer; €5.50 for a bottle of wine).
Movie theatre trip twice a month: €30 (€7.50 per ticket).
Groceries
€400
Monthly grocery haul for a couple.
Gym Membership
€80
Basic membership for two people.
Medical Appointment
€70
Cost of one appointment (private clinic).
TOTAL
€2,900
Penny-Pincher's Budget (Bare Minimum Costs, For A Couple)
| Expense | Monthly Costs | Notes |
| --- | --- | --- |
| Rent | €750 | Cost of an apartment (one-bed/one-bath) in the cheapest part of town. |
| Transportation | €80 | Monthly bus ticket. |
| Gas | €35 | |
| Electricity | €65 | |
| Water | €25 | |
| Cell Phone | €20 | |
| Internet | €60 | |
| Cable TV | – | |
| Entertainment | €200 | Monthly cost for eating out twice a week: €50 (€12.50 per meal). |
| Groceries | €285 | All local-brand items only, shopping at markets and grocery stores. |
| Medical Appointment | €5.50 | Cost of one appointment (public health center). |
| TOTAL | €1,525.50 | |
Click here for currency conversionsat today's exchange rates.
Tavira, Portugal: A Safe And Affordable Haven
By Marie Moore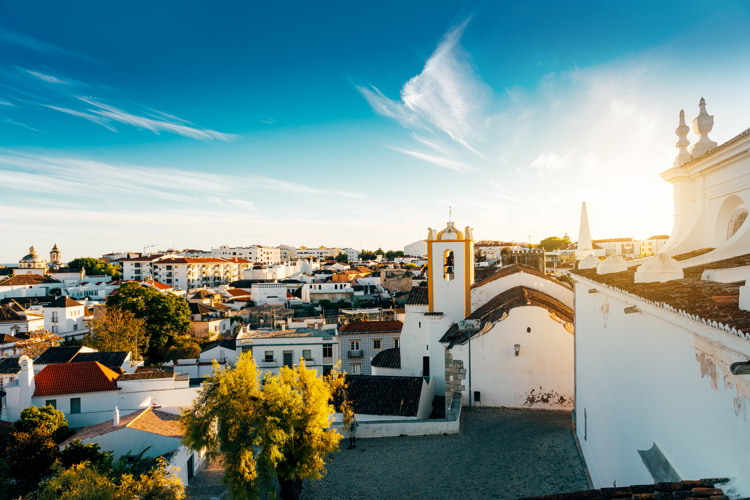 My adopted hometown is Tavira, Portugal, a place where the café lifestyle thrives…
I start most days here with a café (mini but potent espresso) and a pasteis de nata tart—a creamy, vanilla custard pastry topped with icing sugar or cinnamon. The combination is a national treasure that costs just one euro and symbolizes life in Tavira: inexpensive, uncomplicated, sweet, and traditional.
Tavira is in the eastern Algarve, about halfway between Faro, the region's administrative capital, and Ayamonte, a town in southwestern Spain.
Tavira's Beautiful Beaches
It's bordered to the south by the blue-green waters of the Atlantic Ocean, where row upon row of striped umbrellas and colorful cabanas dot the sandy shores of Tavira Island.
The beaches in this part of the Algarve are unique… They remain undeveloped by mass tourism because of their proximity to Parque Natural da Ria Formosa, a sprawling protected zone of environmental importance.
Not accessible on foot or by car, you reach Tavira's best beaches with a 20-minute ferry ride from the center of town.
This degree of separation means that Tavira's beaches remain unspoiled.
There are no elite, five-star resorts or yacht-filled marinas like you find in the more-popular tourist destinations of the Western Algarve, nor are there throngs of visitors jousting over the last beach chair or parking spot…
What you have instead is simply sand and waves and the opportunity to walk along the beach uninterrupted for miles…
Tavira is well-connected to the rest of the Algarve, and as a whole, this region boasts about 155 kilometers (71 miles) of coastline. There are plenty of other oceanside choices, including nearby Praia Verde, Cacela Velha's Fabrica Beach, Praia da Terra Estreita, Manta Rota, Monte Gordo, and Fuzeta…
These Atlantic waters are cooler than those of the Mediterranean, it's true… but the sun makes up for it in Tavira, shining more often than not with over 300 sunny days per year.
Aside From Its Beautiful Beaches, Tavira Offers Plenty Of Diversions
In town, I love to look at the four-sided, double-sloped rooftops, tiled walls, Moorish-accented architecture, and impeccably groomed municipal gardens near Bishop's Square and the Fontaine aux Tortues, just past the grand Republica Square…
Tavira unfolds along both sides of the River Gilão, the graceful, slow-moving waterway that has long been the town's defining feature. The riverfront is an attraction in and of itself, endowed with promenades and swaying palms, open-air cafés, and restaurants serving the day's catch.
Few pleasures surpass a double scoop of gelato, kissed by the afternoon sun as you sit on your favorite wooden bench overlooking the promenade.
Flanked by Renaissance architecture and connected by an old Roman bridge, the riverfront casts an air about Tavira that can only be described as romantic.
Steps away, the marble seated amphitheater and Memorial Fountain embellish the town center…
Who could resist this corner of traditional Algarvean charm?
Luckily for us residents, many people do. Tourists favor the high-end notoriety of the Western Algarve, with its Michelin-star restaurants and internationally renowned golf and country clubs, over Tavira's no frills appeal.
These flashier offerings are found only an hour or two away by car, train, or bus, but they're far enough away from Tavira that it doesn't get such overwhelming tourism numbers.
Though it, too, has its share of golf courses and mouth-watering culinary delights, Tavira offers unique attractions: fishing, birdwatching, and dolphin-seeking excursions, olive grove and salt pan tours, the Pego do Inferno waterfall, more than 30 churches, cultural centers and museums, Fado dinner shows, open air concerts, Mediterranean diet and wine fairs, archeological sites, a castle ruin garden, water sports, and firework displays…
All this and more is available in welcoming Tavira.
In addition to 300 days of sunshine, Tavira enjoys moderate temperatures year-round, varying between 55°F and 72°F (13°C and 22°C). No snow shovels or rain boots required, just an umbrella will do for those few days of less than perfect weather.
Life In Tavira
No matter where you go in Tavira, you hear people speaking different languages, though Portuguese and English are the most commonly spoken.
Home to a flourishing population of Germans, Irish, French, Spanish, Brits, Swedes, Canadians, and Americans, Tavira's expat community is diverse and growing. There are plenty of opportunities to mix and mingle with folks from all over Europe and North America.
Tavira has a municipal library that has an English section and computers available for rent. There are clubs to support an array of arts-related interests, from choirs to Scottish country dancing, painting groups, theatre groups, book clubs, and a writer's club.
In terms of recreation opportunities, Tavira offers an Olympic-size municipal pool (about 2 euros per visit) and a sports complex where you can play soccer, croquet, and lawn-bowling.
Tennis and golf are popular across the Algarve… You'll find tennis clubs, martial arts classes, yoga and Pilates, and cycling groups, as well as regular exercise gyms.
There are also volunteer opportunities, for instance at the local animal shelter.
One of the top things to do in Tavira is shop. The service is friendly, prices are affordable, and vendors are multi-lingual but especially English-speaking.
From garden centers to grocery stores, fashion retailers to souvenirs, housewares to linens, there's a smorgasbord of goods on sale locally in Tavira… with an emphasis on handcrafted ceramics, pottery, artwork, décor, uniquely designed purses and shoes, intricately patterned lace curtains and tablecloths, and more…
Tavira boasts a thriving cottage industry as well as a two-story modern mall, complete with a food court, indoor parking garage, and family-friendly amenities.
Its multiplex cinema features current English-language movies (seniors get a discount; adults pay 7 euros), and the popcorn is a real steal.
Living in Tavira is your chance for a better life at a better price. First, all taxes and tariffs are included in the Portuguese price on food, beverages, clothing, and furnishings.
Brand-name items are never cheap, so it's possible to spend 80 to 100 euros on running shoes and 60 to 100 euros on jeans in Tavira. If you're willing to forego expensive labels, it's easy to find a pair of well-made leather loafers, sandals, or running shoes, for less than half that price. The same rule applies to jeans.
A great looking t-shirt can be had for 5 euros (ladies) to 8 euros (men); a pretty sundress, blouse, or long-sleeve top for 20 euros or less. Men's casual shirts and casual pants are about the same. Seasonal sales feature most garments up to 70% off.
Tavira is a casually dressed town so there aren't many occasions that call for semi-formal or formal attire.
To explore Tavira, you can take a taxi, train (seniors pay half-fare), bus, or car. Taxi meters start at 78 cents and charge the same for each kilometer. If you ask the driver to wait an hour so you can shop, he'll add 18 euros to the bill.
A cab to or from Faro airport costs 45 to 50 euros.
Drivers are friendly, informative, and speak a dabbling of many languages, especially English.
There are six major grocery chains in Tavira: Continente (with a huge store in the mall), Pingo Doce, Lidl, Aldi, InterMarche (which feature goods from other European countries), and Mini Preco, with several locations that are similar to our corner stores in North America.
For those who prefer shopping in a traditional Portuguese market, the sprawling Tavira Mercado provides farm-fresh vegetables and fruit, herbs and spices, meat and fish, honey, pastries and bread, and so on. Once a month, vendors and individual collectors of antiques assemble here to display their wares in a full-blown Saturday market.
Produce in Tavira is fresh and affordable, but I'm always happier when someone else does the cooking and cleaning… Be honest, so do you!
Tavira is rich with restaurants. On average, inexpensive dinner choices will run you 10 to 12 euros. This may include a beer (2 euros) or a wine (3 euros). A three-course meal for two at a mid-range restaurant averages 34 euros. A small, domestic beer costs about the same as a glass of Coke, a mini bottle of ginger ale, or a cappuccino.
The view of the River Gilão from restaurant terraces is the perfect backdrop for outdoor dining. The variety of dishes is huge, and people take obvious pride in preparing and serving food. Ambience, European charm, gastronomic discoveries, and happy customers abound…
Tavira is a place for homebodies, people who enjoy simple pleasures like taking leisurely walks in a picturesque environment, discovering the idiosyncrasies of local culture, and perusing the goods at local shops and markets. But it's also a place for adventurers…
You can drive to the edge of the Old World in three hours or be in the country next door in 30 minutes… or you can travel to the northern tip of Africa in less than a day, including the ferry trip. The continental capitals of Europe are all within easy reach from Tavira by car, rail, or inexpensive flight.
Some of the unique perks of living in Tavira are the free concerts in Republica Square, attending Dancing for Seniors in the old market, and counting the turtles in Fontaine aux Tortues. There's nothing better than a scoop of local gelato on a hot day or sampling ambrosia at an outdoor wine fair.
If you're looking for the opportunity to relax on beautiful sandy beaches, eat delicious food at affordable prices, and meet people from all over the world while living in a safe, fun, friendly town… you'll love Tavira.
Map Of Tavira, Portugal