When visiting or retiring to Portugal, people typically pick Lisbon, Porto, or Madeira. Faro, however, is a charming Moorish-style town with a large airport located in the Algarve region that's beginning to catch the attention of tourists and potential retirees alike.
In Faro you'll find that prices are lower and lifestyle options are vast, making it an attractive destination for anyone looking to upgrade their retirement and lower their monthly budget. Same goes for travelers. You'll be able to enjoy sightseeing without going over your budget.
Faro is an ideal place for snowbirds. You can count on 300 days of sunlight a year, making this one of the sunniest places in Europe. Plan your trip to Faro any time of the year without having to worry about rain or snow.
Cost Of Living In Faro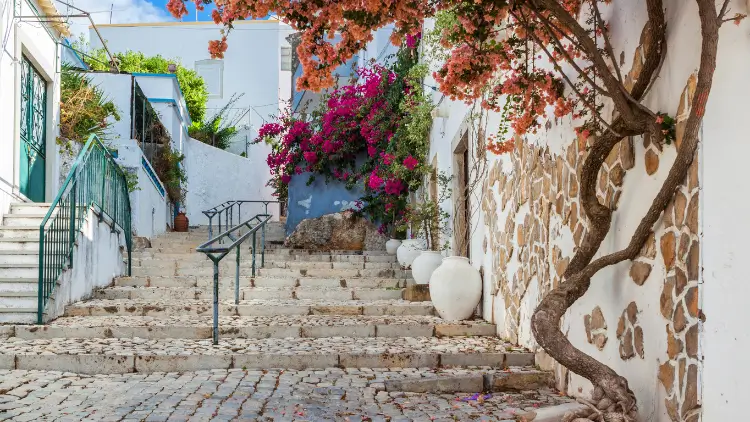 The cost of living in Portugal is among the lowest in Europe. This is one of the country's most attractive traits.
Rent Costs
A couple can live comfortably in Faro, Portugal, with a monthly budget of about US$2,000. You can also live well, as a couple, on around US$1,400 a month, depending on your lifestyle and whether you're willing to make adjustments here and there.
Rent in Faro, Portugal, ranges from US$600 to US$1,400. A small, one-bedroom apartment in the city center goes for about US$760 a month. A similar apartment outside the city center costs about US$640 a month.
If you're moving to Faro with children, you'll need a bigger accommodation. A three-bedroom apartment costs around US$1,544 a month in the city center and rents for about US$1,202 a month outside the center.
As for basic utilities––electricity, heating, cooling, water, and garbage––expect a minimum cost of US$74 per month.
Transportation Costs
The beauty of choosing to visit or retire in Portugal is that you don't need to own a car. Portugal's public transportation is clean and dependable.
In Faro, a one-way bus ticket costs less than US$3, and a monthly pass costs US$38. Taxi fares start at US$5.
Faro is an extremely walkable city, and the best way to get to know the area is on foot. This will bring your transportation expenses down to zero.
Retail Shopping In Faro
Whether you're a shop-a-holic or a minimalist who only shops once in a while, having an idea of retail prices can help you decide whether you'll be doing your shopping in Faro, or if you'd rather head to a neighboring town or city.
Get Your Free Portugal Report Today!
Simply enter your email address below and we'll send you our ​FREE REPORT — Portugal: The World's #1 Retirement Haven...
Here's a sample of retail prices in Faro, Portugal:
Levi's jeans, US$88
Zara summer dress, US$33
Nike running shoes, US$72
Men's leather business shoes, US$108
Groceries In Faro
Your grocery bill will vary depending on what you buy. Imported goods cost more than local products. Think about what things you can live without, things you can't live without, and brands you could swap for local ones.
Depending on the changes you make, your monthly grocery budget could be US$200 to US$400.
Things To Do And Places To Visit In Faro
Faro has spectacular places to visit and a bunch of activities to enjoy.
Start by walking around town and getting an idea of your surroundings. This is a great way to get to know a place and not miss anything. You could unexpectedly find yourself in front of a tiny café, a local restaurant, a small library or bookstore, or little boutique that you would've otherwise missed.
Next, make a list of places you'd like to visit and create an itinerary. Two or three places per day is a good starting point because you'll have lots of time to enjoy each one, but you can visit more or less depending on how long you spend at each site.
Here's a list of places to consider visiting in Faro:
Marina de Faro (Faro Marina)
Igreja de Santa Maria (Santa Maria Church)
Museu Municipal de Faro (Municipal Museum of Faro)
Igreja do Carmo (Carmo Church)
Casa do Arco do Repouso (House of the Gate of Rest)
Marina De Faro
Faro is a coastal city on the southernmost tip of the Algarve. As such, it should come as no surprise that it boasts an impressive marina. It's close to the commercial part of the city and the historic center.
If you're up for it, you could take a day trip out to sea. On the northwest end of the marina you'll find Faro's Maritime Museum. It's small, but it has information and displays about Portugal's Age of Discovery.
Get Your Free Portugal Report Today!
Simply enter your email address below and we'll send you our ​FREE REPORT — Portugal: The World's #1 Retirement Haven...
Igreja De Santa Maria
Igreja de Santa Maria is also known as Sé Catedral de Faro. Faro's cathedral is one of the most important buildings in the Portuguese city.
This Roman Catholic cathedral is in the city's historic center. Although it's been renovated, it still maintains a few architectural elements from when it was originally built. Lovers of history and museums should make sure to stop by and take in this breathtaking cathedral.
Museu Municipal De Faro
The Faro Municipal Museum of Art and Archaeology is in Old Town Faro. The museum was founded in 1973 and houses objects discovered in the city and surrounding areas, such as busts from the Roman period.
It wasn't originally built as a museum, but rather as a convent in the early 16th century. The nuns left in the 1830s, and it became a museum during the 20th century.
Igreja Do Carmo
Igreja do Carmo (Carmo Church) wasn't completed until the 19th century due to an earthquake in the mid-1700s.
The church's main attraction is the Capela dos Ossos (Chapel of Bones) located behind the main building. The walls are covered in the skulls and bones of over 1,000 people, presumably monks. Supposedly, the chapel's purpose is to remind people how fleeting life is.
Casa Do Arco Do Repouso
Casa do Arco do Repouso (Home of the Arch of Rest) is a historic site near Faro's center and consists of the remains of ancient fortification walls.
Retirement In Faro, Portugal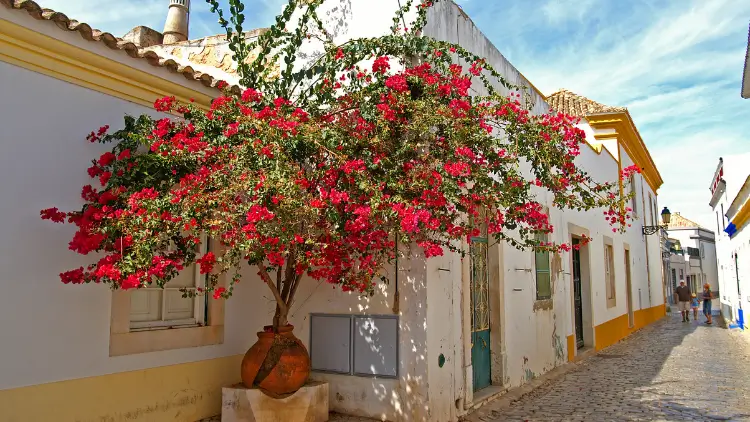 Retiring in Faro, Portugal, allows you to have a higher quality of life at a lower cost. You can retire, as a couple, with a monthly budget of US$1,800 and live comfortably.
Moving To Faro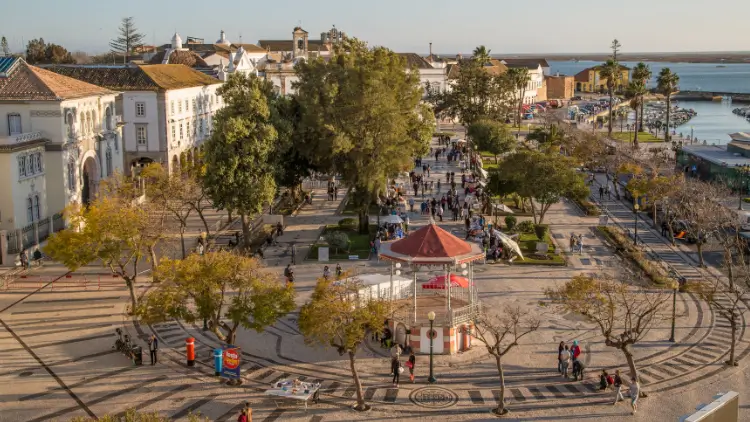 Getting ready to move isn't as complicated as it may seem. Take only the essentials and a few things that hold sentimental value and that you can't live without. Clothes, bags, shoes, books, family pictures, and paintings go on this list.
Sell or donate larger belongings like cars, furniture, kitchenware, dishes, and mattresses to family and friends. You can buy those things in Faro. You might decide to go without a car as Faro is a pedestrian-friendly city and public transportation is reliable and inexpensive.
Visas And Residency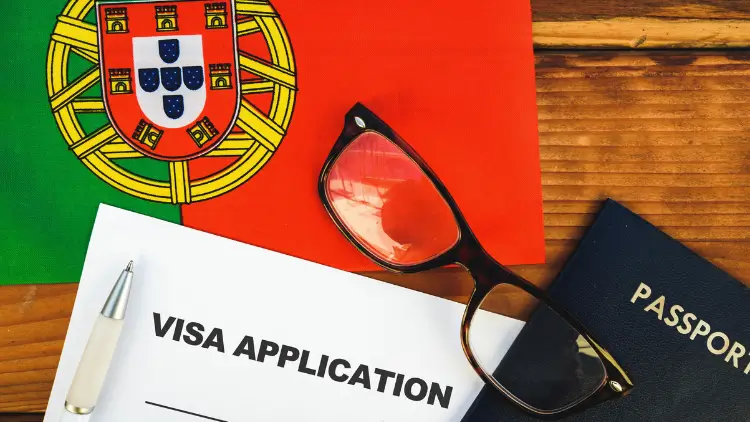 Obtaining a Portuguese visa or residency is simple. Be sure to start the process well in advance of your travel date.
Get Your Free Portugal Report Today!
Simply enter your email address below and we'll send you our ​FREE REPORT — Portugal: The World's #1 Retirement Haven...
Residency Permits For Non-EU Citizens
Start by applying for a Type 1 Resident Visa. Go to the Portuguese Embassy in your home country to start the process. You should apply for this visa three months prior to your move to Portugal.
Once you have the visa and have traveled to your new home, you have six months to apply for a Resident Permit. Apply for a Schengen Visa first online.
Make several copies of the required documents as you'll need them for the rest of the application process.
For more information, visit SEF here or the Ministry of Foreign Affairs here.
Weather In Faro

Faro, Portugal, is blessed with ideal weather. The coolest season is from November to March, but temperatures are rarely lower than 66°F (8°C).
Though it can get chilly, Faro is sunny approximately 300 days a year.
The warmer season is from April to October, and highs can reach 86°F (30°C).