The Cost Of Living In Coimbra, Portugal
Apartment Or House Ownership Budget (For A Couple)
Expense
Monthly Costs
Notes
Mortgage
3% to 4%
It's difficult to get a mortgage unless you deposit comparable funds in a Portuguese bank account.
HOA Fees
€50
Average cost, depending on the unit size and value as well as property amenities.
Property Taxes
€37.5
About €450 annually. This price can have significant changes, depending on location.
Transportation
€63
New cars range from €14,000 and up. Extensive coverage car insurance ranges from €500 per year (for a new car) and up.
Gas
€31
For cooking and water heater.
Electricity
€100
Based on a simulation. Electricity used for cooking, plus air conditioning, and heating in each room. House built between 1996 and 2000 (please note many modern buildings have electric blinds). Final value will also depend on the energetic efficiency of household appliances.
Water
€21
Please note the water cost is not all the same across the country.
Cell Phone
–
Included with cable package.
Internet
–
Included with cable package.
Cable TV
€61
Household Help
€60
For bi-monthly, four-hour visits. The standard rate is €7 per hour.
Entertainment
€300
Eating out twice a week at a mid-range, local restaurant: €80 to €90.
Local drinks twice a week in a local bar: €20 (€10 to €15 for a bottle of wine; €2 for a beer; €7 to 10€ for a cocktail).
Movie theater trip twice a month: €36 (€6.50 each for seniors, plus snacks).
Groceries
€200
The final value can have a big variation depending on where you usually do your shopping.
Gym Membership
€33
Monthly membership at Go Gym Coimbra, allowing free access to a total of 10 different group classes.
Medical Appointment
€50 – €81
Dental cleaning at Clínica Delille is €50 (without insurance). Private GP visit atHospital CUF Coimbra is €81 (without insurance).
National Health System charges tax only on visits (€4,50) and basic tests (upwards from €10). However, no dental or specialist services are available at the local health center.
TOTAL
€1,006.50 – €1,037.50
Apartment Or House Rental Budget (For A Couple)
Expense
Monthly Costs
Notes
Rent
€650
Cost of an apartment (70 square meters, two-bed/two-bath roughly) in a desirable location.
Transportation
€63
New cars range from €14,000 and up. Extensive coverage car insurance ranges from €500 per year (for a new car) and up.
Gas
€31
For cooking and water heater.
Electricity
€100
Based on a simulation. Electricity used for cooking, plus air conditioning and heating in each room. House built between 1996 and 2000 (please note many modern buildings have electric blinds). Final value will also depend on the energetic efficiency of household appliances.
Water
€21
Please note the water cost is not all the same across the country.
Cell Phone
–
Included with cable package.
Internet
–
Included with cable package.
Cable TV
€61
Household Help
€60
For bi-monthly, four-hour visits. The standard rate is €7 per hour.
Entertainment
€300
Eating out twice a week at a mid-range, local restaurant: €80 to €90.
Local drinks twice a week in a local bar: €20 (€10 to €15 for a bottle of wine; €2 for a beer; €7 to 10€ for a cocktail).
Movie theater trip twice a month: €36 (€6.50 each for seniors, plus snacks).
Groceries
€200
The final value can have a big variation depending on where you usually do your shopping.
Gym Membership
€33
Monthly membership at Go Gym Coimbra, allowing free access to a total of 10 different group classes.
Medical Appointment
€50 – €81
Dental cleaning at Clínica Delille is €50 (without insurance). Private GP visit at Hospital CUF Coimbra is €81 (without insurance).
National Health System charges tax only on visits (€4,50) and basic tests (upwards from €10). However, no dental or specialist services are available at the local health center.
TOTAL
€1,569 – €1,600
Penny-Pincher's Budget (Bare Minimum Costs, For A Couple)
| Expense | Monthly Costs | Notes |
| --- | --- | --- |
| Rent | €500 | Cost of an apartment (one-bed/one-bath) in the cheapest part of town. |
| Transportation | €12 – €35 | €12 for the monthly bus ticket for the senior population (65+). €35 for the monthly bus and train ticket. |
| Gas | €31 | For cooking and water heater. |
| Electricity | €100 | Based on a simulation. Electricity used for cooking, plus air conditioning and heating in each room. House built between 1996 and 2000 (please note many modern buildings have electric blinds). Final value will also depend on the energetic efficiency of household appliances. |
| Water | €21 | Please note the water cost is not all the same across the country. |
| Cell Phone | €7.99 | Cell phone service for one phone with a pre-existing number with MEO. |
| Internet | €26.99 | Stand-alone internet fee (only available where fiber optic service is in place with MEO). Where no fiber optic service exists, a landline must be added for an additional €12.49 per month. |
| Cable TV | €34.99 | Most basic TV package with MEO. |
| Entertainment | €150 | Eating out twice a week at a mid-range, local restaurant. Lunch on weekdays is usually the cheapest option in local restaurants. |
| Groceries | €150 | All local-brand items only, shopping at markets and grocery stores. |
| TOTAL | €1,033.97 – €1,056.97 | |
Finding Balance In Coimbra, Portugal
By Cátia Lima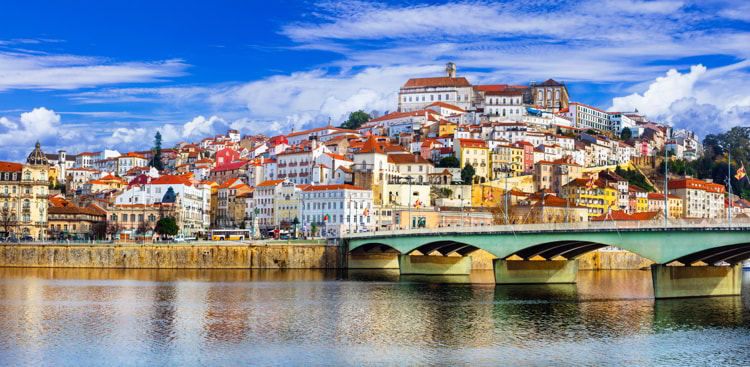 If you're considering Portugal as a possible destination for living, investing, or both, then there's a strong possibility you've already done some research.
And, if Lisbon and Porto are too big for what you need, but you can't picture yourself living in a tiny village, then Coimbra, one of the most important cities in Central Portugal, may be the spot for you.
Coimbra is the capital city of the district bearing the same name and although it has a lot going on, it retains a relaxed pace.
Famous for its university, one of the oldest in the world, the city of students, as Coimbra is known in Portugal, has several qualities that make it the perfect fit for many expats.
As one of the oldest cities in Portugal, Coimbra comes with its own set of monuments and unique cultural traits, like a specific type of Fado (a Portuguese music genre).
The Mondego River, with its source in the hills of Serra da Estrela (to the east), runs through the city before reaching the sea in Figueira da Foz, about an hour's drive from Coimbra.
Add to this the natural buzz of the university and the students, and you get a fertile ground for exhibitions, concerts, and culture in general.
And there's more…
Coimbra's central location on the Portuguese map makes it an ideal location if you plan on exploring the country either for leisure or for work.
Coimbra's Infrastructure And Transportation
The city enjoys a privileged location more or less halfway between Lisbon (122 miles or 197 kms away) and Porto (72 miles or 116 kms away), both of which have international airports.
There's two train stations which serve the suburban areas around the city and also connect Coimbra to other parts of the country, via high-speed, regional, and intercity trains.
Getting around most of Coimbra can easily be done without a car, although it depends on what you need to do. Getting a car will prove useful for day trips, but parking in the city can be complicated, especially in the historical center.
One option worth trying is parking across the river, in the Santa Clara neighborhood, and then making the rest of the way on foot. Bear in mind that, like so many cities and towns in Portugal, Coimbra has its share of hills.
Taxis and Uber are also available.
Weather In Coimbra
The weather in Coimbra is mild, as in most of mainland Portugal. Although the city is relatively far from the coast, the presence of the Mondego River helps make for moderate winters and summers.
In winter, temperatures usually go from 59°F to 41°F (15°C to 5°C), with the occasional drop below 32°F (0°C). Summer temperatures usually range between 82°F and 59°F (28°C and 15°C).
In general, you can expect plenty of rain year-round, except for July and August—typically the warmest months.
Things To Do In Coimbra
Although smaller than other cities, Coimbra offers quite a selection of activities. From exhibitions to concerts or outdoor events, there's always something to do.
As you might expect, Coimbra has several museums. The most notable of them is the Machado de Castro National Museum. Aside from its impressive
selection of art, the building itself is a piece of living history, as the foundations are the remains of a Roman forum (and yes, you can visit them). The terrace overlooking part of the old city is the cherry on top.
Thanks to the university and its students, Coimbra has for centuries been a place where you can find food and drink from several parts of the country.
This is also one of the main reasons why you have both modern restaurants and traditional hole-in-the-wall places for snacks and light meals, with the
appropriate price range reflected in the final bill.
Rectangular-shaped pastries known as pastéis de Tentúgal (the name of a village near Coimbra) are popular here. These traditional sweets, filled with an
egg yolk and almond cream wrapped in a thin, crumbly dough, will satisfy your sweet tooth.
Like in any Portuguese city, you'll have plenty of cafés and small shops to choose from in Coimbra. There's also several shopping centers, retail parks, hypermarkets, and movie theatres.
One of the positives about living in Portugal is easy access to fresh produce, often straight from the farmer. The Mercado Municipal D. Pedro V is Coimbra's main market, where you'll find not only fruit and vegetables but also locally made products like cheese, smoked sausages, and bread.
Real Estate In Coimbra
Compared to Lisbon and Porto, Coimbra offers cheaper property, but some require serious renovation.
Walking around the city streets, you can easily notice a mix of styles, a natural consequence of the expansion of the city. You can have, for example, a two-story building from the late 19th century next to a four-story one from the 1950s.
Although some neighborhoods tend to be more expensive than others, the price range isn't much different. The downtown and historical center are the most expensive and sought-after areas.
As a guide, you can rent a two-bedroom, one-bathroom apartment starting from 500 euros a month but, when looking for properties, remember the university and its students…
The academic year ends around May, which makes June and July an appropriate time to start a lease. Around late summer and early autumn, you can expect prices to go up (especially for rentals) because students will be looking for accommodation for the next year.
To rent a property, you need to sign a tenancy agreement (contrato de arrendamento). For that, you need to have a Portuguese fiscal number (Número de Identificação Fiscal, often abbreviated as NIF).
The contract must include specific elements like how much the rent is, the length of the lease, how much notice you must give before moving out, details about the property, and which conditions apply for breaking the rental contract. The duration and expiry dates of a fixed-term contract must also be clearly stated in the document. In most cases, landlords do not ask for references.
When it comes to health care needs, the city is home to the Coimbra University Hospital, one of the biggest in the country. As is the case with any other city in Portugal, you also have private clinics.
You'll need a Número de Utente to access the National Health Service or Serviço Nacional de Saúde (SNS). This is a reference number that corresponds to your registration in the SNS.
Depending on what level of care is needed, you may have to pay a fee called a taxa moderadora or nothing at all.
An appointment with a family doctor or general practitioner, for example, will cost you 4.50 euros.
In Coimbra, the price for a dental cleaning is about 50 euros (at Clínica Delille), and for a visit to the general practitioner, it will be 81 euros (at Hospital CUF Coimbra), in both cases without insurance.
If you're interested in having health insurance, it pays to do some research before choosing, as there are so many different options.
If you love the idea of living in a city that's not too big and not too small, not too busy and not too sleepy, then Coimbra may be the balance you're looking for.