'Tis the season to remember
All the faces and the places that were home…
'Tis the season to remember
And to count up all the ports of call we've known…
'Tis the season to remember
That we're never far from home…
Merry Christmas, everyone.
–"Merry Christmas, Alabama" by Jimmy Buffett
Our seven Christmases in Ireland, we could never bring ourselves to participate in one of Ireland's quirkiest festive traditions, what the Irish refer to as the "Christmas Day swim."
On Christmas morning, from beaches, piers, and coves around the country, people of all ages gather to immerse themselves in waters of around 50 degrees Fahrenheit (maximum).
"Swim" is a bit of a misnomer. There is no particular distance that you need to cover, nor any agreed-upon duration you must stay in the water. You simply join the crowd of people running toward and then into the water (cheered on by well-wrapped-up spectators), screaming as their bodies hit the ice-cold sea. A quick splash of the arms and legs, then back in to shore to dry off, wrap up, and enjoy a hot drink or a shot of whiskey.
Wetsuits have appeared on the scene in recent years, mostly among the kids, but it remains an unspoken rule among the hardy adults taking part: traditional bathing suits only.
Our four Christmases in Paris were all about the lights. Each year, starting in November, Boulevard St. Germain, just a few blocks from our apartment in this city, is strung with tiny white lights. The trees and the building facades are covered with them. Each morning and again each evening as I'd walk Jackson, aged 4 through 8 at the time, to and from school, we'd linger at the intersection of Rue du Bac and Boulevard St. Germain as long as possible, looking up and down, up and down, slowly, working to fix that magical view in our memories.
"It's a fairy land," 4-year-old Jack declared it one morning.
I see it still.
Twinkling lights and decorated shop windows. This time of year, storefronts throughout Paris are draped with pine garland, and displays feature green trees flocked with white and trimmed with red and gold baubles. No one does shop windows like the French do shop windows, and no others anywhere compare with the shop windows of central Paris at Christmastime.
My favorite part of Christmas in Panama City, where we've lived for the past nine-and-a-half years, is the chance it gives us to enjoy the community we've built here.
At our office tree-trimming party earlier this month, the group assembled around our fresh-from-Canada live pine drinking egg nog and singing carols included Panamanians and Americans, as you might expect, but also German, French, Belgian, Irish, British, Russian, Jamaican, and Canadian friends and colleagues.
Standing alone in the corner at one point during the party, watching everyone in the group joke and laugh with each other, I enjoyed a moment of pure delight. How fortunate I am, I realized, to be part of this eclectic community.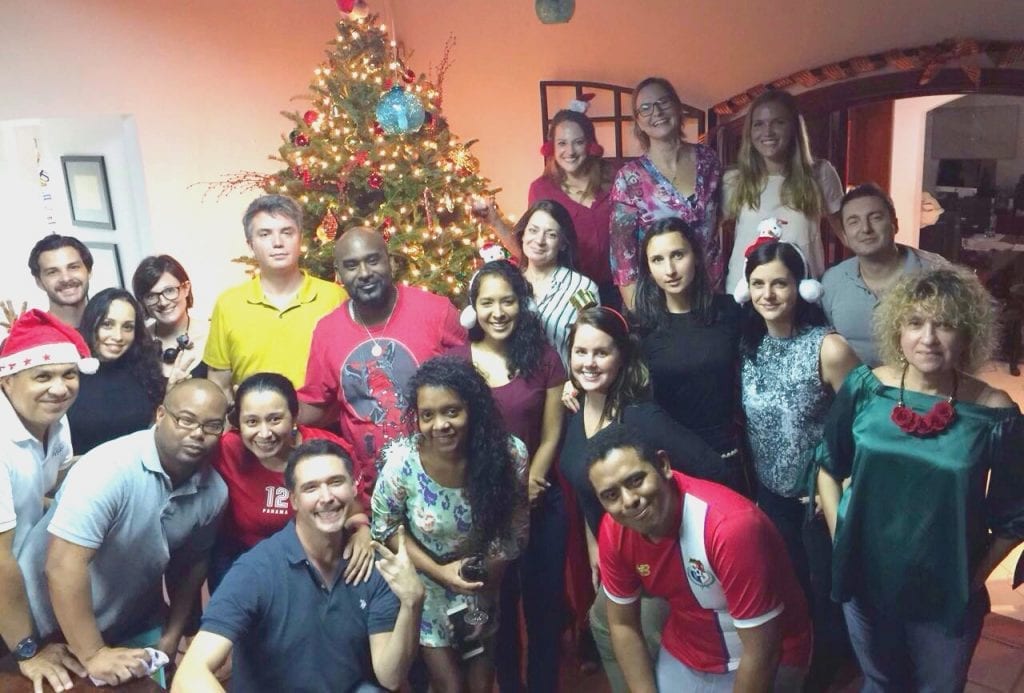 These past 20 years that we've been moving around the world as we have been, it's been this, the creation of like-minded societies, that has been perhaps the greatest source of pleasure for me everywhere we've spent time.
Getting to know people from all around the world, as friends, as business partners, as workmates, then focusing together on particular goals and objectives, helping each other to pursue opportunities as we identify them for both fun and profit… for me, that's as good as it gets.
We're spending Christmas Day this year with our kids in Chamonix, France. While they are off on the slopes, Lief and I are taking long walks through the snow-covered hills and valleys… taking advantage of the annual opportunity this season offers for remembering and taking stock.
From Baltimore some 20 years ago to Waterford, Ireland… Paris, France… Panama City, Panama… to now, now that both our children are launched, flipping the switch to our next stage… which will see us dividing our time between Paris and Panama and moving around the world otherwise as business agendas and personal wanderlust dictate.
We're thinking this sublimely flexible phase of our lives could be the best one yet.
Specifically, where will 2018 lead us? I can't wait to find out.
On behalf of the entire far-flung staff of Live and Invest Overseas, please accept our warm and heartfelt wishes for a Merry Christmas, wherever you find yourself enjoying it this year, and our sincere hope that 2018 is the year your own far-flung dreams of adventure overseas begin to come true.
Kathleen Peddicord
Comments