With more than 100 miles of coastline, Portugal's Algarve coast offers every kind of beach you can imagine.
Whether you are a family in the market for a fun holiday at the sea… a retiree looking for peace and quiet… a beachcomber, a sunbather, a surfer… this region's got a beach with your name on it.
Portugal is the fifth most decorated country in Europe for officially recognized Blue Flag beaches. This award is given annually to beaches and resorts that meet the criteria set out by the European Foundation for Environmental Education to do with environmental management, safety, amenities, and water quality.
You can be sure when you see the Blue Flag flying that you are on a beach officially recognized for its cleanliness and safety.
Last year, 89 of Algarve's beaches were deemed Blue Flag-worthy.
Here are a few of my personal favorites:
Best Beach Views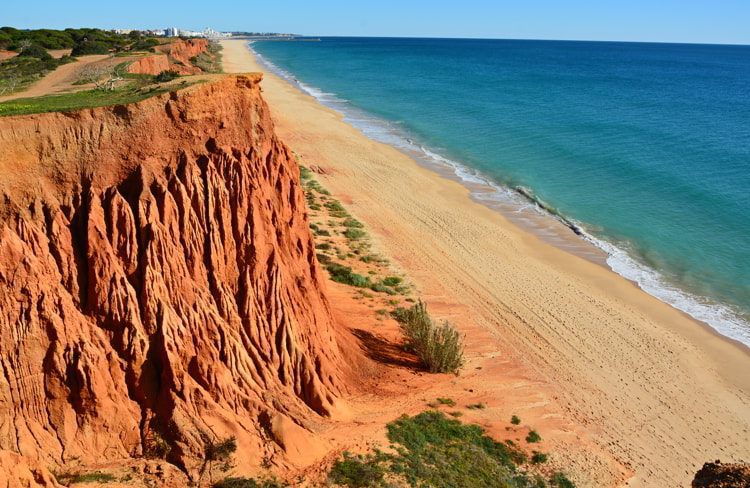 The 20-mile stretch of sand in the area known as Albufeira alone includes 25 Blue Flag beaches. Try Praia da Falesia, which stretches for more than 3 kms, with a stunning high-cliff backdrop.
Praia da Marinha is one of several beaches east of Carvoeiro, near Armação de Pêra. It, too, boasts iconic Algarve views of crumbling cliffs, hidden coves, and rock arches reaching out into the sea. Access is via steep steps… or you can enjoy the views from a cliff-top walk. Just don't go too near the edge.
Best Beach Sunset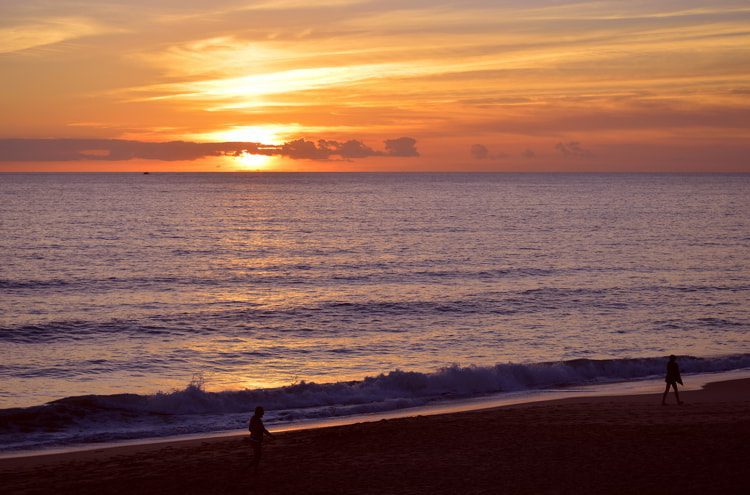 Several beaches can be explored via wooden walkways that have been constructed to protect the local wildlife and also to allow ease of access.
Head to Galé beach for a lovely walk along the wide boardwalk. This is one of my favorite spots for watching the sunset.
Most Disabled-Friendly Beaches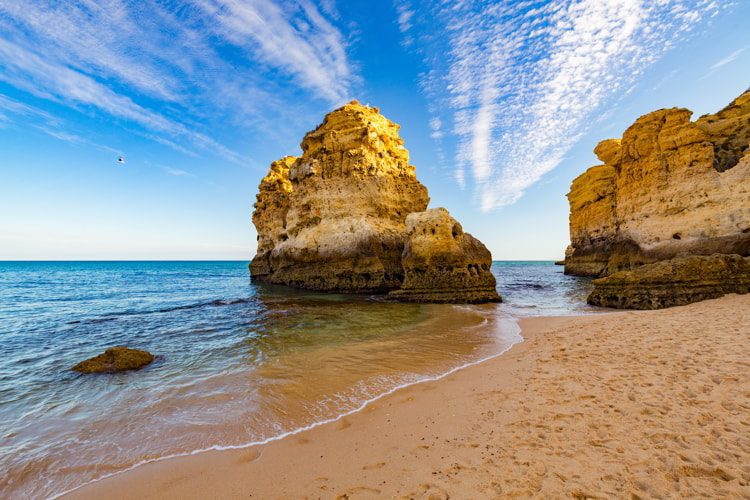 If you are disabled, I recommend Praia de São Rafael near Albufeira, which has good boardwalks and paved slopes leading from the parking lot to the beach. Most beach parking areas in the Algarve are disabled-friendly, but not all have good access to the beach.
Disabled-friendly beaches in the Algarve are designated and publicized as "Accessible Beaches." Not only do they provide ramps, footpaths, and walkways directly to the sand, but they also meet set criteria for restaurant table, bar, and counter heights. They also have first-aid posts and disabled toilets, and should be equipped with wheelchairs, walking aids, and other equipment capable of being used in the sea as well as on the beach.
Best Beach Walk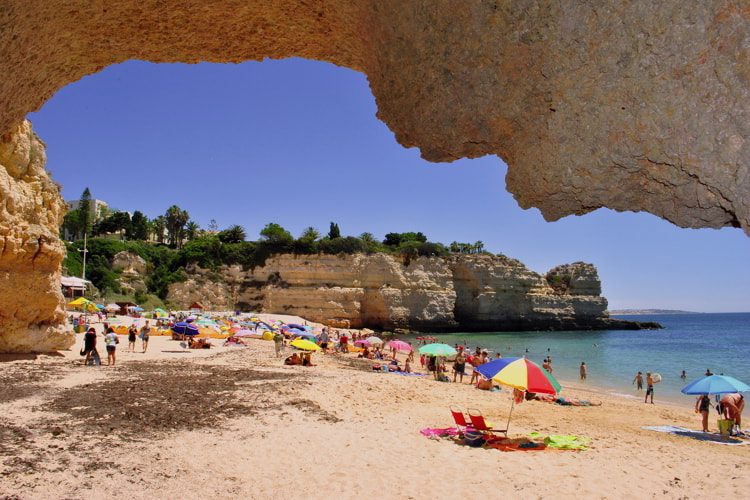 For a long walk (and a chance to watch fishermen mending their nets) head to Armação de Pêra and park at the Fishermen's Beach end of the town. From here you can walk for miles from the quaint and delightful Nossa Senhora da Rocha church at one end at low tide, along the wide Praia Grande beach, all the way to Albufeira, with the beaches of Salgados and Galé in between.
Get Your Free Portugal Report Today!
Simply enter your email address below and we'll send you our ​FREE REPORT — Portugal: The World's #1 Retirement Haven...
Best Hidden Beaches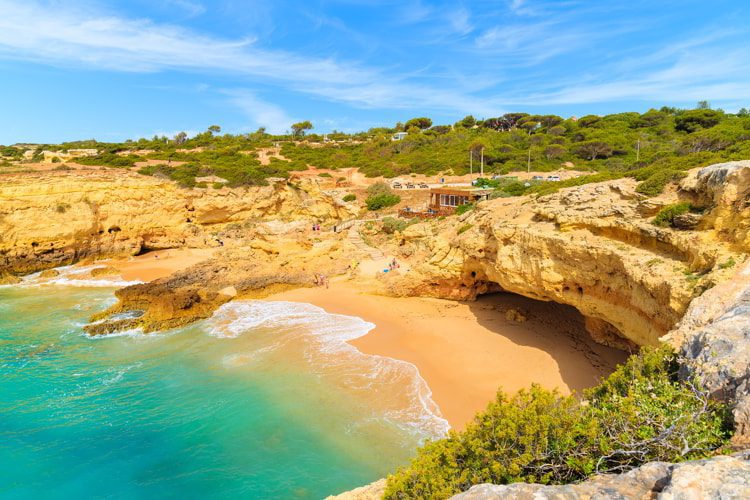 For a real hidden beach experience head to Albandeira, near Benagil. This is a small cove, quiet and undiscovered, delightfully free of any tourist trappings.
To reach another favorite hidden beach, take the ferry to Praia do Barril in the eastern Algarve. This island beach forms part of the Ria Formosa Natural Park. Be sure to visit the Anchor Graveyard, the main local attraction.
Best Family Beaches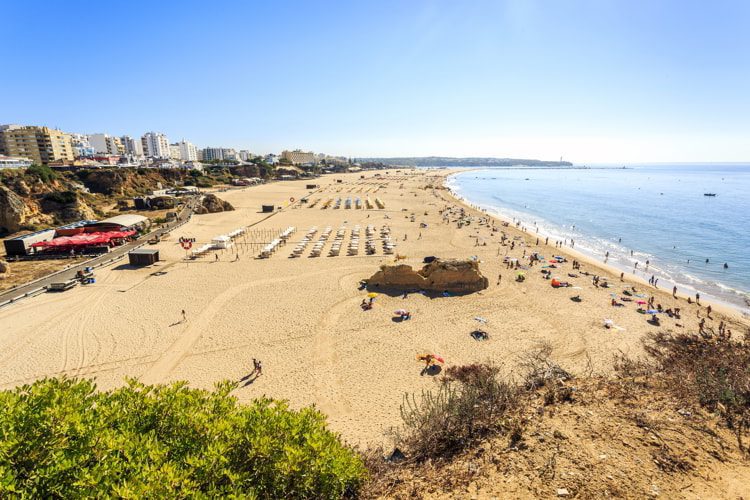 Families are spoiled for choice. Praia da Rocha is busy, bustling, and touristy, but it still deserves mention for its wide-open sandy beach, perfect for young children and their buckets and spades. Sun loungers rent for 5 euros per day.
Meia Praia towards Lagos is another good spot for families with children, with its 5-kilometer stretch of wide and sandy beach.
Both of these beaches have plenty of restaurants and cafés with toilets and good facilities for families. In summer you'll hear the call of "bolinhas," as cheery sellers pass by offering bolas de Berlim for sale. These warm, custard-filled donuts are a traditional Portuguese treat.
Best Surfing Beaches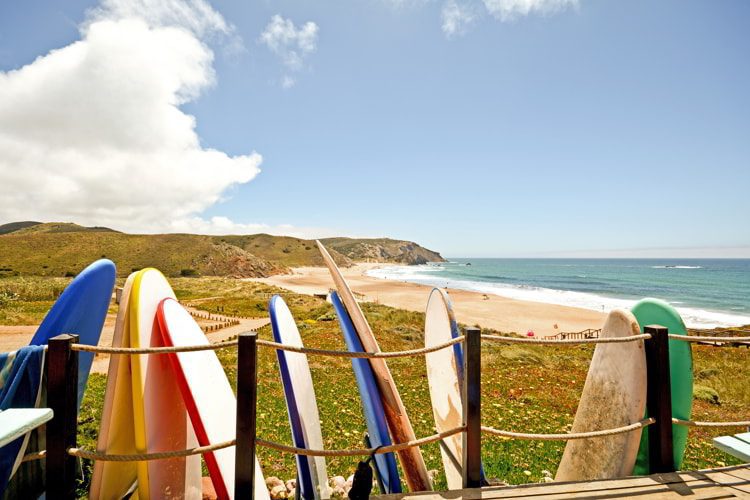 The Algarve has both south- and west-facing coastlines, meaning it is perfectly positioned to pick up Atlantic swells from almost any direction.
Lagos and Sagres are known for their surf schools, and pretty and unspoiled Zavial to the west of Luz is a top surf spot. It's worth a visit even if you're not a surfer. You can watch the experts on their boards, walk the beach to collect polished stones, and stop for an ice cream. Great day out.
Best Traditional Beaches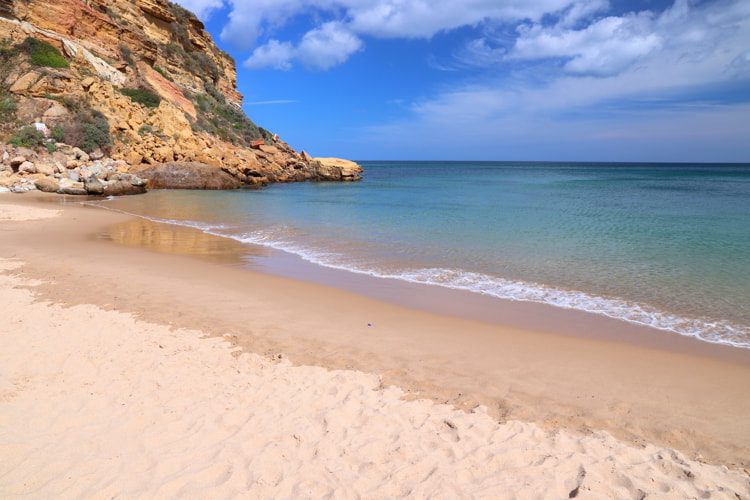 For a traditional coastal village experience, head to Burgau on the west side of Luz, with its winding streets, cafés, and windswept beach, or Ferragudo, with its cobblestoned streets and Old World church…
In truth, at nearly any point along Portugal's Algarve coast you are guaranteed a memorable and sunny day on a beautiful sandy beach.
I urge you to come see for yourself.
Alyson Sheldrake
Full-time Portugal Expat