This traditional European lifestyle offers an innovative way of living in the most desirable places in Europe for a fraction of the cost of conventional lifestyles.
If you are up for a little adventure and the occasional inconvenience, it could be the perfect option for you…
I have an affection, a nearly childish obsession, with the idea of living on a houseboat. I'm drawn to the itinerant lifestyle it affords…
The U.K., France, Germany, Belgium, and Holland are countries that are best suited for it.
Imagine being able to avail of waterfront accommodation in the most expensive cities in Europe for 20 euros per day. Consider all the places you could discover if you could move your home whenever you wished.
You could cruise forever, exploring every town you passed or stopping to settle for a while whenever you found a place that spoke to you…
What's A Houseboat?
A houseboat is a floating home that usually has an engine but shouldn't be confused with a yacht or motorboat.
It's designed for canals, lakes, and slow rivers, not high-speed travel or open seas. You move slowly and take in the scenery. Many people never actually move their houseboats but enjoy knowing they can.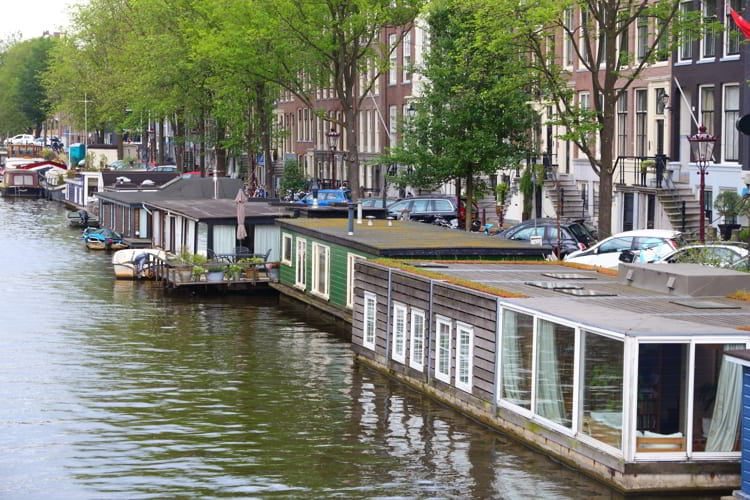 Traditionally European houseboats were converted from long narrow industrial barges. New-builds now appear like houses built on pontoons.
Size varies. In some cases, the only upper limit is your budget and the practicality of maneuvering a long boat on inland waterways. The maximum permitted houseboat size in France is a little over 110 feet while in the U.K., it's shorter.
Houseboats must have a shallow draft to be able to navigate the canals. In France, the draft cannot be more than 3.9 feet.
Considerations Of Houseboat Living
1. Will you keep moving or remain static?
Do you want to adventure across the canals of the Continent, or do you just want a quirky and inexpensive waterfront accommodation?
If you won't be moving your boat and own a permanent berth, you can forgo an engine and even plumb the houseboat into the main utilities.
If you yearn to cruise Europe and stop for a few weeks here and there, engine and fuel costs become a factor. Be aware that captaining your boat will take some special training as well.
2. How many beds will you need?
This will influence the size of the houseboat required.
Smaller barges have interior spaces similar to tiny houses, but barges up to 72 feet long are popular in Europe as houseboats, and some allow hundreds of square feet of interior space.
3. Are you buying a fixer-upper?
How much work are you willing to do yourself? Major savings are possible if you can renovate an old hull or pay someone to do it.
You can pick up an old 40-foot barge for 10,000 euros to 12,000 euros. Expect to pay about the same again to make it livable, and triple that if you want it fitted to a high standard.
4. What about electricity?
Public moorings don't have electricity connections outside designated short-term stay areas.
Charging battery packs from the engine invertor or using solar and wind packages might cover your needs when you are docked. A small supplemental generator should be kept as a backup.
5. The toilet situation
Most public berths do not have facilities to empty toilets. You can motor to a pump-out station to empty the tank or install a removable cassette tank toilet that you can empty yourself… unpleasant but practical if you don't want to drive your boat to empty the septic every month.
6. How will you get around on land?
Is there parking for your car close to your moorage? How will you get if you are touring? Public transportation is generally excellent in major European cities, but you can also bike or e-scooter.
7. Mooring
Does the boat come with mooring rights, and where are these moorings?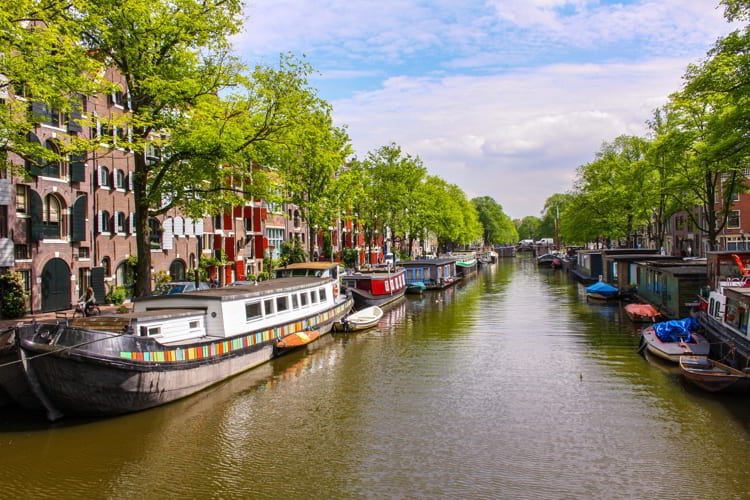 It's free to moor on most canal towpaths short term once you have paid the license fee to operate on the waterway. This means you can just tie up your houseboat and stay there for a few weeks. The waterway authority won't supply electricity or water to fill your tanks with, however.
Free visitor moorings are limited to 48 or 72 hours to allow everyone access.
Short-term moorages
Public and private marinas and operators that offer moorages on and off canals and waterways are available for the short-term traveler. They offer electricity and water connections, sewage pumping stations, and sell diesel and heating fuels.
Long-term moorages
In Amsterdam, 85% of houseboats never move, and some of the "boats" aren't even floating on the water.
It's possible to purchase berths on the waterways in Europe, but often what's available is the right to permanently reside on a boat in a particular spot. You can sometimes get rights to a strip of land beside your mooring that allows you to have a garden or parking space.
In the U.K., permanent boat moorings in nice areas start at about 2,000 pounds per year while well-serviced moorings close to central London cost about 1,000 pounds per month. This is still a fraction of what local rents would be.
You can also pay more for a berth in a private marina with its security, parking, and amenities. It still won't cost you as much as renting a home in the locality.
8. Residency
In cities like London and Amsterdam, city-center onboard residency permits with moorage rights in prime locations are valuable assets that trade hands for hundreds of thousands of euros.
In less-popular houseboat areas like Ireland, you can get these permits in public marinas in city centers for as little as 1,000 euros per year.
Cities often have waiting lists to get a permanent residency permit in prime areas, but you can also buy a transferrable permit from an existing permit holder.
Start Your New Life Today, Overseas
A world full of fun, adventure, and profit awaits! Sign up for our free daily e-letter, Overseas Opportunity Letter, and we'll send you a FREE report on the 10 Best Places To Retire In Style Overseas Today
Pros Of Houseboat Living
Your own floating island in the middle of the concrete jungle (that you can move anywhere you wish) comes with benefits…
This lifestyle attracts a community of like-minded, good-natured folks who share a love for the waterfront lifestyle.
You can get closer to nature than anywhere else in the city.
You get several tax advantages, plus you can take a mortgage interest deduction from the IRS on your houseboat as your first or second home.
Living on a houseboat can cost you a small fraction of what buying or renting long term might cost you.
Boats don't appreciate in value, but if you own title or rights to a mooring spot this can appreciate. A renewable lease from the local waterway authority can be a tradable asset in its own right.
If it floods or sea levels rise… so what? Your house won't lose value when everyone else's is literally underwater and unhabitable.
Cons Of Houseboat Living
Houseboats can float away, get stolen, or sink… Get insurance.
Red tape varies by waterway, and you may need to get new permits to use new waterways and to stay long term anywhere.
Security can be an issue in some areas. There is a risk of petty theft unless you're in a marina or close to fellow boaters who will look out for you.
Maintenance time and cost spent on older boats can be more than you expect.
Where To Do It
The most attractive and exciting countries for this type of lifestyle are those with the infrastructure for and culture of houseboat living.
It's possible to tour much of Europe using just the canals and inland waterways. You could cruise through Holland, Belgium, Southern France, Bulgaria, Russia, Ukraine, and the Black and Caspian Seas if you felt like it.
-The U.K.
There are 2,200 miles of navigable waterways across the U.K. You could spend a lifetime exploring the waterways and towns of England.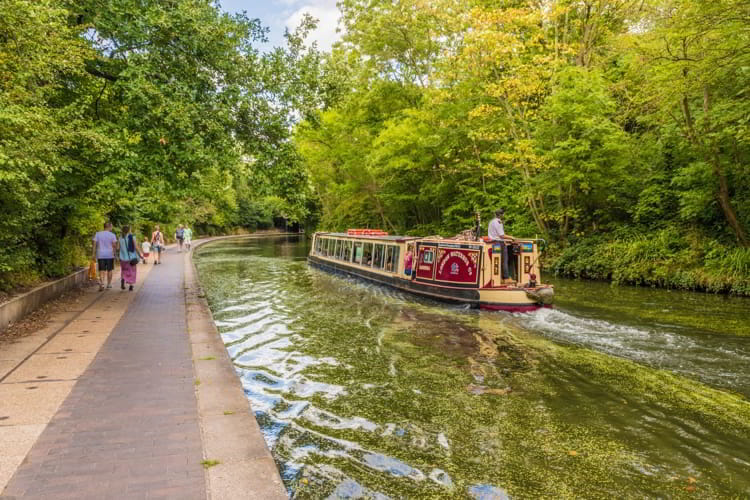 There is a big houseboat community in the U.K. with about 10,000 people living on the water in London alone, plus many more vacation and weekend boaters.
Narrowboats dominate English canals with their long, extra-narrow, 8.2-foot-wide hulls.
I found a narrowboat that is 47 feet long and in good working order with a four-cylinder diesel engine. It sleeps five and has a full kitchen and bathroom. It's on the market for 25,000 pounds (US$33,000). You'll need a license from the waterway's authority to use it.
On Canal and River Trust waterways, it's free to temporarily moor your houseboat for 14 days per spot if you are "continuously cruising." This means you must move at least 20 miles per year and cannot loiter in one area indefinitely.
-France
France has 2,700 miles of canals that connect the inland rivers in some of its most attractive regions.
The maximum size of boat you can take on French inland waterways is a staggering 126 feet long and 16.4 feet wide, with a height above water of 8.8 feet and a draft of 3.9 feet. You won't be stuck for closet space if you want it.
Registration fees for French waterways vary but are less than 750 euros per year.
Other permits, including safety and insurance and an International Certificate for Operators of Pleasure Craft (ICC) certificate are required.
-The Netherlands
Holland has over 3,800 miles of canals and waterways.
Houseboats can be up to 98 feet long and 8.2 to 16.4 feet wide.
To get a permit you need registration of ownership, registration with a navigation authority, an insurance and safety certification, a resident use permit, and a local tax registration number.
You must get a Vaarbewijs (captain's license) from the Royal Dutch Touring Club ANWB for boats longer than 49 feet that cruise at over 9.3 miles per hour.
I found a wheelchair-accessible Dutch house barge that has its own deck crane and is 55 feet long. The price is 49,500 euros.
Another find is a 2-year-old Dutch houseboat on a catamaran hull priced at 97,000 euros. It's 41 feet long and is effectively a luxury tiny home you can drive on water.
Costs Of Houseboat Living
More maintenance is required with a houseboat than with a regular home. Expect to pay 10% of the value of an older, cheaper barge per year on maintenance.
In the U.K., for example, older steel hulls must be dry docked every five years for inspection and painting if necessary. You also have to factor in insurance and waterway permits, general maintenance, and any engine repairs you cannot do yourself.
A barge survey costs about 700 pounds, and if painting is required, it will cost you 2,000 pounds to 3,000 pounds. The total cost of upkeep can run you between 1,000 pounds and 3,000 pounds per year or more.
With the mortgage interest deduction for a second home, you can claim relief on your itemized expenses including mortgage interest if any.
Cruise Europe For The Price Of A Cocktail At Miami Beach
Buy a houseboat for less than US$100,000, and embark on the Old World adventure of a lifetime, cruising through Belgium or the south of France on a whim.
On a smaller boat, your daily costs of transport, permits, maintenance, and housing could be as low as 20 euros per day… Less than the price of a fancy cocktail at a Miami beach bar.
Con Murphy
Editor, Overseas Property Alert