At the far eastern edge of the Mediterranean… blessed with year-round warm weather, clear blue waters, and over 400 miles of coastline… sits an island haven unknown to many Americans…
The British have been coming here since they took control of the island in 1878… and they've never stopped…
As a result, English is so commonly spoken, you'd never have to learn the local language (in fact, the locals even speak it amongst themselves)…
I know several Brits who have family holiday homes on the island, just some of the estimated 60,000 British homeowners here.
It's not hard to see the appeal…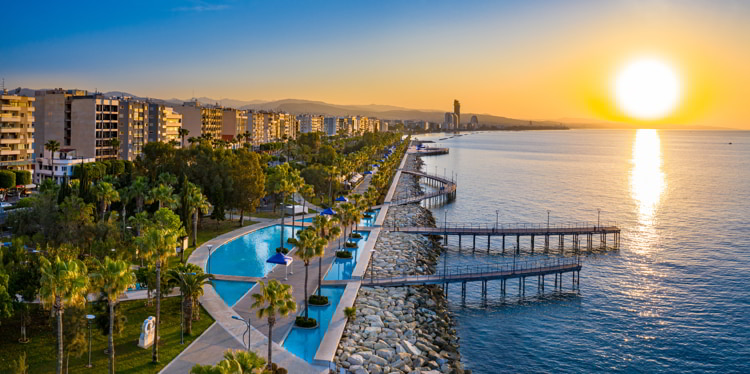 The summer here is the longest in Europe, beginning in March and lasting to October, even November, with over 300 days of sunshine…
And, to top it off, life (and real estate) is as affordable as it gets in Europe—enjoy a healthy meal and a cold glass of wine for just 10 euros a person, for example…
This is Cyprus, the southeasternmost corner piece of the European Union, where you could live a luxury lifestyle on the beach for as little as 1,000 euros a month—really.
The third-largest and third-most populous island in the Mediterranean and sitting at its far eastern edge, with Egypt to the south and Turkey to the north, Cyprus is divided from east to west…
The southern two-thirds of the island is called the Republic of Cyprus, and the northern third is officially called the Turkish Republic of Northern Cyprus… yet Turkey doesn't actually govern it. It's more commonly known simply as Northern Cyprus.
While there are attractive opportunities in both the north and the south, the north is where the bargain basement prices can be found. Between the cost of the property and the fees associated, prices in the south will consistently be about 20% more than in the north.
There may not be Americans living here yet, but there are plenty of foreigners… It's estimated that there are over 110,000 (out of 1.2 million) foreign residents on Cyprus, the largest groups being Greek, British, Romanian, and Bulgarian.
It's easy to get plugged into the Anglophone expat community here, and if you're looking to move to where many of them live, try Paphos. Legendary birthplace of Aphrodite, with endless historical sites and beach resorts, it's an expat hot spot.
Flying into the south, either Paphos Airport or Larnaca, home to the main international airport, will be your entry point.
If flying into North Cyprus, you'll land at Ercan International Airport in Nicosia and be asked to fill out a form which acts as your visa. No form is required in the south.
Tourist visas are granted for 90 days; to stay longer, you'll need to apply for residency.
Daily life in Cyprus
You'll need a car to get around on the island, even within cities. Cyprus has a disproportionately high car ownership rate, due, I'm told, to the heat.
Roads are good quality and well maintained across the island, but traffic in the main cities can get bad.
Don't forget that they drive on the left here, and brush up on roundabout
etiquette—they're abundant.
There is a bus system that serves the whole country, but no one recommends its use… the network isn't great, they only run until 6 p.m., and they're hot and crowded.
Grocery stores here are more American than European—they are huge, with parking lots just as big. I've honestly not seen supermarkets on this scale anywhere else in Europe.
Cypriot food is everything I dreamed it would be—a perfect blend of Greek and Turkish, with Middle Eastern influences.
You'll never go long without seeing souvlaki (Greek roasted meats) or pide and lahmacun (Turkish calzone and pizza, respectively). Humus and tzatziki are served with every meal, along with tarama (a fish egg spread), as well as some fresh greens and local produce tossed together and reminiscent of (but not exactly) Greek salad.
Ouzo and raki (Greece and Turkey's national alcohols) are popular local drinks, but Commandaria is the real Cyprus claim to fame when it comes to alcohol. The wine is trademarked to the island, and it's one of the oldest labeled wines still in production in the world, made since 800 B.C. Cypriots, in fact, are said to be the oldest wine producers in the world, making it for over 5,500 years.
Cyprus is lousy with castles, ruins, tombs, churches, and other ancient and medieval sites to visit, but the majority of the island's museums are in Nicosia, the capital city.
The coast and sea are the most obvious forms of outdoor entertainment here, the beaches alone drawing millions of visitors a year. Diving, snorkeling, boating, fishing… there's no limit to what you can do on or near the water here.
The beaches are a mixed bag, which I find more interesting than, say, a Caribbean haven with a uniform beach all around. On Cyprus, from one kilometer to another, the coast could be fine sand (so fine, it's home to an endangered species of turtle than can only nest where the sand is so easily
burrowed in), to cliffside, to rocky, to smooth pebbles. The waters around the island on all sides are clear and clean.
If you're a sun and beach lover, this is your ideal playground. With the longest summer in Europe, plus some of the continent's best beaches, golf courses, and a mountain range to escape to when you want a break from the heat, it doesn't get much better than a new life in Cyprus.
Practically speaking, residency here is a piece of cake, and the cost of living is super affordable—as low as it gets on an island in the Med.
Boasting over 12,000 years of history, plus arts, golf, beaches, villages, resorts, and fantastic cuisine, Cyprus is worth a visit for further exploration—if you decide it's not for you, you can do worse than spending a vacation week on a Mediterranean island…
Kat Kalashian
Editor, LIOS Confidential