To live on an island? Me? Well, about 20 years ago, I made a trip to Vancouver, Canada, in February. It was cold, rainy, dark, and miserable.
I remember thinking, "No wonder they chose this place to film 'The X-Files!'" I couldn't think of a bleaker and more foreboding backdrop.
Not long after, I made my first visit to this special place, and it reminded me of every movie I'd ever seen that's set on a tropical island.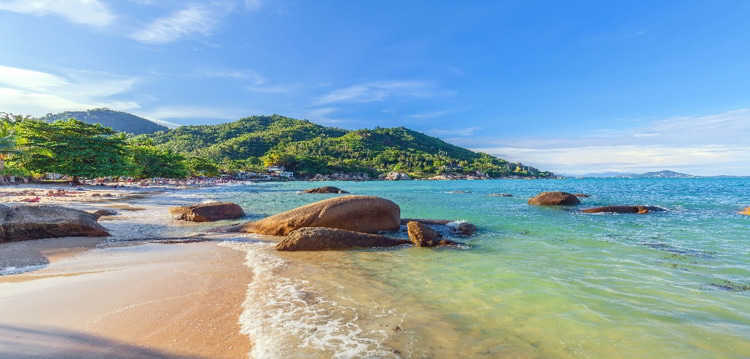 White sand beaches with coconut trees? Check.
Mountains, jungles, and waterfalls? Check.
Monkeys, mosquitos, and tree snakes? Triple check!
This is Koh Samui, Thailand. An island that doesn't even have to try. Sun, sand, seafood, and boatloads of charm make this a cartoonishly tropical paradise. As a result, for a honeymoon, a two-week holiday, or a month in a detox resort, it's hard to beat.
But what's it like to live here? Do people live here? Is it a good idea to live here?
Live On An Island
Historians say Koh Samui was first inhabited around 1,500 years ago by fishermen and traders. It wasn't until 1967 that the infrastructure here began to develop. Then, in the early 1970s, word spread among the hippie backpacking communities about this beautiful unspoiled hideaway…
Back then, only the most intrepid visitors were arriving on these golden shores. The only accommodation was a few wooden beach shacks with no electricity and nothing but a hammock and a good book for entertainment.
Realizing the tourism potential of the island, the Thai government poured significant resources into development. Ferries arrived daily from the mainland, packed with tourists from all over to stay at a rapidly growing list of resorts and hostels. In 1989, the airport opened, and the new era of modern tourism began.
I first came to Koh Samui in 2003 and was turned off by the cheap and cheesy brand of tourism I saw in the island's busiest area. But as soon as I got off the beaten tourist track, I understood the appeal. The island's interior is thick with jungle, wildlife, and waterfalls. It's paradise as advertised.
Since then, I've been back many times.
What Life In Koh Samui Is Like
Today, the island is home to everything from six-star wellness resorts to digital nomad hostels. World-class dining venues have sprung up, too.
The expat community has grown as well, embracing a much larger socio-economic group than in the past. Housing for long-stay visitors and expat residents has expanded and a robust real estate market thrives here.
A little over 70,000 people live here, with about 8,000 being expats from all over the world. November through February, snowbirds arrive from Northern Europe and North America to escape the cold weather.
Like all islands, almost everything is more expensive than on the mainland. Literally, everything (but coconuts and fish) is imported here. That said, it's still a lot cheaper than anywhere in North America or Europe.
Rent here is less than half of that in cities like Miami or San Diego. The same for restaurant prices. Grocery prices are more than 50% cheaper.
The average rent price for a decent-sized one-bedroom apartment is about US$345 a month. The average utility bill for that place would be about US$60.
Earlier this year I found a funky little apartment complex that was perfect. A huge, fully furnished one-bedroom unit with a balcony within walking distance to a great beach was about US$290 per month for a one-year lease.
If you were only making the average Social Security monthly payment of US$1,500 per month, you could still live pretty well here.
The way to live more cost-effectively is to not live like a tourist. Shop at local markets. Find mom-and-pop restaurants and night markets that don't have inflated pricing. Drink local beer instead of imported.
Firstly, expats have started businesses to produce some beloved foreign foodstuffs like cheese, bacon, and sausages. Im addition, try those instead of the imported brands and you'll save 100% or more.
Koh Samui has all the stuff to do you'd expect a world-class holiday destination to have… mini-golf, a shooting range, archery range, cooking schools, gyms, tennis, running clubs, cycling clubs, and on and on…
And, as you might imagine, anything that happens in, on, or around the water is popular here.
Kiteboarding, windsurfing, and paddleboarding are all perfect activities as much of the sea at most beaches is relatively shallow with calm tides. You'll also find a lot of sailboat enthusiasts here.
You know that to live on an island is a possibility once you've experienced life in Koh Samui, Thailand.
For golfers, high in the hills and coconut groves you'll find a luxurious, five-star, 18-hole international standard championship course. It's well worth a visit whether you play golf or not… A leisurely lunch enjoying the 270-degree view from the clubhouse's open-air restaurant is sure to be the highlight of any day.
It's imperative that you have your own transportation on the island. Taxis are available, but they're geared toward tourists and very expensive. For example, many people opt for motorbikes or scooters, and cars and trucks of all descriptions can be rented.
When I'm on the island I rent a little jeep for about US$17 a day. I'm sure I could get a better deal if I rented monthly or annually.
Regarding health care, the facilities here are surprisingly well-equipped and staffed. There are several hospitals on the island offering a wide range of services.
Anyone who wants to be closer to nature should consider living here. If you love beaches and jungles and mountains and waterfalls, then you'll love Koh Samui.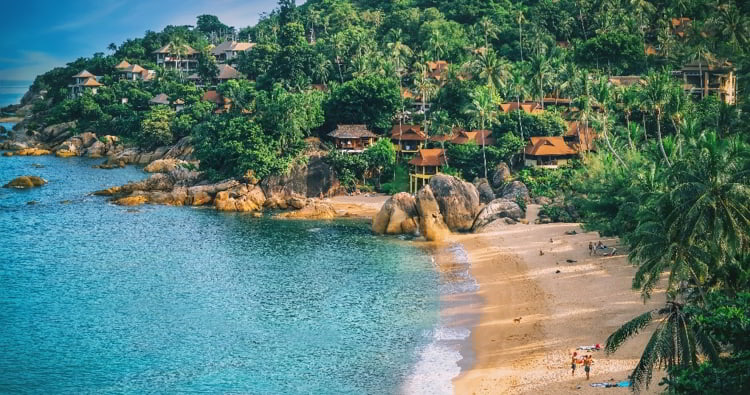 If you enjoy small-town friendliness, you'll be at home here. Even though it's a busy tourist hub, residents live like it's a string of little villages. For example, people meet on the beach for sunset and discuss the matters of the day. Neighbors look out for each other. It's a closer expat community than most people realize.
And, make no mistake, when it comes to white sand beaches, palm trees swaying in the breeze, and water the color of blue sapphires, Koh Samui sets the standard.