You've never slept better.
No need to turn on the news as you roll out of bed…
You have better things to do. And, besides, the world's problems can't touch you here in the world's best place to live.
After a quick stretch, you throw on a pair of shorts and a T-shirt, grab your sunglasses, and head out your back door for a look over the water.
As you close the door, you can hear the old town behind you beginning to bustle to life…

A local fisherman is announcing the early morning's catch, and you can hear the soft chimes of bicycle bells as the morning commute begins.
You close your eyes for just a second to focus on the scent of the salty air, the fresh bread, and the orange blossoms…
The roar of the ocean gets louder as you approach the cliff, and the din from the town melts away.
The sea breeze is a little stronger in the morning, but it's invigorating.
Reaching your favorite spot, your gaze captures the entire scene…
Glittering blue water flows gently onto a slice of pristine beach directly below you. To your left and right, almost impossibly, the same water crashes against the painted rocks in frothy white torrents.
The sandstone here has been battered this same way for a very, very long time—with its weird shapes, arches, and hidden coves, it looks almost alien.
Indeed, this is more than some postcard beach…
This is unique. Special. Better.
Welcome to Portugal…
Home to Europe's best beaches, 1,115 miles of coastline, and 300 days a year of sunny skies.
However, to think of this special place as merely a beach getaway is a mistake…
Portugal's borders date back to 1139 B.C., officially making it the oldest country in the Old World.
To state the obvious, that's thousands of years—more history has happened here than most places in the world.
The upside of all of this history is that you'll never run out of ancient places to discover…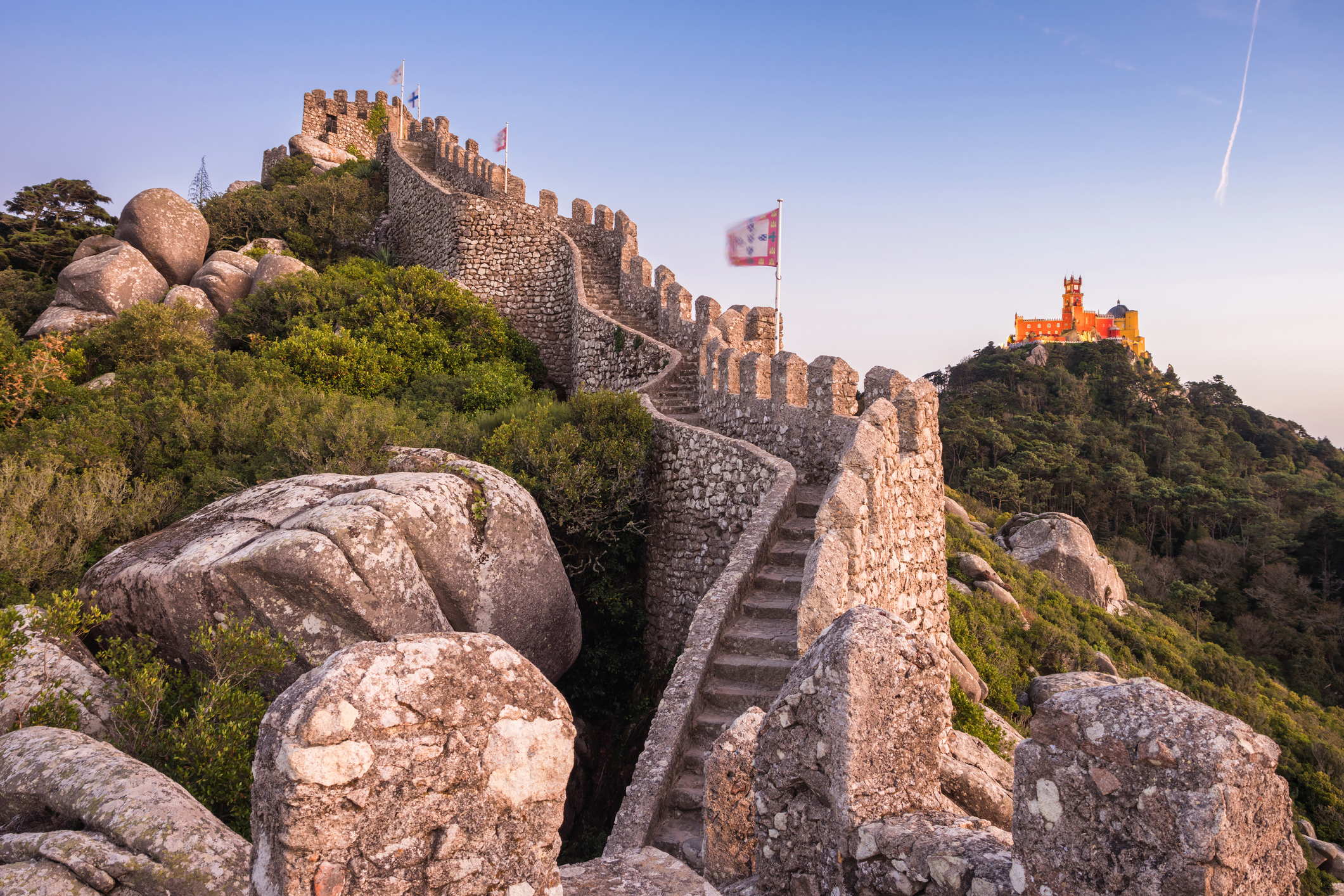 The entire country is a cross between a national park, a museum, and a coastal resort—all with the constant, ever-present charm of the Old World.
Sure, if you wanted, you could spend all of your time relaxing and enjoying the beach…
But there's so much more than summer fun to be had here…
In the mornings, you could explore the caves and coves of the world's most fascinating coast…
Hike the Roman walls and medieval castles around noon…
Or ride a rickety tram up narrow cobblestone streets to get to the Castelo de São Jorge overlooking the ancient city of Lisbon…
And, to cap it all off, you could enjoy dinner at a vineyard where the local chef has put together a tasting menu.
It sounds like a vacation—and for many it is—but, at these prices, you can afford to make it a holiday that never has to end.
In fact, I bet it's cheaper to live here than it is where you are now.
To live a very comfortable life here—frequent dinners out, cocktail hours, shopping, household help, a home near the water, etc.—you could get by on about 1,786 euros (about US$2,000).
But the great thing about Portugal is that you could go much cheaper if you wanted…
Forgo the frills, and you could live well on just 922 euros (less than US$1,100)… more on this tomorrow.
Fresh fish is always available, Wi-Fi is fast and everywhere, the people are friendly, and most important for them… it's safe.
In fact, Portugal is one of the most peaceful nations on Earth. It came in as the #3 safest country in the world in the 2019 Global Peace Index.
If you're wondering, the #1 and #2 safest places are Iceland and New Zealand. Both are beautiful and interesting, but neither of those countries is easy for residency… especially if you're retired.
Portugal boasts beaches, a can't-beat location, and, of course, a welcoming list of tax incentives and easy-to-get residency for foreigners…
In others words, Portugal rolls out the welcome mat.
And it's all neatly wrapped up with the peace of mind of living in the world's 3rd safest place.
It's sort of amazing, right?
But it gets better, though…
The Portuguese are extremely welcoming to expats.
If you get lost, they'll point you in the right direction.
If you are about to spend 6 euros on a glass of wine, they'll tell you where to get it for half the price.
And the language? They know it's tough for outsiders, so the government made it a rule that every child must take English classes for nine years.
As American expat Allen Freeman told us, "During our working years, Linda and I never lived as well as we do now. It's like we've earned this.
"We finally got to live like we always hoped, but could never achieve."
After more than 35 years on this beat, there's still only one question I get asked just about every day:
Where is the best place in the world to live?
For decades, my response was the same…
"I have no idea," I'd explain…
"Because," I'd continue, "there's no such thing as a one-size-fits-all overseas haven… no one place that's ideal for everyone."
"Only you can identify the destination that's best for you," I'd say to everyone who asked.
Then, six years ago, I traveled to a corner of the world where I'd never been before…
To a place I'd somehow overlooked in decades of travel… even though I'd been just next door many times…
Portugal.
It was a revelation.
Again, more tomorrow.
Kathleen Peddicord
Comments