Panama remains one of the best places in the world to live or retire overseas this 2023. It's also one of the world's safest investment havens. This despite the fact that a downturn in Panama's property markets has been predicted for years.
Panama is my part-time home base and my full-time business HQ. I can tell you from that boots-on-the-ground perspective that, like Mr. Twain's demise, those rumors of Panama's softening investment climate are greatly exaggerated.Panama City. Panama developers were forced to adjust. No longer able to sell at frothy pre-2008 prices, they retreated to "what the market would pay." What they found was that, while their profit margins were constricted, they were still able to turn over inventory. Most affected was the top end of the market. The highest-priced projects in 2008 suffered the biggest reductions in pricing, of course. Some buildings underway were delayed. Others in planning stages didn't get off the ground. However, the market in general carried on. Values fell 25% on average. Markets elsewhere around the world fell by 50% and more. Meantime, in Panama City, rental rates remained strong for those who were able to take possession of their apartments, and prices recovered quickly across the capital city. Why was Panama's drop less precipitous than in other markets? And why did the country recover more quickly than nearly any other? The Panama Canal! It's a cash cow. The critical global trade route generates nearly four billion dollars a year. That's a lot of per-capita cashflow in a country of four million people. The Canal makes Panama the ultimate safe haven. That was true in 1998 when I traveled to Panama for the first time… and it's more true right now than ever. Today this marketplace is far more niched than you might expect. Panama City, for example, like any city of a million-and-a-half people, is many different markets, some offering more potential and upside than others. In 1998 and through 2008, you could have bought almost anything in Panama and felt confident that you'd make money. That's no longer the case. Today you need to target your investment search. Where, specifically, should you be shopping in 2003? Here are our five top picks:
Starting in 2003 and continuing through 2008, this country enjoyed a mega construction boom. Then came the crash of real estate markets around the globe. Would-be investors worried about the unfinished projects in Panama at the time, especially in
Top

Panama

Market #1: Avenida Balboa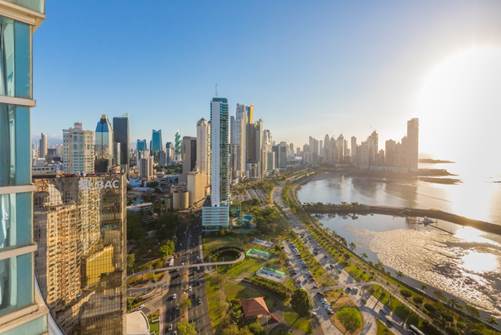 Avenida Balboa, where Lief and I made our first property investment in this country 20 years ago, continues to offer opportunity. This frontline strip along the Bay of Panama has always been and will always be one of the city's best addresses.
Pricing continues up even as new buildings and more inventory continue to appear along this oceanside boulevard. An apartment on Avenida Balboa will always find a buyer or a renter, as the case may be.
Top

Panama

Market #2: Costa Del Este
The other area in the city offering strong investment potential in 2023 is Costa del Este. This master-planned suburb is the focus of many top Panama developers who are hard at work building both houses and apartment towers, as well as commercial space.
In addition, this is also the area where many (most) of the many thousands of expat workers moving to Panama City for jobs with the dozens of international companies that have set up and continue to be set up in and around Panama's capital are looking to live… especially if they are coming with families.
Prices in Costa del Este are among the highest in the city, but demand remains strong. Buying pre-construction either to sell or to rent at completion can be an effective and profitable strategy.
Get Your Free Panama Report Today!
Simply enter your email address below and we'll send you our FREE REPORT - Live And Invest In Panama: The #1 Retirement Haven In The Americas.
Top

Panama

Market #3: Veracruz
Outside the city, other dynamics are playing out and creating opportunity.
Thanks to the anticipated new (fourth) bridge over the Canal, the Veracruz neighborhood, which sits on the coast behind Panama Pacifico, is smack-dab in the path of progress. This is one of my favorite up-and-coming zones for a rental investment. It's the nearest beach area to the city but has traditionally been overlooked by both tourists and investors.
Top

Panama

Market #4: Veraguas
When Lief and I decided we were all in on Panama, we went in search of a legacy-level property play.
We focused our scouting on the western side of Panama's Azuero Peninsula.
Its Pacific coast is one of Panama's greatest assets. Everyone who can afford a house at the beach has one. By 2008, when we launched our search, beachfront nearer to Panama City was already being aggressively developed and the eastern coast of the Azuero Peninsula was in the crosshairs of international investment groups.
Azuero's western coast, in Panama's Veraguas Province, was a final frontier.
Access was more difficult, but prices were one-third as much for land we found to be arrestingly more beautiful. Plus the sunsets along this coast are the best in the country.
For my money, this Veraguas coast continues to hide the greatest opportunities this country has to offer.
Top

Panama

Market #

5

: Puerto Armuelles
The final growth market I want to highlight for you today is Puerto Armuelles.
Puerto Armuelles found its place on the map in 1927 when Chiquita Banana came calling. The company built the town as it exists today, complete with housing for workers, roads, sewers, and a railroad. Puerto's infrastructure is head and shoulders what you typically expect from a small Central American town. Chiquita is no longer headquartered here, but its legacy carries on.
When Chiquita pulled out of this coastal region in 2003, the local economy collapsed and the population decamped. This is a depressed market that is attracting the eye of forward-looking developers who recognize potential when they see it. We believe Puerto Armuelles' star is again rising. Until next time,

Kathleen PeddicordOverseas Opportunity Letter
Founding Publisher,