Any journey begins with a decision.
Our journey to Panama began with the decision to establish residency in this country. We decided we'd establish residency as a backup, even before we decided to move here.
Well, in fact, we didn't decide to move here. My lovely wife of 35 years Shyla decided she was moving here. She was kind enough to invite me to come along.
One of the biggest challenges for us, especially for Shyla, in making this move, was our family. We have 5 kids and 12 grandkids between us, scattered all over. However, when we thought about it, we realized that we could see them just as much living in Panama as we did living in the States.
We had to get on a plane to see them then, and we have to get on a plane to see them now that we're in Panama.
Of course, as we've pointed out to them since we made the decision to make the move, planes go both ways. They come down to visit us in Panama, too, which is great.
Grandmothers have a hard time saying goodbye to grandkids, but this is a great way to get the grandkids to come to you. Give them a reason to come overseas, to visit you… teach them, expand their horizons.
I've traveled my whole life… been to 45 countries. Shyla and I had been thinking about going overseas for 20 years. It was just a matter of timing.
However, Panama wasn't even on our list of possible destinations until we came here for the first time. As soon as we visited, the country took top spot for us.
We started our Panama plan by attending one of Live And Invest Overseas' conferences. We were just like you back then, listening to all these presentations, trying to learn as much as we could. We stayed in Panama for a few weeks after that first conference, started our residency process, got our bearings, took a look around.
Then we went to Live And Invest Overseas' Retire Overseas Conference in the United States. We realized there was so much more we wanted to know. We couldn't get enough. We decided that we wanted to come back for as many of these events as we needed to until we got it, until we knew everything that we needed to know.
At the first conference we attended, we heard about Kathleen's Panama Circle. As members, we found out we would be able to attend all Live And Invest in Panama Conferences free… as many as we wanted. So we became members.
During one of those conference trips, our permanent residency came in. And it was then that Shyla made her decision. We weren't just going to be official legal residents of Panama. We were moving to Panama! My job then was to get us down here.
Get Your Free Panama Report Today!
Simply enter your email address below and we'll send you our FREE REPORT - Live And Invest In Panama: The #1 Retirement Haven In The Americas.
Moving To Panama, The Adventure Of A Lifetime
From that point on, we were committed. We sold our house and bought two one-way tickets. We packed our household goods and furniture into a container.
So we had no place to live and all our stuff on the way. The pressure was on. Our family thought we were crazy.
We brought 11 suitcases with us. Yes, that took some maneuvering with the airline. Because we had no idea where we were going to end up or when, we wanted to have everything we could possibly need with us.
We decided to stay in a hotel until we found more permanent digs, rather than in a short-term rental. Furnished short-term rentals can be hard to find in Panama City. Plus, we liked the idea of having the services of a hotel available to us—maid service, room service, etc.
Starting Our Expat Life In Costa Del Este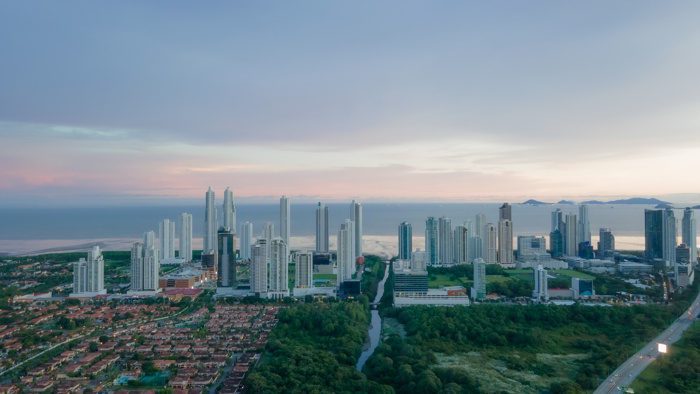 In addition to the free conference attendances, the biggest benefit for us of our Panama Circle membership has been our access to the Members Liaison Marion de Mena. It was Marion who connected us with the real estate agent who found us a condo in Costa del Este. We had two requirements. We wanted a good view and a good kitchen. We got both. The agent we worked with delivered exactly what we wanted.
One whole wall of our kitchen is windowed. We have a big balcony, three bedrooms, four-and-a-half baths, a laundry room, and a maid's room. This is a beautiful condo in a very well-appointed building in what, for us, is the best neighborhood in the city.
What Life In Costa Del Este Is Like
Living in Costa del Este is like being retired overseas with training wheels. We have everything we need very nearby, all really convenient and comfortable… plus that great view over the ocean.
Within three blocks of our building, we have Mail Boxes Etc., a dry cleaner, two nice, big grocery stores, plus my favorite shop, Felipe Motta, the local high-end liquor and wine store, and my favorite restaurant, Tre Scalini. We're 10 minutes from Tocumen airport.
Now, of course, this isn't the most affordable way or place to live in Panama City. This isn't a US$1,500-a-month lifestyle. We're in a luxury setting, frankly. It's not cheap, but it's certainly more affordable than a comparable standard of living would be back in the States.
What's next? We're settled in Panama and very happy here, but we've got the bug and we're always open to new options. We're going to Colombia. And Kathleen has been tempting us with reports on life in Portugal. The Algarve sounds awfully nice. We may just have to go have a look over there, as well…
Dave Larman
Panama Expat