If you've long harbored dreams of living on a sun-soaked Mediterranean island but think you'll have to win the Powerball jackpot to make it happen… Well, it might be time to think again… And think about life in Cyprus.
In a lesser-known corner of Europe is an island awash with white-sand beaches, warm water, year-round sunshine, and one of the world's healthiest diets.
This is Cyprus, the third largest island in the Mediterranean, where you'll find real estate and day-to-day living expenses at a fraction of the cost of mainland Europe.
Add to that, welcoming locals, sunshine, ancient history, and romance, and it's easy to see why Cyprus is quickly becoming a popular retirement destination for expats from around the globe.
This Mediterranean gem has been on our radar for some time now, and this year, Kyrenia, a city on the island's northern coast, took fourth place in our Global Retirement Index.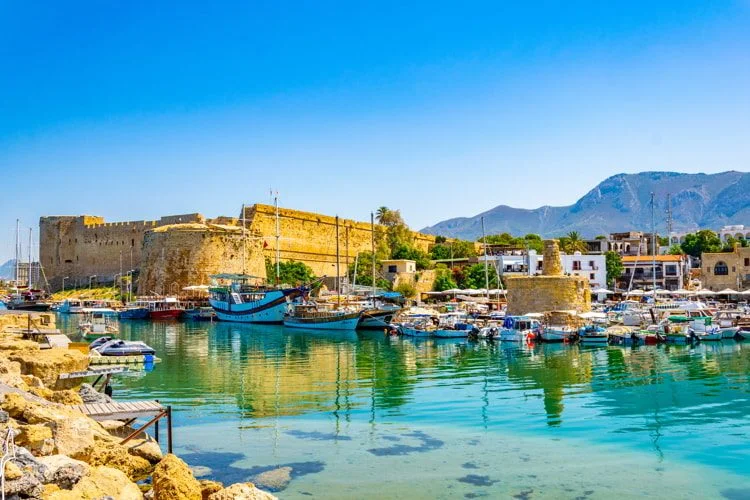 Said to have been founded by two veterans of the Trojan War, Kyrenia is most famous for its old harbor and castle. Before British occupation in the late 1800s, it was a thriving port town that facilitated trade between Europe and the Middle East.
Using traditional caiques (fishing boats found in the Aegean and Ionian Seas), Kyrenia was a point of export for everything from wheat and olives to donkeys and goats and a point of import for wood, earthenware, legumes, and dairy products.
Today, the harbor functions as a tourist attraction. So, too, does Kyrenia Castle, an imposing structure that features four massive artillery towers and that, in its history, has served the Byzantines, Crusaders, Venetians, Ottomans, and British.
Kyrenia is a safe, welcoming destination. It's home to a big expat population, and its old town is one of the most charming in the region. There's well developed tourism infrastructure here too, including seaside hotels and clubs, casinos, restaurants, and luxury hotels.
It's not hard to see why Kyrenia achieved an A-grade rating in the 2023 Global Retirement Index. And it's just one of several impressive destinations you could call home on this ancient isle.
But, of course, no place is 100% perfect so let's take a closer look at some of the pros and cons of expat life here…
Pro: English Is Widely-Spoken
The official languages of Cyprus are Greek and Turkish, however English is so commonly spoken, you'd never have to learn either Turkish or Greek.
Locals will have no trouble communicating with you in English, nor will they hold a grudge for doing so—quite the contrary, they'd feel rude to make you try to speak their language.
While I doubt many foreign residents would be eager to try to learn either Turkish or Greek, if you do take a stab at it, note that the dialects of Cypriot Turkish and Cypriot Greek vary from the standards significantly. If you do try to learn them, be warned that Duolingo's versions, for example, won't match up with what's used on the island.
When speaking in English, though, bear in mind that the American (or Canadian) accent is not well known to most Cypriots, who are much more familiar with the British or even Australian accent.
Speak slowly and be patient. If you feel you're not being understood, it's likely that your accent is the hurdle.
Con: Political Issues And A History Of Division
Cyprus is a country with a long history of division. Today, Cypriot politics continue to be dominated by the Greek-Turkish divide.
The Green Line divides the island in two; Greek Cypriots in the south, and Turkish Cypriots in the north.
Only Turkey recognizes the Turkish Republic Northern Cyprus as an independent state, while the rest of Cyprus, the EU, and the global community view Northern Cyprus as an area of Cyprus.
Despite the political issues, business, for the most part, continues as usual on both sides of the border in a safe and peaceful environment.
Pro: Real Estate Opportunity
While the complicated recent history and politics of the island are sure to dominate any thinking about investing here, I assure you that they don't pose any threat to foreign investors or their assets on Cyprus.
While there are attractive opportunities in both the north and the south, the north is where the bargain-basement prices can be found. Here, beachfront property is extremely affordable—as inexpensive as US$70,000 for new builds in modern complexes with access to amenities.
A unique benefit of buying property in Northern Cyprus is that it qualifies you for residency.
In the south, between the cost of the property and the fees associated, prices will consistently be about 20% more than in the north.
Con: Getting There And Getting Around
Cyprus isn't the easiest island to access… although most European capitals (as well as many in the Middle East) offer direct flights to Larnaca, there are no direct flights from North America, and the airlines that fly direct are typically low-cost.
When I flew from Paris, I had to stop in Athens in order to fly Air France, on which I am a frequent flyer. In order to rack up the miles, I had to spend a whole day getting there.
You'll need a car to get around on the island, even within cities. There is a bus system that serves the whole country, but no one recommends its use… the network isn't great, they only run until 6 p.m., and they're always hot and crowded.
Roads are good quality and well maintained across the island, but traffic in the main cities can get bad.
The standard of driving on the island is generally low compared to North America or the rest of Europe, so be wary of other drivers here.
Pro: Life In Cyprus Means Food, Glorious Food
Cypriot food is everything I dreamed it would be—a perfect blend of Greek and Turkish, with Middle Eastern influences. You'll never go long without seeing souvlaki (Greek roasted meats) or pide and lahmacun (Turkish calzone and pizza, respectively).
Humus and tzatziki are served with every meal, along with tarama (a fish egg spread), as well as some fresh greens and local produce tossed together and reminiscent of (but not exactly) Greek salad.
Meat—specifically, grilled meat—is a specialty here. "We like to barbecue," explained a colleague, "it's the most important social tradition for us. What do we have without meat?" he laughed.
He went on to tell me about the local lent tradition… Cypriots all give up meat for lent, but before they do, they have a feast. They spit roast a goat and drink all day as it cooks. Five or so hours later, having eaten nothing and drunk everything, the goat is pulled apart by hand and is reduced to bones in minutes.
If you're ever in the region, I recommend a Turkish menemen for breakfast. Scrambled eggs with tomato and peppers, the blend reminds me of eggs in purgatory—it's more veggie than egg and it's got a real kick.
The most traditional dessert here is candied fruits—this is neither Greek nor Turkish, but 100% Cypriot. Walnuts—shell and all—are the most typical.
To enjoy them like a local, you should drop one in your glass of water, swirl it a few times, then fish the walnut out again with your fork and eat it in a single bite, then drain the glass of now-sugary water.
Candied watermelon peels and all types of mandarin are the other most commonly offered delicacies at the end of a meal. Delicious food is very much a part of life in Cyprus.
Con: Unattractive Modern Construction
This is the biggest downside of Cyprus for me… I was disappointed in the island's architecture. I expected a lot of Greek and Ottoman influence—arches and domes, whitewash with blue accents, mosaics and minarets…
While certain cities boast beautiful construction—old towns and ports that date to medieval times, mostly—this isn't the norm for the island.
On the whole, the architecture here resembles that of the developing world: single-story homes with flat rooves stacked with messy water containers.
On balance, you'll likely find more upsides than downsides here. So, a budget of 1,000 euros a month would see you living well here… There's 300 days of sunshine… An easy residency process…
Inexpensive, high-quality public and private health care systems… And near-endless opportunities for social, cultural, and outdoor activities….
Boasting over 12,000 years of history, plus arts, golf, beaches, villages, resorts, and fantastic cuisine, Cyprus is worth a visit for further exploration—if you decide it's not for you, you can do worse than spending a vacation week on a Mediterranean island.
Sincerely,
Kat Kalashian
Editor, LIOS Confidential