Two expat friends in Panama are planning their first-ever trip to Paris.
What should they be sure to see and do, they've asked me…
Here is a bucket list for Paris virgins… seven things I'm most looking forward to seeing again this summer when Lief and I reposition to the City of Light:
Notre Dame de Paris
Our Lady of Paris Cathedral is on everyone's top sights in Paris list. You should see this iconic Gothic church from the parvis in front, you should tour inside, and you should climb the 387 stone steps of the narrow staircase to appreciate the structure's famous gargoyles up close.
However, my favorite way to see Notre Dame is from behind. Travel the Quai de la Tournelle to the Pont de l'Archevêché, then turn around and look across the Seine for the most romantic perspective of one of history's greatest architectural achievements.
My favorite Notre Dame experience, though, is cathedral-adjacent…
I'm speaking of a picnic on the Square du Vert-Galant.
Some of my best Sunday afternoons in Paris were spent on a blanket in this little park with a few friends, a bottle of sparkling wine, a loaf of baguette, a wheel of brie, and Notre Dame just a few skips away…
Musée Carnavalet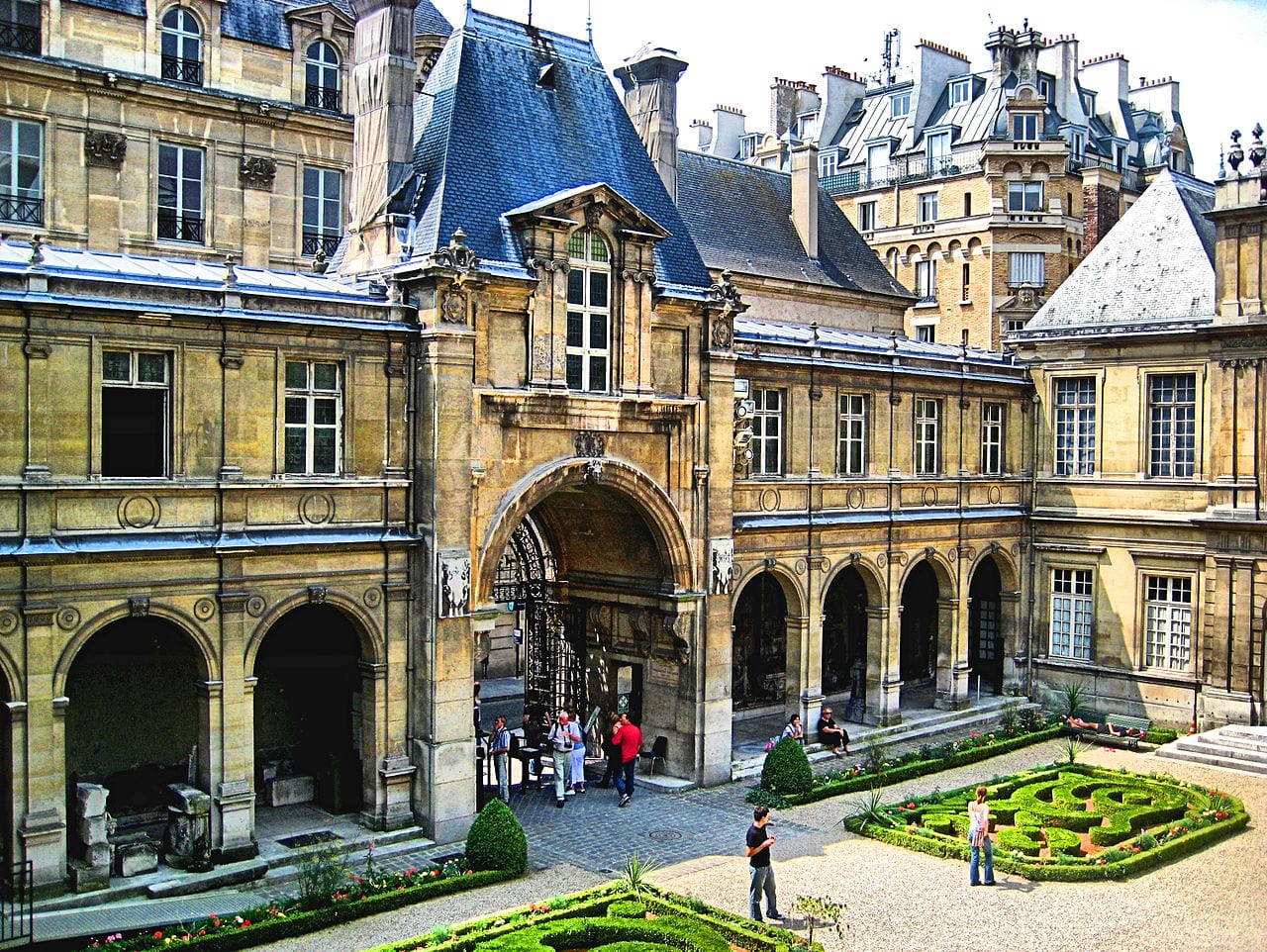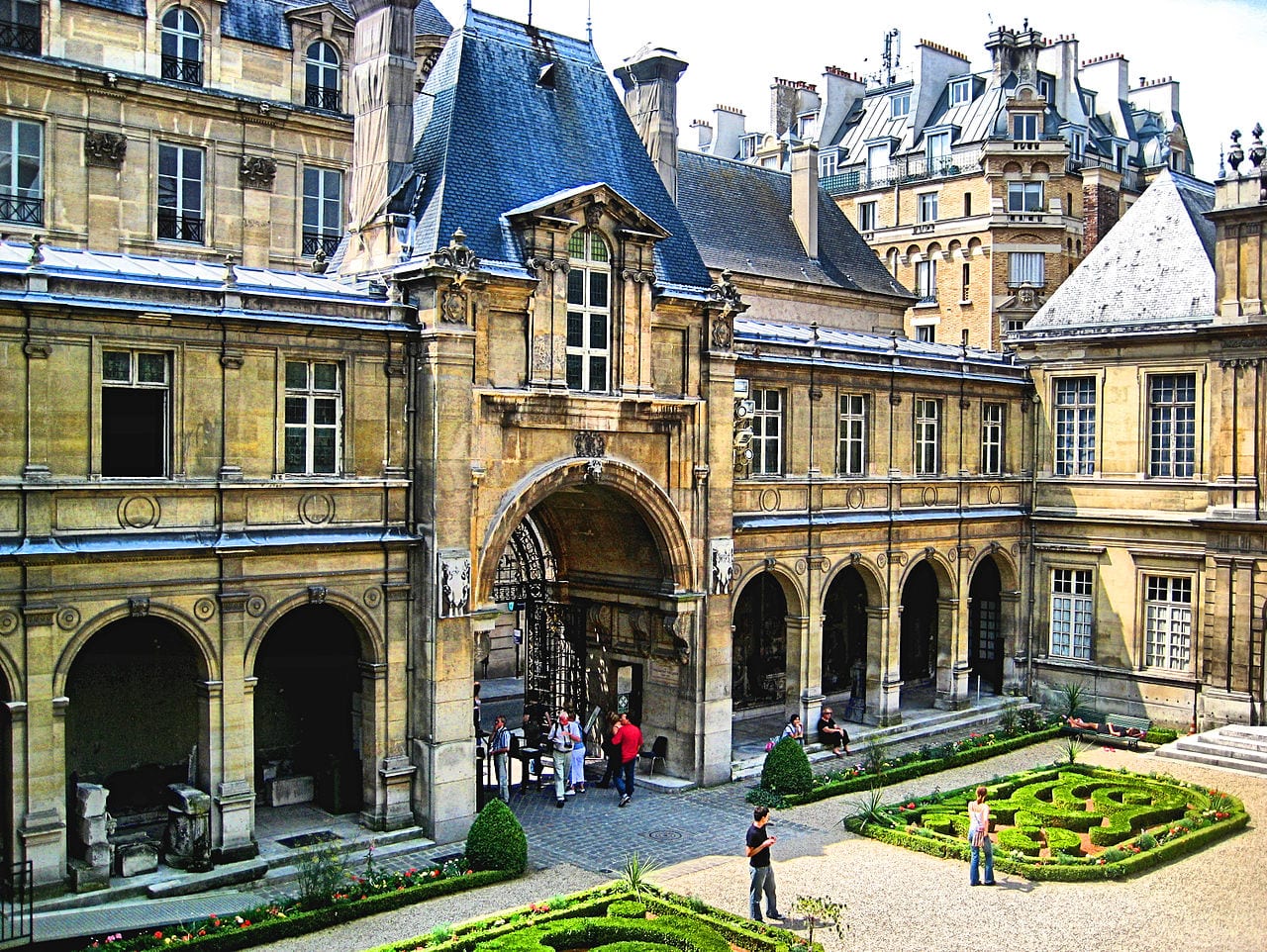 My pick for best museum in Paris, Carnavalet is a museum on Paris. Occupying two mansions in the Marais district, the Hôtel Carnavalet and the former Hôtel Le Peletier de Saint Fargeau, it's not only what's housed in these 100 or so rooms, it's also the rooms themselves that are worth seeing. This is an architectural and an historic treasure that also feels like a decorator's show house, showing off the best of art and interior design from the 17th to the 20th centuries.
Allow time to enjoy the gardens, too, as well as the surrounding neighborhood, which is lively and full of local color.
Should you be in the city as a new expat rather than a tourist, note that the best place in Paris to shop for white china is just down the street from the Carnavalet. You'll find La Vaissellerie at 92 rue St. Antoine.
Bonus trivia: While most Paris museums have free days every week or month, admission to the Carnavalet is free every day.
Place des Vosges
This is the oldest planned square in Paris, the first formal development in history, and the prototype of all European city squares to come.
If you appreciate classic architecture, you'll delight in an afternoon stroll beneath the vaulted arcades of the Place des Vosges.
When we lived in Paris, I would meet a dear friend, a Parisian architect, here often. We'd take a table outside at La Place Royale, where we'd sit sipping champagne and watching the Parisian passers-by while François would remind me of the history of this special spot.
The Louvre (and its gardens)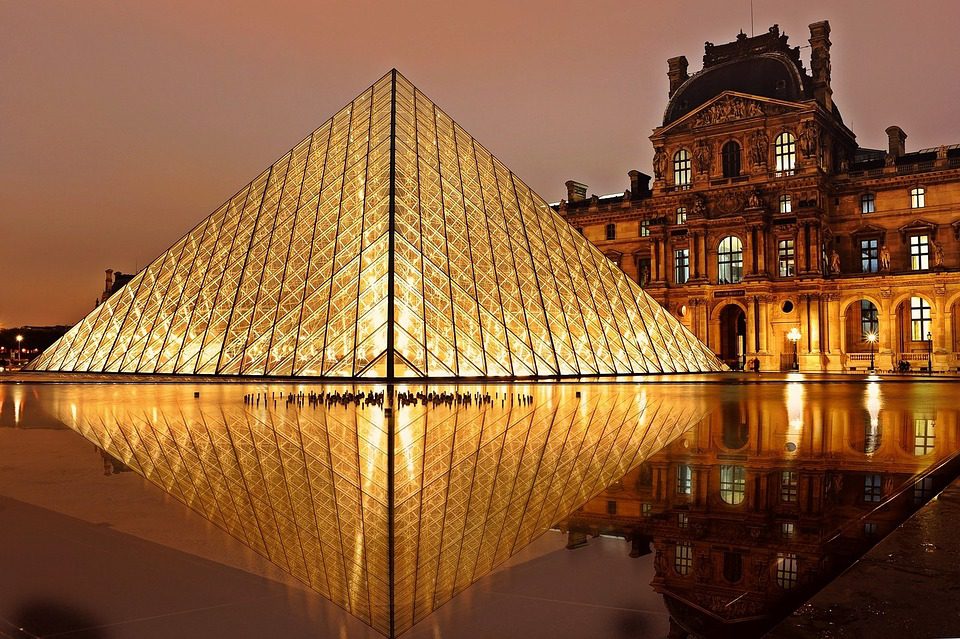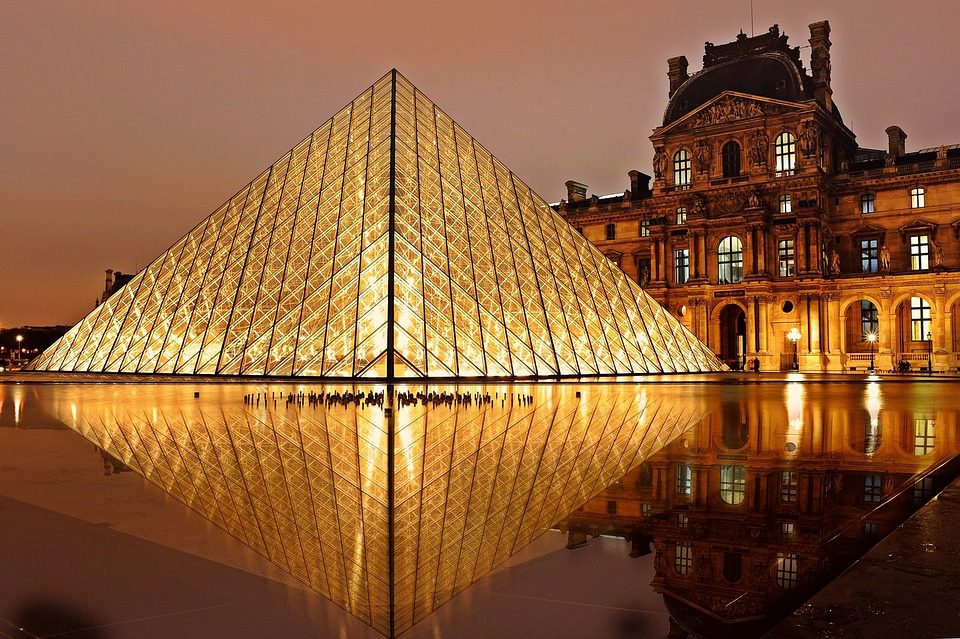 If you're going to tour the museum itself, engage a private guide. This is one of the world's biggest museums, displaying 70,000 works of art across 650,000 square feet of gallery space.
It's also the most trafficked museum in the world, receiving 8.8 million visitors annually. Some hot summer afternoons it will feel as though all 8.8 million are in the museum at the same time with you.
So time your visit carefully and, again, invest in a private guide who can lead you through these halls efficiently.
Or skip the Louvre itself altogether. More pleasant can be a walk from the central square courtyard of the museum, through the triumphal Arc du Carrousel, and then on through Queen Catherine de Medici's Jardin des Tuileries.
From the Tuileries you can carry on straight to Place de la Concorde (where Louis XVI was "chopped," as my son, 4 years old when we moved to Paris, used to put it) and then, if your legs are up for it, continue down the avenue des Champs-Élysées all the way to the city's better-known triumphal arch, the Arc de Triomphe de l'Étoile.
When I was living and working in Paris, my daily commute took me through the Tuileries gardens. In every season, the walk was a highlight of my day. In spring, children float small sailboats in the ponds. In summer, tourists crowd the paths and the cafés. In autumn, the ground is covered with the leaves of the rows and rows of shade trees. In winter, I'd have the place nearly to myself each early morning and every early-dark afternoon.
Shakespeare and Company
Two of my favorite things are classic-style architecture and books. Paris excels in both categories.
The best place in Paris to shop for books is W.H. Smith on rue de Rivoli. When we lived here, my children and I would make a Sunday afternoon of an outing to W.H. Smith at least once a month.
However, the best place to experience books is Shakespeare and Company, the iconic bookstore on Paris' Left Bank originally opened by American expat Sylvia Beach. The store closed during World War II and was restarted in its current incarnation in 1951 by George Whitman, whose daughter Sylvia (named after Beach) runs things today.
Generations of writers have found a Paris home in what is likely the most famous independent bookstore in the world thanks to Ernest Hemingway, who made his love for the place plain in his ode to Paris that he called "A Moveable Feast."
Bonus trivia: Paris' Kilometer Zero sits right across the Seine in the courtyard of Notre Dame, but Shakespeare often commandeers the term, even using it on their merchandise, as Kilometer Zero was also the name of a literary journal the book shop once published.
Café Louis-Philippe
In a city where it's tough to name a favorite restaurant, this would be mine. Situated opposite the Île Saint-Louis on the Quai de l'Hôtel de Ville in the southern corner of the Marais, just at the end of Pont Louis Philippe from which the place takes its name, this is a typically Parisian bar-restaurant offering traditional French cuisine. Choose a table upstairs and try the frog legs Provençal or stuffed tomatoes with goat cheese to start followed by boeuf bourguignon (the best in the city, in my opinion).
Moulin Rouge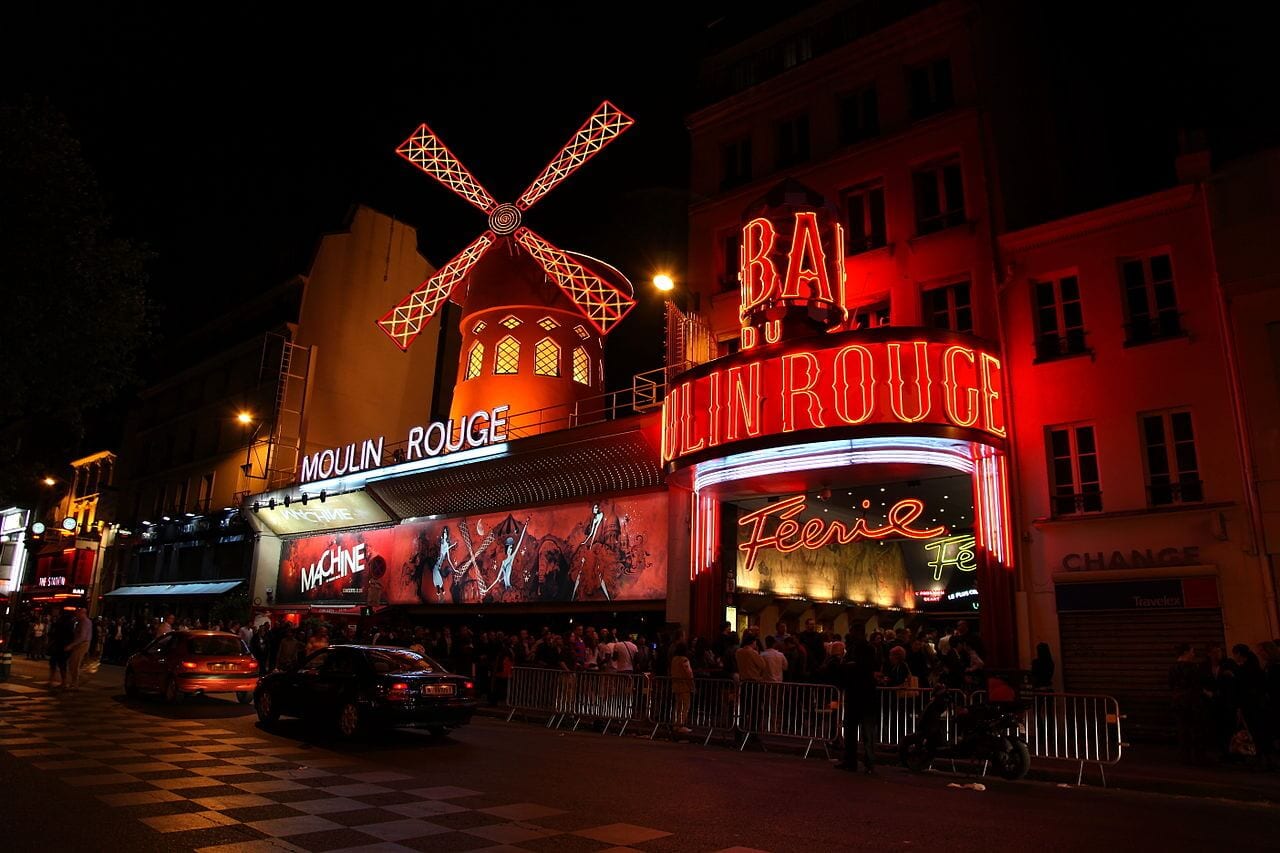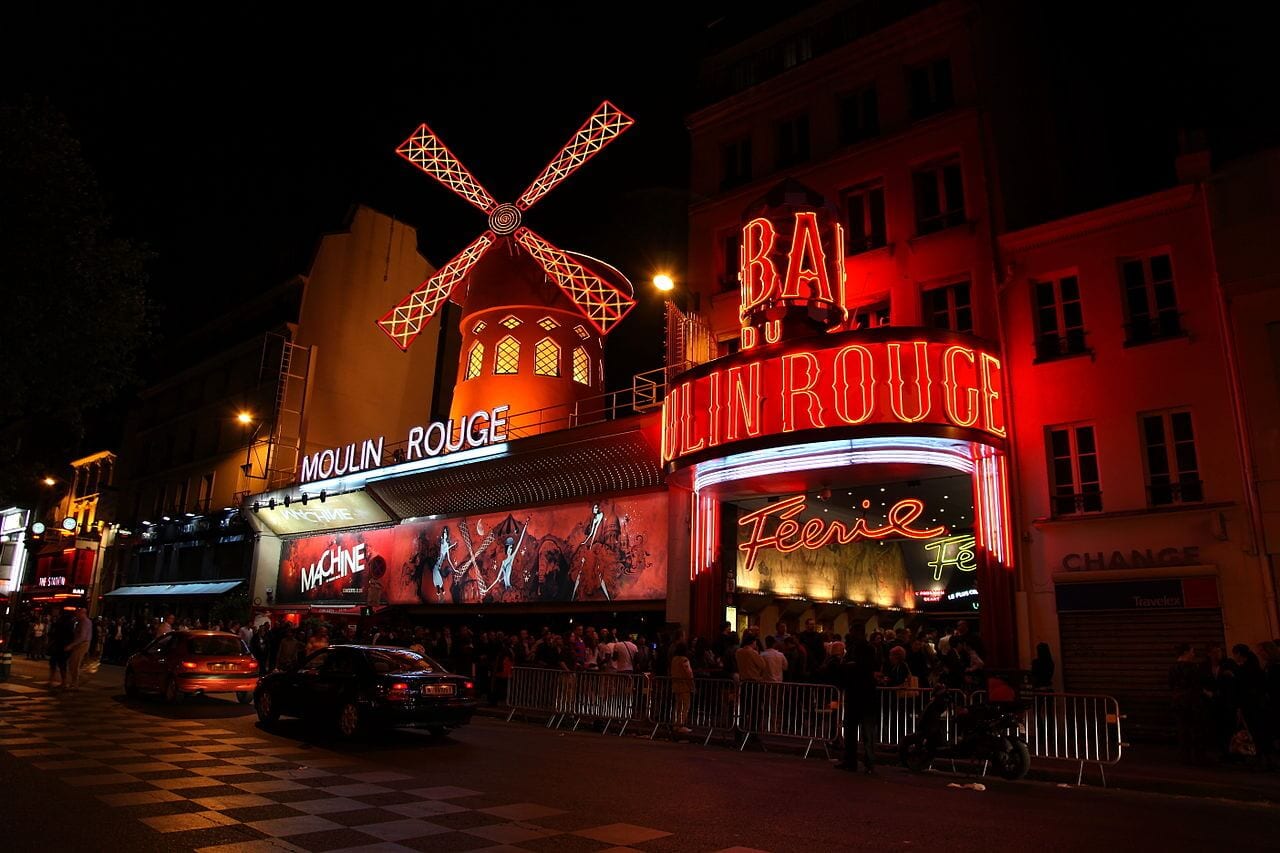 Touristy and tacky were the two words that used to come first to mind when someone would mention the Moulin Rouge. Then, last summer, a friend invited me to see the show. It's a great night out. Yes, touristy, but not tacky.
The wait staff does an excellent job managing the crowd. The food was better than you'd expect given the context, dinner comes with a bottle of champagne, and the show was almost Vegas-worthy. Most memorable for me was the near-naked lady swimming around inside the water-filled clear acrylic box on stage with a boa twice her size.
The can-can was fun, too.
Even if you don't spring for dinner and a show at the Moulin Rouge (it's not a cheap date), take the metro to this part of town to experience Paris' bawdy, racy side.
This is the neighborhood Toulouse-Lautrec made famous with his posters of the local working girls. Today it feels more like Greenwich Village than a red-light district.
Can't wait to walk those rues again come July…
Kathleen Peddicord
(Original post June 20, 2016)