It's tough being a tourist even under the best of circumstances.
We arrived as tourists in Sicily at the height of a record-setting heat wave with apocalyptic fires raging across the Mediterranean and a continuing global pandemic.
COVID-19 travel rules are ever-changing and erratically enforced in Sicily… as I imagine they are everywhere.
Some restaurants and museums turned us away because we couldn't produce a Euro Green Pass QR code.
When we applied for the thing in France prior to our flight to Italy, we were told the health pass, as it's called, was not available to non-EU nationals.
Ah, ha, we thought, no problem. We'll apply using our Irish passports. When we tried, France told us we'd need to speak with the Irish. Every EU national must get his qualifying QR code from his home country. Ireland, at the time, wasn't offering the pass for those Irish vaccinated outside Ireland, so we boarded our plane to Sicily with our paper vaccination cards (Lief's from the United States, mine from the Panamanians) and negative antigen tests and hoped for the best.
Arriving at the airport in Palermo, we were told we'd need to take another COVID-19 test before being allowed into the country. The scene was crowded and chaotic. Our son, daughter, and son-in-law looked at Lief and me for guidance. Should we queue up along with the others from our flight to retake a test we'd all passed the afternoon before?
"This way," I said, skirting the line. Our children followed and we were outside in a matter of minutes. No one seemed to notice.
Our experiences over the two weeks that followed were more of the same. Some palaces and churches in Palermo welcomed us even after our negative test results were well beyond their three-day shelf lives… while staff at other sites closely inspected all documents, comparing names on test forms against passports, creating lines that extended by the dozens into the stifling heat.
Masks are de rigueur indoors but not required on the street. Regardless, the 1,300-hectare open-air Valley Of The Temples archeological park at Agrigento has employed a force of mask police.
Wearing a mask in an air-conditioned museum can be uncomfortable but wearing one while hiking the open plains of central Sicily in 105+-degree temperatures can be defeating.
We soldiered on, committed to our Grand Tourist agenda.
Our Grand Tour
When our children were small, Lief and I conceived a plan to provide them with a Grand Tour experience. We couldn't afford to invest three-and-a-half years at once in the adventure, as 19th-century Grand Tourists aspired to do, but we could allow two weeks a year.
Two decades later, every August, we continue working our way through our Grand Tour bucket list, heat waves and global pandemics notwithstanding. Sicily's ruined cities were top of the list for the original Grand Tourists. It seemed about time we went to have a look.
A crossroads in the Mediterranean, at once European, African, and neither, the island at the tip of the boot of Italy holds some of the most magnificent ruins of the ancient world.
Our Grand Tour travels have included several stops in Italy over the years, but Sicily, as any Sicilian you engage in conversation will tell you first thing, is not Italy. The Italian influence is big, of course, but so, too, is that of the Greeks, for example.
In the 6th and 5th centuries BC, a traveler would have noticed little difference between Athens and the Greek cities of Sicily. Based on my most recent experience in Athens, I'd say that the cities we toured in Sicily continue to compare. Athens is one poor, struggling town… as is Palermo, where we based our Sicilian adventures.
The ancient Romans are everywhere in Sicily, as well, as are the Byzantines and the Arabs, who ruled this land from the 9th to the 11th centuries.
Sicily is a mixed-up mash-up where the local vernacular rules not only in the language but also in the customs, the cooking, the art, and, most interesting to me, the architecture.
Framing it all is a dramatically beautiful coastline of white-sand beaches and the deep blue Mediterranean Sea.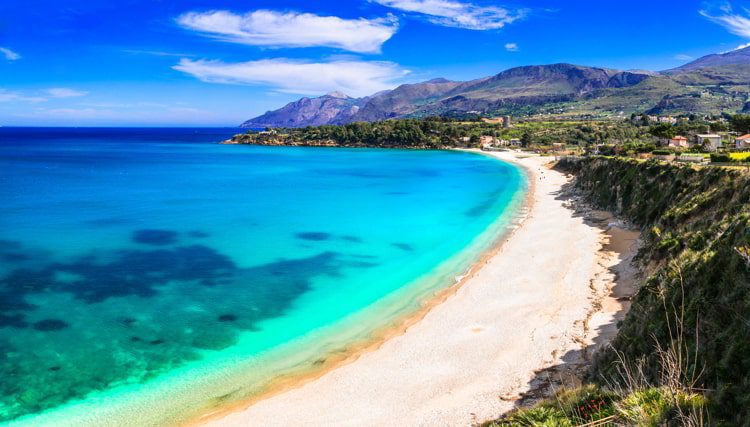 What man has created over the centuries in Sicily is a testament to the best we humans are capable of achieving. Under Frederick II, Holy Roman Emperor, Palermo attracted the greatest craftsmen and talent of the time who worked for decades to build a world-class city.
Today you've got to look closely to see fruits of all that labor, but, when you do, the rewards are considerable.
More tomorrow…
Sincerely,



Kathleen Peddicord
Founding Publisher, Overseas Opportunity Letter