How do you measure the ultimate beach experience? I use all of my senses to decide.
Let me describe my beach paradise…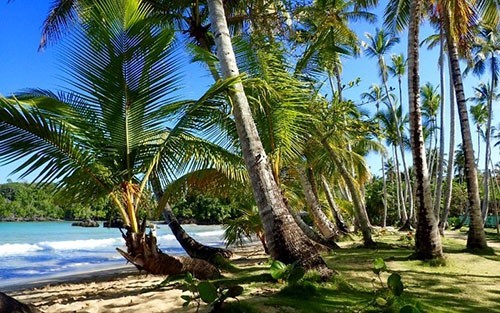 Sight…
The ultimate beach must have an exceptional view along with crystal clear, multicolored waters plus a wide sandy beach and tall swaying palms. Patches of shade and areas of bright sun compete for your attention. A sunset view is icing on the cake.
Sound…
At the perfect beach you hear crashing waves at intervals and with different levels of intensity. You notice an occasional seagull's caw along with creaking palm trunks and shushing palm fronds.
And, on the perfect beach, there are no vendors bothering you, hawking their wares, nor touristy party bars blasting techno music.
Smell…
The perfect beach includes just a hint of salty brine in the air… plus the scent of flowers, coconut husks, and fresh sea air.
Touch…
The perfect sand is soft and fine, like flour under your feet. You don't have to be looking out constantly for slimy seaweed or broken shells, and there's absolutely no litter or trash.
Entering the water, the seabed should feel firm and clean underfoot. The entry should be shallow to accommodate families, sunbathing, and body surfing.
Taste…
OK, this one is a bit tricky, but, for me, the air at the perfect beach has a slight taste of salt. This provides a great reason to indulge in an ice-cold beer or coconut water while enjoying the perfect beach experience.
Having searched far and wide for the best beach on Earth, I thought I had found it in Hawaii. The trouble is that Hawaii is remote and too expensive for regular visits, let alone full-time living.
So let me share a secret with you…
The beaches in Las Terrenas, Dominican Republic, are better than the beaches in Hawaii.
Here's why…
1. It's Close To The U.S.
First, as the Dominican Republic is a Caribbean island nation near Cuba, it is a quick trip from both North and South America. Multiple airlines fly to the DR several times per day, and most offer far lower rates than you'll find for any flight to Hawaii.
A quick search for airfares at the time of this writing yielded nothing less than US$1,000 for a flight to Hawaii, while flights to the DR were just over US$500 per person round trip.
2. It's Affordable
Second, the DR is an excellent bargain compared with Hawaii. It is 39% cheaper overall to live in the Dominican Republic than in Hawaii. Food is 43% cheaper in the DR than in Hawaii, entertainment is 49% cheaper, and housing is a whopping 59% less expensive.
3. The Beaches And Accommodations

Also, returning to my original analysis of ultimate beach experiences, the beaches around Las Terrenas, especially Playa Bonita, are simply the best I have found anywhere in the world. I was lucky enough to experience this paradise on Earth while staying at the Playa Bonita Beach Residences located directly on Playa Bonita.
Our two-story, three-bedroom, three-and-a-half bathroom luxury condo was modern, clean, and so close to the beach that I could fall asleep to the soothing sound of the waves lapping at the shore. Although we were not directly on the beach, we had an unobstructed view and a lovely wooden boardwalk leading us about 30 yards to the sand.
Our penthouse featured a rooftop terrace with enough room for a dining table and four chairs, a bar table with two stools, a built-in bar, and a full-sized Jacuzzi, with more room to spare. It was a lovely, private place to enjoy the sea view and watch the waves break offshore.
The day we left, another group was moving in. These are sought-after rentals.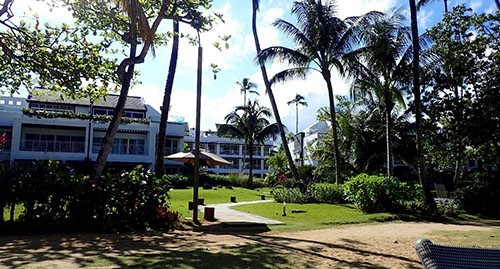 When we didn't want to dip our toes in the salty Caribbean Sea, we made use of the community's two pools, one directly on the beach with an infinity edge and cocktail bar just steps from our building. Very near the Beach Residences, and all along the shoreline, are cozy seaside bars and restaurants, tucked into the palms, with gorgeous sea views. These lovely little hideaways do not sit on the beach, so the sand appears deserted with only a few sun worshippers in sight.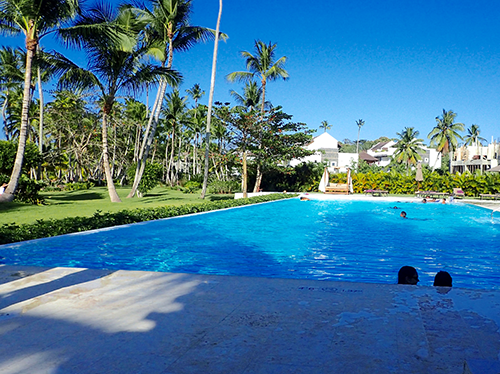 Fresh fish is everywhere, and cold drinks and appetizers abound.
One night we got dressed up island style (dress for me and slacks with a button-down shirt for my husband) and walked the short distance along the beach walk to Hotel Atlantis for a beach-side dinner prepared by a classically trained French chef who formerly cooked in Saint-Tropez and at the Palais de l'Élysée for the French government. It was a magical evening.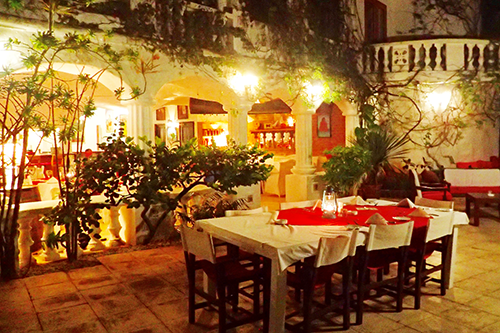 A quick car ride into town provides more dining opportunities from burgers and Italian to sushi, pizza, and much more. The clean, modern grocery stores in Las Terrenas provide anything you could need when you're dining at home, including imported goods, artisan breads, wine, varieties of cheese, and, of course, all your staples.
During our time in Las Terrenas we had the chance to view several real estate opportunities, including vacant sea-view lots, hillside condominiums, a thatch-roofed casita with a private plunge pool, and homes in gated communities. The market offers great options from the high US$100,000s to the mid-US$600,000s.
Las Terrenas is still a relatively unknown paradise, but this is changing. Now is the time to visit, invest, and enjoy this hidden gem in the Dominican Republic. Skip Punta Cana and make your way to Las Terrenas.
For my money, it's the best beach in the world.
Wendy Howarter
Dominican Republic Insider