Being a digital nomad is all about freedom of movement.
Different from a remote worker (an employee of a company that works from home), a digital nomad doesn't really have a home.
Digital nomads earn a living through their technological devices (laptops, smartphones, etc.) and bounce between global nomad hubs. They might spend a few weeks in Chiang Mai before taking off for Lisbon or maybe Medellín…
They can decide where they go and how long they stay there on a whim.
Over the past few years, the number of digital nomads has grown exponentially. With more and more people working remotely and improvements in technology and infrastructure making this easier than ever before, it's no surprise that so many have embraced the digital nomad lifestyle.
Why confine yourself to a stuffy office in the city when you can work just as easily from a beachside café in an exciting and exotic locale?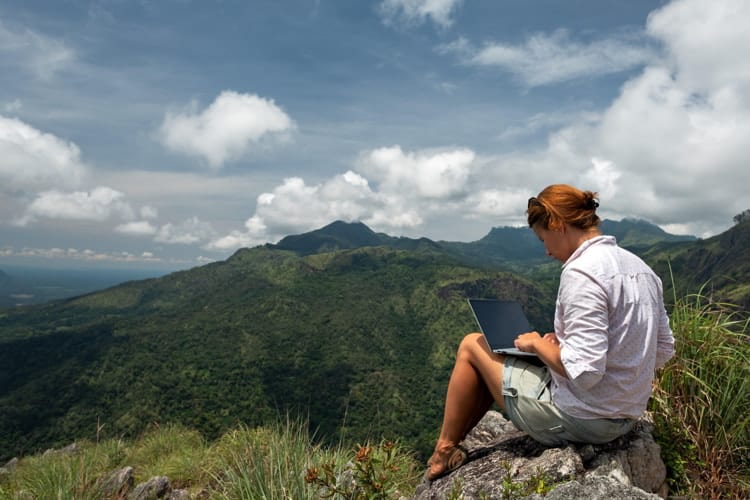 From the rapid increase in the number of digital nomads in the world, a new subculture has been born. You'll now find nomad conferences and international meet-ups, nomad cruises, and even nomad trains. Co-working and co-living options sprang up all over the world. All you need to join is a passport, cell phone, laptop, and a bit of motivation to take the plunge into the digital nomad lifestyle.
And what a lifestyle it is. One month your office could be a co-working space in Bali, so close to the beach that surfing on your lunch break is a viable option that won't interrupt your work day.
Next month, you might be in a house shared with other nomads in Budapest, exploring the city and surroundings on the weekends. Perhaps Buenos Aires would follow to learn a bit of Spanish and how to tango.
The freedom that this exciting lifestyle grants people is incredible. Your only limits are your bank account, visa policies, and Wi-Fi speeds. If one place is too expensive or the internet too slow, you simply move on to a new locale. Once one visa runs out, you jump on a plane or train and head to the next destination. The toughest decision nomads face is which scenic location to work from next.
The best countries for a Digital Nomad have a few things in common. The most important factor is fast and reliable internet. Low cost of living, cultural attractions, nice weather and co-working spaces are also highly prized.