I first alerted my readers to the many charms of little English-speaking Belize in 1987.
In those days, it was mainly scuba divers, sport anglers, and independent free spirits who invested or made new homes in Belize.
Back then, Belize was pretty rough around the edges. And both Belizeans and expat residents preferred it that way.
I've just returned from my most recent visit to Belize, and, boy, what a difference the intervening years have made.
You could say the tides have shifted.
Belize today is attracting people from all walks of life…
Some are famous, ridiculously wealthy public figures, like Leonardo DiCaprio, while others are just normal folks like you and me.
The common denominator I can identify among everyone finding his (or her) way to Belize's shores today—from scuba enthusiasts and eco-adventurers to missionaries and billionaire investors—is a desire for a simpler, freer, more private way of life.
With everything going on in the world these days, Belize's back-to-basics lifestyle is almost irresistibly appealing.
And it's attracting a new breed of investors and expats eager to stake their claims. They come seeking escape from the doom and gloom back home.
They come seeking the freedom to live their own lives and to make their own way. They come in search of privacy, for themselves and for their money…
They come in search of paradise. And they're not disappointed.
Get ​Your Free ​Belize Report Today!
Simply enter your email address below and we'll send you our ​FREE REPORT – ​​Discover Belize: Reef, Ruins, Rivers, And Rain Forest… Plus Easy Residency And Tax-Free Living
Who Are All These Expats Seeking Escape And Safe Haven In Belize?
Eve's story is another great example.
Eve spends five to six months a year living part-time on Ambergris Caye, Belize's best-known and most-developed Caribbean lifestyle choice.
Every winter, Eve and her husband look forward to escaping the grueling Canadian winter in San Pedro Town, where they own a small condo on the beach.
It's perfect for them.
Eve's constantly in town, where she knows everyone. She spends her time volunteering.
There's no shortage of opportunities to get involved with the local community here, and Eve takes full advantage. You see her everywhere, at every social event, always with a smile on her face.
Ambergris Caye is quintessential Caribbean, offering all the azure water, white sand, and swaying palm trees your island-loving soul could ask for.
It's also the most expensive lifestyle choice in this country. But don't worry…
You have many other desirable but lower-cost choices, too. More on those in a minute…
Attention Work-From-Home Types: You Can Live Here Income-Tax Free
Belize expat Helena Hess was originally attracted to Belize for its diving.
She wasn't even thinking about retirement when she made her first visit to the country.
Here's the thing: Belize is more than a homerun retirement haven, it's a true-blue tax haven for entrepreneurs and the work-from-home types.
But, the better she got to know Belize, the more Helena came to appreciate the advantages it offers the would-be retiree.
Helena and her husband Mike bought a piece of land on Ambergris Caye, built a home, and, eventually, looked seriously at Belize's residency options, including its resident-retiree program.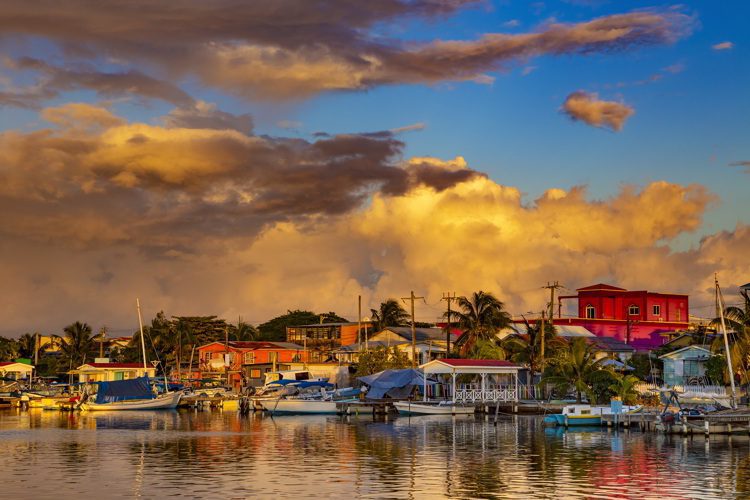 Their conclusion?
Belize is hard to beat, not only for the Caribbean lifestyle it offers on its cayes, but also for how easy it makes it for a foreign retiree to make Belize home.
And a QRP retiree can be as young as 45 years of age.
Get ​Your Free ​Belize Report Today!
Simply enter your email address below and we'll send you our ​FREE REPORT – ​​Discover Belize: Reef, Ruins, Rivers, And Rain Forest… Plus Easy Residency And Tax-Free Living
Today, Helena lives in Belize full-time with her husband. He's a full-time resident; she's a QRP. They made their decisions as to which residency option they wanted to pursue independently and, as a result, have been able to take full advantage of the residency benefits Belize has to offer.
Helena and Mike pay no U.S. income taxes on income they earn while living in Belize.
Because they're Americans, they retain a tax obligation Stateside, of course.
However, because they're Americans abroad, residing full-time in Belize, this year they can earn up to US$217,400 of income each year that is U.S. tax-free thanks to the Foreign Earned Income Exclusion.
And Helena is not liable for taxes in Belize, either, as she's a QRP.
Plus, thanks to their residency statuses, they were able to ship their personal belongings and household goods into the country duty-free.
Get ​Your Free ​Belize Report Today!
Simply enter your email address below and we'll send you our ​FREE REPORT – ​​Discover Belize: Reef, Ruins, Rivers, And Rain Forest… Plus Easy Residency And Tax-Free Living
No Translation Required! Belize's Official Language: English
Linda is a professional artist who first visited Belize on a sailing trip.
She and her boyfriend had attended a conference in Panama in 2004. They'd driven all around Panama and considered settling in that country, but Linda didn't feel comfortable.
The idea of learning Spanish was just too daunting for her. She couldn't talk to the locals, so she felt unable to connect with them. Life's easier when everyone speaks English, of course, but it also allows you to settle in and make real friends with welcoming locals.
In this regard, Belize really stands out. And, for Linda, being in Belize was a different story from the day they first arrived.
Every day the couple was able to dive, snorkel, and fish among Belize's beautiful Caribbean cayes, all the while making friends with the local Belizeans.
Being able to communicate, Linda felt safe and welcome from the start.
After her initial visit, Linda worked out a swap with a resort on Ambergris Caye so she could return. In exchange for free accommodation, she completed a number of paintings for the resort owner.
And, during that five-week trip, she made her decision. Belize would be her new home.
Linda returned to her old home in Monterey, California. It took her a year to sell her house and her art gallery and to prepare for the move.
Today, Linda is a fully delighted full-time resident of Belize, where she has opened two art galleries.
She divides her time between Ambergris Caye and San Ignacio and loves both locations and the wonderfully relaxed lifestyle they afford her…
Sincerely,



Kathleen Peddicord
Founding Publisher, Overseas Opportunity Letter