We've been lately shining the spotlight on Mexico.
The country qualifies in many ways as the best option for relaunching your life overseas… in retirement or at any stage.
Parts of this big, diverse country remain sublimely affordable… especially right now thanks to the weak Mexican peso.
However, for many, Mexico's big appeal isn't only its low costs… but its two long coasts, famous the world over.
You have so many tempting options for seaside living in this country that you can actually specify a price point, a convenience factor, and a lifestyle and still be spoiled for choice.
Which particular beach spot might be best for you?
Let's start on the east coast…
Mexico's Riviera Maya, as it's known, features warm Caribbean waters and pristine white-sand beaches. The Great Mayan Reef—the second largest barrier reef in the world—is just offshore, making for world-class diving and snorkeling.
Another draw to this area is the presence of the well-preserved Mayan archeological sites… plus plenty of cenotes (sinkholes with swimmable, crystal-clear water), water parks, and world-class golf courses to round out the local attractions.
This 100-mile stretch of coast—from Las Vegas-on-the-beach in Cancún to the boozy beach town of Playa del Carmen and the eco-friendly chic of Tulum—is a good example of Mexico's diversity…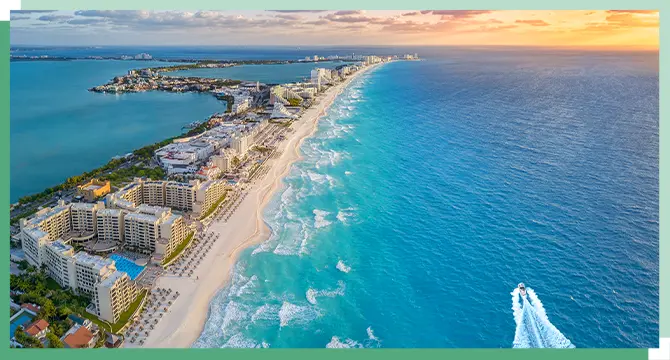 Cancún
Cancún—one of the world's top resort towns—began in 1974 as a tourism project on top of a sleepy fishing village. These days, it's a thriving town of nearly 900,000 people that was welcoming more than 6 million tourists every year prior to the pandemic.
Despite ritzy resorts and beachside casinos, the town remains affordable outside of the "Hotel Zone"… rents can easily be found around US$500 a month or less, and tasty meals (with beer) can cost less than US$10.
Still, as Cancún became more developed and expensive, locals and expats alike began moving south along this coast (dubbed the Riviera Maya) for the next big thing…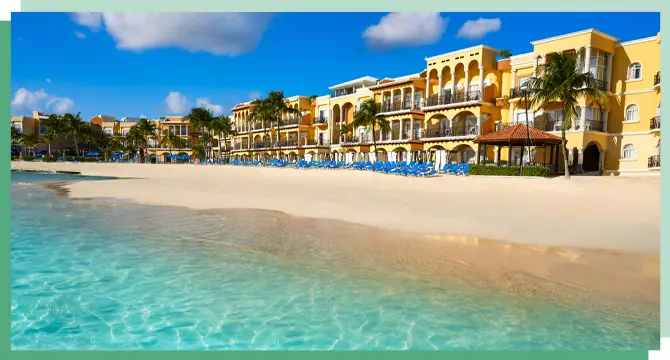 Start Your New Life Today, Overseas
A world full of fun, adventure, and profit awaits! Sign up for our free daily e-letter, Overseas Opportunity Letter, and we'll send you a FREE report on the 10 Best Places To Retire In Style Overseas Today
Playa del Carmen
Playa del Carmen boasts a small town atmosphere about an hour south. After Cancún, it became the region's chic place to be and to be seen. Today, "Playa" has become home to the biggest expat community on this coast. This is a lively, fun place to be with the Rolling Stones blaring from margarita bars, swings instead of stools at the beach bars, and the bustling Quinta Avenida (5th Avenue)—a bustline main street full of shopping and dining experiences.
Playa del Carmen is also an interesting investment option, where you can achieve rental yields as high as 10% and enjoy annual property appreciation in the double digits. This town may already be discovered, but the investor should still be paying attention.
Tulum
Tulum is the current en vogue area… and the end of the line on this coast. South of it is a protected wildlife preserve, then the border with Belize.
Less walkable than Playa, Tulum's draw lies along its stunning white-sand coast. The lack of infrastructure in the area can be a challenge, but most communities are being built with self-sustainability in mind.
Development in this area is nonstop and increasingly geared toward the jet-set and Instagram influencers. Several developments, restaurants, and hotels here are as ritzy as you might find in Miami.
That is to say, while this is a stunning location, it can also be relatively expensive given the lack of infrastructure.
Tomorrow… I'll introduce you to the most tempting spots along Mexico's west coast.
Happy Cinco de Mayo!
Sincerely,



Kathleen Peddicord
Founding Publisher, Overseas Opportunity Letter