Is Mexico Safe for expats? Or is it dangerous? I mean, have you seen some of the news stories coming out of there? Tell most anyone you're considering a vacation there… or crazier still, a move… and they'll tell you some horror story they read about or heard about…
My response would be to ask if they also checked out the news that day from Albania, Austria, Bulgaria, Germany, Ireland, the U.K., Serbia, Denmark, Estonia, the Netherlands, Cyprus, Switzerland, Estonia, Portugal, the Czech Republic, Macedonia, Slovakia, Montenegro, Luxembourg, Lithuania, Hungary, Belgium, and Bosnia and Herzegovina…?
Because all those countries together make up the same land mass as Mexico. That's how huge a country it is… but it's easily forgotten if you tune in to the nightly news…
Viewed from that narrow lens, it can sound like a place where danger lurks around every corner… but it's not. It's like anywhere. Bad things happen… but mostly they don't. And in Mexico, those bad things are usually confined to certain areas and those involved are engaged in criminal activity. And we don't recommend those areas any more than we recommend a sideline in the illegal drugs trade.
Fact is, we don't recommend anywhere that's unsafe. And we don't recommend every corner of any country.
We've spent a lot of years and invested a lot of money in on-the-ground research.
We've traveled to, lived in, and invested in, the places we recommend.
We know them.
We know the communities, the neighborhoods, the people.
Plus, we know the price of a beer and the best bar to get it in…
And we know that each place we recommend has the potential to be the ideal spot for someone seeking a richer, better life overseas.
Which is where you come in…
We can tell you all the reasons why a destination fits the bill as an expat haven. But only you can decide if you want the mountains or a beach… to buy or to rent… year-round sunshine or four seasons… a walkable city or a remote bolt-hole that only the sturdiest of off-roaders will get you to…
Personal preferences aside, what you won't have to decide is if it's safe or not.
If we're recommending it, it is.
Of course nowhere is crime-free, and you should take the same precautions overseas as you would anywhere, but in the main, you'll likely find you're as safe or safer overseas as you are back home.
Plus, there's so many upsides to expat life in Mexico…
It's easy to get to from the U.S. or Canada and you'll find all the comforts of home here, should you want them…
You also won't lack for company, Mexico is home to the biggest established population of American expats in the world…
Generally speaking, there are no restrictions on the ownership of residential property in Mexico, and you can hold the title in your own name…
There's also the lower costs, the culture, the weather, the stunning natural scenery, and of course, the food…
So, Where In Mexico Do We Recommend…?
Here's some of our top choices…
Mazatlán: Our #1 Pick For Cosmopolitan Seaside Retirement Living
Offering the best beachfront lifestyle you'll find in Mexico… maybe the best you'll find anywhere… is Mazatlán.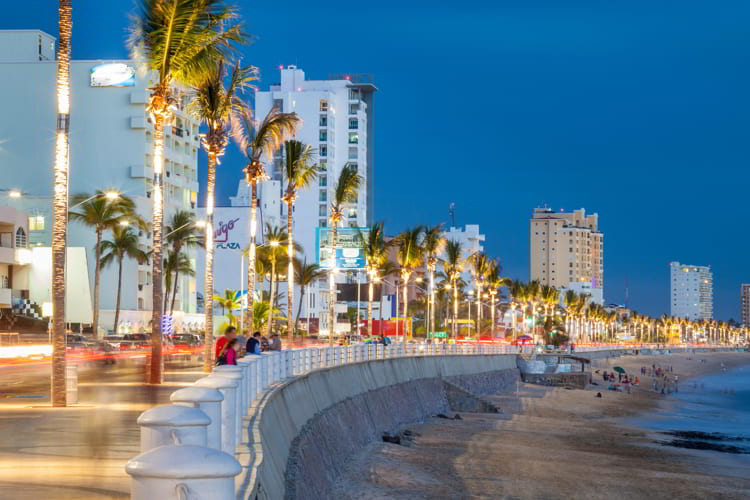 Enjoying a choice spot on Mexico's Pacific coast, Mazatlán is home to over 10 miles of sandy beaches and a 5-mile boardwalk. It's also home to LIOS Editor Lee Harrison.
"What sets this city apart is its Spanish-colonial historic center," says Lee.
"Having a colonial city on the beach is what drew me to Mazatlán. Over the past 10 years, as it's been renovated, this historic center has become a major source of pride for those who live here.
"Best of all, the mix of beach and colonial lifestyles means countless options for fine dining, quiet coffee shops, and energetic bars…"
Properties are inexpensive compared with almost any beachfront market in the world. You'll spend less in Mazatlán for seaside properties than you'll spend in Cancún, Playa del Carmen, Puerto Vallarta, or even Tulum…
Add to that, taxes are negligible. Lee's tax bill for his 228-square-meter (2,450 square feet) condo on the waterfront at the edge of the historic center was a shade over US$100.
A budget of US$3,000 a month would see a couple living well here.
Dinner for two at an upmarket joint will cost about 1,200 pesos (US$66), including wine and the tip. A more casual restaurant on the water will run about 600 pesos (US$33) with drinks.
An Uber trip across town (20 minutes) will cost around 125 pesos (US$7) at most. Buses will get you from one end of the city to the other for a buck. It's hard to make a case for owning a car here at these rates, plus Mazatlán is a walkable place.
With so much on offer, it's no surprise that Mazatlán is home to a sizable American and Canadian expat community who, should you need them, will be right on hand to help you ease into your new life in Mexico.
Oaxaca: Our #1 Pick For Culture Lovers
If you're looking for charming colonial architecture with a vibrant culture that's more authentic Mexico, consider Oaxaca City. It offers a moderate climate, reasonable prices, flight connections to the States, and high-quality health care.
Oaxaca is the capital of the southwestern Mexican state of the same name—one of the safest states in Mexico.
This city is surrounded by mountains, making for a stunning backdrop and plenty of opportunities for adventure.
Compared to places like Mexico City or Guadalajara, Oaxaca feels like a small town. There are less tourists and expats here, and it's an easy place to get around on foot, though local buses are cheap and easy to figure out if you need them.
The low cost of living in Oaxaca, Mexico, is a big draw. A monthly budget of US$1,588 per couple will cover your basic needs. Monthly rentals are available from US$400.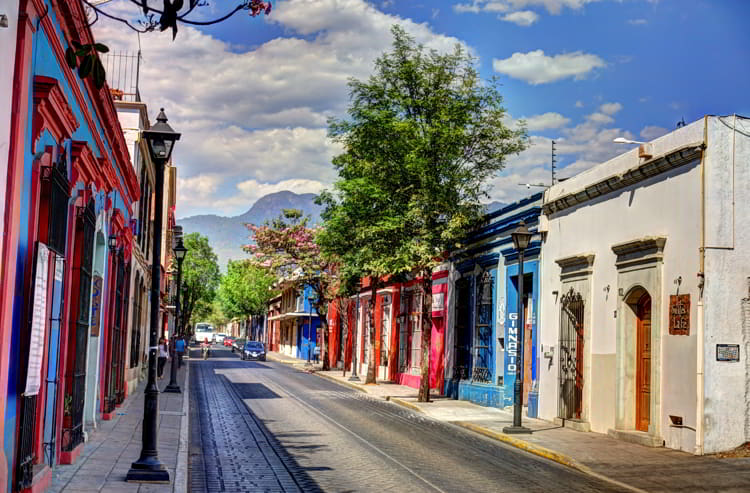 In the bustling Centro, you'll find colorful colonial buildings and vibrant clothing and wares from the various indigenous groups that call the area home. The state of Oaxaca is home to about a third of Mexico's indigenous population, as well as some 20,000 expats.
If you're an art-lover, you'll feel right at home in Oaxaca. There are several museums and galleries in Centro, and there's eye-catching street art around every corner.
Traditional festivals are a big deal here, including the month-long Guelaguetza that's focused on the dancing and clothing of the indigenous population. The city comes alive in celebration for the entire month of July.
Oaxaca, Mexico, is also one of the best places to experience the Day of the Dead, with people coming from all over the world to view the elaborate ofrendas (altars) for this important holiday.
Álamos: Our #1 Pick For Single Women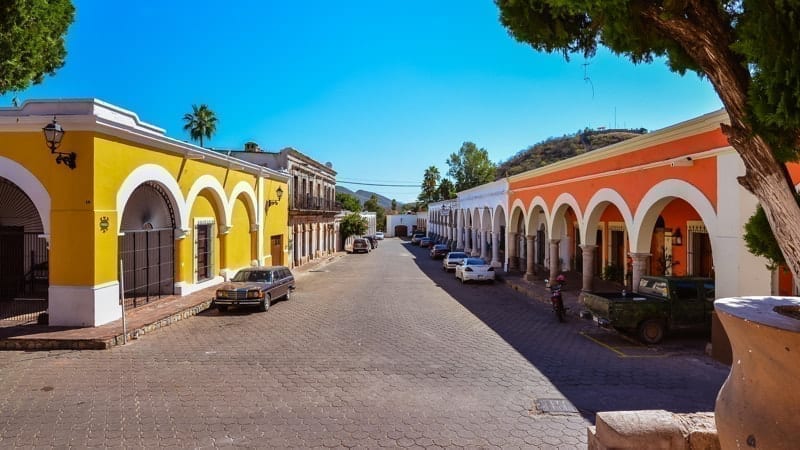 Alamy/jejim120″In nearly 20 years of scouting the world's best retirement havens, this is unquestionably the best place I've seen for a woman moving abroad on her own." That's LIOS Editor Lee Harrison's take on Álamos, a small colonial town nestled in a valley in the Mexican state of Sonora.
Once a booming mining town, Álamos had long faded from glory when, in 1948, it was discovered by William Levant Alcorn, a farmer from Pennsylvania.
Seeing potential, he began restoring Álamos one building at a time. Paying as little as US$50 for some of the crumbling mansions, he ultimately made a fortune promoting the town and selling real estate.
In 2005, Álamos was named a Pueblo Mágico, a designation reserved for towns that offer a "magical" experience, thanks to their beauty, historical significance, and cultural riches.
Today, it's home to an active English-speaking expat community, with many artists, writers, and musicians among them. Interests such as birdwatching, hiking, and bass fishing are catered to here and there's opportunities for volunteering too.
Local cafés, restaurants, markets, shops, and social events are easily accessed on foot, though it's worth noting Álamos is hilly in parts, particularly in the colonial neighborhoods that surround the historic center.
It's unquestionably a Mexican town, from the piñata store to the coffee roaster and the local mariachis… and especially the tortilla man, who brings warm, fresh-baked goods to the neighborhood on his motorbike every morning… but it's also proven itself as the perfect laid-back, safe haven for solos overseas…
Mexican Safety Tips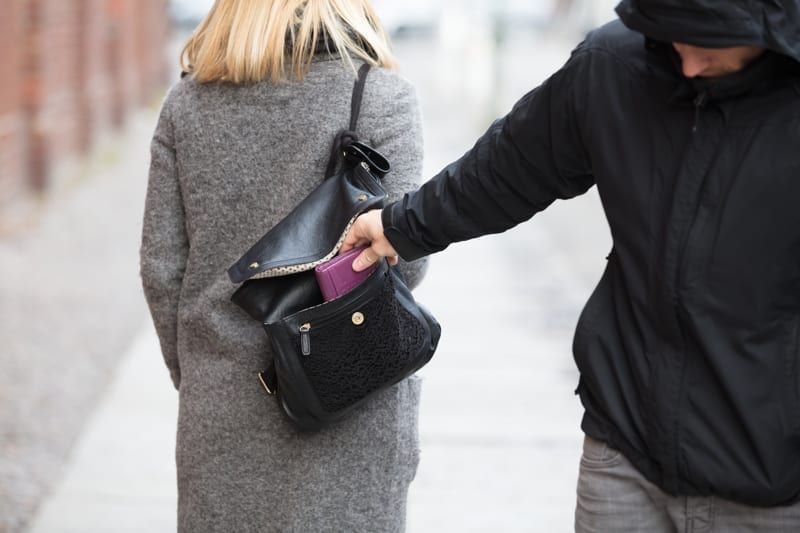 So, is Mexico safe for expats? Similar to any tourist area or large city, the following tips will help keep you safe and secure in the Mexican expat havens we suggest.
Know your surroundings and choose a safe neighborhood to live and frequent.
Don't participate in questionable activities such as drugs, prostitution, or gang involvement, and don't go to places where these activities are known to occur.
Don't walk alone at night, don't visit bars or clubs alone where your drink could be spiked, don't go down alleys or dark streets alone.
Be aware of those around you, especially in crowds, and protect your belongings in zipped pockets, a cross-shoulder bag, or a money belt. Don't flash large amounts of cash or fancy jewelry. Don't draw the attention of pickpockets or thieves looking for a quick grab.
Don't be a hero if someone tries to rob you. Surrender your phone or cash, don't fight them.
Use authorized or registered taxis and rideshare companies with registered drivers. Do not drive alone on dark desert highways at night.
Health tips: don't drink the tap water, or brush your teeth with it, or wash your produce in it. Also, be careful of where you swim since some Mexican beaches can have dangerous conditions such as riptides.
Mexico Can Be a Safe Place to Live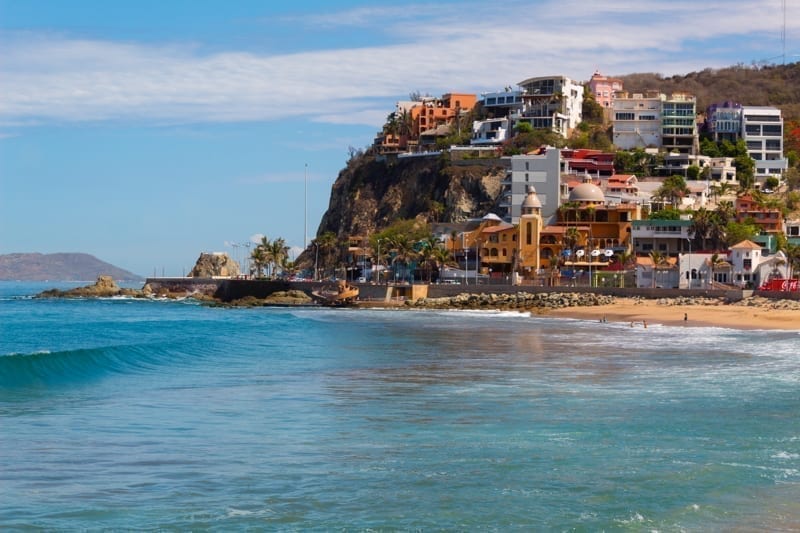 With so much to offer, Mexico is a country many expats love to call home. Just like most places on our planet, you should always exercise caution to protect yourself and trust your instincts when you are in an uncomfortable situation.
While we can't recommend everywhere in Mexico for quality retirement and expat living, if you stick to the best places we do suggest, you should enjoy a great standard of living at a lower cost, with amazing natural beauty and welcoming locals.
Sincerely,



Victoria Harmer
Editor, Overseas Opportunity Letter