Every year more expats choose to retire to Mexico. If you are looking to retire and socialize with fellow Americans you will be able to find plenty of places. In fact Mexico has the largest population of U.S. expats anywhere in the world.
We always recommend that you try before you buy. Rent for a few months and immerse yourself in everyday life before moving. Get a feel for mundane tasks like bill paying and grocery shopping. A benefit of this is you can get a more accurate idea of how much your cost of living in Mexico will be. If possible spend time in Mexico during the rainy season. This will allow you to find out how you will cope with the humidity and daily downpours.
Clearing Up Some Mexican Myths
1. Safety
Mexico has a reputation of being an unsafe country, full of drug cartels and bandits. While there are places you should avoid, this is the case anywhere in the world. If you take the same basic safety precautions you would take anywhere else you should be fine. For example don't advertise your wealth or park an expensive car in the driveway for everybody to see.
Something else worth consideration is the difference between violent crime and property crime. Violet crime is nearly all gang related, and should not impact on your Mexican retirement. Of course, areas with a high property crime are the areas you should stay away from. Take steps to ensure your property is save such as bars on windows or security cameras. A dog or electric fence are also strong burglar deterrents.
2. Not All Mexico Is A Bargain
Another myth that needs clarifying are Mexican prices. Not everywhere in Mexico is cheap. Mexico City for example can be very expensive in parts. Likewise, real estate in the major tourist areas can also be costly. Admittedly they are much cheaper than what you would pay for the same kind of thing in the States. But don't make the mistake that everywhere in Mexico is a bargain.
Things To Be Aware Of
1. Not Everyone Speaks English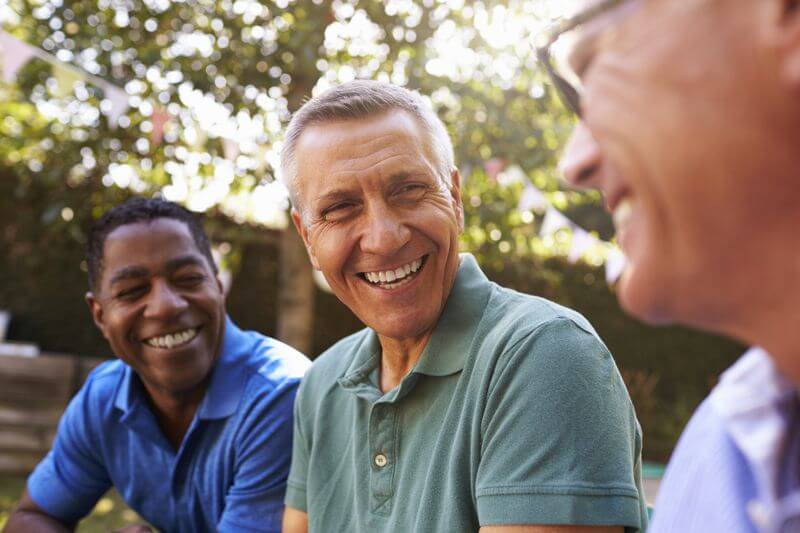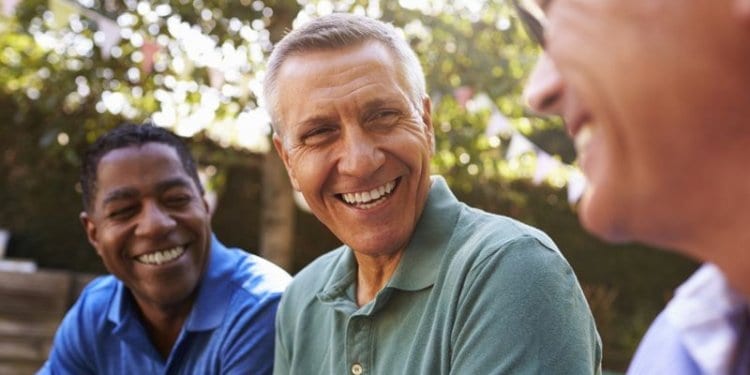 Image Source: iStock/monkeybusinessimages
In the big cities, major expat and tourist areas most people speak English. If you move here you can get by without learning Spanish and be comfortable.
If you move outside of these areas though you will find that most people speak only Spanish. An intermediate level of Spanish in these places is nearly essential. Setting up utilities, dealing with tradesmen and lots of other menial tasks involve speaking Spanish. As a result, these may be next to impossible if you cannot communicate.
If you don't already speak Spanish, the challenge of learning a new language can be a great opportunity. Lots of expats fail in their retirement overseas because they have nothing to do. Learning a new language can provide your life with a purpose. This is so important in enjoying your life.
Mexicans value freedom of the individual in the same way that the U.S. did in years past. There is far less bureaucracy and red tape here and you are mostly left to do as you please. This can make a refreshing change. However you will need to keep up your end of the bargain and not complain unnecessarily.
As a foreigner, most people will assume you are wealthy. The first thing to be aware of is the exchange rate. If you can't quickly convert the from dollars to pesos you be in a vulnerable position.
Taxi drivers may try to take advantage of you. If you can speak Spanish you will be in a better position. Speak with locals to find out what a fair price is.
It also pays to beware of police officers in Mexico. Unsuspecting tourists and expats are bread and butter for some police officers who will use any offence as a chance to solicit a bribe. Often police threatening you with a fine for a minor offence expect you to pay a bribe.
3. You Will Need To Be Resilient
Moving to Mexico is one of the easier overseas moves you can make. However you will still need resilience if you want to succeed south of the border.
Power outages are fairly common in Mexico and you will have to get used to being without power at certain times. Random water outages are also fairly common. Sometimes the water company will put out a warning, but more often than not it will be a surprise.
The INAPAM Program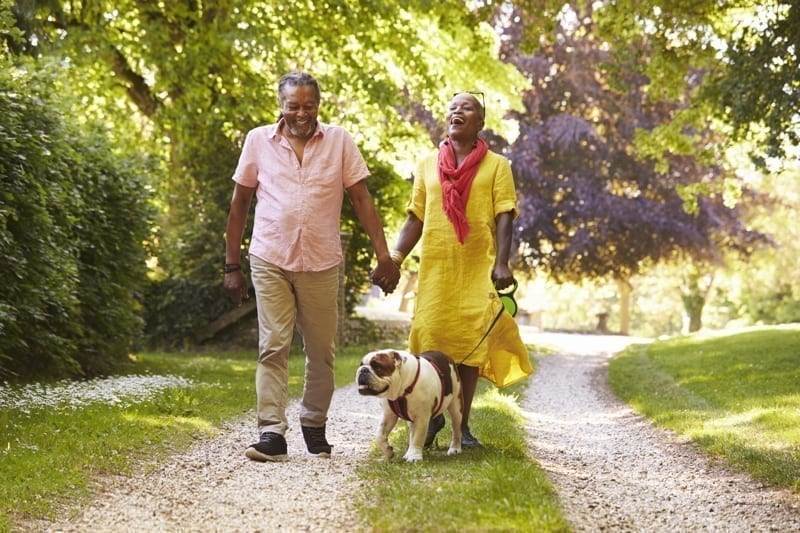 iStock/monkeybusinessimages
As in many Latin American countries, Mexicans show great respect for elder generations. The government of Mexico creates special programs that reflect this sentiment.
The INAPAM or Instituto Nacional para las Personas Adultas Mayores comes in the form of a discount card. If you are over the age of 60 you are eligible for this card and the range of discounts that comes with it.
Some of the discounts you can get from the INAPAM include:
A discount of 5-7% on medications
Up to 50% on busses if you book in advance
Up to 50% off at the cinema
40% discount on property tax
Free entry to many museums
Around 10% off at many restaurants
Discounts in many department stores
Discounted water bills
There are lots more discounts available for INAPAM holders, it is always worth asking to see if you can get a discount.
Where To Retire In Mexico
Deciding where to retire in Mexico depends on what you want from your retirement. Mexico has varied landscapes, climates and cities. As a result there is something to suit all tastes.
From Mexico's colonial cities to its pristine, white sand beaches, it's hard not to find a spot fitting your retirement specifications. The choices are endless and the best part is they are yours to make. You can choose from a variety of climates, elevations, and scenery. Here are a few of our favorite places for retiring in Mexico:
1. Akumal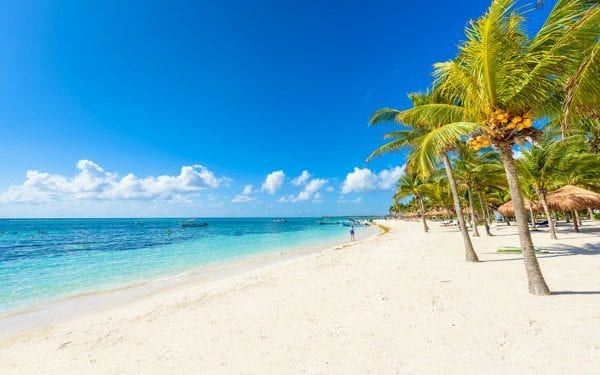 Image Source: iStock/Simon Dannahauer
Is English Spoken?
You will have no difficulty in finding English speakers here. There are lots of expats and lots of tourists as well. Spanish will of course be helpful but is by no means essential. Many expats never learn Spanish beyond a basic level.
Health Care
The Akumal Medical center offers quality healthcare for everyday ailments. It has a 24 hour ambulance call out service. They also offer emergency transfers to local hospitals or airports. The Riviera Maya hospitals are around a 30 minute drive.
Real Estate
Due to the fast-growing growing popularity of the Riviera Maya, Akumal could be a good investment. The real estate market is well developed and people here are used to dealing with expats. The market is fairly liquid and you shouldn't have too much difficulty selling or renting out your property.
Other Info
Meaning "Land of the Turtles" in Mayan, Akumal has some of the most spectacular waters in Mexico. The town has a nice location Riviera Maya, close to the big tourist towns of Playa del Carmen and Cancun. Akumal is perfect for those looking for something a little quieter in the Riviera Maya. Flights to and from the U.S. are very convenient.
Akumal is one of Mexico's best places for snorkeling. You won't be able to dive at the turtle nesting grounds, but you can find areas where it is possible to dive with turtles
2. Morelia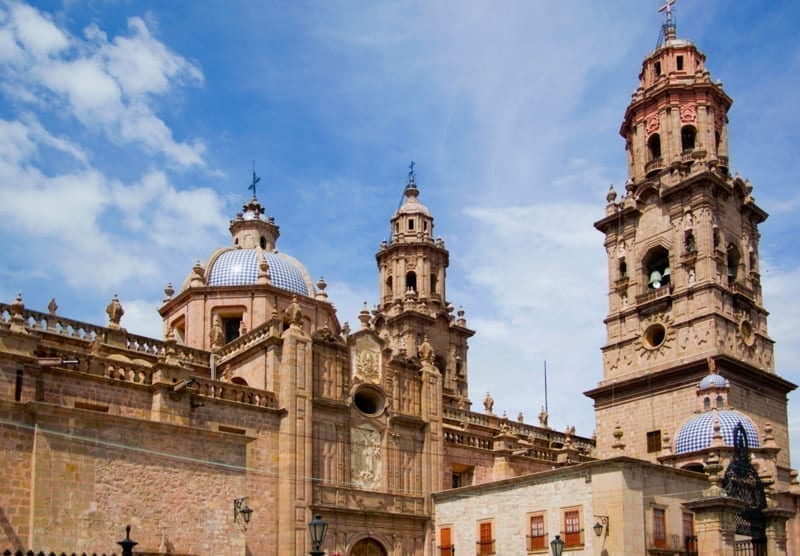 Alamy/ALEXANDRE SILVA
Is English Spoken?
There is not much English spoken in Morelia. If you want to thrive here you will need to learn Spanish. The Baden Powell Institute has a good reputation and is used to dealing with expats. The also organize tours to help you get settled and learn your way around.
Health Care
Morelia has hospitals and health centers of an excellent standard. Hospital Memorial, while not cheap, offers health care to a U.S. standard. Prices are still far less than you would pay in the states. Hospital Angeles is another 24 hour hospital offering quality health care. There are plenty of affordable medical centers that will take care of minor illnesses.
Real Estate
As mentioned, you will need to speak or at least plan to learn Spanish. That said, there are a few bilingual estate agents you can use such as Mexatua. The market is starting to heat up as fears over the cartels are subsiding. Like many places in Mexico, the dangers are often overplayed by the media. If you are looking for colonial property at a good price, Morelia should be near the top of your list.
Other Info
If you want to retire in Mexico and enjoy a cooler climate you could consider Morelia. A city of about 1 million people. At an altitude of close to 2,000 meters it has a year round spring feel.
Morelia is a relatively undiscovered retirement destination. In the last couple of years the mainstream media are picking up on it. A classic Spanish Renaissance town, Morelia is a UNESCO World Heritage site.You can find pink stone buildings and horses and donkeys still used to transport people and goods. Despite the old world charm Morelia has all the modern amenities such as reliable internet, and even U.S. department stores.
Morelia benefits from direct flights to San Francisco, Los Angeles and Chicago. Morelia is perfect if you are looking for a more authentic Mexican retirement.
3. San Miguel De Allende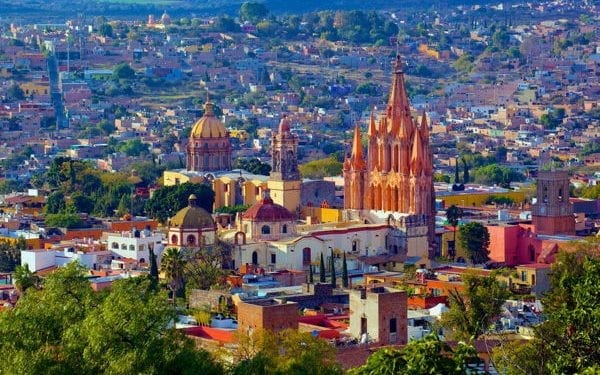 Is English Spoken?
There is a small expat population so you can't rely on being able to speak only English. However, as a growing tourist town people are making the effort to learn English. Shops, bars, cafes, restaurants and other service industry places usually have some staff who can speak English. You will need to learn Spanish, but will be able to get by until you can.
Health Care
San Miguel de Allende has plenty of hospitals. The newest one, Hospital MAC is modern with a range of specialists. Many of the staff here are bilingual. This is a private hospital and so medical insurance is advisable. People with existing medical conditions can live in San Miguel de Allende and be confident in the treatment at hand.
Real Estate
You can find everything from luxury real estate through to affordable living. The market is booming here and liquidity is high. There are lots of estate agents who can help you buy and guide you through the process of purchasing real estate here.
Other Info
San Miguel de Allende is based in Guanajuanto state in the center of Mexico. The picturesque town with its colonial buildings, and clean mountain air, has long been popular with artists. More recently, it has become a popular expat destination. Nowadays, a tourist industry exists alongside the traditional agricultural industry.
The towns famous historic center has changed very little over hundreds of years. You can walk down cobblestone lanes and easily imagine you are living in a different age. There are a range of eclectic shops, boutiques and restaurants and galleries, you will never be stuck for things to do if you retire here.
4. Cabo San Lucas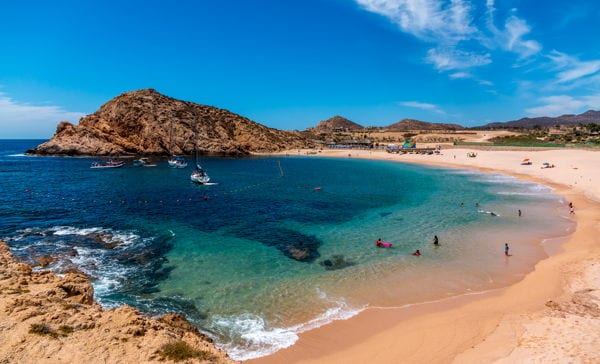 Image Source: iStock/rand22
Is English Spoken?
Most of the population here speak at least some English. If you want to move to Mexico but don't want to learn Spanish, Cabo is a great choice. Any effort to speak Spanish will be appreciated though and there will always be situations where speaking Spanish will help.
Health Care
The area has three modern hospitals which are maintained to U.S. standards. The prices are much lower than in the U.S. which is one of the benefits of retiring in Mexico. You can also fly to San Diego for treatment if required. There are lots of health centers to take care of minor complaints.
Real Estate
There is real estate to suit all budgets in Los Cabos. From luxury to budget. The market is growing and you can expect fewer and fewer affordable properties going forward. Real estate agents are used to dealing with expats and will be able to help you with viewings and the purchasing process.
Other Info
Cabo is conveniently located for the retiree and with direct flights to a number of U.S. cities. It actually consists of two towns. One is San Lucas, a lively area with bars, nightclubs and hotels. The other is San Jose which is quieter and more residential. San Jose is where you can go for local festivals and San Lucas for fine dining.
The area has modern hospitals which are maintained to U.S. standards. You can also fly to San Diego for treatment if required.
4. Merida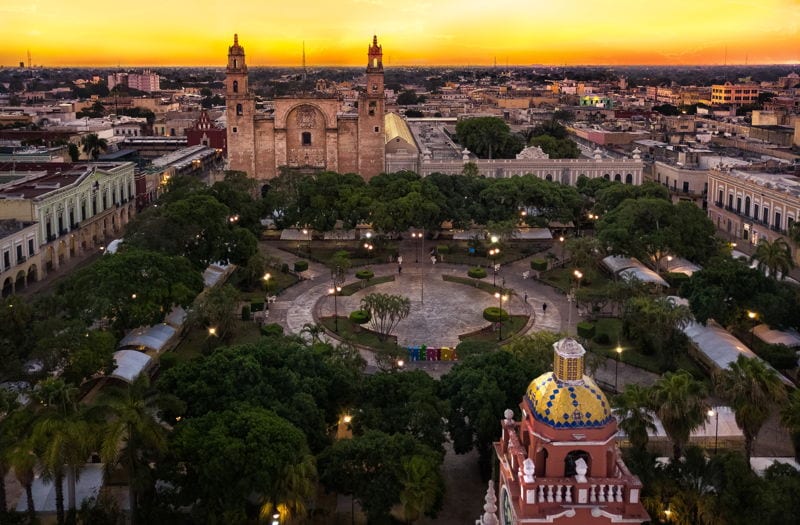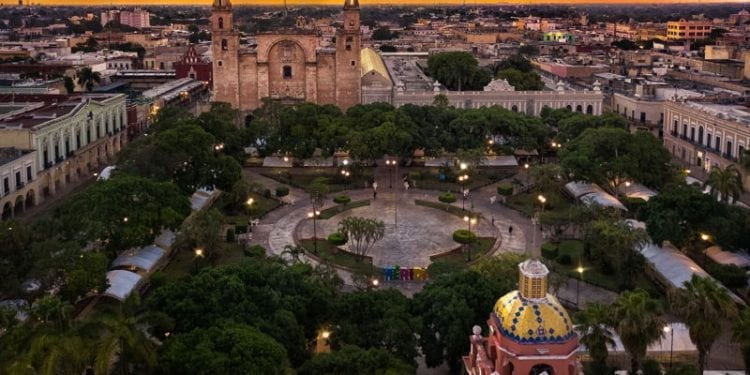 Image Source: iStock/Jonathan Ross
Is English Spoken?
Merida has a large English speaking population. Many of the locals speak some English, and there are lots of expats and tourists. By plugging into the expat community you can easily build up a network of English speaking contacts.
Health Care
There are lots of quality hospitals including government hospitals. You can find treatment for most complaints here. Many of the doctors and health care providers speak English.
Real Estate
The Yucatan area is doing well for real estate and Merida is no different. The most popular place to buy real estate is in Merida's historic center. Recent estimates show that nearly half of all home here are owned by foreigners. Merida is a tourist hotspot and an investment here comes with rental potential.
Other Info
Merida is definitely one of the most picturesque retirement locations in Mexico. Beautifully maintained colonial buildings line cobblestoned streets. Merida has a number of museums and galleries to explore. You are also close to Mayan ruins.
Merida is a destination which is becoming popular with both retirees and digital nomads. It is also well policed and has one of the lowest crime rates in Mexico. Merida is also one of the cleanest big cities in Mexico, and one of the least polluted.
Merida is a spacious and tranquil city, free of the overcrowding which you can find elsewhere in Mexico.
5. Puerto Vallarta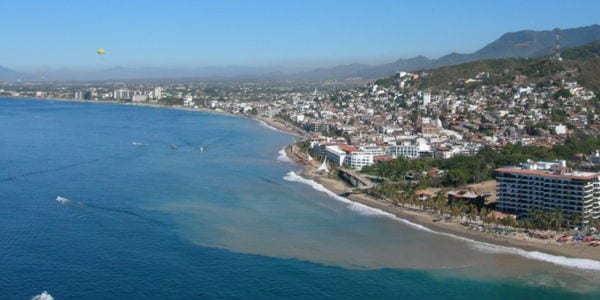 Is English Spoken?
Many of the Mexicans here speak some English especially if they work in the services industries. The locals you meet in your daily life will probably only speak Spanish. The area sees a lot of tourists many of whom expect to speak English all the time. If you can speak a little Spanish it will be appreciated.
Health Care
The town has excellent medical facilities and plenty of pharmacies. The Amerimed trauma Centre is a U.S. standard ambulance service and air evacuations are also available. Lots of the hospitals were created with assistance from the United States. As a result you will find that English is widely spoken. There are three hospitals and a number of medical centers.
Real Estate
The real estate market here is thriving. There are lots of established agents who can help you find properties. There are also lots of proven companies who can offer rental management services. A large number of snowbirds who come here for the winter. If you want to live here out of season you can earn big money from rental during the winter.
Other Info
The town offers top-notch shopping, and fine dining. There are easy flights to the United States and English speakers for socializing. Also a beautiful location on the Pacific. The cost of living for a couple in Puerto Vallarta comes to as little as US$1,590 per month.
You'll see carbon copies of the stores you see back home—Walmart, Starbucks, Costco—stocked with the same brands you're used to buying every day. But if you'd like to make a clean break from the American way, you have plenty of opportunity for that, too.
The different areas of Puerto Vallarta have their own unique character. The climate of Puerto Vallarta, which is similar to Hawaii, has made it a popular retiree location for years.The nearby Sierra Madre Mountains are perfect for hiking and provide a wonderful backdrop for the city.
You Can Retire In Mexico For Low-Cost Or A Life Of Luxury
Retiring in Mexico has always been a top choice for North Americans. Mexico allows you to escape the cold winters and stretch retirement budgets. It's also a great place to seek out an adventure. Mexico is hands down the easiest retire-overseas option for North Americans. For many retirees, Mexico offers many of the benefits of back home, without much of the hassle. The need to be close to children and grandchildren might detract some from Europe, Asia, and even South America, but not Mexico. Trips back and forth to the U.S. are quick and easy. If your family members are from the U.S. or Canada they won't even need a visa for to come and visit you.
Furthermore, you can retire in Mexico whether you are on a budget or trying to live out your dreams on a well-established nest egg. The average Social Security retirement check for is still less than $1,400 per month. So, even at the high end of the spectrum, many couples can live in Mexico on one person's Social Security.
How Will You Spend Your Days Once You Retire In Mexico?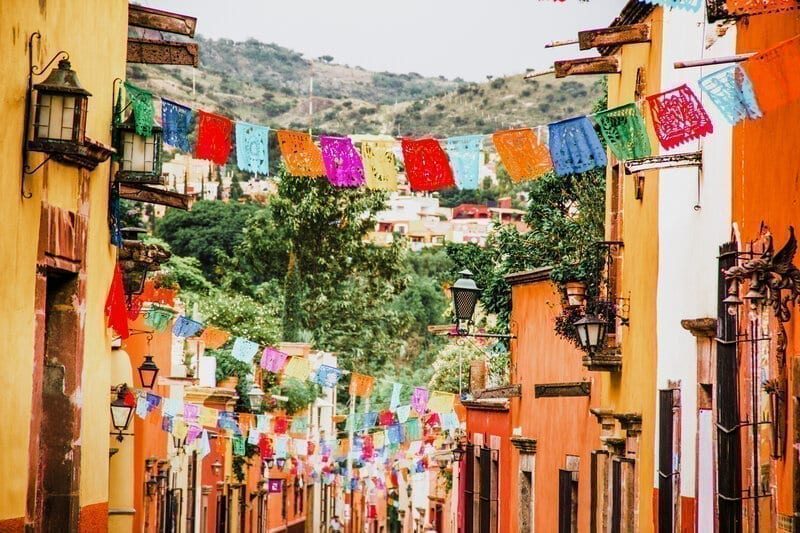 iStock/Marcos Elihu Castillo Ramirez
You can spend your days strolling the beaches of the Riviera Maya, sipping a "café Americano" from your terrace in Álamos. Or shopping in one of Puerto Vallarta's bountiful boutiques. If you are the type who enjoys the outdoors, hiking, biking, diving, rock climbing, Mexico has more than enough to keep you engaged. Mexico also offers shopping, wine tasting, fine dining, and the theatre. That's the thing about Mexico, you can retire here no matter your lifestyle, and find your way.