Isla Holbox is a tourist destination with breathtaking bioluminescent waters at night, whale sharks close to the island's shores, and beautiful beaches to laze upon. If you're looking for a tropical island destination, Isla Holbox is the place to visit.
While the island has changed quite a bit in the last decade due to over-tourism, Isla Holbox is still a wonder to behold.
Here's everything you need to know about Isla Holbox, Mexico, in 2023.
Cost Of Living In Isla Holbox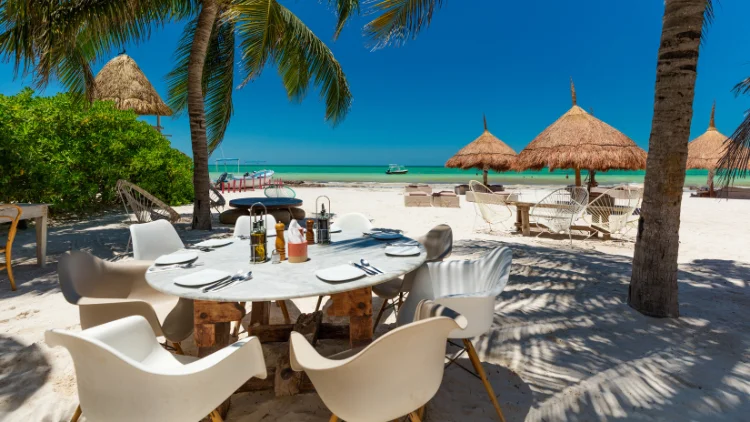 While moving to Isla Holbox is an option, it's better to live nearby on the mainland of Mexico if you wish to visit regularly.
We'll cover the cost of a trip to Isla Holbox, rather than full-time cost of living.
Our Tips For Isla Holbox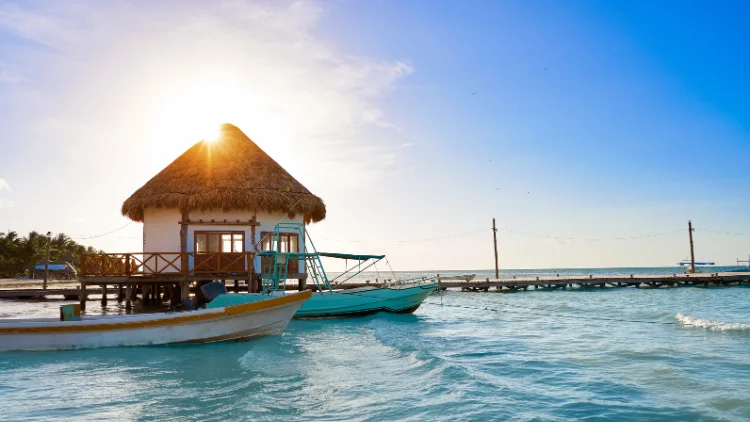 There are plenty of things to do on Isla Holbox that don't require you to spend money. But, you'll need to budget for accommodations, food and drinks, and activities.
Start Your New Life Today, Overseas
A world full of fun, adventure, and profit awaits! Sign up for our free daily e-letter, Overseas Opportunity Letter, and we'll send you a FREE report on the 10 Best Places To Retire In Style Overseas Today
When traveling to Isla Holbox alone, your budget goes from US$170 to US$370 per day (this includes lodging). Double that for a couple (around US$340 to US$640 a day), and double it again for a family of four (US$550 to US$1,200 a day).
It's possible to travel to Isla Holbox on a budget… this means eating at restaurants where locals eat, staying in hostels without air conditioning, and doing activities that don't require you to pay a tour guide or rent anything.
For instance, we recommend booking accommodation with air conditioning as the heat and sun are strong on the tropical island of Isla Holbox. You can stay at a decent hotel for around US$100 to US$150 per night.
There are hostels as well, though they cost about the same as hotels, are lower-quality, and don't usually have air conditioning. Also, there's a rise in Airbnb options on Isla Holbox, which are more comfortable and cheaper, ranging from US$60 to US$300 a night for two people.
A mid-range meal without alcohol is around US$10 per person. You can try local cuisines or sample Isla Holbox's spin on foreign cuisines for around that price. For example, if you're looking to dine in an upscale restaurant, the price per person could go up to around US$26.
A marquesita (traditional Mexican crepe) costs less than US$1.
Shopping on Isla Holbox can be as cheap as buying local seashell jewelry from the vendor on the corner or as costly as buying expensive dresses for thousands of pesos. This all depends on what you want, what you are willing to spend, and how badly you want it.
It costs about US$8 per hour to rent a double kayak. It's about the same price to rent a golf cart per hour. You can rent a bike for a little more than US$1 for an hour. A day trip to swim with whale sharks will set you back about US$75.
Things To Do In Isla Holbox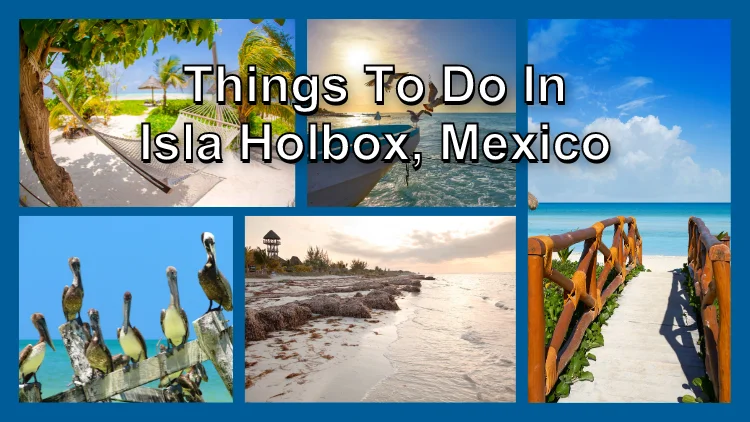 Isla Holbox, Mexico, has become over-touristed and more expensive. Many people believe that there are no cars on Isla Holbox… this is not true.
The island has sewage and utility issues, as well as a trash problem. But, we think you should know the full story before you make any decisions to relocate here.
There's plenty to do on Isla Holbox for all travel budgets. Plus, if you're looking to travel cheaply then bring a book, lay on the beach, and relax (remember to use sunscreen). Also, you can also lounge in the water hammocks or admire the murals sprinkled around the island during one of your walks.
If you like to go birding, Isla Holbox and the surrounding islands provide some of the best bird-watching in Mexico.
You can take a short walk and visit the lagoon with or without a guided tour (the guided tour is more informative, but also more expensive). In addition, the lagoon meets the ocean and is full of amazing sandbanks. With luck you'll see the flamingos.
Another must-see are the whale sharks. Whale-shark season is from May to September, and there are guides who will take you out in their boats to swim with these enormous creatures.
There are endless opportunities for snorkeling and scuba diving in the area.
Start Your New Life Today, Overseas
A world full of fun, adventure, and profit awaits! Sign up for our free daily e-letter, Overseas Opportunity Letter, and we'll send you a FREE report on the 10 Best Places To Retire In Style Overseas Today
Rent a kayak and paddle around Isla Holbox (if you can make it all the way around the 26-mile-long island). Even if you don't want to go that far, you can still kayak around the lagoon and hopefully spot local wildlife.
You can also ride around on a bike or rent a golf cart. If you're tired of the beach, enjoy the rest of the island and grab a drink or two.
Another popular thing to do on Isla Holbox is visit the Three Islands. Isla Pájaros (Bird Island), Cenote Yalahau, and Isla Pasión (Passion Island) are all close to Isla Holbox. You can take a tour of the Three Islands or rent a boat to visit them on your own.
Isla Pájaros is a protected area and a refuge for the many birds that call it home. As a result, it's not accessible by foot, but there's a great viewpoint where you can see pelicans, frigate birds, white ibis, ducks, herons, storks, and flamingos.
According to legend, the waters of Cenote Yalahau have healing properties. So, be sure to take a quick dip in its sweet crystalline waters. There's a viewpoint where you can see the eye of water surrounded by mangroves and lush vegetation.
Isla Pasión is a small island ideal for relaxing and enjoying the sun, the sea, and the wonders of nature.
If you're a fan of nature and the sea, Isla Holbox is a must-visit. You'll find wonders that will take your breath away before enjoying a memorable sunset on the beach.
Remember to stick around after the sun goes down to see the bioluminescent waters created by glow-in-the-dark phytoplankton.
Moving And Visas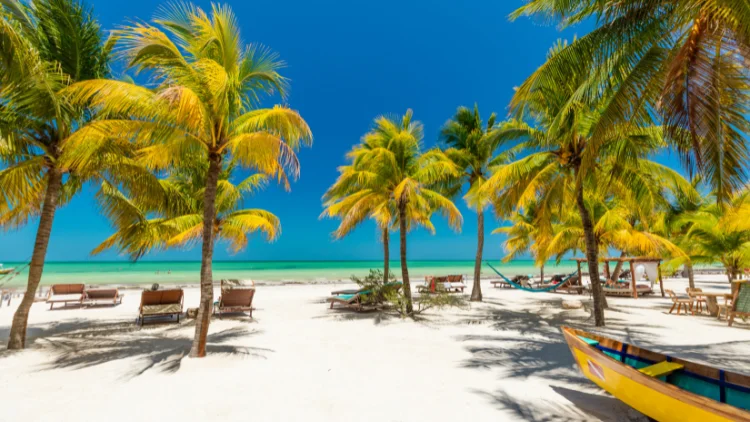 Getting to Isla Holbox, Mexico, can take a while, but it's worth the trip. Firstly, you'll need to get to Chiquila, which is about a two-hour drive from Cancún. Secondly, you can take a ferry or small plane to Isla Holbox… both options take around 15 to 30 minutes.
Once you arrive on the island, there will be taxi golf carts trying to take you wherever you're going. They overcharge tourists and will never be cheaper than US$15 for a five-minute ride. And, if you're traveling light and your lodging is close by, it's better to walk. On the bright side you'll get to know the surrounding areas.
When you visit Isla Holbox and Mexico in general for 180 days or less you can enter on a tourist visa.
If you wish to stay longer and move to Isla Holbox or another destination in Mexico, you can apply for a temporary residency visa, which is initially granted for a year and can be renewed for longer afterwards. Subsequently, after four years you can apply for permanent residency.
The main requirement to get a temporary residency visa, other than the application, which must be submitted in a consulate outside of Mexico, is the proof of economic solvency.
To be determined as being economically solvent, you need to have a monthly income of at least US$3,275 over the last 6 months (some consulates request a 12-month verification). Another possibility is that you have savings of at least US$54,600 over the last 12 months.
Other ways to qualify for temporary residency include volunteer work, temporary work placements, owning a house in Mexico, family connections, or making a capital investment in Mexico.
Weather On Isla Holbox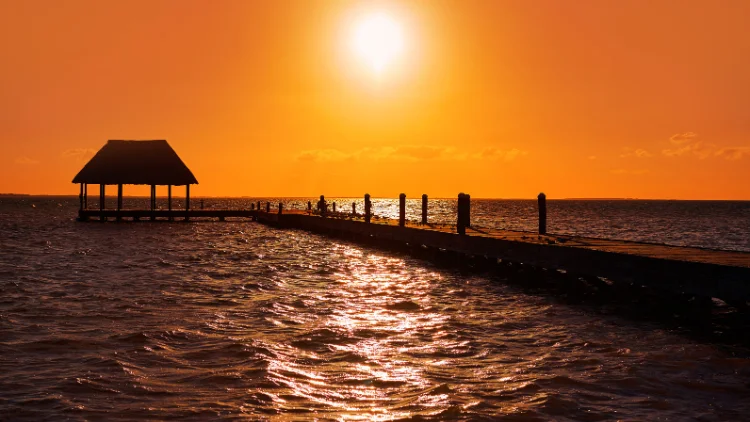 The climate on Isla Holbox is hot and tropical. Temperatures range from 68°F to 96°F (20°C to 35°C).
The coldest (if you can call it cold) months are from December to February. However, the hottest time of year is between May and October, with the hottest month being August.
Start Your New Life Today, Overseas
A world full of fun, adventure, and profit awaits! Sign up for our free daily e-letter, Overseas Opportunity Letter, and we'll send you a FREE report on the 10 Best Places To Retire In Style Overseas Today
The best time to visit Isla Holbox is between May and September when you can see the whale sharks. These are the hottest months of the year, and water temperatures go from 79°F to 85°F (26°C to 29°C).
March is when water temperature is at its coldest, and August is when water temperature hits its peak.
The driest months on Isla Holbox, Mexico, are March and April. Precipitation ranges from 2 inches in a month to about 12 inches in a month. It rains the most in October and towards the end of the year.