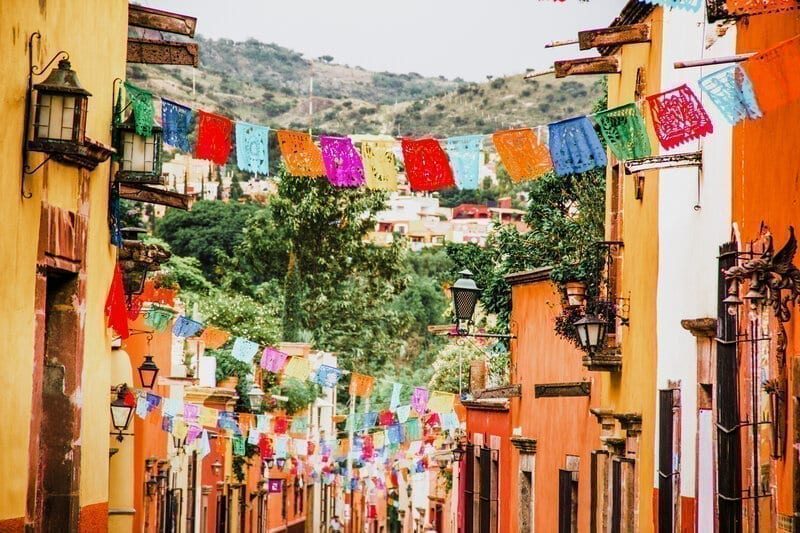 iStock/Marcos Elihu Castillo Ramirez
Mexico, formally known as Estados Únidos Mexicanos (United Mexican States), is a country with rich traditions and a strong culture. Mexico has the 10th largest population in the world and is the 13th largest country in terms of total land area.
Another interesting fact about Mexico: It's the country which introduced the world to chocolate.
Information Type

Mexico Data

Population

128,932,753 people (June 2020)

Currency

Mexican Peso (MXN)

Exchange Rate Versus U.S. Dollar

21.86 pesos per U.S. dollar (June 2020)

Languages

Spanish, Indigenous languages

Capital

Mexico City

Population of Capital City

21.7 million (metropolitan area, June 2020)

Time Zone

GMT – 6

Seasons

Coasts: hot and humid. Inland: dry and warm year-round.

International Dialing Code

52

Electricity

127V / 60 Hz. Plug Type: A, B (US style)

System of Government

Federal Republic

Current Leader

President Andres Manuel Lopez Obrador (since 2018)
Income Tax Rate for Residents
Progressive up to 35%

Property Tax

1% to 5%

Capital Gains Tax

0 to 10%

Inheritance Tax

0%

Rental Income Tax

Taxed as regular income

Transfer Tax

2% to 5%

Sales Tax

0 to 16%

Restrictions on ForeignOwnership of Property


For property 50 km from ocean or 100 km international border, foreigners must own through a bank trust.

Local Chamber of Commerce

www.ccmexico.com.mx
Paseo de la Reforma 4206048 MEXICO, D.F.Tel: 52-5-3685-2269

American Chamber of Commerce

www.amcham.org.mx

Mexico CityBlas Pascal 205, 3.er pisoCol. Los Morales 11510 Mexico City Tel: 52-55-5141-3800

Primary Exports

Manufactured goods, oil and oil products, silver, fruits, cotton, vegetables, coffee.
Tourist Visa:If you're visiting Mexico as a tourist you don't need a visa, but you do need a tourist card, which you can get on arrival by completing an immigration form available at border crossings or on-board flights to Mexico. Tourists and business visitors can stay in Mexico for up to 180 days.

Residency:Mexico operates what is known as a Temporary Resident Visa, intended for people who wish to live in Mexico for more than six months and not longer than four years. The Temporary Resident Visa is a renewable long term (more than six months) permit which gives non-immigrant temporary residency status to the holder.

Citizenship:After residency of a continual five years with an immigrant visa.

Special Benefits for Foreign Residents or Retirees

Valid foreign residents are eligible for Mexican senior citizen benefits that amount to discounts of up to 50% on a variety of goods and services, from health care to movie tickets to hotel rooms.

National Airline

Aeromexico –www.aeromexico.com/
More facts about Mexico: Spanish is the national language of Mexico. However, over 50 different indigenous languages are spoken.