Mérida, Mexico, the enchanting capital of Yucatán State, combines a rich Mayan and colonial heritage with beautiful architecture and delectable local cuisine. The renowned city is recognized as the American Capital of Culture due to its unique mix of cultures and proximity to ancient ruins and archeological sites. Mérida is a vibrant, centrally located city with top-notch amenities and modern comforts with convenient access to the Gulf of Mexico. Whether you want to take in a sports game, enjoy an exquisite meal, or check out ancient cultural sites, you can do it all in the beautiful city of Mérida, Mexico.
Cost Of Living
The cost of living in Mérida, Mexico, is affordable, making it an ideal place to retire. Whether you decide to rent or buy real estate in Mérida, you'll find the prices overall much less than in places north of the border. With all the modern conveniences of contemporary city living without the crowding in some other parts of Mexico, Mérida is a very livable city.
The cost of renting a three-bedroom apartment in the city center is in the range of US$550 to US$850. Utilities including electric, gas, and water run about US$60 for a three-bedroom apartment. High-speed internet costs between US$25 and US$30. Groceries and food cost about US$350 a month for two people, and transit costs will average about US$100 a month for two. Medical costs average US$100 a month for two people.
A single person could live comfortably in Mérida on a budget of US$600 to US$1,000 a month for everything. Mérida is becoming an increasingly popular destination for expats and tourists, which continues to make prices increase. If you are on a budget, you can find lower rents and a lower cost of living outside of the city center, or in the nearby towns of Izamal, Valladolid, Umán, and Espita.
For dining out in Mérida, you will find prices are affordable and less expensive than most places in the United States. A meal at an inexpensive restaurant will cost you about US$7. For more upscale dining at a mid-range restaurant, a meal for two averages US$37. A domestic beer costs about US$3 in a restaurant and a cappuccino is about US$3.33. A cup of coffee will run you US$2.50 to US$3.
If you want to shop in Mérida, a pair of jeans costs an average of US$63, and a summer dress costs around US$39. As far as entertainment in Mérida, you will find many things to do that are free and low-cost. A movie ticket costs around US$5. If you want to join a gym or fitness center, the cost is US$25 on average.
Mérida is a great place to invest in real estate, with growing home values, high quality of life, and convenient access to lots of cultural and entertainment options. The average cost of a two-bedroom house in Mérida, Mexico, is US$180,000. This number can vary depending on your exact location and the condition of the home, but overall, home prices are extremely affordable. In addition, taxes are low, with an US$180,000 home having a property tax bill of US$500 per year.
If you love colonial architecture, there are plenty of colonial homes on the market in Mérida. You can pay bargain prices for a fixer-upper or spend more cash for a completely renovated colonial home. Many expats invest in real estate in the historic city center, where you'll find gorgeous colonial buildings and homes.
Start Your New Life Today, Overseas
A world full of fun, adventure, and profit awaits! Sign up for our free daily e-letter, Overseas Opportunity Letter, and we'll send you a FREE report on the 10 Best Places To Retire In Style Overseas Today
Things To Do In Mérida, Mexico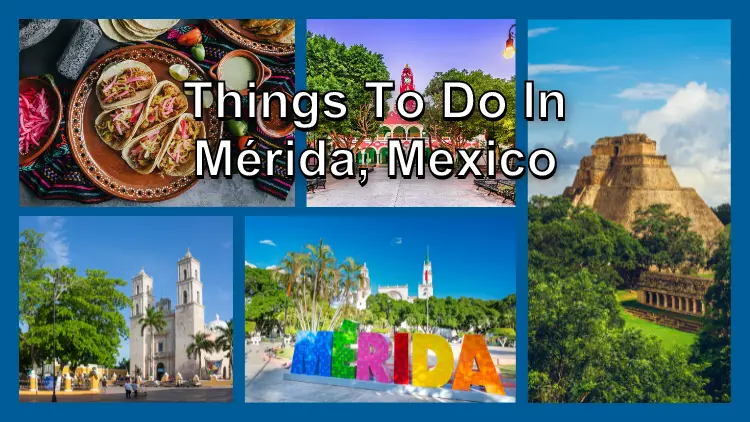 Mérida is an increasingly popular place to visit and live due to its rich cultural heritage, many festivals, delicious food, affordability, and safety. There are endless things to do in Mérida, ranging from art museums to festivals. And within a short drive, you can get to several ancient Mayan ruins outside of the city to see incredible feats of ancient architecture, including pyramids. Here are some of the best places to go in Mérida…
Plaza Grande
The lively central square in Mérida is Plaza Grande. Surrounded by beautiful historic buildings and huge laurel trees, the square is a hub for community life in the city. Whether you want to attend a street festival, check out the vendors, or people-watch, the plaza is the perfect place to do it. Along the square, you'll find plenty of cultural attractions and stunning architecture, including the 15th-century Catedral de San Ildefonso, the 1730 Palacio Municipal, and the 16th-century Museo Casa Motejo.
Catedral De Mérida – San Ildefonso
The Mérida Cathedral enshrines Spanish colonial architecture and is one of the oldest cathedrals in the Americas, dating back to 1598 when it was completed. The grand old cathedral was built on a former Mayan temple and some of the Mayan stones were used in its construction. The rich history of the cathedral includes the Mexican Revolution, when angry peasants stormed the building and took down the rich decor inside.
Mayan World Museum Of Mérida
Explore the fascinating world of the Mayans at the Mayan World Museum of Mérida. The striking modern building is home to extensive exhibits of over 1,160 pieces of Mayan art, artifacts, textiles, and tools that highlight the ancient civilization's complex, rich history. If you are a history buff, you will love a trip to the museum before venturing out to the ancient Mayan ruins outside of Mérida.
Start Your New Life Today, Overseas
A world full of fun, adventure, and profit awaits! Sign up for our free daily e-letter, Overseas Opportunity Letter, and we'll send you a FREE report on the 10 Best Places To Retire In Style Overseas Today
Museo De Antropología E Historia / Palacio Cantón
For spectacular architecture and a dive into the rich culture of the Yucatán region, check out the Museo de Antropología e Historia. The museum traces the Mayan and colonial Spanish history of the city.
Mérida Fest
This annual celebration every January celebrates the founding of the city of Mérida. Enjoy music, dance, art, folk groups, theater, and food spread across the city for this weeks-long festival. With well over 100 shows and performances, the vibrant spirit of Mérida shines through and welcomes all to join in the fun.
Mayan Ruins
There are several fascinating Mayan ruins that you can see on day trips from Mérida. The most famous is the Mayan pyramid Temple of Kukulcán, also known as El Castillo, at the archeological site of Chichén Itzá. Chichén Itzá is a complex of Mayan ruins that date back to around 600 A.D. to the 1200s, when the civilization was a dominating force in the region. You can roam the grounds and explore stone carvings and iconic structures like the Temple of the Warriors and the Wall of the Skulls.
Within about an hour's drive of Mérida, you'll find Uxmal, an ancient Mayan city with incredible architectural feats dating from between the 8th and 10th century A.D., The Temple of the Magician is a steep, step pyramid… the best-preserved one at Uxmal. According to Mayan legend, the pyramid was built by a dwarf in one night using magic, hence the name.
Retire In Mérida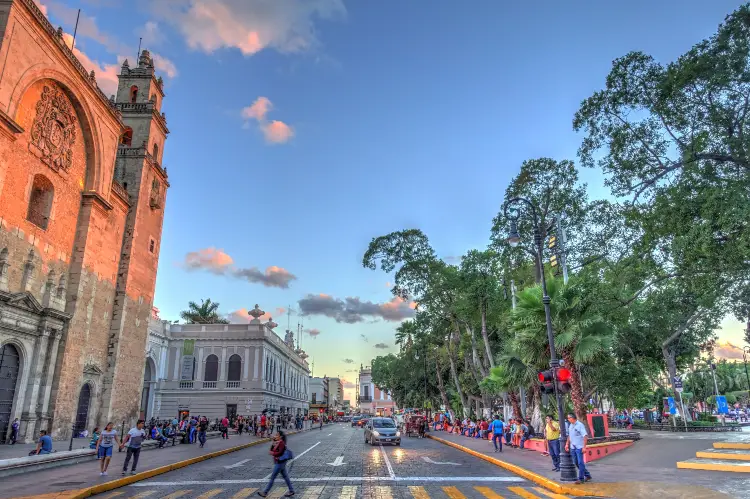 Mérida is one of the best places to retire in Mexico. The centrally located city is the capital of the Yucatán state, located about 22 miles south of the Gulf of Mexico. Mérida offers a safe, affordable place to retire with a low cost of living, plenty of cultural attractions, and modern infrastructure. In addition to enjoying budget-friendly prices, all legal residents of Mérida over the age of 60 qualify for a discount card from Instituto Nacional para las Personas Adultas Mayores (INAPAM), which gives you discounts on a variety of goods and services.
Another reason to retire in Mérida is accessible health care. There are many top-notch hospitals and doctors in Mérida and many doctors speak English. The health care system in Mexico is affordable and offers private and public options. Health care costs are on average 50% to 70% cheaper in Mexico than in the States and expats report a high level of satisfaction with their doctors in Mexico.
Safety In Mérida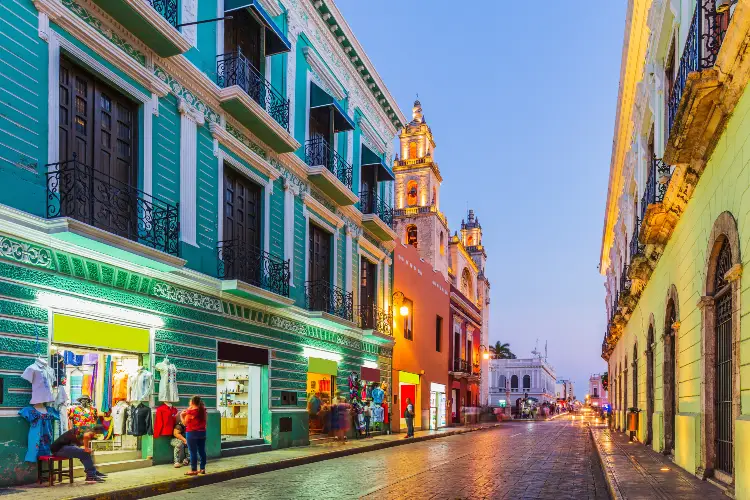 If you're wondering about safety in Mérida, the good news is that it is one of the safest cities in North America. Mérida ranks high in safety and low in crime and many expats say they feel safer than in U.S. cities. Unlike some larger cities, Mérida is not a crowded, chaotic city or main tourist destination and people enjoy a laid-back lifestyle and a strong police presence for peace of mind.
Start Your New Life Today, Overseas
A world full of fun, adventure, and profit awaits! Sign up for our free daily e-letter, Overseas Opportunity Letter, and we'll send you a FREE report on the 10 Best Places To Retire In Style Overseas Today
Moving And Visas
If you want to move to Mexico, you can apply for a visa. If you want to first visit for an extended stay, you can travel in Mexico for up to 6 months or 180 days by filling out the required visitor's visa information form online or when you cross the border to Mexico.
Luckily, Mexico has a straightforward application process for moving to the country. You can apply for a residente temporal (temporary resident) or a residente permanente (permanent resident) visa. You can begin your visa application process online and then make an appointment to appear in person at a Mexican consulate to complete the visa process.
The temporary residence visa allows you to live in Mexico for up to four years and is renewable. You can apply for different types of temporary visas, depending on your work status and financial situation. You will need to prove you have sufficient funds to live in Mexico.
For a permanent resident visa application, you will need to prove you have close family connections in Mexico, have sufficient funds to live or retire in Mexico, or have four consecutive years of temporary residency. To receive a permanent resident visa, you will need to go to a Mexican consulate in your home country, outside of Mexico.
Some documents that you'll need for your visa interview include:
Your original passport and a photocopy of the page with your photograph and personal data;
An original and one photocopy of another valid ID (driver's license, ID card);
A completed and signed visa application form (available online);
One recent passport-sized color photo;
The confirmation page of your consular appointment, which you can schedule online.
The current fee for all visa applications in Mexico is US$51.
Weather In Mérida

If you like warm weather and want to escape cold winters, Mérida is the perfect place. Located along the northern coast of the Yucatán Peninsula, Mérida has a tropical climate. The city has a climate that is warm or hot year-round, with high humidity.
The summers in Mérida tend to be short, hot, muggy, and cloudy. The hot season lasts two-and-a-half months, from the second week of April through mid-June, with an average daily high above 94°F. May is the hottest month in Mérida, with an average high at a sweltering 97°F and an average low of 75°F.
After the hot season, the rainy season sets in, lasting from June through October, which is also when there is the highest risk of hurricanes. About 80% of the city's rainfall comes during these months, and humidity is often high during the rainy season.
Winters in Mérida are warm to hot and humid with mostly clear skies. The winter lasts for about three months, from early November to early February. The average high temperature in the winter in Mérida is usually just below 87°F. The coldest month is January, which has an average high temperature of 85°F and an average low of 65°F. There is no snow or cold during the winters in Mérida.
If you want to avoid the hottest weather, the best time to visit Mérida for mild temperatures is from late November to mid-March.