After a warm, sun-filled week in Algarve, Portugal, hosting our Live And Invest In Portugal Conference and stuffing myself with seafood at every meal, I'm back in Paris… looking at a gray sky and unseasonably cold temperatures…
I love this city, my adopted home, but they coined the phrase "il fait gris," literally, "it's gray out," for a reason. Not windy, not rainy, obviously not sunny… just gray. It's a state of weather, just like you might hear "scattered clouds" or "intermittent showers" in other parts of the world.
Since my husband learned the phrase, it's become his new favorite expression in his growing arsenal of Parisian French. Lucky for him, he gets to use it often. (And one who does could only be a local—he integrates more here every day!)
All of that to say, my mind has lingered in Portugal for the last few days…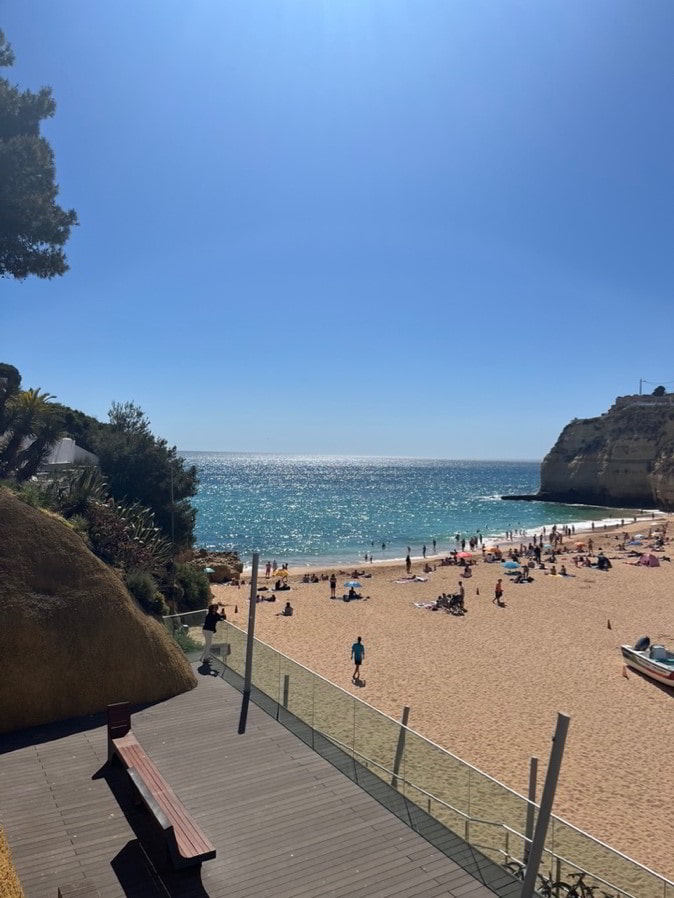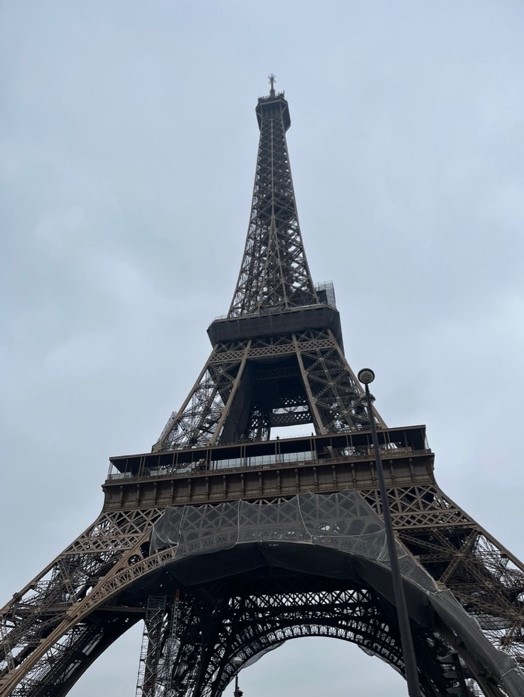 I happened to bike under the Grande Dame the day after returning to Paris and it's hard not to make the comparison to Algarve's skies from the day before… though hardly a fair fight!
I've traveled to the beach town of Carvoeiro, on the country's southern tip, for the past several years, always sometime in April, but this year's weather was the best I've ever seen for this time of year.
The rays are always strong down here—deceptively so, I got more of a tan than I counted on for the few sunbathing bouts I fit in. But usually the temperatures are still in the low 70s, and the strong sea breezes shake off any warming attempts of the sun. Last week, though, was blissfully mid-to-high 70s, and, unless you were on the rooftop terrace, there was nary a breeze to bother.
I always proclaim to love all four seasons (it's the variation that I truly relish), but with winter seeming overly-long up here in Northern Europe, choosing a home with a little more annual sunshine doesn't seem like such a bad idea…
We always say that this moving-overseas thing isn't a one-way trip—you can always move back home… or move on.
Not that I'm thinking of upping stakes from Paris, we're in it for the long haul here. But the path to your perfect life overseas doesn't always have to be linear either. I'm now musing on options for arranging ourselves to spend a few weeks a year in a more southern locale…
Last year, we fell in love with Barcelona for the second time in our lives and we fantasized about a life that would allow us to spend more time there regularly. Portugal has a similar pull for us, between the laidback culture, the tempting seafood, and the UV exposure… it offers a few of the things lacking in our life up here in Paris.
I was on my own for this trip to Iberia, but the past three years I've been visiting with my daughter in tow, and one of the things we delight in the most in southern Europe is the universal affection for children… which can be lacking up here in the north.
The French are still very much of the mindset that children should be seen, not heard—and honestly, it's one of the things I appreciate in the French attitude towards parenting. It's why French children are so polite, well-behaved, and often mature beyond their years, and why I'm so often praised for my toddler's social intelligence and comportment.
But it's nice to be able to relax a little occasionally, and time spent in Italy, Spain, and Portugal give us a much-needed annual dose of kid coddling.
Some especially child-loving restauranteurs and store staff go so far as to take her off our hands while we dine or shop, much to everyone's delight.
And on the subject of dining, I discovered few new dishes and tipples on this trip that should be top of everyone's list…
The cataplana could be called Portugal's answer to paella. Likewise named after the dish it's cooked in and also only served family-style to parties of at least two, but with potatoes instead of rice and maybe a few more veggies than you expect in the Spanish fry up, this is a must-have on any day at the seaside.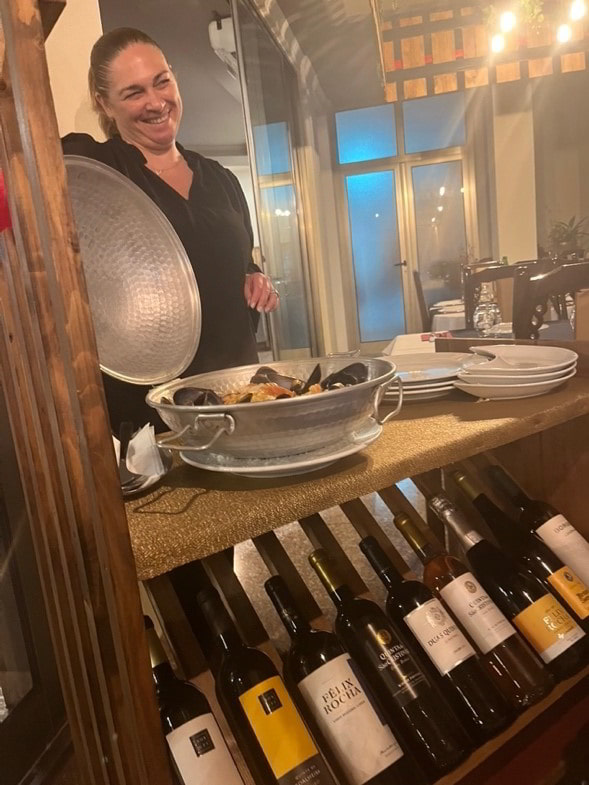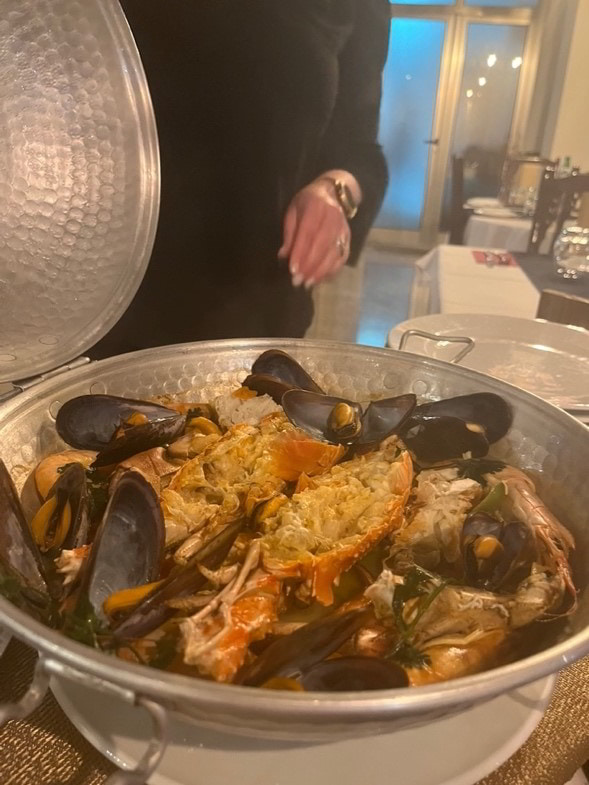 Shellfish cataplana with spiny lobster, served from a cart rolled from kitchen to table, at Restaurant Marisqueira Portugal, Carvoeiro
The francesinha I wrote about after my first visit to Portugal… it's something everyone should order at least once as a novelty… like a Monte Cristo.
Described alternately as "a coronary on a plate" and one of the 10 best sandwiches in the world, it's a sandwich on a scale I doubt many have seen before. Made with every kind of meat that's available (a ham, a sausage, and a beef at least), with layers of bread and cheese in between each, a layer of cheese melted on top, smothered in a sauce of tomato, beer, and chili, and topped with a fried egg.
Much like the French, the Portuguese apparently also like to add eggs to many dishes we might think odd in the Americas… a burger, a pizza, a sandwich, a salad… It may seem strange, but give it a try—a rich, runny egg improves any dish in my opinion!
And, as always, you can't go wrong with piri piri chicken, or the giant prawns, lobster, and mussels here, which I order at least one of without fail at every meal.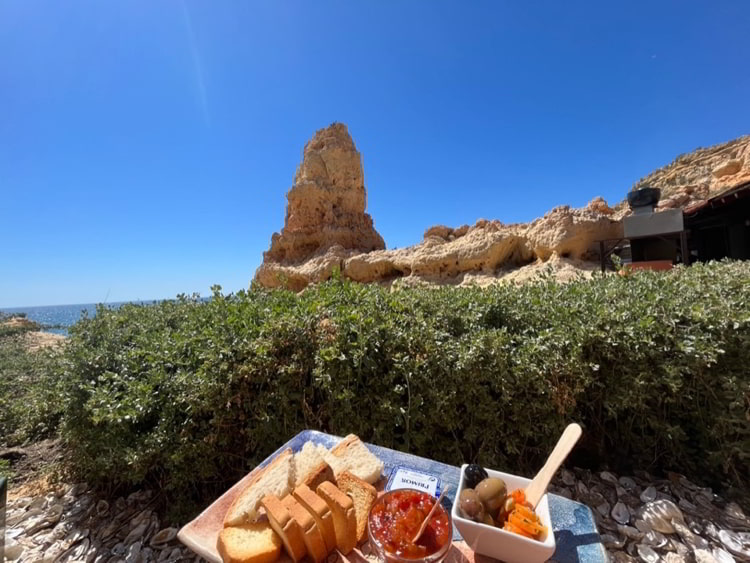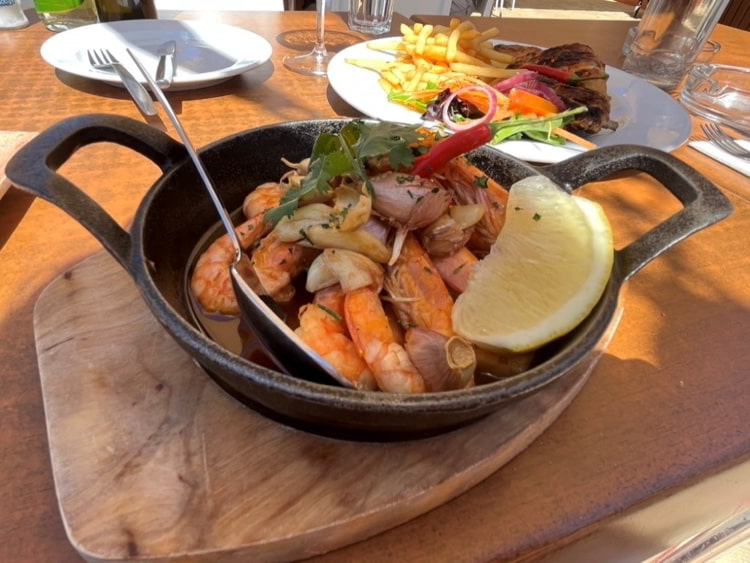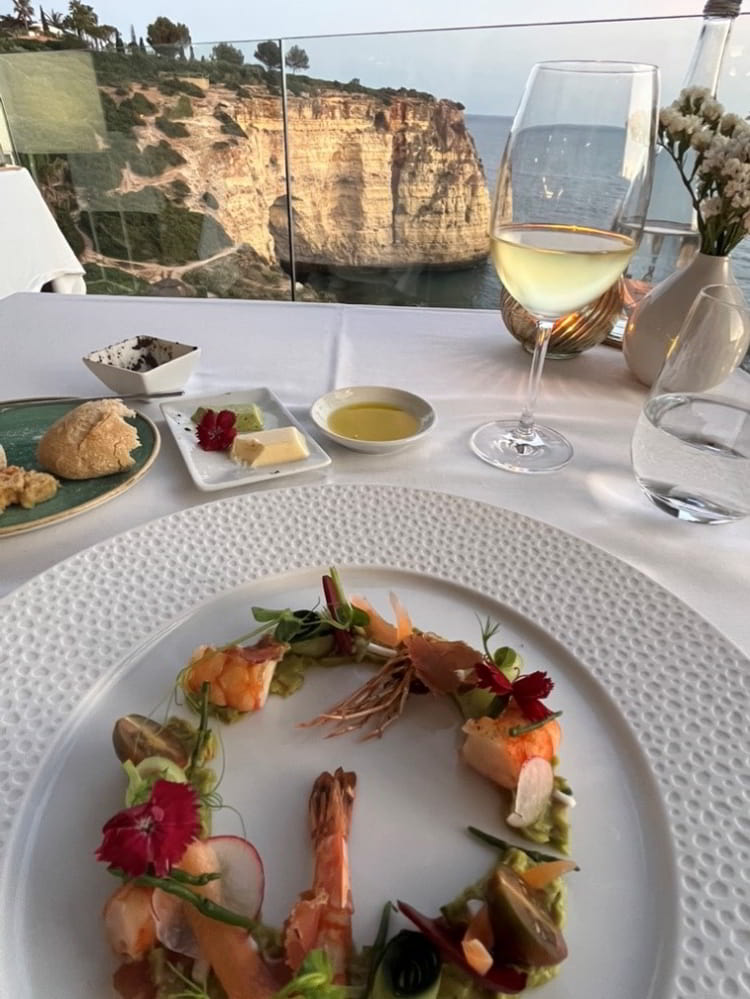 Beirão, the local digestif, is a very drinkable, almost neutral-tasting herbal concoction of mint, cinnamon, cardamom, and lavender. These elements, coming from all over the world, tell Portugal's history in a shot glass, incorporating ingredients from several of the country's former colonies—Brazil, Sri Lanka, and India. It's a microcosm of the multiethnic history of Portugal that's seen in every aspect of its culture.
I was gifted an almond cake on my birthday, an Algarve specialty that I hadn't previously sampled. This simple but delicious sponge cake showcases lots of local flavors.
Over a plate of cataplana de marisco, I enjoyed hearing stories of local lore from expats to Braga (tucked up in Portugal's northernmost corner), Jeff and Joch Woodruff…
They shared with me the story of the colorful Barcelos rooster, whose symbol is famously associated with Portugal, but whose legend I had never thought to ask about…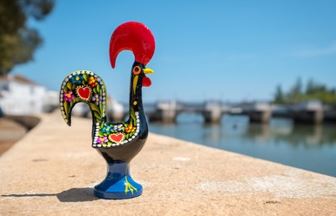 In the 17th century, a pilgrim on his way to Santiago de Compostela was accused of stealing silver in the Braga district, Jeff and Joch's adopted home. He was condemned to hang, but before the day came, he swore before the judge who made the ruling that the certainty of his innocence would be proved by a chicken being killed and continuing to walk after losing its head.
For some reason they humored him, and a chicken was duly slaughtered, continuing to dance after the final blow was dealt, and "proving" the man's innocence.
Some versions are even more fanciful, with the man swearing before the judge's cooked rooster dinner that when he was hanged, the cooked bird would get up and walk… and so it did, the noose simultaneously snapping as it did so, saving the innocent man's life.
Another charming story I heard this trip was from one of my taxi drivers and due to my married name: Kalashian, instantly recognized by many the world over as obviously Armenian. He went on to tell me that the Portuguese love Armenians, as one of their greatest adopted men hailed from the country.
Calouste Gulbenkian, whose museum in Lisbon I've often recommended to Portugal visitors, was one of those "great men" of the 19th and 20th centuries. Businessman, visionary, oil magnate, art collector, intellect, philanthropist…
Stateside, he'd have been a Rockefeller, Carnegie, or a Vanderbilt. By the time of his death in 1955, his was one of the greatest private art collections in the world, and he was one of its wealthiest people.
One of his missions was a foundation in Portugal to increase literacy and make books available to every person in the country. He established brick-and-mortar libraries, but also traveling libraries, and that was how my taxi driver, once a boy in a little rural village, was able to read, as he put it, "every book I could find." To this day the foundation promotes arts, charity, education, and science worldwide.
It's little tidbits like these that you pick up over time spent getting to know a new place that endear it to you…
And between the climate, the diet, and the culture in general… something is beckoning me to southern Europe like never before…
Stay tuned…
Bonne route,



Kat Kalashian
Editor, In Focus: Europe