Canoa Quebrada is a small beach town located 163km south of Fortaleza. This small fishing town charmed backpackers, who were traveling through the north of Brazil in the 70s, to stay. Slowly, this town has been growing due to tourism, but it is unknown to most travelers.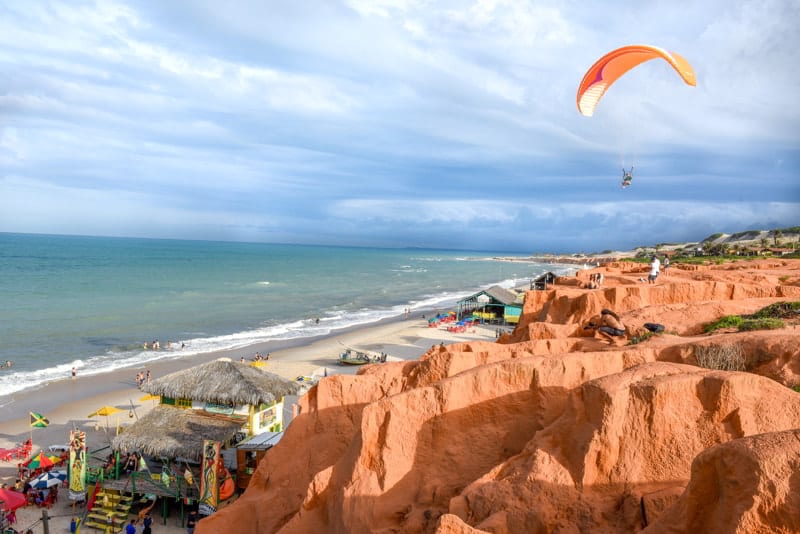 Alamy/Stefan Ember
The coast has many fine sand beaches backed by huge pink sand dunes. Hippy travelers have made this town a family-oriented beach destination. Outdoor activities include excursions in dune buggies, horseback riding, sailing in a 'jangada' boat, mountain biking, sandboarding, kitesurfing, and windsurfing.
Cost of Living
Brazil is not an expensive destination compared to other places in the world and in the last few years, the Brazilian real has become a stronger currency. Canoa Quebrada , tends to be cheaper than the main cities in Brazil since it's a small town situated in the north.
Check here for today's currency exchange.
Apartment Or House Ownership Budget (for a couple)
| Expense | Monthly Cost | Notes |
| --- | --- | --- |
| Mortgage | – | Not included here as too variable. |
| Transportation | R$200 | Public Transportation |
| Electricity, Water, Gas | R$550 | On average with air conditioning. |
| Cell phone | R$165 | Prepaid minutes. |
| Internet | R$114 | Approximate cost, usually comes as a bundle with cable TV and landline. |
| Household help | R$170 | Cleaning once every two weeks. |
| Entertainment | R$450 | Eating out twice a week at a mid-range local restaurant; (local) drinks twice a week; movie theater trip twice a month. |
| Groceries | R$1000 | Basic items for a couple. This includes wine, beer, and some imported organic foods. |
| Medical appointment | R$215 | Basic checkup in a private hospital. |
| Total | R$2,864 | – |
Start Your New Life Today, Overseas
A world full of fun, adventure, and profit awaits! Sign up for our free daily e-letter, Overseas Opportunity Letter, and we'll send you a FREE report on the 10 Best Places To Retire In Style Overseas Today
Eating out:
A beer: Can range from R$8.20 to R$13.66
Rum & Coke (or other local drink): Can range from R$21.85 to R$32.78
A coffee:R$12
A sandwich (or equivalent): Approximately R$25
Average cost of a meal out per person: R$50
Infrastructure
Canoa Quebrada is a small town with good infrastructure. This town has well-paved roads, hotels, shops, restaurants and is served by the Dragão do Mar Airport, near Aracati.
Climate
The sun shines all year long, except between the months of March and May when it tends to rain. The weather in this region is semi-arid. The average temperature year-round is 80°F (27°C), with an annual high of 100.4°F (38°C), and a low of 69.8°F (21°C).