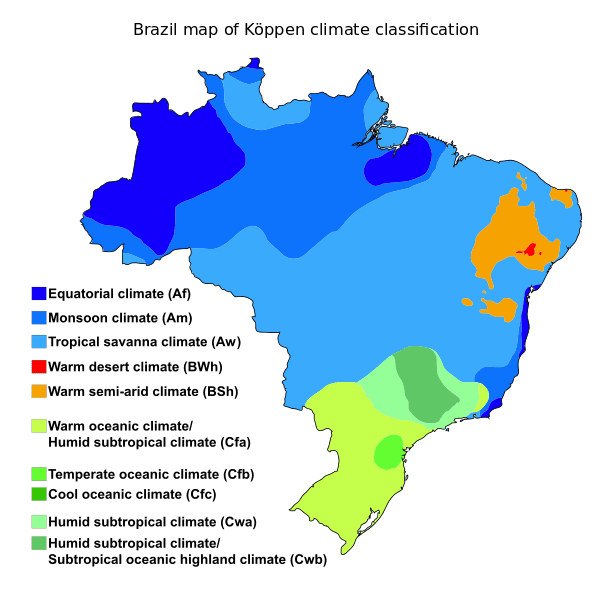 Due to its large landmass and diverse landscape, there are variations in the climate of Brazil depending on which region you look at.
The weather in Brazil is mostly warm and balmy, but becomes seasonal and temperate in the far south as you approach Uruguay and Argentina.
On most of the coast, a pleasant onshore breeze keeps the temperatures in check. Most of the country and its population lies within the tropical climate zone.
Source: Wikipedia
Temperatures for Major Cities
Temperatures By Month in Fortaleza
| Months | Monthly Average (Celsius) | Monthly Average (Fahrenheit) |
| --- | --- | --- |
| January | 27.3°C | 81.1°F |
| February | 26.7°C | 80.1°F |
| March | 26.3°C | 79.3°F |
| April | 26.5°C | 79.7°F |
| May | 26.3°C | 79.3°F |
| June | 25.9°C | 78.6°F |
| July | 25.7°C | 78.3°F |
| August | 26.1°C | 79.0°F |
| September | 26.6°C | 79.9°F |
| October | 27.0°C | 80.6°F |
| November | 27.2°C | 81.0°F |
| December | 27.3°C | 81.1°F |
Start Your New Life Today, Overseas
A world full of fun, adventure, and profit awaits! Sign up for our free daily e-letter, Overseas Opportunity Letter, and we'll send you a FREE report on the 10 Best Places To Retire In Style Overseas Today
Temperatures By Month in Maceió
| Months | Monthly Average (Celsius) | Monthly Average (Fahrenheit) |
| --- | --- | --- |
| January | 26.2°C | 79.2°F |
| February | 26.3°C | 79.3°F |
| February | 25.3°C | 77.5°F |
| April | 25.9°C | 78.6°F |
| May | 25.1°C | 77.2°F |
| June | 24.3°C | 75.7°F |
| July | 23.7°C | 74.7°F |
| August | 23.5°C | 74.3°F |
| September | 23.9°C | 75.0°F |
| October | 24.1°C | 75.4°F |
| November | 24.4°C | 75.9°F |
| December | 24.8°C | 76.6°F |
Temperatures By Month In Rio de Janeiro
| Months | Monthly Average (Celsius) | Monthly Average (Fahrenheit) |
| --- | --- | --- |
| January | 26.2°C | 79.2°F |
| February | 26.5°C | 79.3°F |
| March | 26.0°C | 77.5°F |
| April | 24.5°C | 78.6°F |
| May | 23.0°C | 77.2°F |
| June | 21.5°C | 75.7°F |
| July | 21.3°C | 74.7°F |
| August | 21.8°C | 74.3°F |
| September | 21.8°C | 75.0°F |
| October | 22.8°C | 75.4°F |
| November | 24.2°C | 75.9°F |
| December | 25.2°C | 76.6°F |