Anyone who's lived in Panama for any amount of time knows the city can be chaotic. If you forget that you're in paradise, you'll go down a rabbit hole… and find yourself caught up in the day-to-day, complaining about the tranque, the rising price of gas, or life in a developing country in general. It's usually easier to focus on the negative.
To keep your peace of mind, take a step back and remember that this country holds the key to your personal paradise.
We each have our own version of paradise…
A friend reminded me of this when she texted me from her hotel in Toronto: "This is beautiful, I'm in paradise right now!"
My paradise is where I can feel sand between my toes, a salty breeze in my hair, and hear the crashing waves while I watch the sky change from a golden hue to a cotton-candy color… book in one hand and a cocktail in the other.
When the city is scorching hot and no cold beverage suffices, my version of paradise changes. I envision myself feeling cold enough to need a jacket, watching the sun rise above the green mountains, birds singing, monkeys howling, and bajareque falling from the sky… It overloads my senses and reminds me how good it feels to be alive to experience it.
Luckily, Panama offers all that and then some…
When I'm stuck in a rut and feel like getting away, I'm amazed by the number of options on offer. Do I feel like getting a rub down and facial to cleanse the city stress away? Or maybe I'm feeling adventurous and ready to take on a trail that will make my legs burn. Either way, Panama is bursting with possibilities.
Here are my favorite spots for escaping the city grind…
1. Los Mandarinos Boutique Spa And Hotel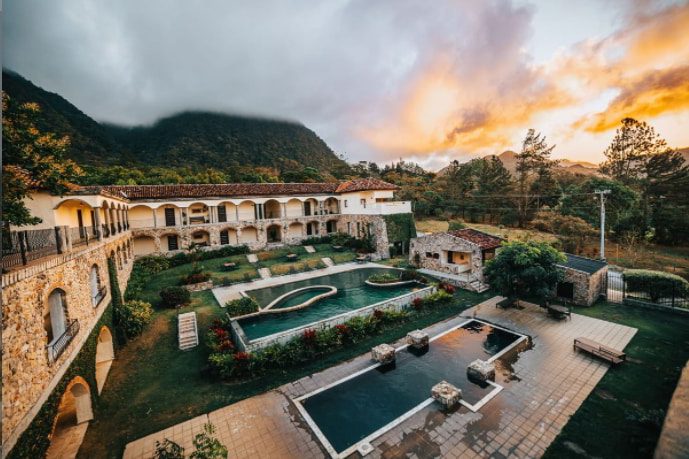 Mediterranean architecture meets the cool highlands of El Valle de Antón. Known for its Old World elegance and luxury experience, Los Mandarinos is a 4-star escape for those in need of pampering. You can choose to do as much or as little as you'd like with the hotel's wide variety of activities and amenities.
Staying here in the heart of El Valle, you'd have access to trails for hiking, birdwatching, horseback riding, exploring waterfalls, and more.
Lounge by one of the two outdoor pools or treat yourself to a facial and massage in the spa. Indulge in diverse cuisine options from the upscale, Spanish-style Triana restaurant to casual dining at O'Pedros Irish Pub where burgers, shepherd's pie, and cocktails are the norm. O'Pedros also has a pool table and live music.
If you're on a budget, check the OfertaSimple website—Los Mandarinos sometimes offers discounts up to 70% and other promotions that make luxury available at a modest price.
2. Bambuda Castle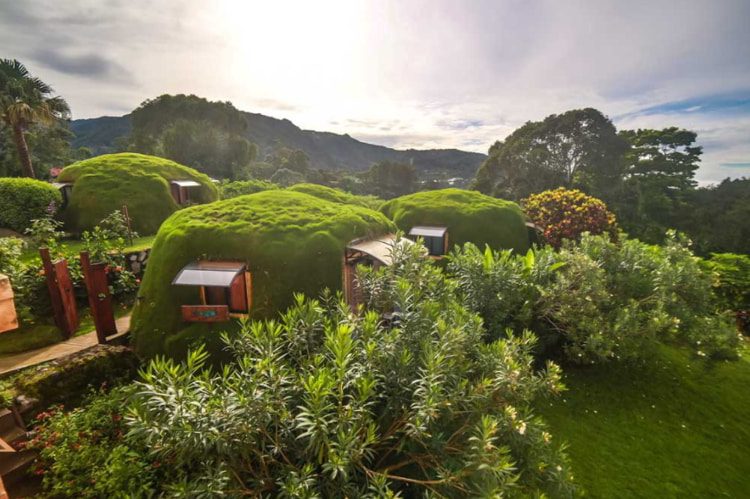 Boquete boasts a variety of experiences, activities, and breathtaking views. If you want a unique stay, Bambuda Castle can't be missed…
It's the only castle in Central America, complete with a moat and koi fish. Ranked among Panama's best hostels, you can stay in one of the "Hobbit Homes"—domes covered in grass and flowers that blend into the garden.
Though not as upscale as Los Mandarinos, Bambuda Castle is the perfect spot to relax and de-stress, surrounded by coffee fields and mountains.
Amenities include a hot tub and a heated indoor pool—ideal for soothing your body after adventures such as a hike up Volcán Barú.
Get Your Free Panama Report Today!
Simply enter your email address below and we'll send you our FREE REPORT - Live And Invest In Panama: The #1 Retirement Haven In The Americas.
3. Villa Caprichosa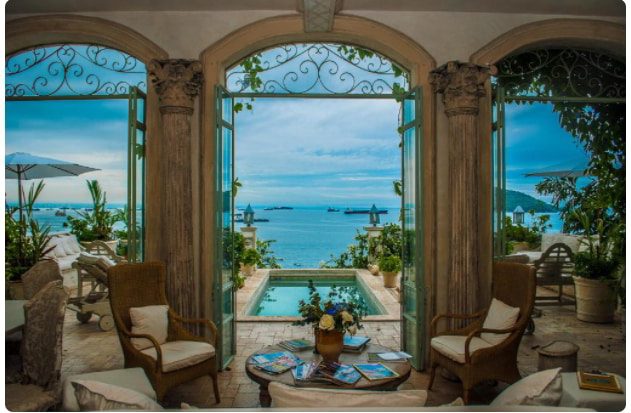 This is the most luxurious way to experience Taboga Island. Owned and designed by interior designer Diane Burn, Villa Caprichosa is a three-level, seven-bedroom villa with ocean views. Its 18th-century European design radiates romance and fantasy.
Villa Caprichosa has a gourmet restaurant, and golf carts provide transportation to the ferry and beach.
Diane, who has been featured in Architectural Digest, is usually around to offer advice or talk about her work.
Villa Caprichosa is the closest luxury escape to Panama City. Taboga Island is only a 30-minute ferry ride from Amador—Perfect for spending the day at the beach and relaxing in extravagance afterwards.
If you want privacy or have a large group, you can rent the entire villa.
4. Cocotal Hotel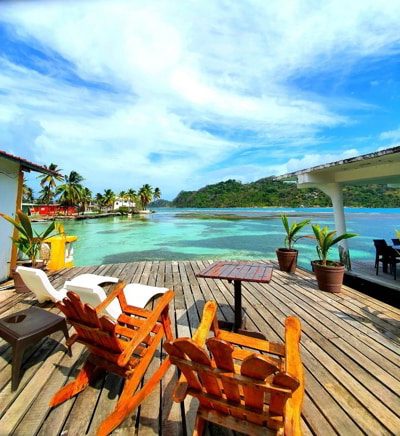 Bocas del Toro and San Blas are Panama's hottest beach destinations, but they require long drives on curvy roads. When I'm not in the mood for car sickness, Colón offers white-sand beaches just two hours from the city, and at a lower cost.
There's a myriad of stunning beaches here, my favorites being Isla Mamey, Puerto Francés, Isla Grande, and Playa Blanca. They're located on islands, and you'll need to hire a lanchero to take you via boat for a few dollars. There are several guided tours, too.
Remember to bring snacks… some islands have restaurants, but many don't.
Isla Grande is the most developed, with hotels for every budget. Cocotal hotel is an excellent option, and includes breakfast, a dock, and private beachfront.
Cocotal is centrally located, making it easy for you to explore the rest of the island.
5. Casco Viejo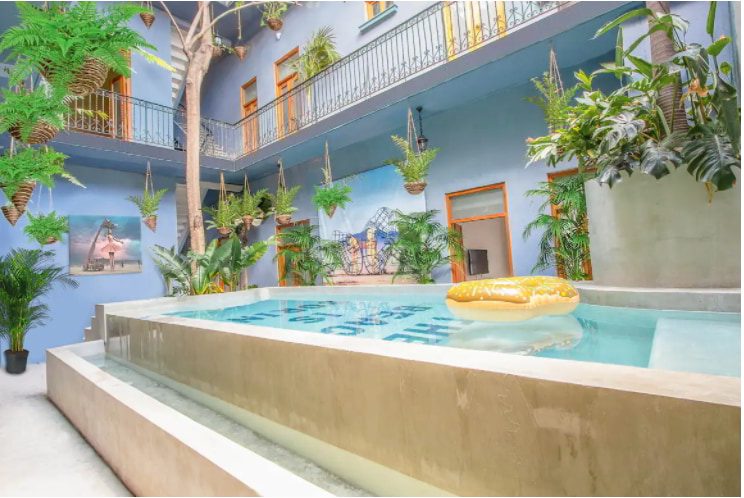 If your schedule won't allow a getaway, you'll find several options in Casco Viejo, Panama City's old town. You can walk the historic streets, grab an ice cream, and enjoy the sunset from Plaza de Francia.
You'll find affordable accommodations here with Airbnb, and most have pools.
The term "paradise" is subjective and depends on personal taste. Panama boasts almost every type of paradise imaginable (unless yours includes snow).
Next time you're feeling burned out, remember what version of Panama makes you happy. Coastal Panama, highland Panama, or maybe it's colonial-reminiscent Panama…
Breaking your routine with an escape to paradise is healthy and will remind you why you fell in love with Panama in the first place.
Expats and locals alike… we all need a vacation to paradise every now and then, even if we already live in "paradise."
Geraldine González
Panama Insider