Being back in Panama, I was trying out the new Metro transit system, which had not yet been built when I was here before, and decided to ride it to the end of the line with a pretty lady I met, as we were looking for something to do with our day.
The metro starts at the Albrook Mall terminal, located in the old American sector near the canal. It has 14 stops and is about 16 kms (10 miles) in length. It costs 35 cents per person using a prepaid card to enter. (The card also has to be read when exiting the system.) You can recharge the card to pay for more rides from machines inside of the metro itself as well as at bus terminals around the city.
One thing I enjoy is that several stations feature a free lending library. The books are mostly in Spanish with a few in English, and are lent out using the honor system. Just take what you wish and bring them back at your leisure.
The metro came aboveground at a stop called 12 de Octubre. When we exited the station my friend said to me, "Look, there is that Baha'i Temple we talked about last week."
The Baha'i Temple
I saw the Baha'i Temple for the first time 12 years ago. Before the metro was built, the temple could be seen from the Corredor Norte, but it was difficult to access. However, visitors are welcome and always have been.
The temple sits atop a hill, about a half-a-mile walk up a steep road, but a van service is provided that will take you up for free.
On Sundays starting at 10 a.m., Spanish services are offered with no group singing, no preaching, no passing of a collection plate, and no group prayer. One person reads from a sacred book and then another person does the same, with a total of six people reading. It all lasts about 20 minutes, after which the congregants walk out at their leisure. The worshippers aren't dismissed, and any who wish to stay to meditate can do so.
Take time to walk around the beautiful gardens along the many paths where you can look out over the city to the south. Signs ask that you stay on the concrete walkways; be sure to keep off the grass. The views are amazing and their planted flower gardens are exotic and exquisite. Sit outside and meditate if you're so inclined.
Between 5 and 7 million Baha'is exist worldwide. The temple in Panama is one of nine in the world, which includes their world headquarters in Haifa, Israel, as well as temples in Wilmette, Illinois; Kampala, Uganda; Santiago de Chile; Sidney, Australia; Delhi, India; Hofheim, Germany; and Tiapapata, Samoa.
Over the years, two of these temples have been destroyed by sectarian violence in communist countries. Baha'i adherents meet and worship in other cities and towns, but these are their temples, each one is different from the others, and each is a work of art in and of itself.
Their prophet Bahá'u'lláh was born in 1817, meaning this year is his 200th birthday. The Baha'i had a prophecy in 1908 that, due to the Panama Canal, Panama would be an important center in the Americas, which is why this temple was built here.
Lovingly referred to as "the egg," this wonder of a temple was finished and dedicated in 1972. It is painted a brilliant white, has no actual walls, and is open to the air on all nine sides for the breeze to blow and birds to fly through, as did a few during their Sunday services the two times I've attended.
The temple itself has no bathroom. This, you'll find in a simple and elegant satellite building from which you can see the city spread out below. Something else you won't find within the temple: no statues nor adornments of any kind.
The Baha'i believe in the oneness of humanity, the equality of the sexes, and the idea that one language for all of humankind should be developed. They also believe in the creation of one world government that leaves out no one, with no second-class citizens on earth.
According to their beliefs, God designates a messenger for the people of the world. These have included Krishna, Abraham, Moses, Buddha, Jesus, Zoroaster, Muhammad, Bab, and Bahá'u'lláh, with more messengers expected in the future. Each messenger, they say, taught love and peaceful existence among all people.
If in Panama, don't miss visiting the temple. It is open from 9 a.m. to 6 p.m. daily.
The Hindu Temple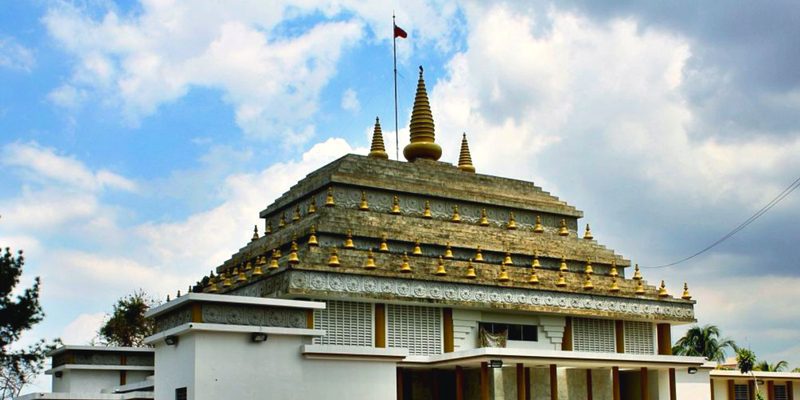 In contrast to the simplicity of the Baha'i temple is Panama City's Hindu temple, adorned and filled with statues and other representations of their multitude of gods.
Outside the temple a sign indicates the following prohibitions: shoes, dogs, guns, cell phones, food and drink, and spitting. I asked of one of the teenage kids that I saw sitting there, not seeing any official security people, if I could take pictures with my cell phone and he said, "You are American—it is OK."
Baha'i is one of the newest of the world religions, having started in 1844 in Iran. On the other hand, the Hindu religion is so old it has no known date of inception, but Krishna, often referred to as one of Hinduism's favorite deities, is said to have been born in jail in 3228 B.C. He lived 125 years, 8 months, and 7 days, according to their official records.
The temple is located on Avenida Ricardo J. Alfaro, colloquially referred to as Tumba Muerto (which translates roughly to "tomb of the dead," though my Spanish is less than perfect).
As for the name Hindu, it wasn't always the name of the religion. The term has evolved with time. According to Wikipedia:
"Starting with the Persians and Greek references to the land of Indus, the term Hindu implied a geographic, ethnic, or cultural identifier for people living in the Indian Subcontinent or beyond the Indus River. By the 16th century the term came to refer to residents of the area who were not Turkic or Muslims."
I saw one figure claiming that 14,000 Hindus live in Panama, although, like the Baha'i, they don't seem to be worshipping at their temple in large numbers. Though my friend and I were told that Panama is home to 13,000 Baha'is, less than 50 people, including a few visitors, attended their Sunday service.
"The Hindu temple is very nice, but you have to climb stairs through Universidad Tecnológica and then take the walk up a hill," I was told, but the taxi dropped me right at the door. Visiting hours are 7 a.m. to 7 p.m. daily.
Both temples are beautiful and indicate to one and all that Panamanian society is diverse and tolerant. Churches and temples aren't necessarily tourist attractions, but these temples belong on your must-see list if you're in Panama City.
Deryl Fisher
Comments