I feel like a kid in a candy store even after over six years in this beautiful country. Every week and, sometimes, every day is a new learning experience.
Between the jungle, animals, and the ever-changing Corozal Bay, you cannot tire of taking all your surroundings in. Government, businesses, and intrastructure are always changing to keep it interesting.
The Daily Grind In Corozal
Once or twice a week, I go to Corozal Town.
The open-air market brims with fresh fruits and vegetables, all locally grown, plus more foodstuffs brought in from Mexico. Eight local bananas go for BZ$1 (50 U.S. cents), oranges, six for a BZ$1. During lobster season and I pay just BZ$25 (US$12.50) per pound for lobster tails.
From Mexico, you'll find button and portobello mushrooms, strawberries, asparagus, Brussel sprouts, plus much more. Unless you pick fruit that is not ripe on purpose, most everything is ready to eat.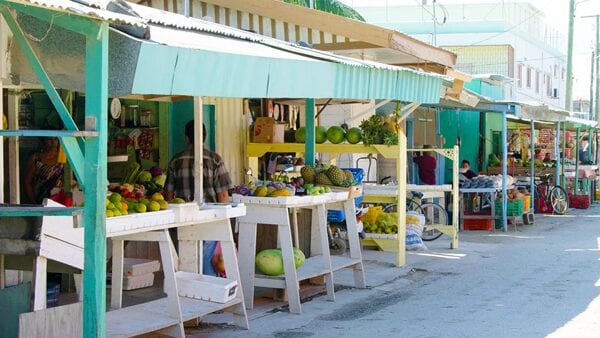 Infrequently, I go to the States to see my girlfriend, and fruits, other than apples and peaches and such, which are grown there, has no taste, whereas in Belize you're spoiled for choice with all the fresh, delicious fruits and vegetables here.
Due the influx of North Americans, grocery stores stock a lot of U.S. items, as well as other essentials.
Corozal has a new store called One Mall where you can get all groceries, household items, paint, some repair parts, and even gasoline.
Lots of businesses are upgrading and becoming more gringo-friendly. Almost all grocery stores are run by people of Far East Asian descent. Six years ago, you seldom heard a "thank you" when you bought; it's commonplace today.
A little bit on a personal note: I have been in Belize for six years and really like it. I like small towns, so Corozal fits.
Now, besides the post office, several shippers bring packages to Belize, a process that takes about a month. My preferred shipper has packages sent to an L.A. address, then pack it in a container that, once full, it's sent here.
I can get anything I want or need either locally or through U.S. delivery. Just 12 miles away in Chetumal, Mexico, there are many U.S. stores. I am on the computer a lot, and the internet is plenty good. I don't watch despite it being available.
A View Like You've Never Seen Before…
Nature is awesome here. Flowers are brilliant and captivating… for example, the fiery hue of the well-named "flamboyant tree" is beautiful beyond words. I have iguanas come through my back yard. There are two barracuda—one is 18 inches, the other is 5 feet—that like my boat slip. I catch several different types of fish, crab, and even turtles, when fishing in my canal.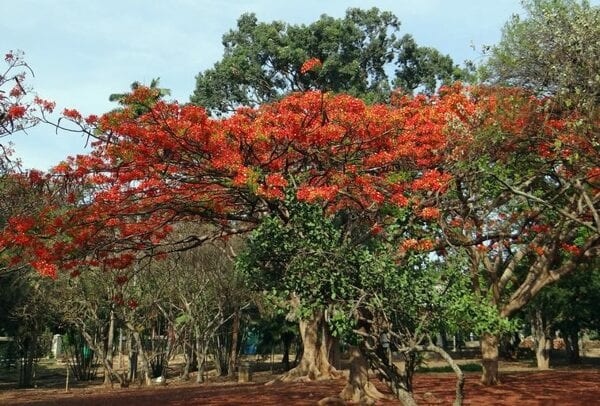 When my family moved to the Colorado mountains, the first three years, we were just existing. It wasn't until the fourth year that we really did enjoy living there… We were missing the beauty and grandness of the mountains.
Now single, taking a place for granted won't happen again. Corozal Bay is breathtaking and changes day by day. Seeing locals and visitors alike taking advantage of the bay is wonderful.
My home is just off the main road that goes to the village of Sarteneja by the Caribbean coast… The talk is that the Taiwanese government bought thousands of acres of land out toward the coast and in several months will start building a paved road with bridges in conjunction with the Belize government. Belize has a lot of interaction with foreign governments.
It's easy to develop both gringo and Belizean friends. Walking down the street, the locals will say good morning before I can. When a car is stuck or breaks down, Belizeans show up eager to help.
You'll hear how dangerous it's in Belize. I don't think so. Most things happen in Belize City.
Several local instances come to mind. A son shot his father for some reason, another was a love triangle dispute, and a doctor and fishing guide were killed. But word on the street is the guide crossed up a drug dealer, and the doctor was in the wrong place.
Be careful—walls have ears! Flash a bankroll, show off jewelry, or talk about what you have here, and you have set yourself up as a target. Someone here calls a criminal and gets a few dollars for telling them what they saw and heard. They will track you down and relieve you of your goods.
Is that any different than anywhere else in the world?
The Hammock Life
You may have heard of the Qualified Retired Persons program of Belize. Still good program, but the government keeps putting more user restrictions, so I wanted to be a full-time resident and citizen.
With residency under my belt, in just over a year, I can file for citizenship. QRP has some good short term benefits, but you are always a visitor.
I went in for the long haul.
The weather is warm all year… no more snow shovel. The daytime temps are almost always between 80°F and 90°F. Nighttime temps in summer are in the high 70s and can drop into the low 70s in the winter. Six years ago, pea-size hail rained, and construction workers ran out and threw the hail around while playing, as most of them had never seen it before.
At the end of the day, having a canal that hooks up to the Caribbean Sea is great.
I can sit in a sling chair and fish for hours watching the puffy clouds. I had a boat slip added when my house was built. I planned to buy a boat and fish in the bay. My priorities changed, so I never got the boat.
There is no perfect place on Earth, but Corozal, Belize, comes pretty close for me.
John Wiankowski
Comments